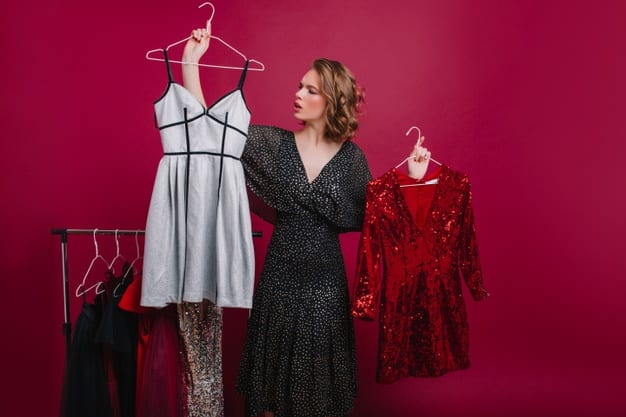 What is Product Filtering?
Also known as faceted search, product filtering allows customers to narrow down their product searches centered on multiple criteria such as price, color, size, reviews, and more. Using filters on your online store can help your customers navigate products in the manner they prefer. Product filters can be available on category, brand, and search pages.
Consider the visitor's point of view: who has time to sift through long listings to find the product they're looking for? Many customers would rather switch to another store than wade through a seemingly endless list of product variants. This is why product filtering is an essential part of your online store.
Let's see a more detailed example of product filtering: 👇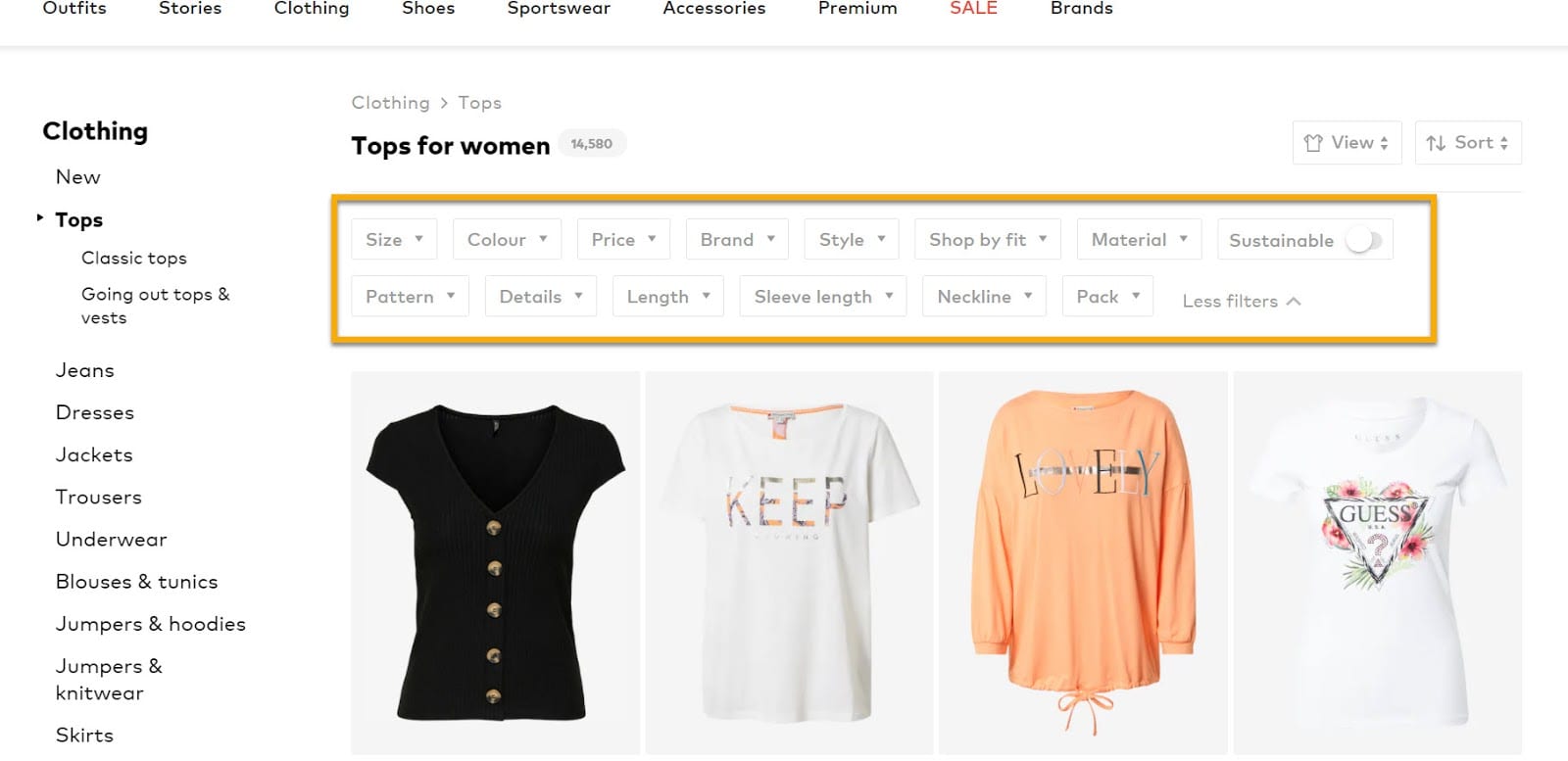 As you can see, allowing there are many options from which you can choose to filter out your goods. You can also specify which filters should be displayed by default for your entire storefront, as well as which filters should be displayed for each of your store's categories. This is useful if your store's categories contain a variety of products that your customers may want to filter by different criteria.
Why would you add Product Filters to your Online Store?
Needless to say that by implementing a product filter to your website, your clients will find what they need in an easy and effective manner.
Product filtering is the primary method for directing customers to relevant portions of your shop. Filters enable them to create a shortlist of products based on their criteria. Unfortunately, just about 16% of eCommerce sites offer effective product filtering. You must establish a fail-safe filtering system as the administrator of your eCommerce website for simplicity of use and security.
Understanding the needs of your clients is the first step for store owners in implementing product filtering. Observing how clients go through your store's pages might assist you in determining their demands.
How to add Filters using WooCommerce
Now that you have a general knowledge of product filters and how they can benefit your online store, it's time to skip to the fun part and see how you can add them to your product page.
It's important to note that WooCommerce does have a few in-built filters already, but to give a little flair to your storefront while also enhancing your customer's shopping experience, using a product filter plugin is of absolute importance.
First of all, let's take a look at what kind of filters WooCommerce has in place for you. If you want to check it out for yourself, just go to your WordPress Dashboard → Products → All Products and from there you'll be able to see the Filter section.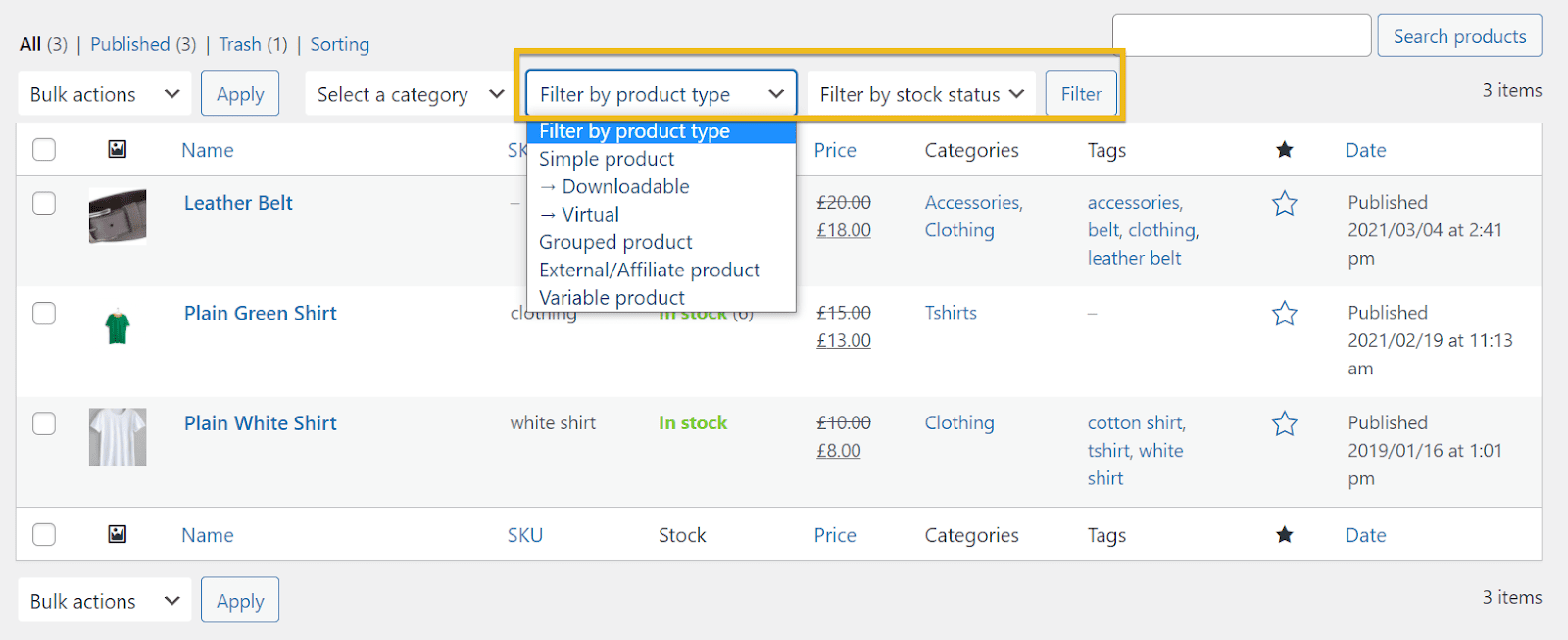 As you can see, you have several filtering options based on the type of product or service that you're selling. If you don't know what a simple product or a variable product is, feel free to check out our article where we talk about this topic in particular.
Moving forward on our WooCommerce ladder of online stores, we'll present you with a couple of product filtering plugins that will help you set up a convenient filtering bar for your online store, thus facilitating your customer's search navigation.
Before all else, head over to your Dashboard → Plugins → Add New and look for the Advanced AJAX Product Filters plugin.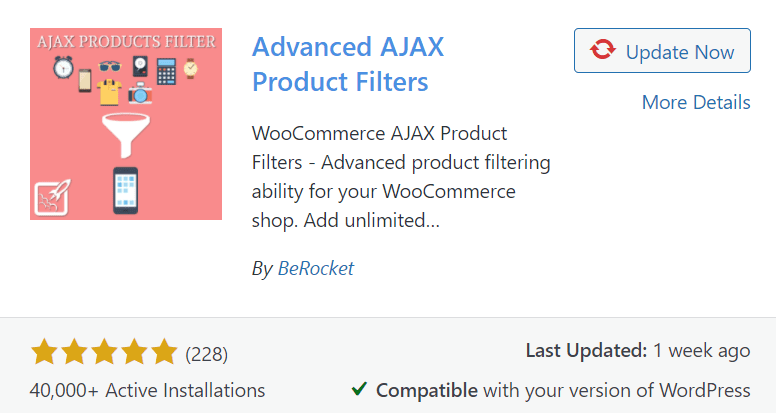 Make sure you download it and also activate it. This plugin has over 40,000+ active installations from which you can conclude if it's worth your time or not. We'd vote for the first option, as the numbers speak for themselves.
Using this plugin, you'll be able to add an unlimited number of filters to your products, thus smoothing the way for your customers in their product hunt. What makes this plugin even more special, is that it is free and simple to use while also having a lot of useful features. Products can be easily filtered by attributes, custom taxonomies, price, tags, and categories.
Here's a checklist of several features this plugin possess:
Seo friendliness ✔️
Easy to use filters ✔️
Product tags filtering ✔️
Option to set up Price Slider ✔️
Once you've installed it, it's time to get rolling and create some filters! Here's how you do it: 👇
Go to your Dashboard → Be Rocket → Filters
Product Filter → Add Filter
Upon clicking on Add Filter, you'll see this little window pop up, allowing you to add as many filters as you want and adjust them according to your preferences.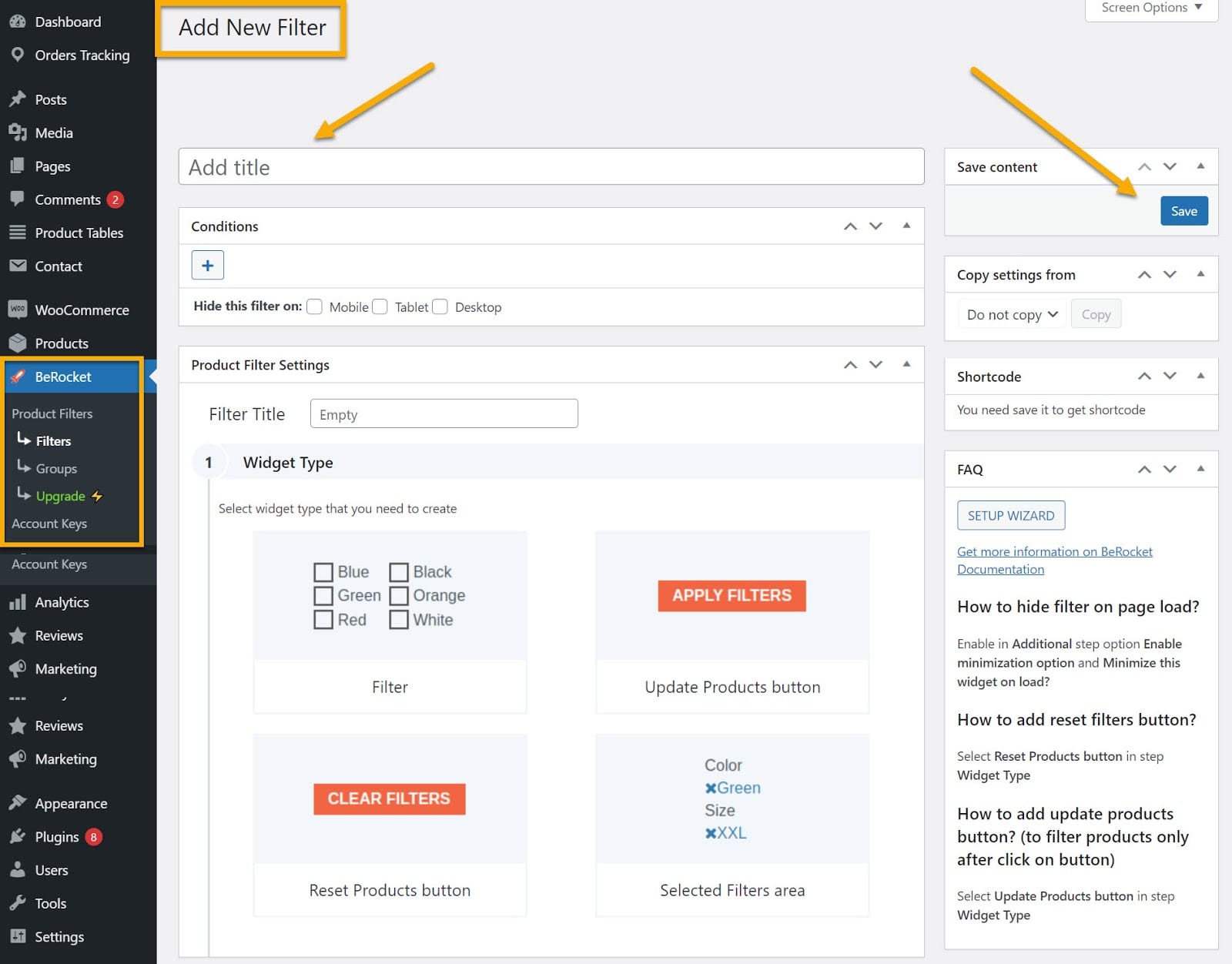 Let's say you want to create a price filter. The following steps will show you how to do just that.

For starters, head over to Add New Filter, and add a title for your filter. In this case, the title will be 'Price'. Then scroll down to Attributes and Values and select the filter that indicates the price. Select the desired widget and style, set the prices from descending to ascending, hit 'Save' and you're good to go! Take a look at the screenshot below for a better understanding.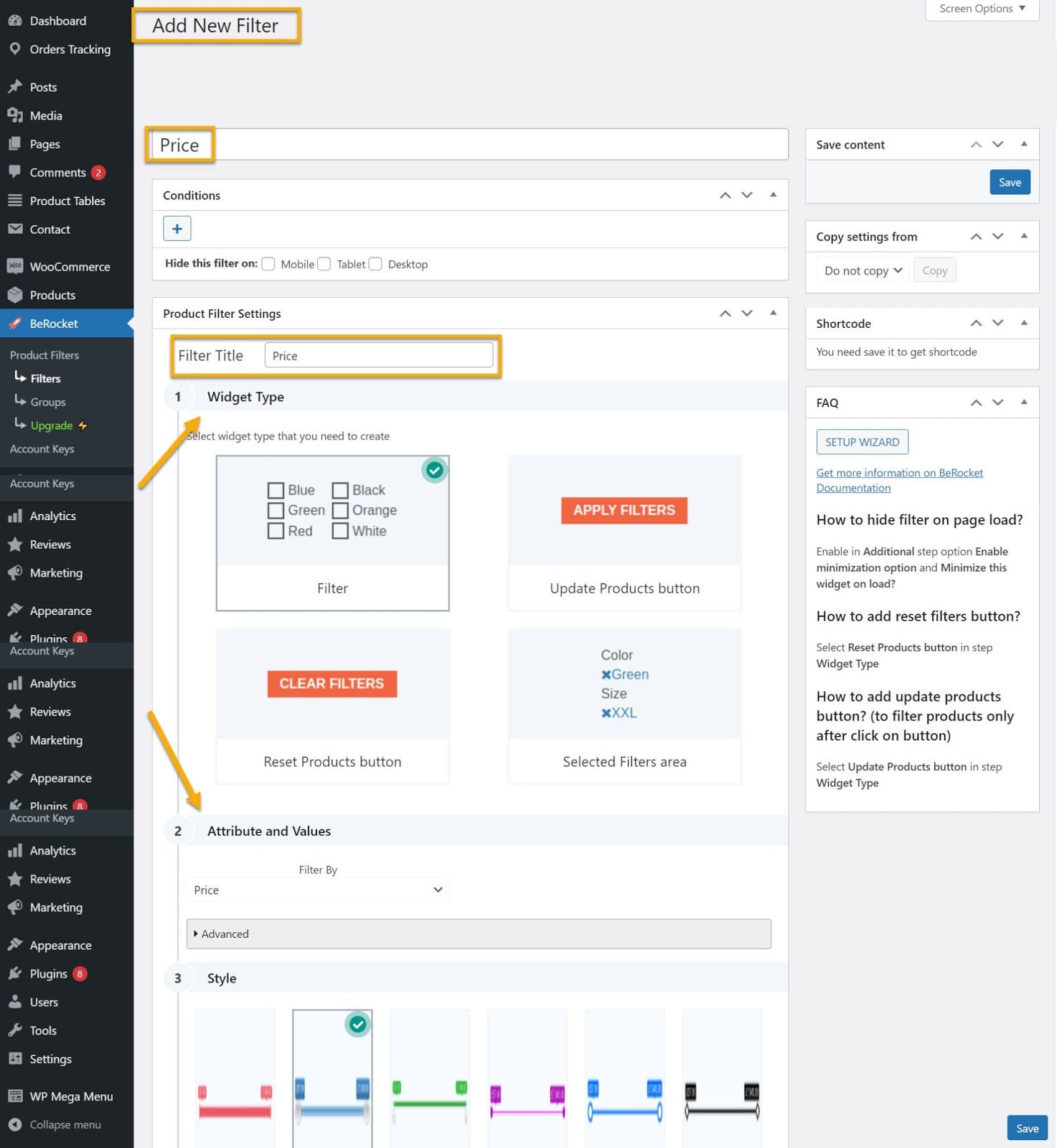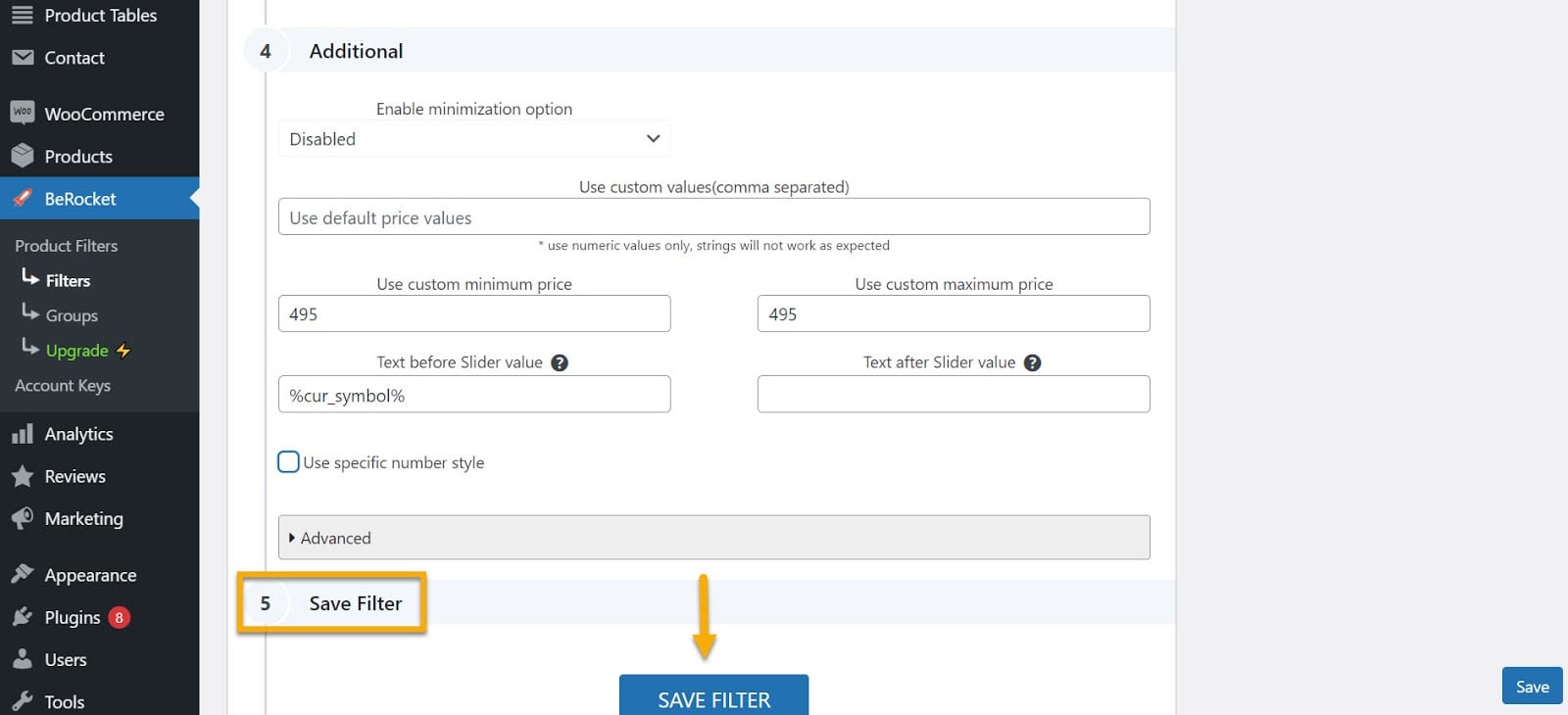 You'll be able to see all your filters as well as edit them from the Be Rocket → Filters section.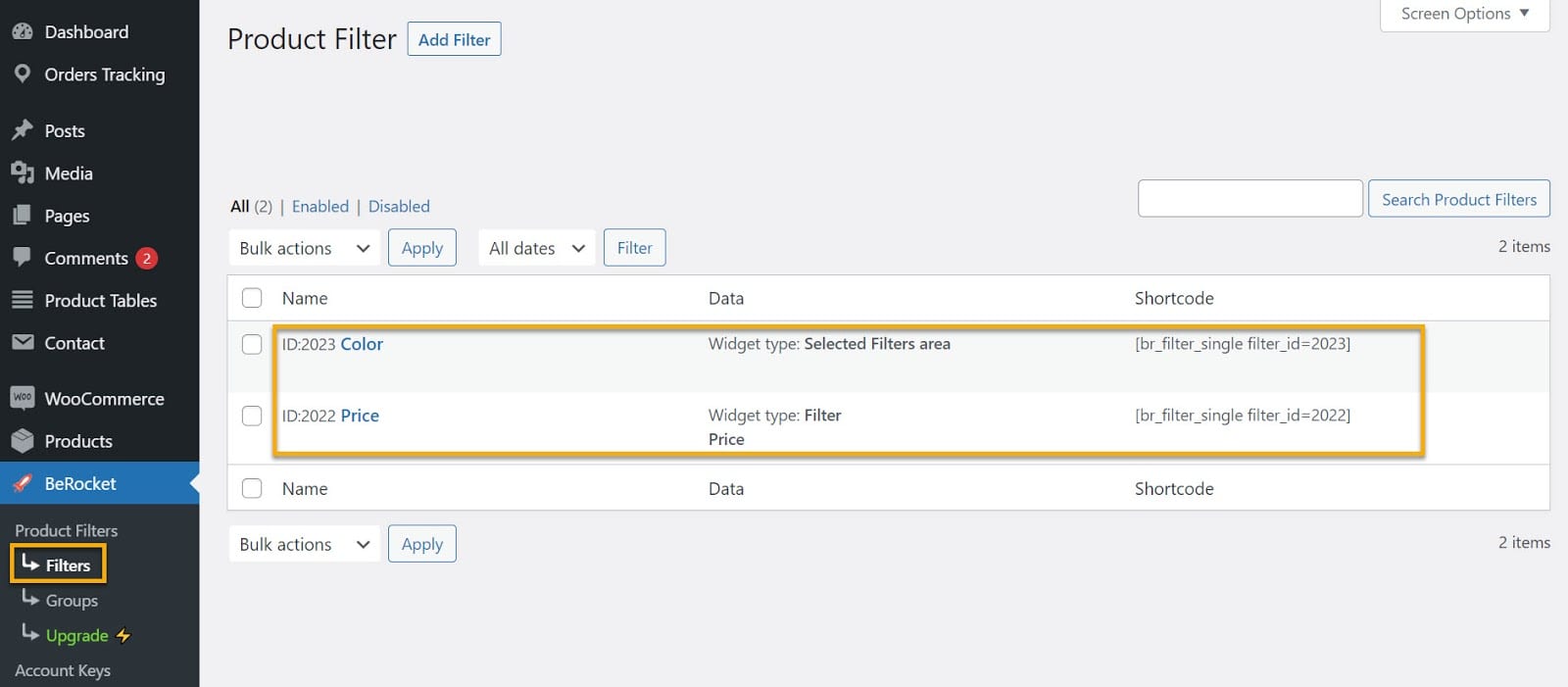 Great, now you can tick off this element from your know-how list!
Let's move to a rather confusing subject for most online store owners. 👇
What is the difference between Product Filtering and Sorting?
When it comes to digging deeper into categories and finding the product we're searching for, oftentimes we see two different yet very similar elements on the website: filtering and sorting.
Sorting and filtering correctly allows users to find the product they are looking for in less time. If customers can't pinpoint the suitable product they need in the shortest amount of time, they're likely to go to an eCommerce site where they can.
Filtering is a technique used to reduce the number of products in a product listing. Users select which criteria are important to them and only view products that meet those criteria. For example, customers may choose to view only products priced under $10 (thereby filtering out all products priced more than $10).
On the other hand, sorting is a technique of altering the order of a product list in which customers can specify what requirements they want the products to be listed. As a result, the price-conscious customers may prefer to sort the products by price, from lowest cost to most high price.
Here's a more detailed example of filtering and sorting altogether.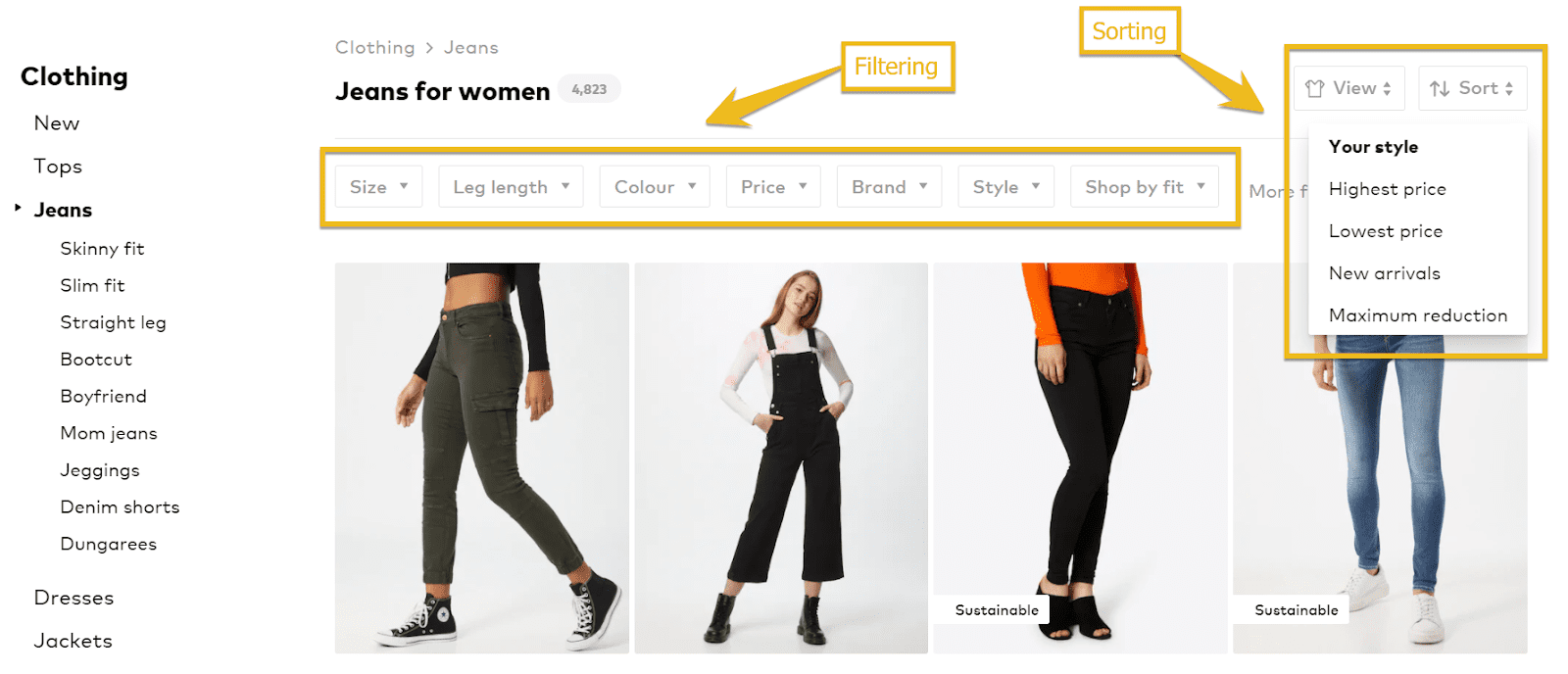 Sorting and filtering are critical for assisting customers in pinpointing the goods they seek. Because customers' levels of complexity when shopping online are skyrocketing, they are more likely to 'swipe' between similar sites in a fraction of a second. Useful sorting and filtering for product listings can go a long way toward assisting customers in finding what they're looking for.
Product Filters – Best Case Practices
Have you ever heard of the concept of 'smart filtering'? Smart filtering is when you choose to go beyond the traditional filtering options, such as 'color', 'price', and 'seize', and instead opt for something more eye-catching like 'occasion: anniversary', 'Christmas', 'birthday gifts', and so on.
These extra filters 'personify' the online shopping experience by matching users' real-world expectations and needs. They essentially create an online shop assistant,' matching users' requirements with specific products.
So let's see what should you keep in mind when creating your product filters:
Consider your products through the eyes of your customers
What information do they require to make an informed purchasing decision? To achieve the best results, make sure to consult with your staff and existing customers.
Use the same words that your customers use to describe your goods
Speak your customer's language. Your eCommerce product filters should be practical and intuitive. Don't make it difficult for your customers to find what they need.
Differentiate the filters from the rest of the site
Customers may not want to use the filter right away, but simply having the option available at any time improves their user experience.
Allow visitors to use multiple filter values of the same type at the same time
There is no such thing as black or white. Some of us might be searching for three different types of jackets, not just a specific type. Don't make your customers choose between one filtering option or the other.
Order filters by significance rather than alphabetically
Prioritize your filtering strategy based on the configuration that will be most advantageous for your customers.
Here's an example of a unique filter option that ultimately facilitates the user's experience: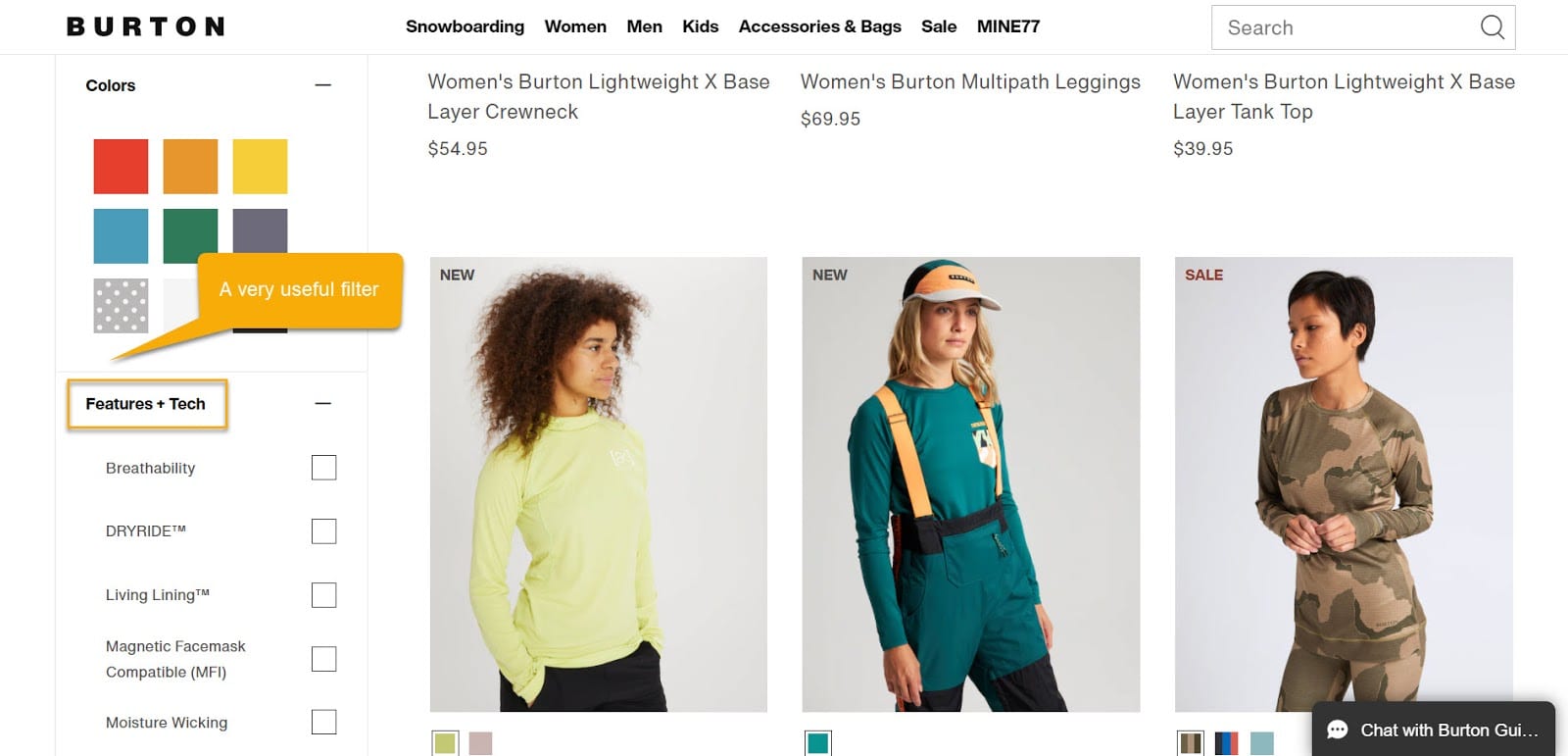 This comes perfectly in handy when you're searching for something of quality and you're interested in more than color and appearance.
Top-Notch WooCommerce Product Filter Plugins
We've learned by now that if you want to give some flair to your online store, you'll need to reach higher than just what the default filtering strategy can give you. For this purpose, we've compiled a list of three product filter plugins that will do the job for you.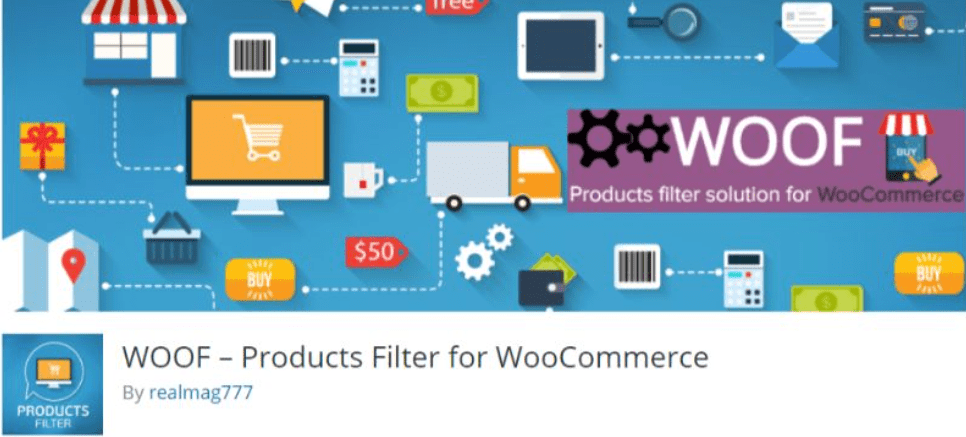 WOOF is the first on our list of the best WooCommerce product filter plugins. It is a product search plugin that will make it easier for your customers to identify goods centered on categories, attributes, tags, price, and now even custom taxonomies.
Features of WOOF:
Options for filtering include price, color, image, etc.
Metadata can be used to filter WooCommerce products
Detailed statistics to assist you in analyzing and comprehending search data
Support for shortcodes and widgets
2. Advanced AJAX Product Filters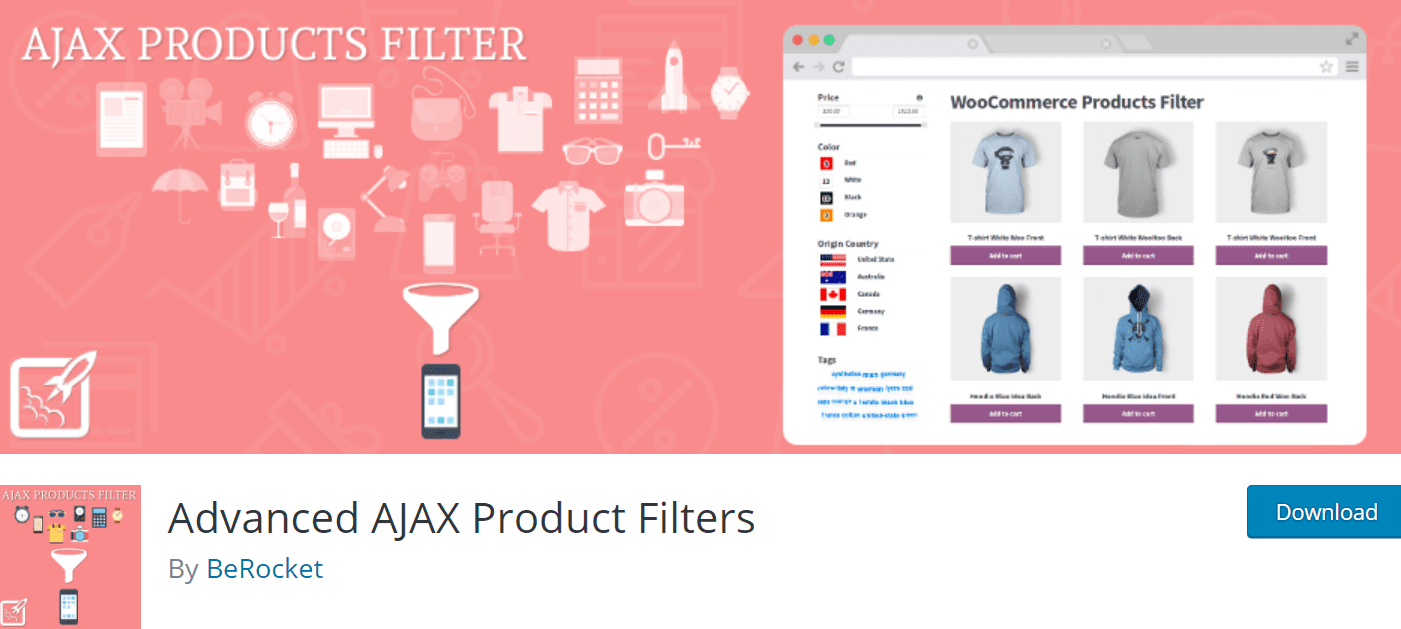 As we've mentioned at the beginning of this article, the AJAX Product Filters plugin is a must-have if you are an eCommerce retailer. It enables you to add an unlimited number of filters with the help of a single widget. There is also shortcode assistance, allowing you to place the filters almost anywhere on your website.
3. YITH WooCommerce Ajax Product Filter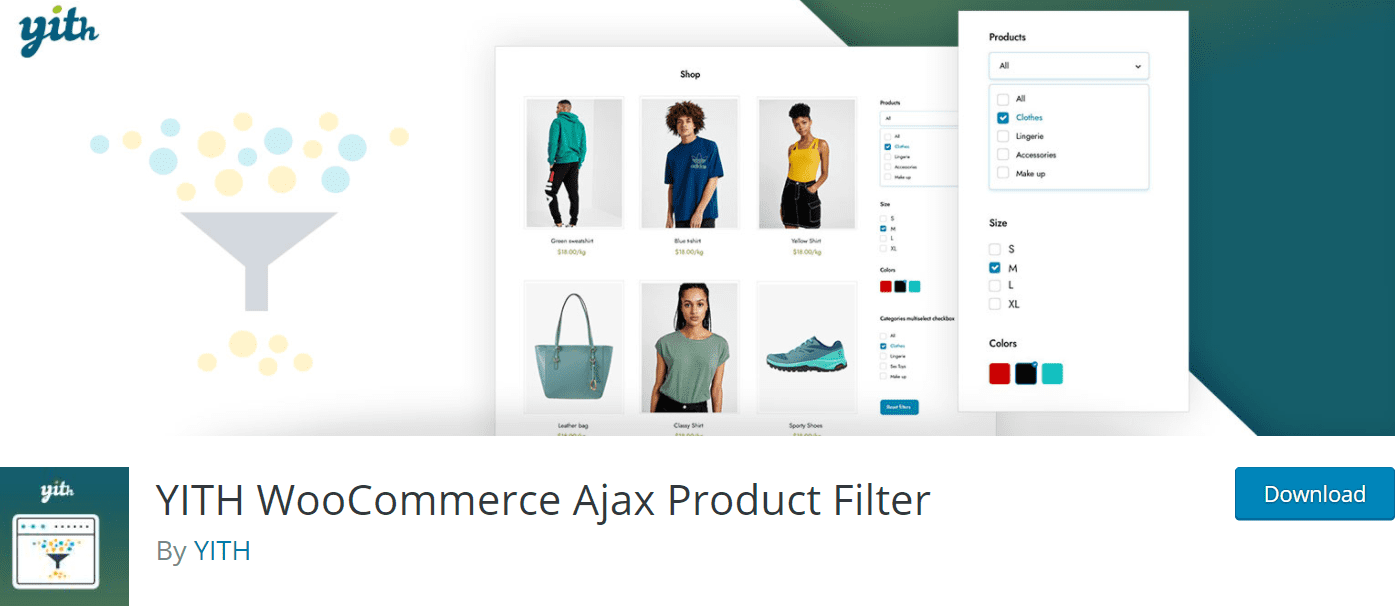 Last but not least, WooCommerce Ajax Product Filter by YITH. This plugin allows you to create an unlimited number of filters and display them on standard WooCommerce pages (Shop and Category pages) as well as custom pages created with Gutenberg or Elementor.
It embraces a variety of variables such as color, label, or even list and dropdown menus displaying various WooCommerce categories and tags. There is also a premium version of the plugin available, which adds a slew of additional features to the mix.
Take-Home Message
As your WooCommerce store expands and more items are added, you'll feel the need to improve the way customers browse through products on your site. You don't want to burden your customers with too many products that aren't necessary and this is why you'll need to have a well-established filtering strategy.
Now, with all this brand new information, I'd say you're ready to make some magic and get some work done. Feel free to drop us a line in the comments section below if you're feeling chatty.
We'd love to hear from you!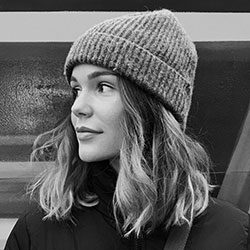 Gabriella is a Digital Content Writer and Marketer with a zeal for all things WordPress. When she's not researching and drafting the upcoming articles, you can find her in the open air exploring the outdoors with her dog.