A pre-order is an order for something that hasn't been launched yet. It mainly happens when people can't seem to find the products they are looking for due to their popularity. Luckily for you, WooCommerce has you covered. The WooCommerce Pre Order Plugins allow customers to purchase a product currently out of stock from the store.
This article will discuss the advantages of implementing a pre-order feature, some amazing plugins in the field, and how to create a pre-order from scratch.
WooCommerce pre-order is an excellent way to boost sales and attract more people to visit your website. Pre-orders virtually always result in sales because you allow customers to make reservations for things that may not be available for several weeks or months. 
In addition, the pre-order plugin is quite flexible in that consumers can order things with multiple stock units with partial payment or full payment if the admin allows it.
What Are the Benefits of WooCommerce Pre-Order Feature?
Before diving into some well-known benefits of WooCommerce pre-order, let's see an example. And what better place to pre-order stuff than Amazon?!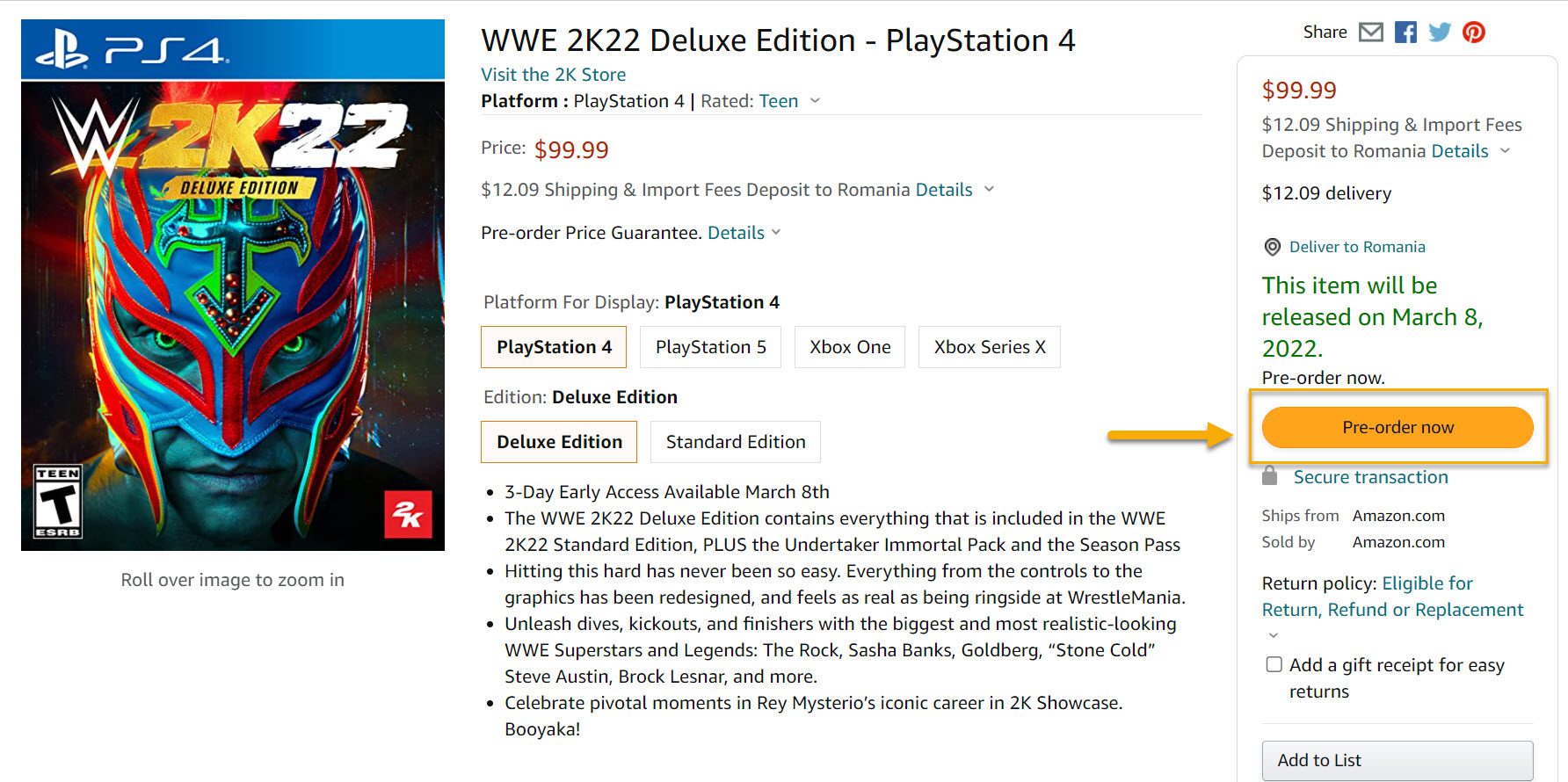 Preordering has several advantages. The advantages will differ depending on the products offered and your specific business.
Here are some of the most common benefits of pre-ordering:
First, it gives you a sense of the market.
Pre-orders give you a good idea of what to expect and help you predict the demand for specific products, even if they haven't yet been released. As a result, you can see how many people are interested in particular items before they become available.
For example, Apple and other well-known large corporations use this strategy to better understand their markets. In addition, smaller businesses can use this data to plan purchases and inventory decisions.
It aids in the promotion of the product.
Many businesses create marketing strategies solely for pre-order items. They help raise awareness and interest in specific products while also assisting companies in interpreting consumer demand for those items.
This is also beneficial to search engine optimization. By the time the product is made available to the general public, it should have been indexed in the major search engines, which will help bring more potential and existing customers to your site.
Guarantees sales.
Finally, it assures you some sales. Most businesses are initially concerned about how a new product will perform once it hits the market. Pre-orders can put you at ease because you'll have confirmed sales for those products within a specific time frame.
However, before you go head-first into the pre-order world, there is something you should know.
You'll need an efficient distribution system to have a successful pre-order product. The sources of your products can sometimes determine your success. If you rely on a supplier experiencing delays, you may have to adjust your plans accordingly.
If a pre-order item is delayed, your customers may become concerned or lose your trust. Any issues that harm such products can negate the benefits that offering pre-orders create.
To avoid that happening, here's our list of trusted WooCommerce Pre-order Plugins that you can use for your online store:
WooCommerce Pre-Order Plugins From Which You Can Choose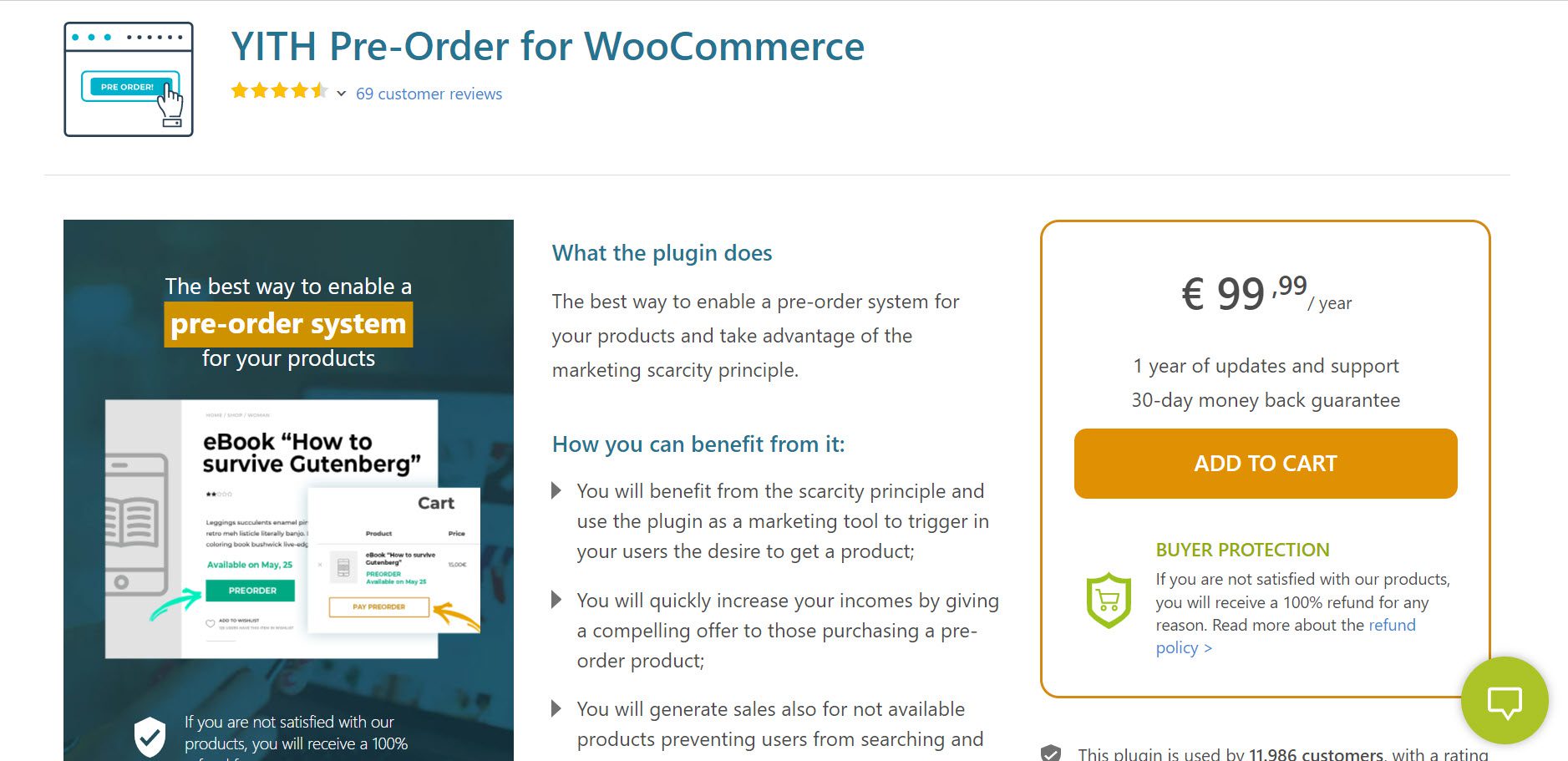 The YITH Pre-order for the WooCommerce plugin is valid for existing and new products only available for a limited time. Pre-ordering new items can be an excellent way to generate interest and attract more visitors to your website.
It's also a good resource for retaining existing customers looking for items that are currently out of stock. In addition, you can use this WooCommerce backorder plugin to send pre-order emails to customers and promote them on your website.
You can also give discounts to customers who order items during the pre-order period. You can stay in touch with those interested and persuade them to return to your site and complete their purchases. The plugin can be used in conjunction with the YITH WooCommerce Stripe plugin to process credit card payments for any pre-ordered items.
The main features of the plugin include:
Pre-order simple products and variations;
On Pre-order products, change the 'Add to Cart' text;
If a Pre-order product is purchased, notify the administrator.
Notify customers that their purchased products are on backorder;
Customers can view a list of all Pre-order products that have been purchased.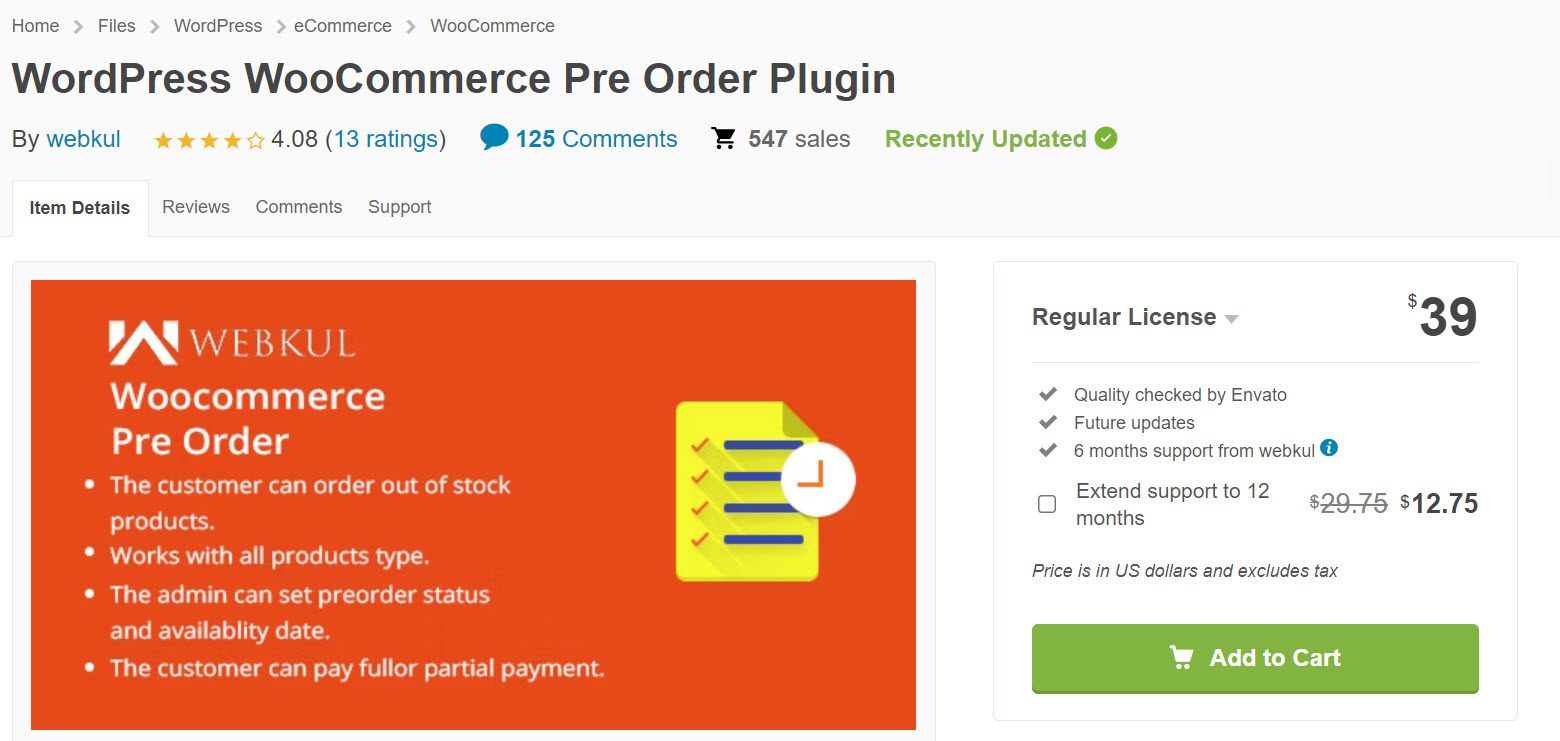 The WordPress WooCommerce Pre Order plugin can be used for several different business strategies. First, you can use it to collect payments for pre-ordered goods. It can help with pre-order items and popular products that you occasionally run out of.
You can display pre-order item statuses as well as delivery dates. Clients can make a partial payment or pay for the pre-order items in total. In addition, you can set the price that customers must pay for each pre-order product that you provide.
The main features of the plugin include:
Admins can enable or disable notifications when a new item becomes available for pre-order.
Your customers can still order items that are currently out of stock.
It supports the following product types: downloadable, grouped, simple, variable, and virtual.
Administrators can also set availability dates and pre-order statuses.
Admins can set custom amounts for pre-ordered items that must be paid;
Customers have the option of paying in whole or in part.
All registered customers will receive email notifications when new items become available for pre-order.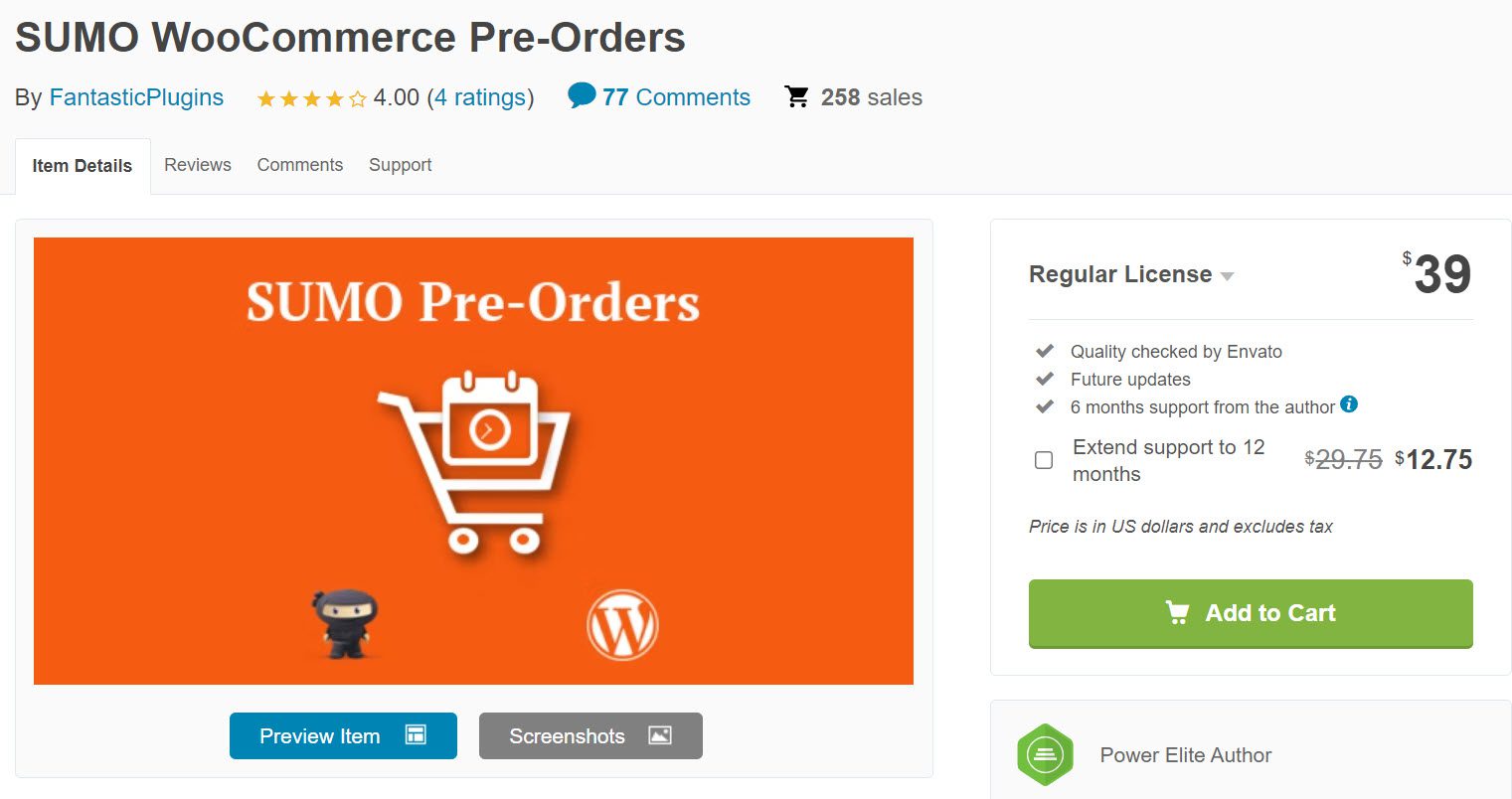 SUMO WooCommerce is a complete backorder plugin for WooCommerce. You can use it to allow your customers to pre-order items before they are available for purchase in the WooCommerce shop. Payments can be accepted via Pay in Advance or Pay on Release.
Customers who purchase Pay in Advance pre-orders must pay through one of the traditional payment gateways. Pay on Release pre-orders are only available through the SUMO Pre-Orders payment gateway. At checkout, this will be the only payment option for these orders.
The main features of the plugin include:
For pre-order products, a countdown timer displays the product release date;
Option to limit the maximum quantity that a user can order per pre-order product;
Option to strike the regular price and show the pre-order price;
Option to send a payment invoice reminder to users who selected "Pay on Release" after the product is released;
The site admin can change the release date for the pre-order product(s) and instantly notify customers;
Email notifications to admin and customers regarding product release, Invoice to complete payment, pre-order cancellation, and so on;
Allow users to cancel their pre-orders before the product is released.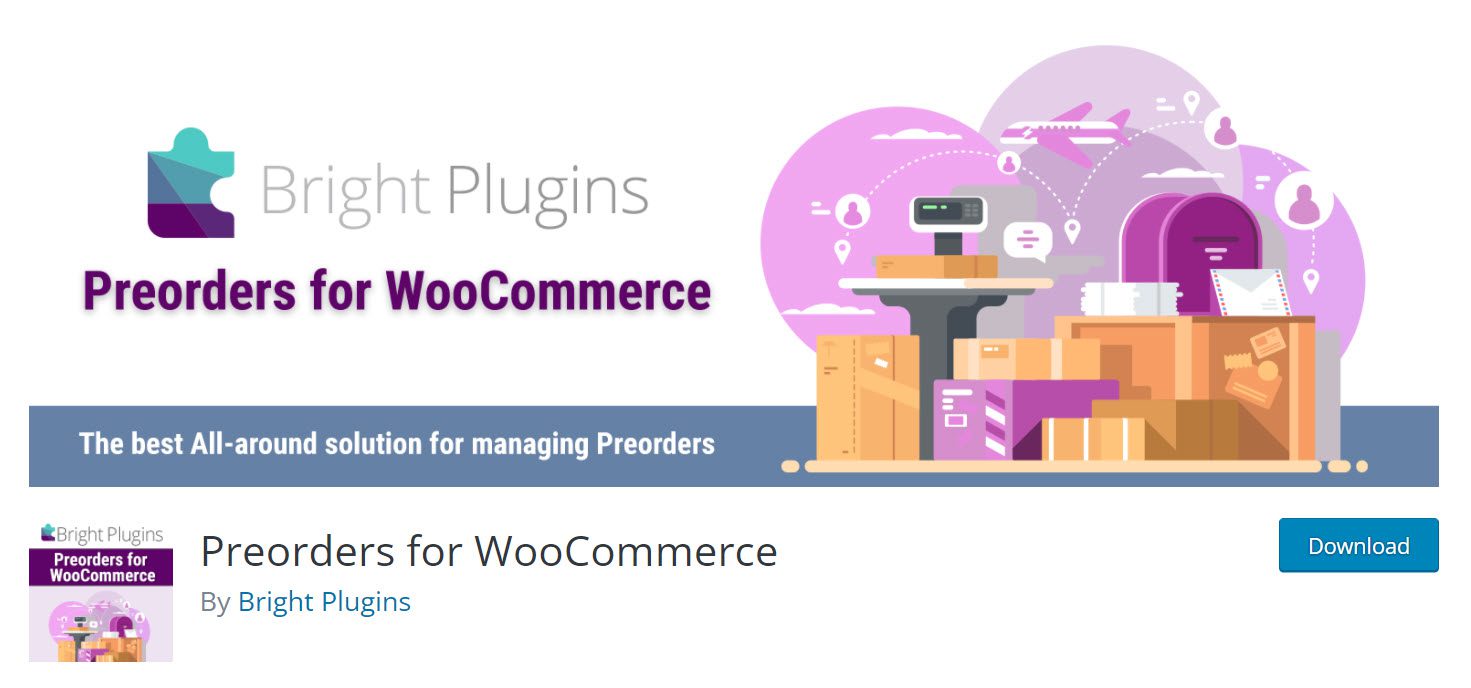 Bright Plugins Pre-orders for WooCommerce can help you with pre-order billing. You can bill your customers for pre-orders when the items become available, or you can charge them when their orders are placed.
The main features of the plugin include:
Manage pre-orders in a separate section of My Account;
Assign pre-order status to variable and straightforward products;
Any items that can be pre-ordered can have expiration dates assigned to them;
You can sort orders to include those placed during the pre-order period;
Things that are currently out of stock can be automatically converted into pre-orders;
When the pre-order period expires, you can automatically make certain products available for purchase;
During the pre-order period, single product prices can be adjusted. Prices can be set as a percentage, fixed amount, or markup over the current base price;
Notify your customers when the pre-ordering period ends, and the items are back in stock.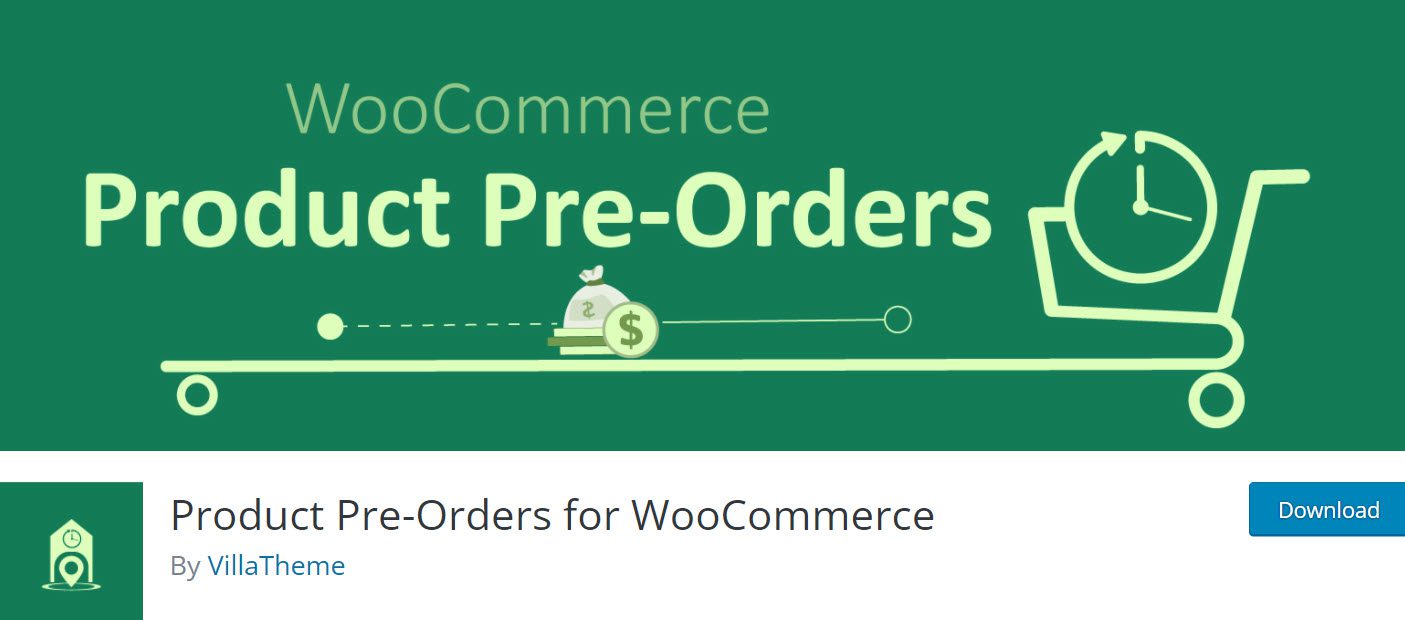 Product Pre-orders for WooCommerce is another powerful plugin that allows you to sell pre-order products on your WooCommerce website. When a product has a PPre-orders feature, customers can shop for their desired products on your website even if they are not currently in stock.
The main features of the plugin include:
Setting an optional date and time when the pre-order will be available is included.
Customize the pre-order fee for each product.
Customers who pre-ordered products will receive an email;
The pre-order text button and color can be customized;
Text indicating availability date and time.
And now, let's take a look at how we built a pre-order feature for our WooCommerce store!
How to Enable WooCommerce Pre-Order
The first step is downloading the Product Pre-orders for the WooCommerce plugin. 
Head over to your WordPress Dashboard → Plugins → Add New and install and activate the plugin.
Once the plugin has been successfully installed, look for the Pre Order label in the left sidebar: 👇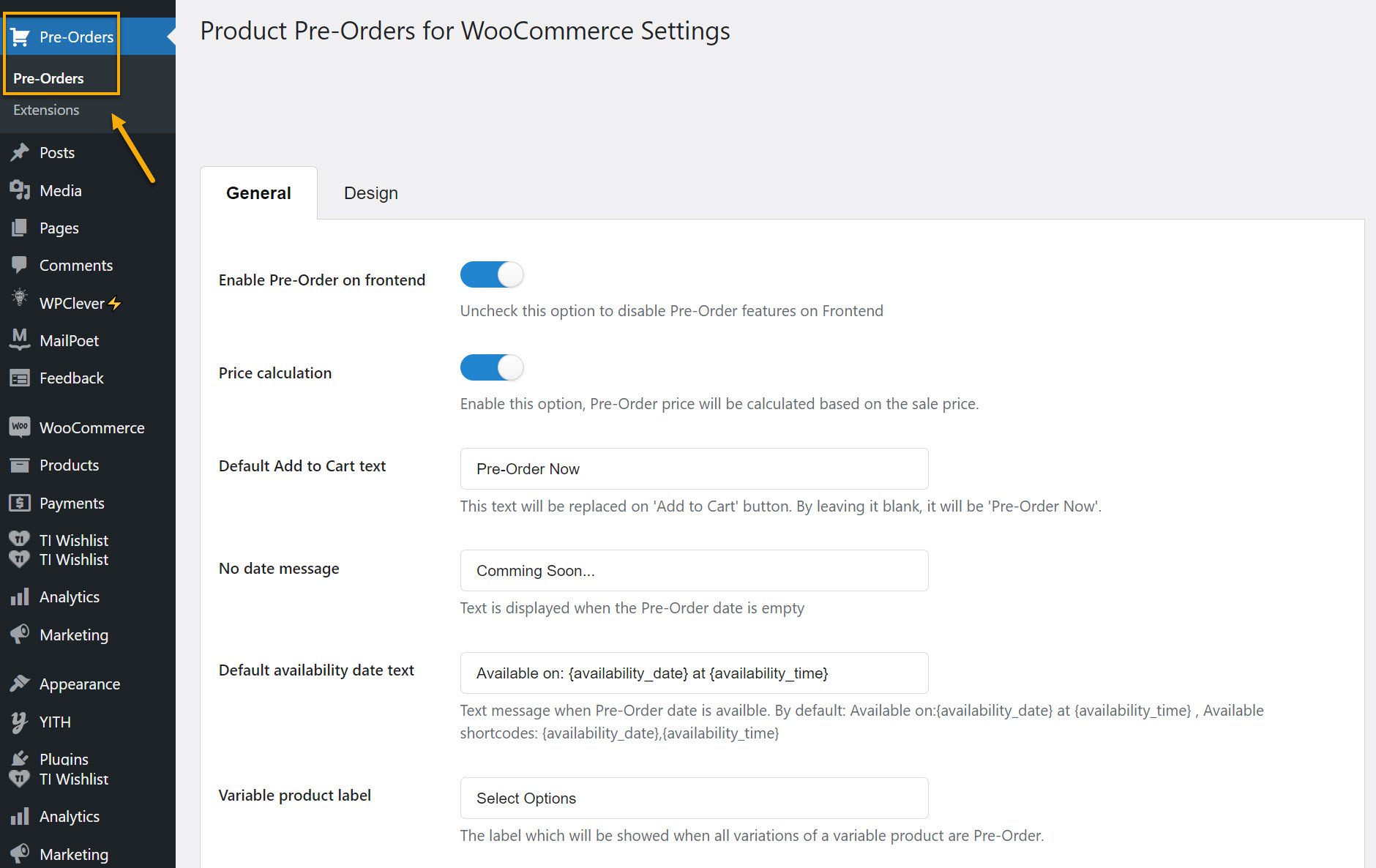 Here's what you need to do at this stage:
General Settings
Default Add to Cart Text: This controls the text of the add-to-cart button on single product pages for products with pre-orders enabled. For example, "Preorder Now" rather than "Add to Cart."
Default Availability Text: This one shows a text message when the Pre-order date is available.
Variable Product Label: The label appears when all variations of a variable product are pre-ordered
Design Settings
This page displays all the color changes you can make to the pre-order feature. You can change the color on the single product page, the shop page, and the cart page.
To do so, hover over the color palette and choose the color of your choice. 

To make the 'Pre Order Now' button more visible, go to Products → Pre-Order and thick the pre-order version at the top of the page. 
Now head back to the product page and single product page to see the pre-order feature up and running.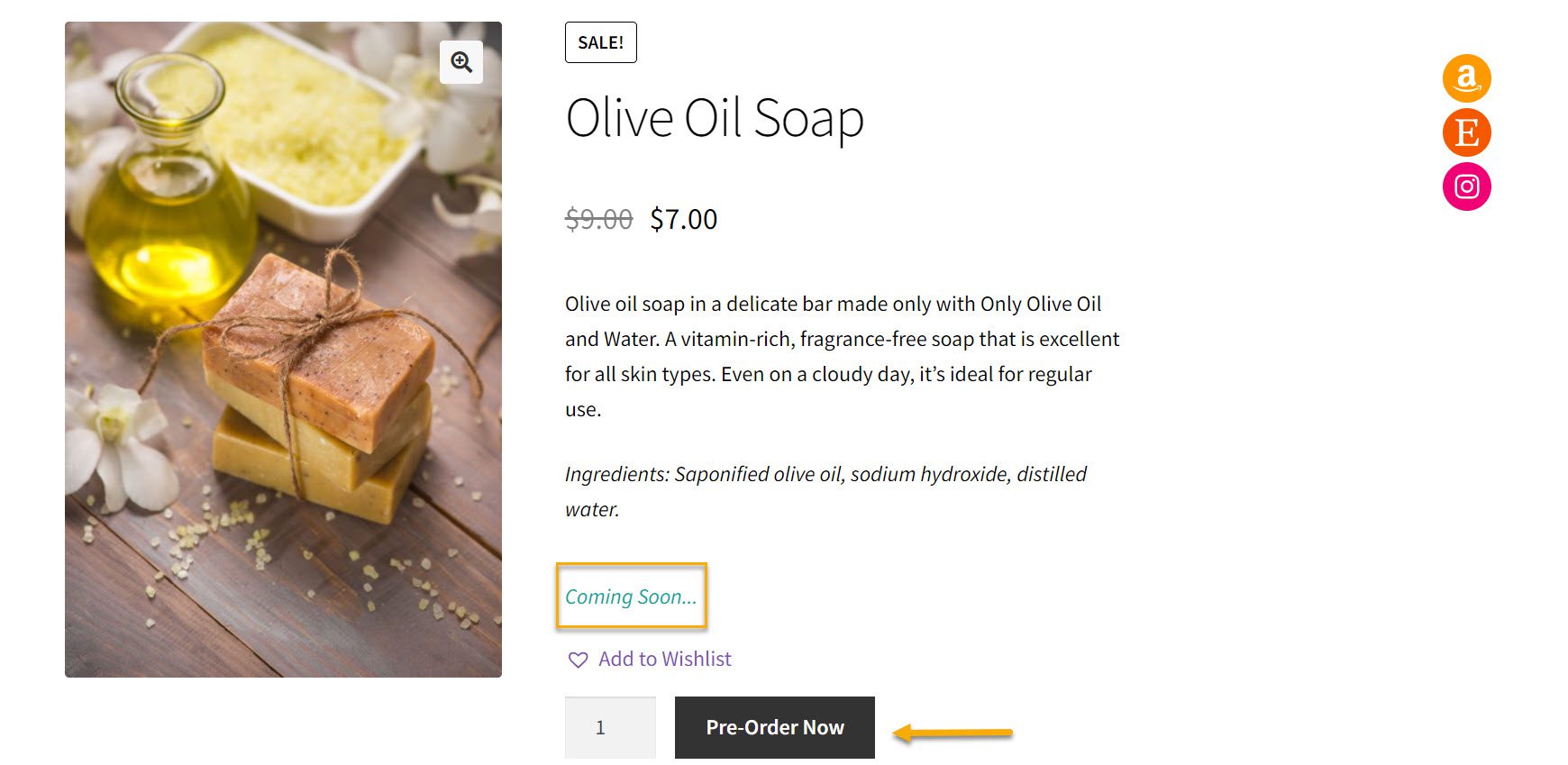 Once the customer has requested a pre-order, the admin must update the quantity and change the status to In Stock from the backend. The admin will do this by going to the Products section of the admin panel.
The admin will then select the appropriate product and change the status and quantity under the Inventory section, as shown in the image below: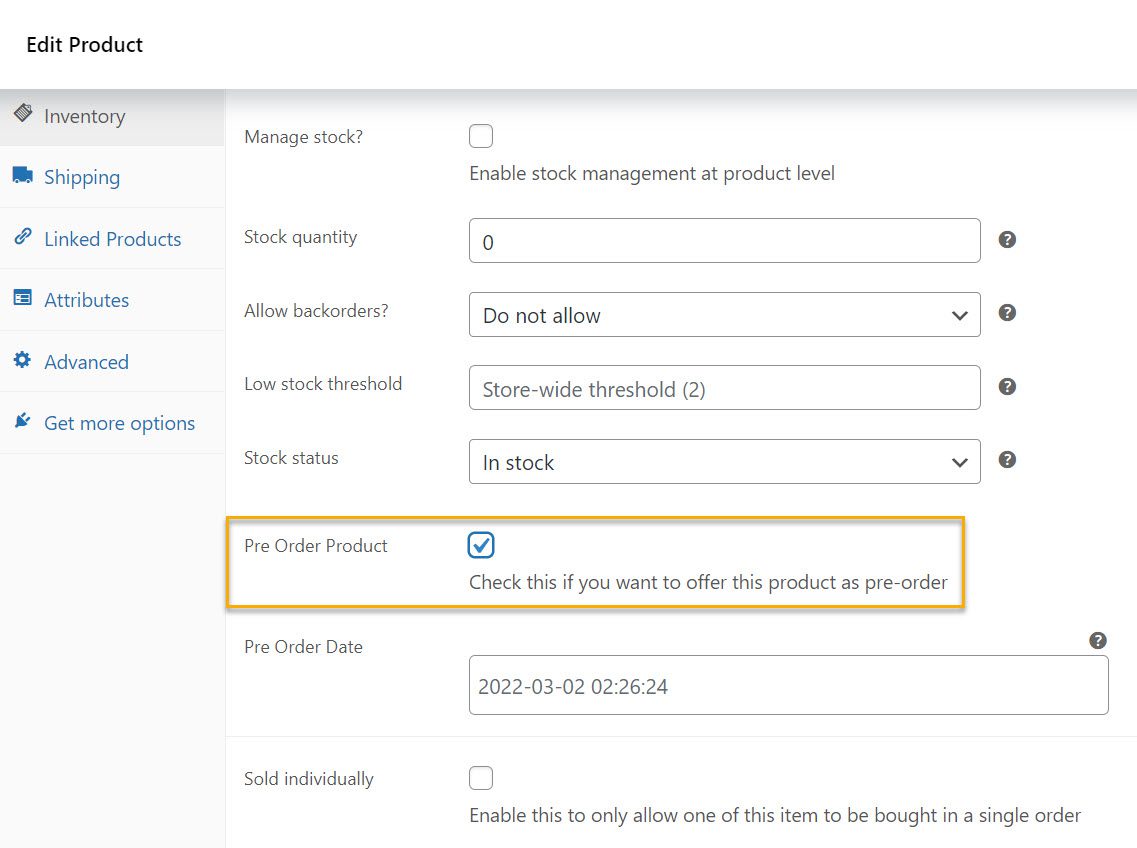 If your product is out of stock, don't worry; your customers will be notified via email when it becomes available again.
Over to You
So, to summarize a bit what we discussed earlier, here's what you can do by including pre-orders on your website:
First, create a hype campaign to keep customers interested in what's to come.
Put products on the market before they are ready;
Watch as sales skyrocket even before the product is released;
Notify customers when the second item becomes available;
Using one of the plugins mentioned above, you can quickly implement the pre-order and see your benefits. So, what are you waiting for?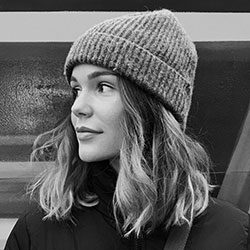 Gabriella is a Digital Content Writer and Marketer with a zeal for all things WordPress. When she's not researching and drafting the upcoming articles, you can find her in the open air exploring the outdoors with her dog.