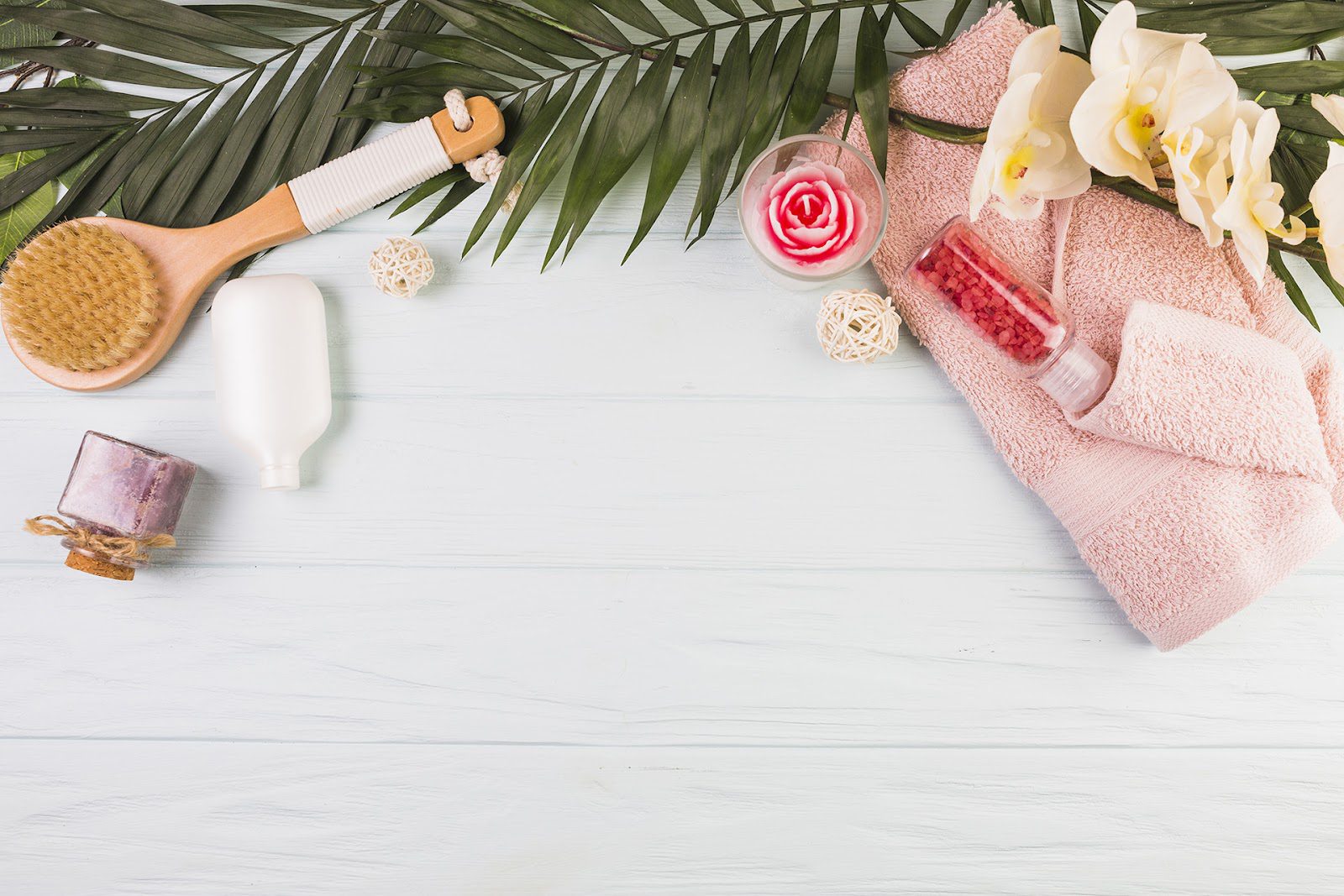 Beauty consumption and the cosmetics market have grown at an ever-increasing rate in recent years. The global beauty industry was valued at around USD 500 billion (EUR 411 billion) in 2019 and is expected to grow further in the coming years.
You are probably aware that if you want to become a top beauty eCommerce site, you need to focus not only on traffic acquisition but also on increasing conversion rates to turn visitors into buyers, and on increasing the customer lifetime value.
If you want to take your beauty business to the next level, incorporate these six proven strategies that we're about to share with you into your daily marketing efforts.
Build brand advocacy and awareness
Cosmetics and beauty companies need to tap into Millennials' desire to connect with brands, share their brand experience with others, and become a part of the brand they identify with. As a beauty marketer, you must find your brand voice and stick to your brand's main focus. Encourage your customers to share their feedback, beauty inspiration, and tips in the groups.
How can you do that? Start by sharing special promotions as an exclusive members-only offer, and then work with beauty experts to help people solve their beauty problems. Remember, your primary goal is to retain customers and strengthen their loyalty to your brand by building long-term relationships.
Case in point: ColourPop Cosmetics
Let's take a look at how the folks from ColorPop Cosmetics did their most recent giveaway.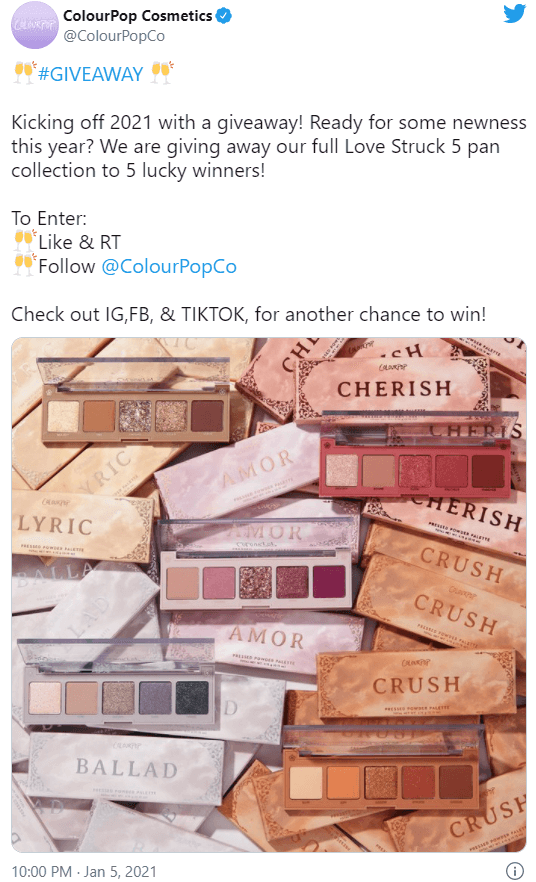 Giveaways on social media can help you quickly expand your business. They have the potential to increase brand exposure, engagement, and sales. To conduct a successful social media giveaway, you'll need to choose a prize that will entice people to enter. When done correctly, social media giveaways can generate a lot of publicity for any company.
Use content marketing wisely
When it comes to brand promotion, content marketing is one of the most effective tactics. To attract, acquire, and engage your target audience, it's all about sharing relevant and valuable content.
Next time you find yourself looking for new ways to optimize your website, you might want to keep these suggestions in mind:
Create a newsletter subscriber list and use it to send out special offers and material to your current and prospective consumers.
Create polls and surveys to gain feedback and evaluate the performance of your advertising. You can do this by incorporating interesting interactive material, such as quizzes, popups on your website, native ad campaigns, or social media. Adapt your marketing plan based on the data.
Make "how-to" videos to show customers how to build up a skincare routine or home spa treatments.
Go live on video and share your message on social media in real-time. Video content is very engaging, making it a simple approach to increase organic reach for free.
Case in point: Bath&Body Works
For example, take a look at Bath&Body Works's newsletter. It instantly pops up as you click on their website.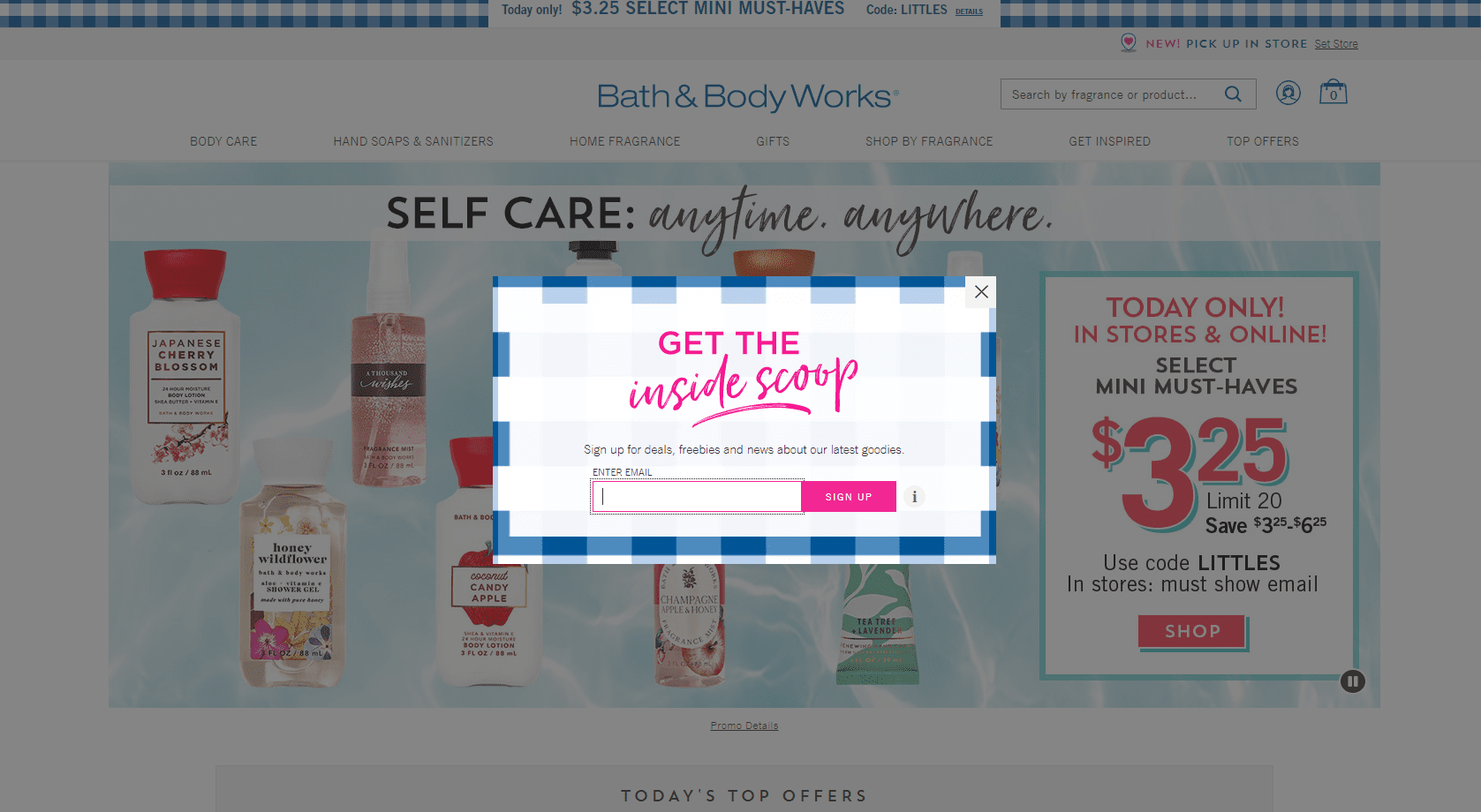 Why are newsletters a good idea? Without a newsletter, you're missing out on a lot of opportunities. What better method to nurture your consumers, keep them informed about new specials and events, and transform them into devoted customers than through email?
Unleash the power of testimonials
The finest form of advertisement is a satisfied customer. One of the most effective influencers in a customer's decision-making process is a testimonial. Reduce your clients' research time by providing them with all relevant information about your product. What better way to make advertising credible? Add the testimonial to the product, sit back and let the magic happen.
Case in point: Living Nature
Just like the folks from Living Nature did.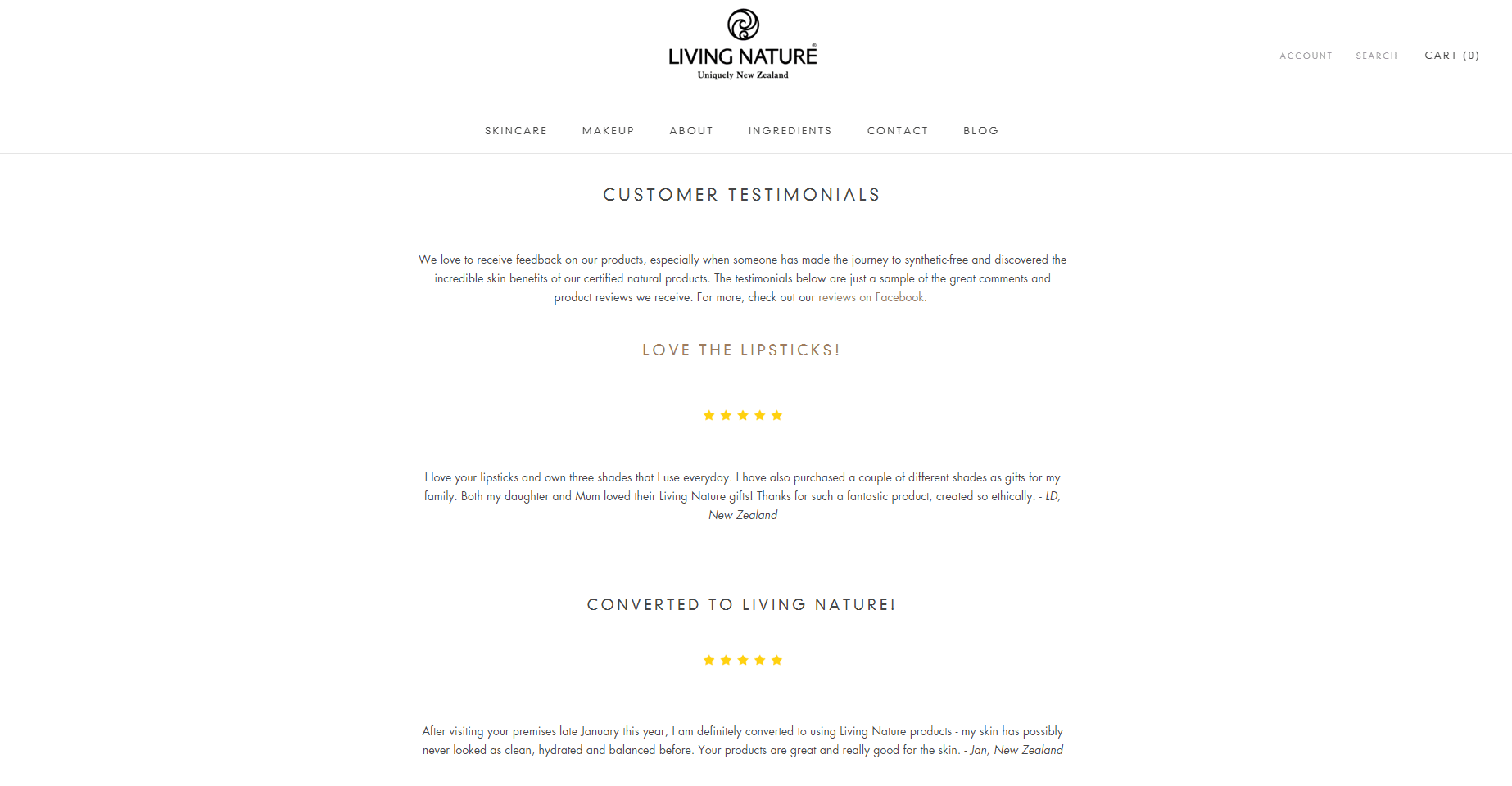 Most people are generally doubtful when they visit a company website for the first time, which is why your website must reflect well on your company. One way to accomplish this is to dedicate one of your website pages to customer testimonials.
Think like a "Beautypreneur"
The power of personal branding can positively impact the authenticity of your business. Even more, it adds more PR and another resource to your marketing strategy mix. Concentrate on the human aspect of your business.
Tell your company's background with a unique story based on your aspirations and dreams, and don't be shy appealing to emotions. You'll find that people value genuine emotions and honesty more than a miracle product.
Case in point: Paula's Choice
Take a look at Paula's Choice's story, for example. It sure does light on fire some emotions.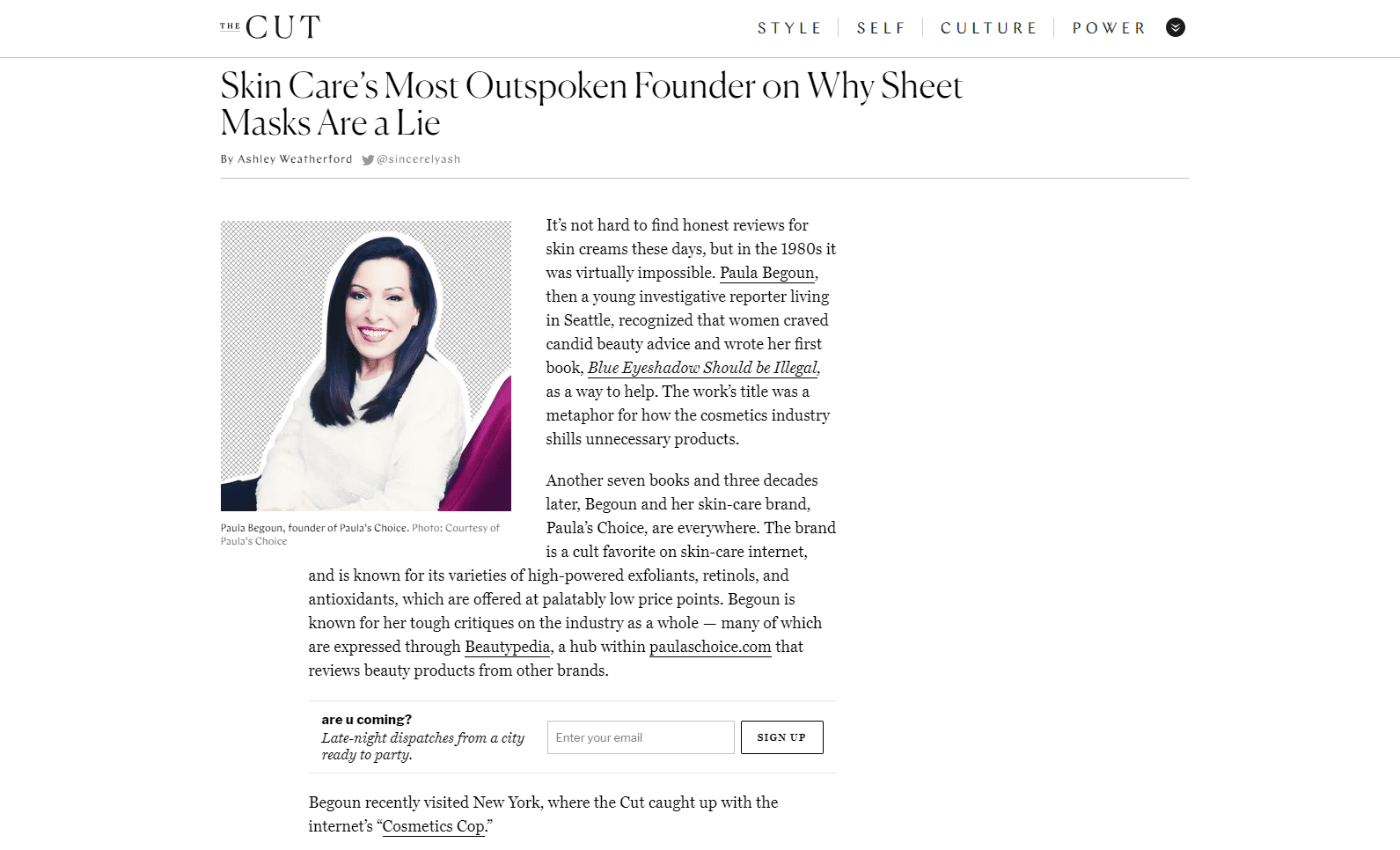 Offer product bundles
First off, what's a product bundle? Product bundling refers to selling several individual goods or services as a combined package at a lower price than sold separately.
This sales strategy works best for cosmetics. Most brick-and-mortar beauty stores sell products in bundles, making them more cost-effective for buyers. Rather than selling individual products, selling different products in bundles increases sales and ensures more business conversion.
Case in point: TonyMoly
Let's take a look at TonyMoly's example of a product bundle sale.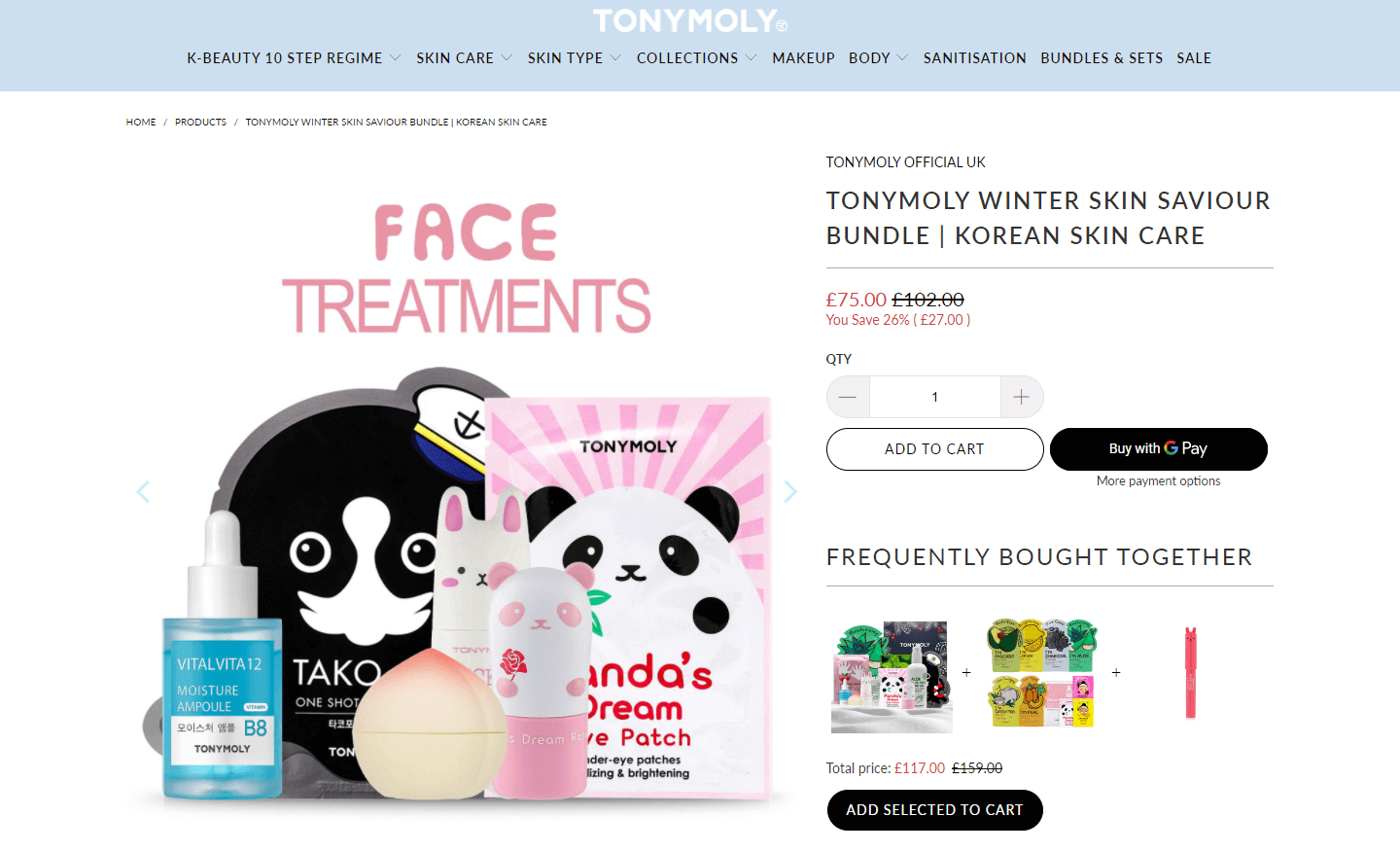 Whether it is purchasing beauty products in bulk or shopping for fashion wear, this provides a plethora of benefits for an online store:
The average order value of a customer multiplies.
When selling products in a bundle, the customer is more likely to be introduced to a new product line, which will lead to future sales.
Customers who purchase beauty products in a bundle are more likely to be loyal to the brand because they will be using multiple products from the same brand.
Reduce the paradox of choice
If your store has a large number of SKUs (i.e., a wide range of products), you may have a broader audience reach by offering products that appeal to more than one type of customer. However, if you are not careful, having more products may result in lower conversions.
When you have dozens of different but similar products, website visitors looking at your products may become overwhelmed by the number of options available. This is known as the Paradox of Choice, and it occurs when we present someone with a plethora of options but no solution.
For beauty sites to be customer-centric, they must first consider what the customer ultimately desires before even considering the products. This is a fundamental tenet of our website design process.
Let's say you're looking for a hydrating face cream. You enter a website and you're presented with as much as 10 face creams. Which one do you choose? How will you make your decision? Will you rather exit and look somewhere else? I guess so.
But if you happen to see as little as three different products, you're likely to choose one instantly.
Case in point: Bioderma
Just like the folks from Bioderma do it.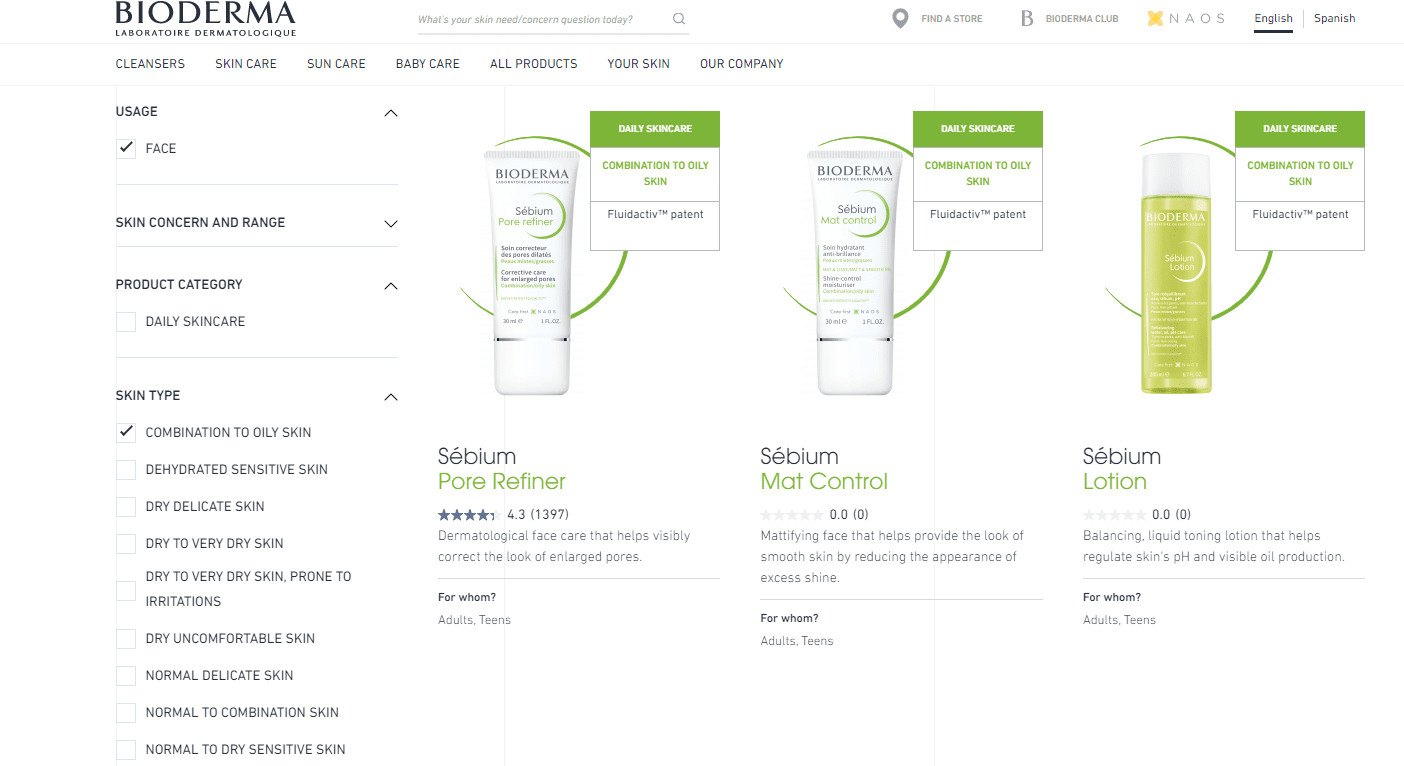 Make sure that the benefits of each product are clear, the difference between similar products is indicated, and people can filter your product selection based on their needs.
And because we like going the extra mile, we're not gonna stop here with these six strategies bit we're going to give some extra tips and tricks that we think might come in handy.
Are you ready? Let's get rolling!
Content Ideas to Level-up Your Beauty Brand's Website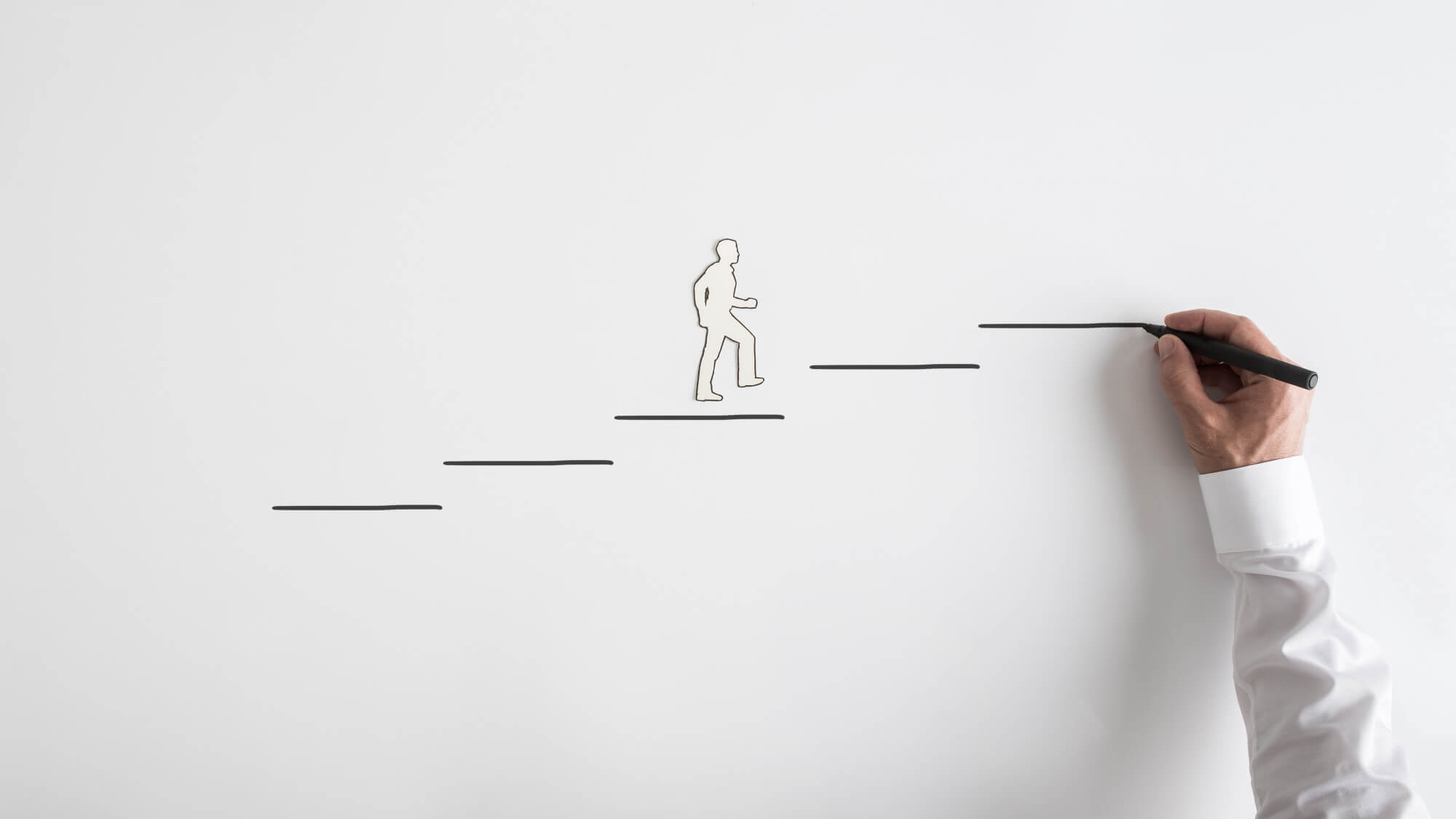 One of the hurdles for beauty marketers is coming up with fresh content concepts. Below are some examples you can start using immediately:
Create appealing and "Instagram-able" content. Consider partnering with skilled amateur photographers if you don't have a big budget.
Publish "before and after" photos to demonstrate the efficacy of your beauty products.
Use display advertising platforms, YouTube, and social media storytelling platforms to tell your brand's story. Showcase tutorials, tips, and tricks for applying cosmetics, product benefits, and more.
Showcase your customers' stories and other user-generated content on your website, social media, and other advertising platforms – there is no better way to demonstrate genuine affection for your products!
Make a creative giveaway. What can people do to help your brand get the word out? Maybe a quick video of them using a product, or a before-and-after photo. The winning entries may be awarded a discount or voucher.
Maintain a proactive and customer-centric mindset; respond to customer feedback quickly and in a friendly manner. Put your target audience, their needs, and desires at the heart of all your marketing ideas and initiatives.
Approach your customers with gifs, content-in-motion, and, of course, videos. Video content is a powerful tool, which is why 87% of marketers use it in their activities.
Take-home message
Beauty and skincare are among the fastest-growing eCommerce segments today. In a hyper-competitive industry where brands compete to showcase their differences and unique traits to attract and retain customers, if you are not optimizing for conversions and continuously testing your changes, you will most likely fall behind.
Seriously! There are far more creative ways to optimize a beauty and fashion web store than other niche web stores. We've just covered a few easy-to-implement strategies for increasing sales on beauty and fashion websites. The rest is up to you.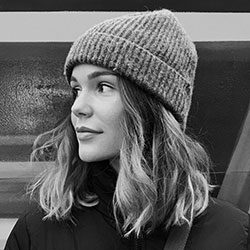 Gabriella is a Digital Content Writer and Marketer with a zeal for all things WordPress. When she's not researching and drafting the upcoming articles, you can find her in the open air exploring the outdoors with her dog.