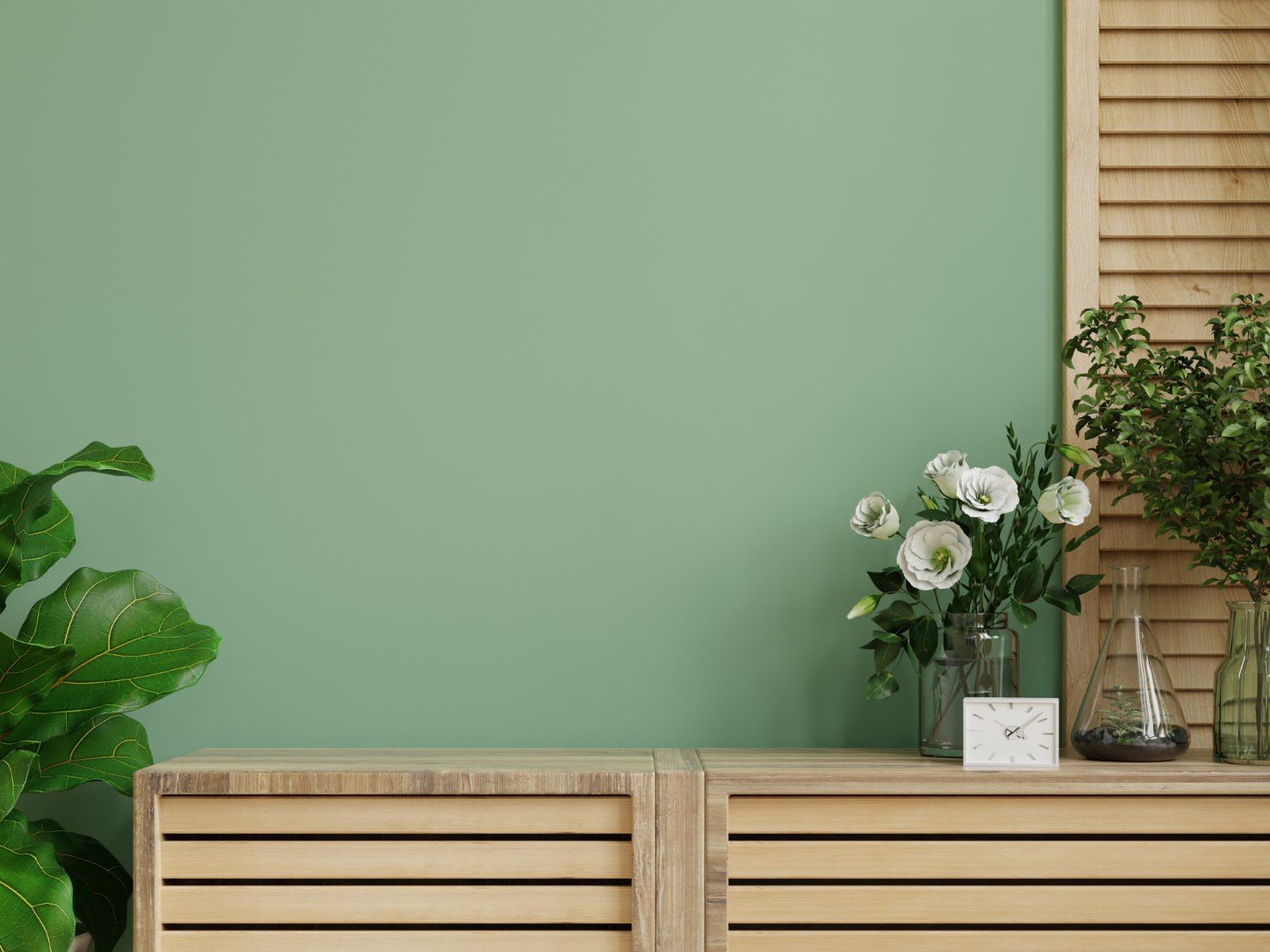 The good old saying is true. There is no other place like home. And it's not every day that you decide to buy a couch or to upgrade your kitchen. Nevertheless, there are significant considerations that you need to pay attention to, such as effort, time, and money, to make your home feel like home.
Home decor is not only a complex industry, but it comes with a plethora of opportunities for homeowners to have fun, express themselves, and strengthen the atmosphere of their homes. And where do you look for ideas in regards to decorating your home? On social media, various blogs, and websites, of course.
So without further ado, let's assume that you are currently on the get-go to optimize your furniture website so that it attracts traffic and increases conversion. Most importantly, it makes people order faster than they can lay down on a sofa.
In this article, we'll talk about how to optimize your home decor website, what strategies do famous furniture brands use, and much more. Curious to know where to begin? Our article may be of assistance.
Why Do You Need a Furniture Marketing Strategy?
As demographics shift and consumer purchasing habits shift, the furniture market is evolving. A poor marketing strategy is unaffordable for any furniture seller. To compete, having great products and excellent service is insufficient.
To effectively meet new challenges and remain competitive in an oversaturated market, your furniture company must not only adapt and ensure that your brand perception remains positive in the eyes of consumers but also develop a meaningful marketing strategy.
A coordinated approach to your furniture business will help you figure out who your ideal customers are, how to provide them with the experiences they crave, how to cultivate relationships that lead to long-term customer loyalty, and how to do all of this while managing your business.
First of all, let's take a look at two of the most well-known furniture brands: IKEA & Ashley Furniture Homestore.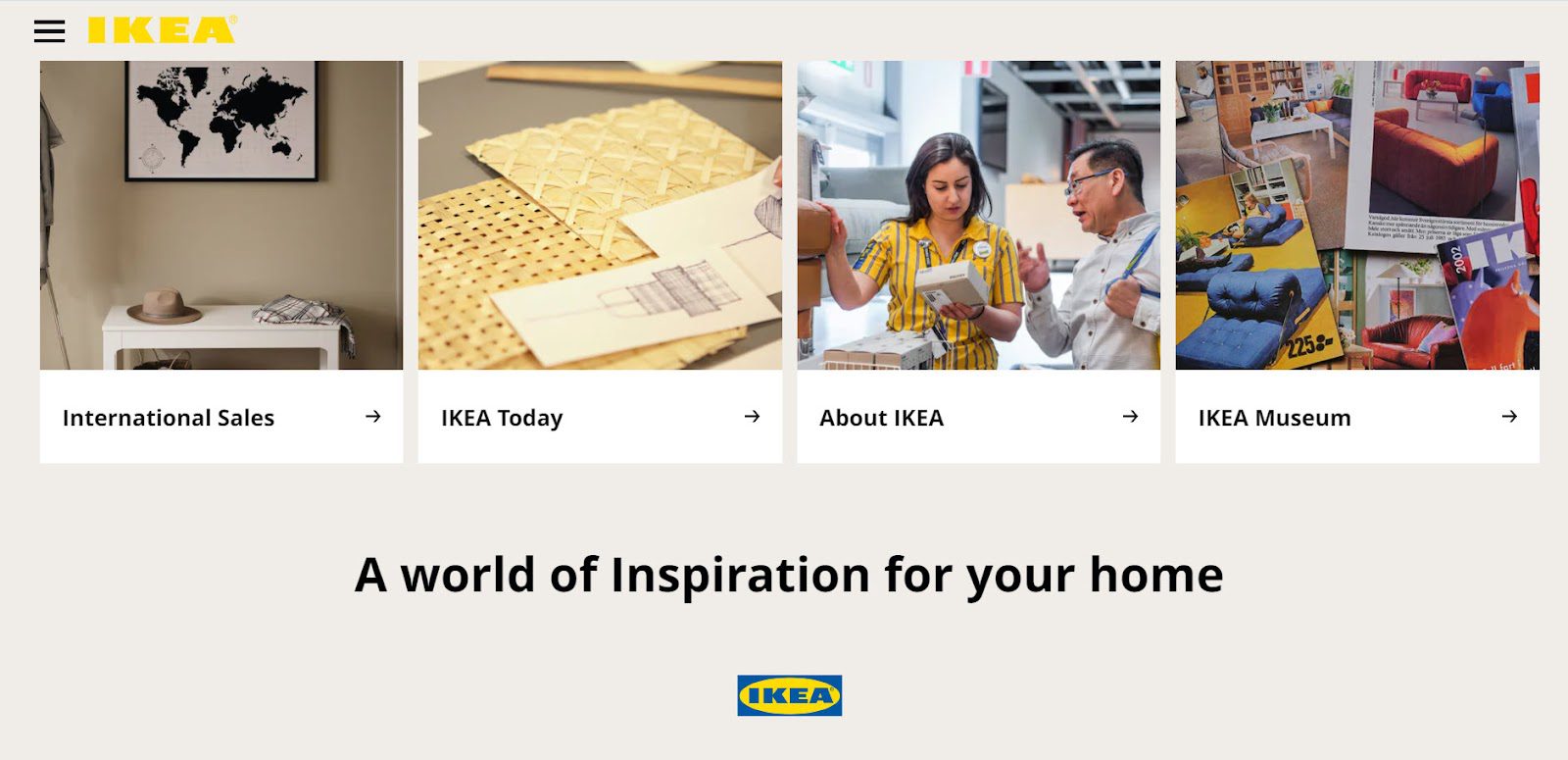 IKEA is now the world's largest furniture retail chain, with 315 stores in 27 countries and a revenue of more than $35 billion. In a recent study conducted by Statista, the Swedish retail icon drew more than 800 million visitors to its stores, even though online shopping is disrupting the traditional retail model.
Sweden's leading manufacturer and retailer develop their marketing strategy using online technology. They operate on a global scale and make effective use of social media marketing by utilizing a variety of social media platforms. The brand has multiple accounts on the same platform for each country, such as Ikea USA and Ikea UK.
It is critical to understand which platforms your customers use and be present at the appropriate time to reach and connect with them. In return, it elevates your brand's importance and value in their eyes.
Let's see a couple of tips and tricks you can learn from Ikea. 👇
IKEA keeps up with the latest technological trends. One of them is Augmented Reality (AR). Augmented Reality is a technology that superimposes a computer-generated image on top of a user's view of the real world, creating a composite view. This technology, along with the IKEA Place app, which debuted in 2017, provides a unified view of the brand.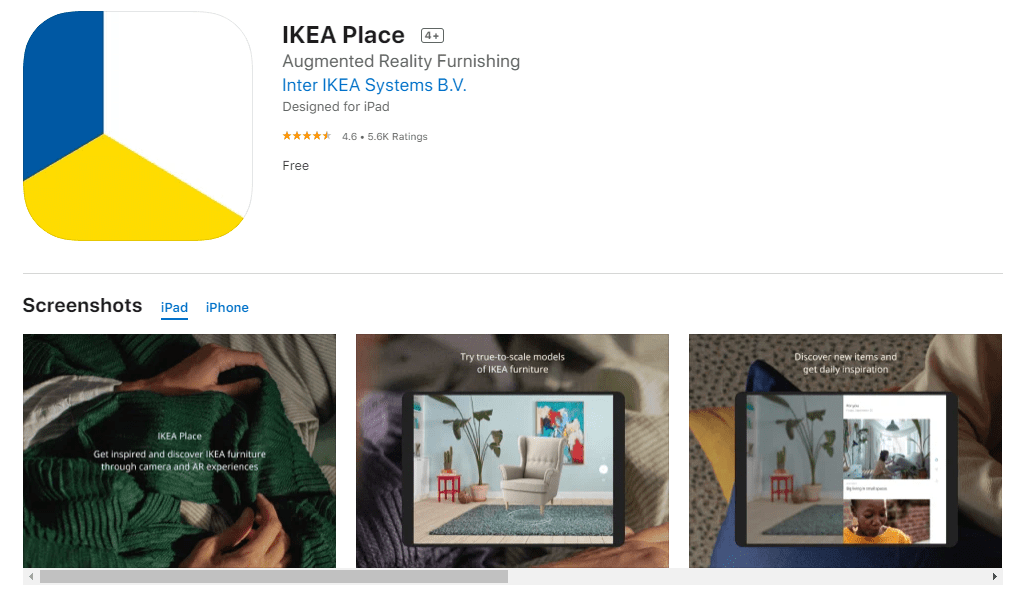 From the customer's perspective, it is extremely beneficial for a customer who has only seen the catalog and cannot imagine how the furniture will look and fit in their homes. People can even use the IKEA Place app to locate their Christmas tree. To make it happen, IKEA has collaborated with 72andSunny Amsterdam on a marketing campaign called "#Placeatreeonit," which includes GIFs and influencer activity.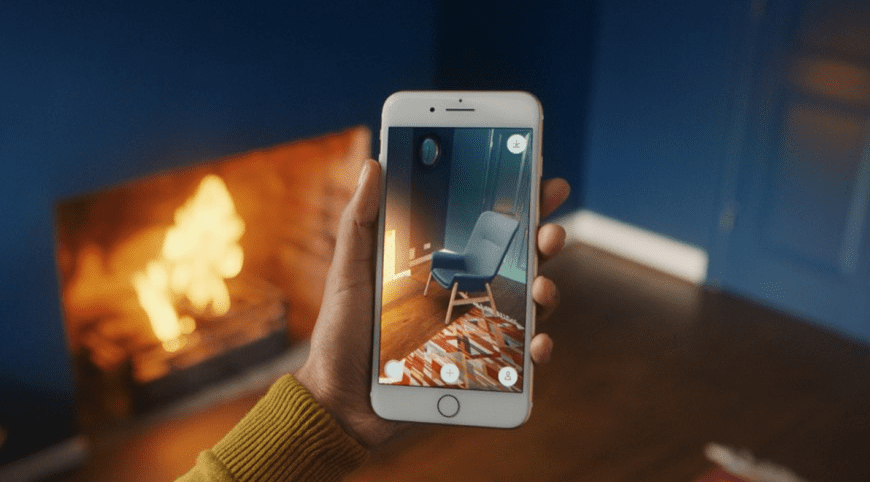 Check out the Ikea VR video here.
Virtual reality takes these elements to the next level by creating an entirely computer-generated simulation of an alternate world. VR technology is already used for entertainment and game content creation. Customers are taken on an unforgettable journey by IKEA's unique virtual experiences. Customers can use VR technology to try out kitchens before purchasing them and even cook in them! This type of virtual experience draws a lot of attention and generates a lot of buzz around the brand.
Customers nowadays prefer convenient and easy-to-access payment methods for online purchases. IKEA accepts PayPal in addition to credit and debit cards to improve the online shopping experience.
At Ikea, customers can see new products and incorporate every innovation thanks to its virtual e-commerce store. Customers who use PayPal do not need to use cash or a credit card to purchase IKEA products. PayPal is undoubtedly making the purchasing process easier, and it is also a step forward for the company.
Innovative content marketing
Content marketing plays an important role in IKEA's digital marketing strategy. Catalogs are no longer sufficient in the digital age, even for the world's largest furniture retailer, so they invest in content marketing. IKEA is a master at creating online content that people want to watch. Their Home Tour Series videos present fully furnished and decorated rooms with products designed and manufactured by Ikea highlighting their prices. Moreover, they have inspirational Pinterest boards that are excellent examples of effective content marketing.
What's important to mention is that the whole concept behind Ikea falls between the lines of sustainability and environmental friendliness, and their blog is the perfect proof for that. And what better place to buy from than a place that meets and fulfills your exact set of values?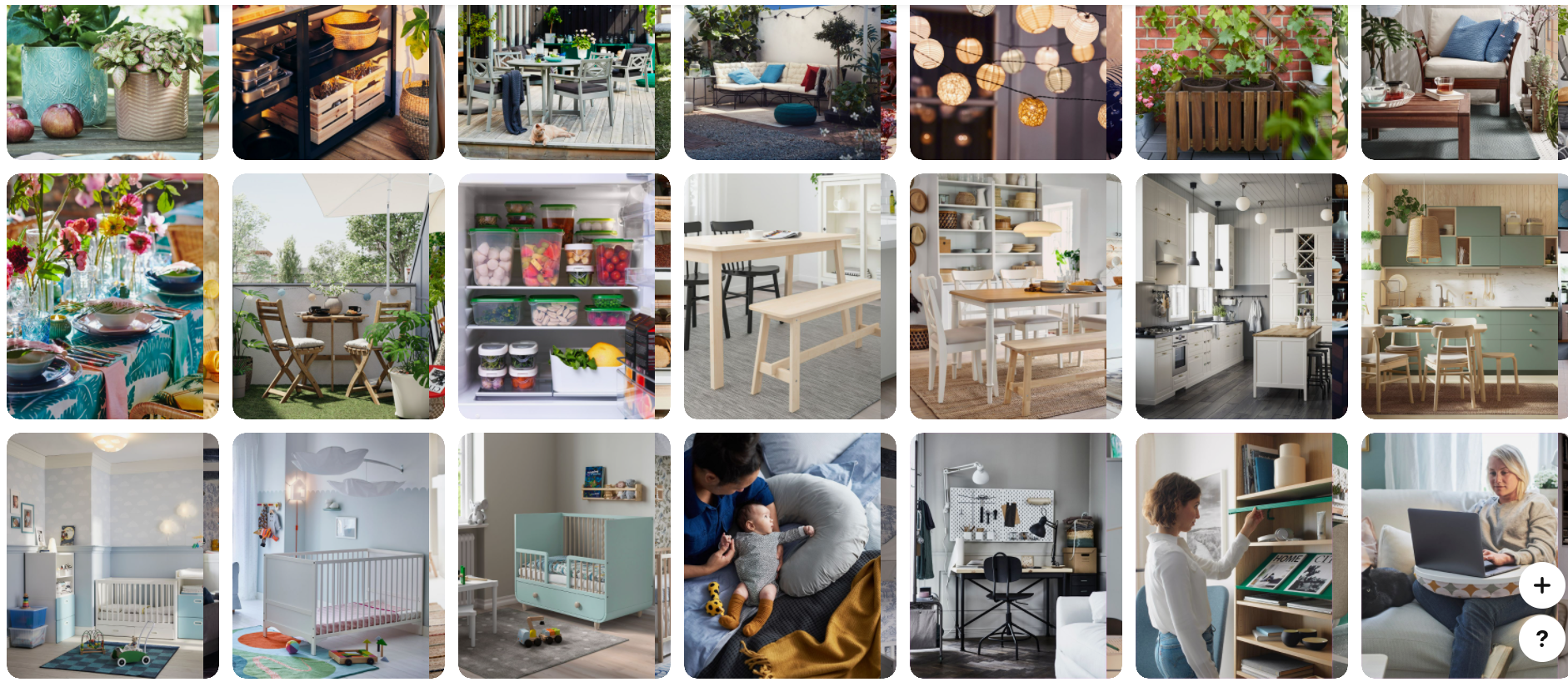 For a long time, IKEA's classic catalogs have been a brand fixture. This company excels at carefully staging each product to inspire the viewer. Even inside IKEA stores, customers wind their way through elaborate room-based displays, imagining how they would best use each item.
Their product page is structured in a way that that it's easy for the customer to get a hold of it. If you happen to visit their online store, you'll see options such as 'similar products', 'goes well with', 'viewed recently', 'more from this series', etc. These all create persuasive calls to action and provide accurate product recommendations.
What's the takeaway? To make your products stand out, you need more than just the right lighting or the right angle. Put each object in a larger context for your audience to make them sparkle.
And because millions of pieces of used furniture are discarded each year, Ikea will buy back its furniture if you don't want it anymore. In the current epidemical context, they launched their new service, which includes a 'click today, pick up tomorrow' policy, allowing customers to safely pick up their order from their local Ikea store, minimizing all human contact, and respecting health measures. 👇

Now let's move to the next furniture website from our list.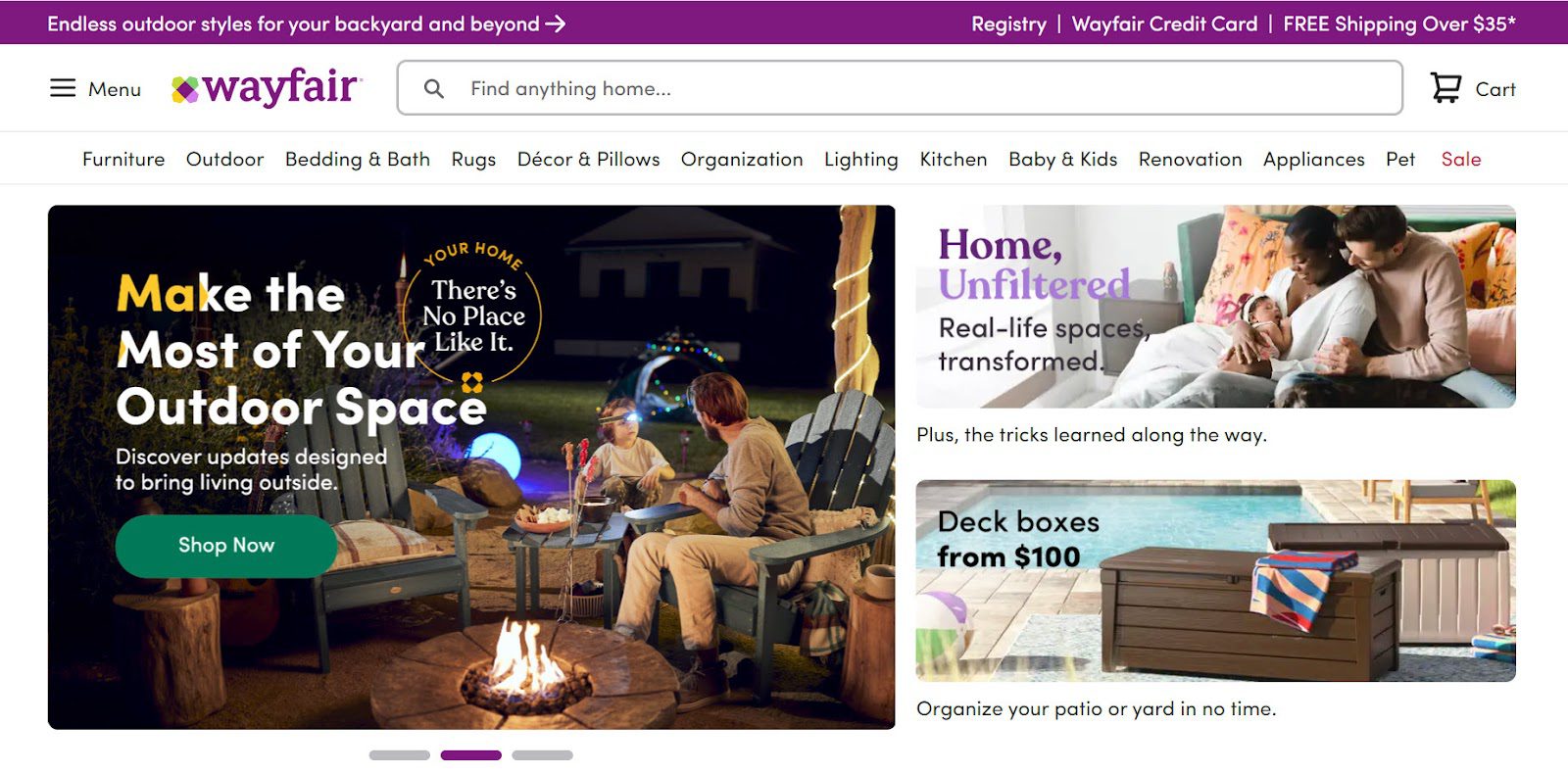 Wayfair Inc. is a furniture and home-goods eCommerce company based in the United States. The company, formerly known as CSN Stores, was founded in 2002. Their digital platform features 14 million products from over 11,000 global suppliers. 
Wayfair is more than just a pretty website; the company has infiltrated the online home furnishings market in a way that only a few other competitors have managed to do so. Let's see what strategies they used and what we can learn from them.
Top-notch Seo optimization
Google made one thing abundantly clear: If people can't see your website, you're doing something wrong. Just recently, Wayfair announced the launch of Athena, a proprietary search engine marketing platform in Europe. It has been the center point around which Wayfair's search engine marketing success in America has revolved. Naturally, it has resulted in significant revenue growth for the company.
Though an email newsletter may not sound like the most exciting marketing tool, it can be very effective. In a recent study, email marketing optimization firm Coherent Path examined the emails sent by 100 companies on the Internet Retailer Top 100 list to both customers and non-purchasers. Wayfair outperformed the competition among the top 100 brands.
How did they make it work? They gathered lots of data on their visitors and personalized each email they sent so when the message reached their inbox, it was customized to their needs and shopping activity. They primarily focused on their headlines, specifically matching the headlines with the context form.
Some of their headlines looked like this:
"SPOILER! Awesome KIDS BEDROOM SETS inside"
"INSIDE: The kids bed you were looking for"
"Did you hear? New KIDS BEDS are in!"
Here's a quick look at some of their personalized emails: 👇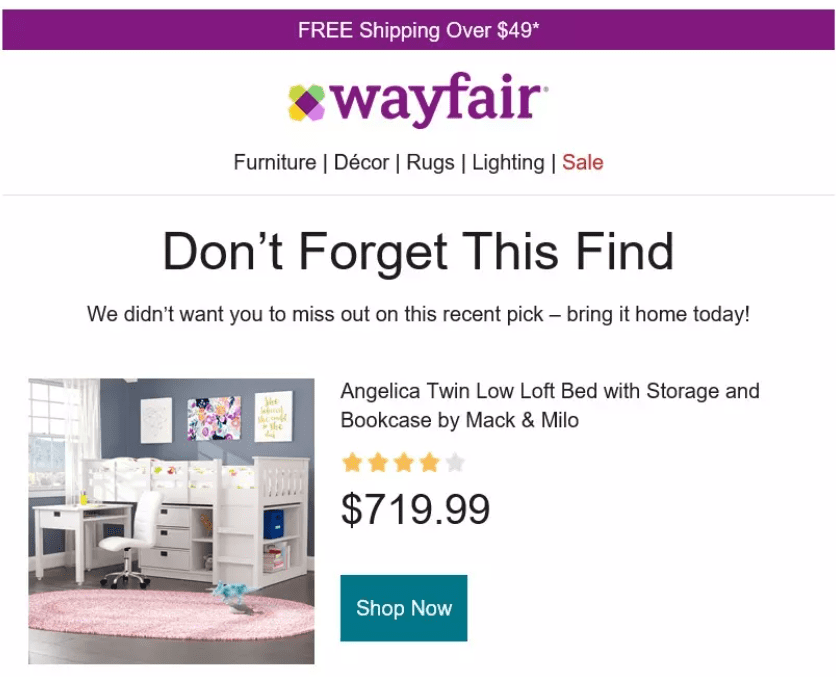 Wayfair takes a very analytical approach. It is necessary to create, test, analyze, and iterate. They approach their marketing efforts through storytelling. However, if a social ad does not generate interactions with people, it is not reaching its target audience. So they change the story, reintroduce it into the world, and hone it until they have something that works.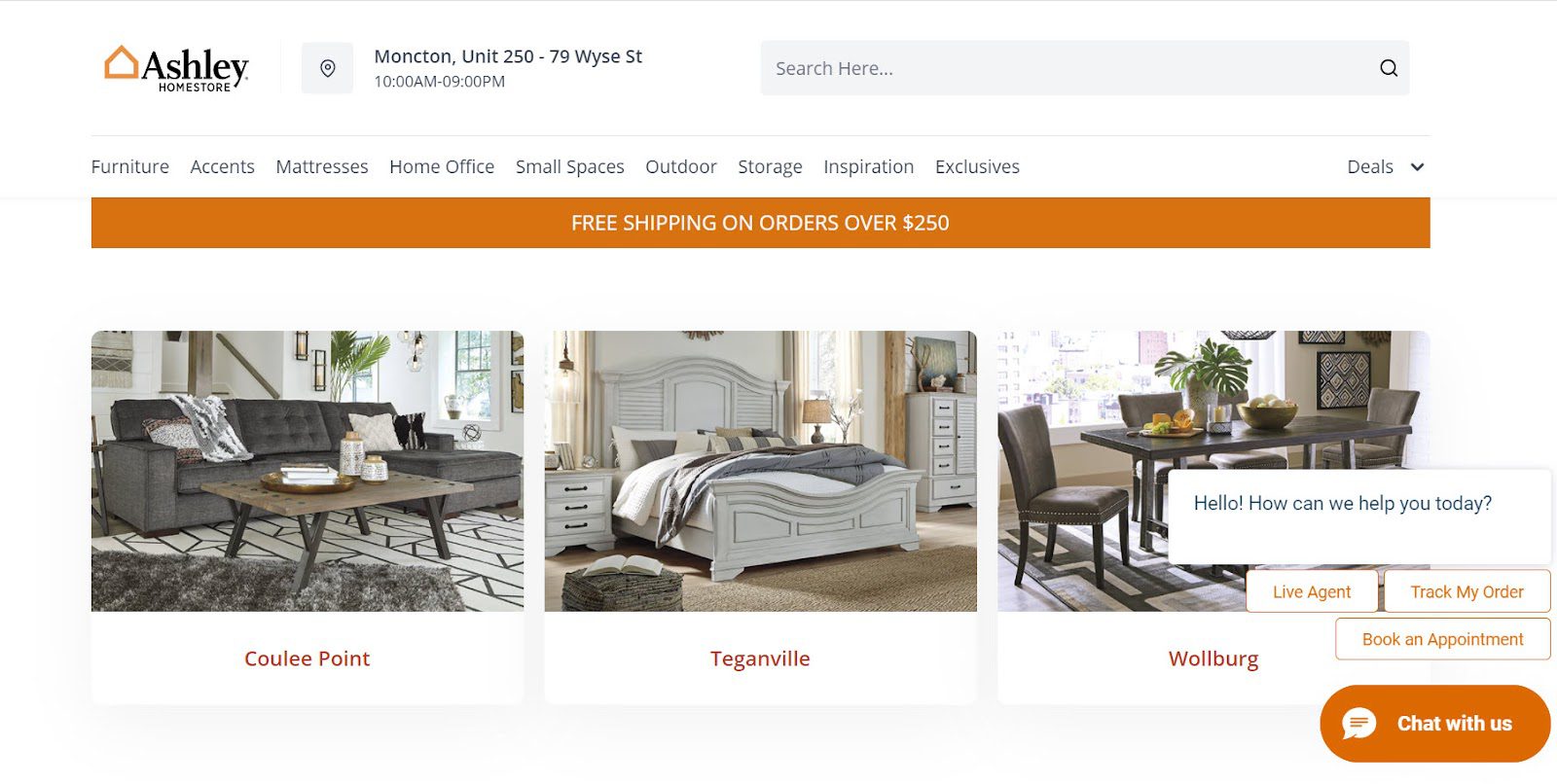 Ashley Furniture Industries, Inc., headquartered in Arcadia, Wisconsin, is a furniture manufacturing company. Ron and Todd Wanek, father, and son, own the company. Ashley Furniture manufactures and sells home furnishings all over the world.
The company has a long history of success stories that demonstrate its dramatic transformation from a "virtually unknown" to a major force in the industry. For more than a half-century, the company has been dedicated to its Vision Statement, 'We Want To Be The Best Furniture Company.'
The demand for customer satisfaction has always driven the development of innovative marketing concepts, high-quality products, and cutting-edge manufacturing methods. Ashley's customer base continues to grow as the company remains creative and diversifies to expand the business and improve quality into the next millennium.
Let's see what hints we can get ahold of from this furniture company. 👇
Product pricing is an important aspect of Ashley Furniture's marketing activities, especially because the company's products are aimed at budget-conscious consumers looking for the best quality furniture at the best prices.
There is a clear price difference between IKEA and Ashley as both companies have different pricing strategies. Ashley Furniture follows an innovative strategy by offering distinct and grouped product combinations, not only based on matching materials but also price-wise.
Like IKEA, Ashley Furniture adheres to a product strategy that entails offering a fully integrated product line for all aspects of home furnishing, including bedrooms, living rooms, and dining rooms. The North American operation of the company is a vertically integrated enterprise that oversees all aspects of product development, from design to manufacturing. The company can maximize productivity while minimizing waste generation by utilizing an efficient production system.
With the furniture tastes of American and Canadian customers in mind, Ashley Furniture Industries' products are primarily divided into three areas: case goods, soft furnishings, and millennium, and they make this clear on their website as well, so customers can easily find their way around.
The social media strategy was developed in collaboration with iCrossing, a digital marketing agency. The company uses social media to encourage consumer brand engagement and to encourage consumers to talk about Ashley products with one another.
For example, on the company's Facebook page, customers can share photos of their favorite furniture pieces with other visitors and comment on them. This ultimately leads to better brand engagement and further advertising. Ashley also starts conversations among customers by posting educational content such as "the best way to clean furniture" and "how to care for your furniture."
Now that you've wrapped up your head around how the big players do their marketing strategy, it's time to take a look at some useful tips on how you can get rolling with your business.
Five Ways to Improve Your Furniture Marketing Strategy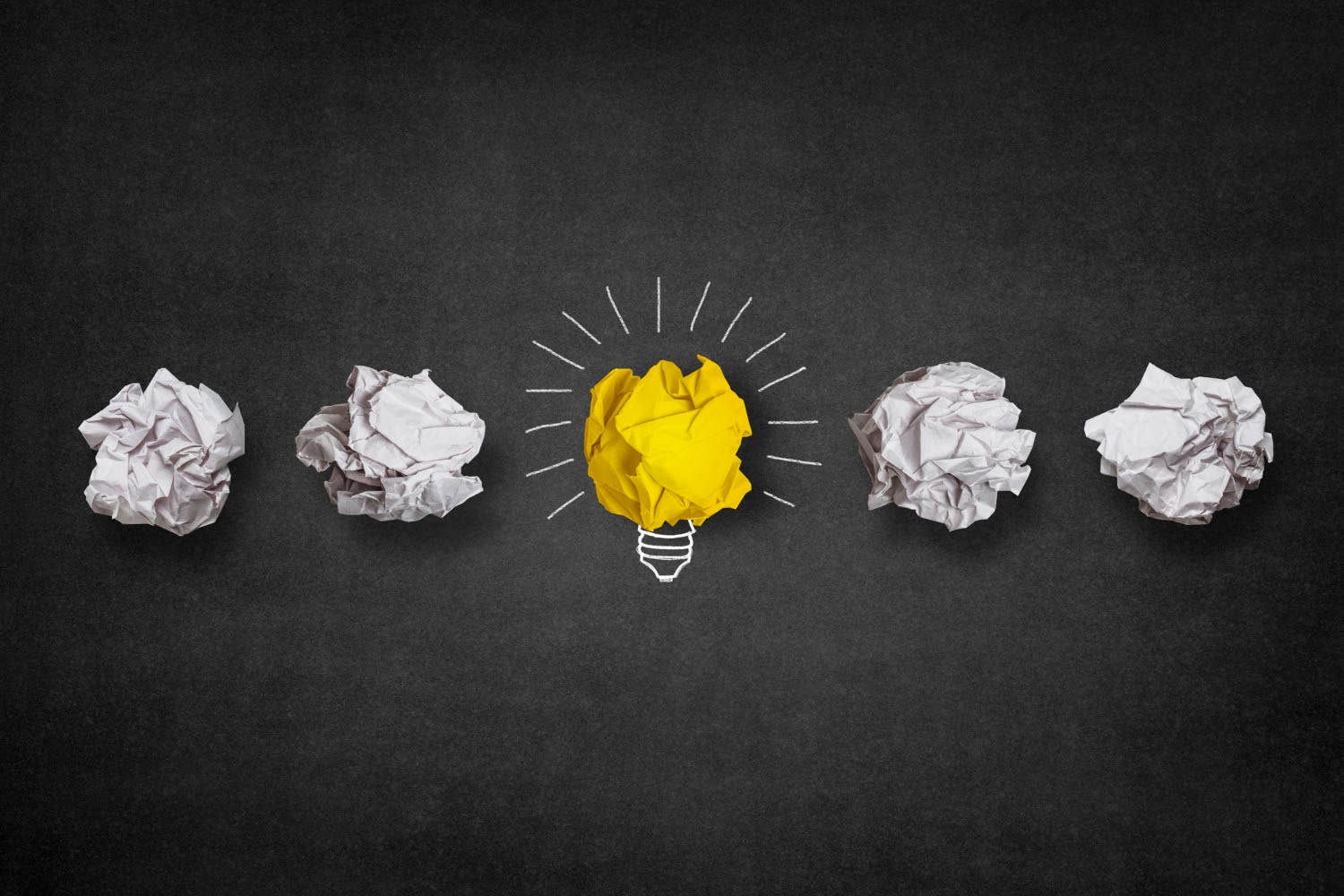 When was the last time you checked your furniture website to see which strategies are effective and which are not? Use this 5-step checklist to declutter and attract more customers to your furniture store.
1. Be aware of how your conversion funnel works
If you happen to be completely new to conversion funnels, we've got you covered with our article on all-things conversion strategy.
You must first investigate how customers find your furniture store website, what kind of research they conduct on your site, and how many of those online furniture shoppers end up purchasing from your furniture store.
Establish your furniture store's online sales conversion funnel, then investigate which website tools to include on your furniture website to assist customers in moving through that funnel, such as personalized greetings, interactive quizzes, targeted promos, and design consultation scheduling.
2. Identity your furniture website CTA's and conversion tools
Identify all of the conversion tools and calls to action on your furniture website. What kind of action do you want your website visitors to take? Good CTAs help online visitors with their research and give them a cause to engage with your website, from interactive banners that offer "scratch and save" promotion bargains to an evaluation exam that helps users identify what kind of mattress they prefer.
3. Try to gather data on how each CTA converts
Establish some basic measurements for how each CTA should function, and review your furniture website statistics frequently to see how it's doing. Check how many of your total visitors click on a call to action (CTA) or a special offer.
4. Track your online visitors
Implement software that can track online visitors, break down each visitor's actions on your furniture website, and tell you who came into the store to buy after visiting the website. You can use individual tracking data to personalize your message to each buyer, encouraging them to explore your website and products in a more engaging and personalized way.
Consider how Amazon and other eCommerce giants entice you with tailored messages and purchasing recommendations. Every time you come back to browse, they recognize you, which makes them so easy to browse. 
5. Use the data to your advantage
Last but not least, make use of the data you're collecting. Review your website analytics frequently to make adjustments to your marketing strategy. Otherwise, they're just numbers on a page. Examine the data to see which website modifications result in higher click-through rates and in-store purchases.
Your goal is to provide unique value to their buying experience while also providing a superb online furniture showroom experience for website users who will be inspired to visit you in person.
Take-home message
Given the current situation, it's no wonder people are increasing their home investments. They want them to be more functional, more enjoyable, and to represent their personalities and values.
Now, more than ever, consumers have turned to online shopping to improve their surroundings, which has become increasingly central to their daily lives. This is an opportunity for home and furniture marketers to make these shopping experiences easier, more personal, and more rewarding than ever before.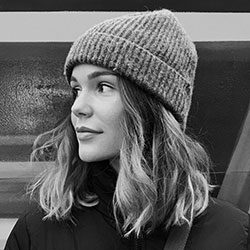 Gabriella is a Digital Content Writer and Marketer with a zeal for all things WordPress. When she's not researching and drafting the upcoming articles, you can find her in the open air exploring the outdoors with her dog.