It was a year in which we all felt useless. We sat and watched how COVID-19 spreads and how it affects businesses and people worldwide. As ordinary working-class people, there was little we could do about it. The pace of life slowed down, and the need for new routines emerged. Survival of the fittest, as some may say. 
There is no doubt that the pandemic has influenced almost every element of our existence. Some changes have been abrupt and involuntary, such as social distance, the wearing of masks, the suspension of public transportation, travel limitations, so on and so forth. But, on the other hand, it has simply hastened the adoption of previously prevalent behaviors, such as the digitalization of retail, banking, and other services.
The narrative of COVID-19 and buyer behavior has taken on various forms. As a result, examining this topic and learning every last detail about it isn't exactly a breeze. This article approaches consumer behavior from a psychological point of view and emphasizes some of the pandemic's long-term consequences for the retail industry. 
However, for understanding buyer behavior and what triggers the everyday consumer to want to spend more and make a purchase, we must first understand the fundamentals of this aspect and its key takeaways. 
Let's start from scratch.
What is Consumer Behavior?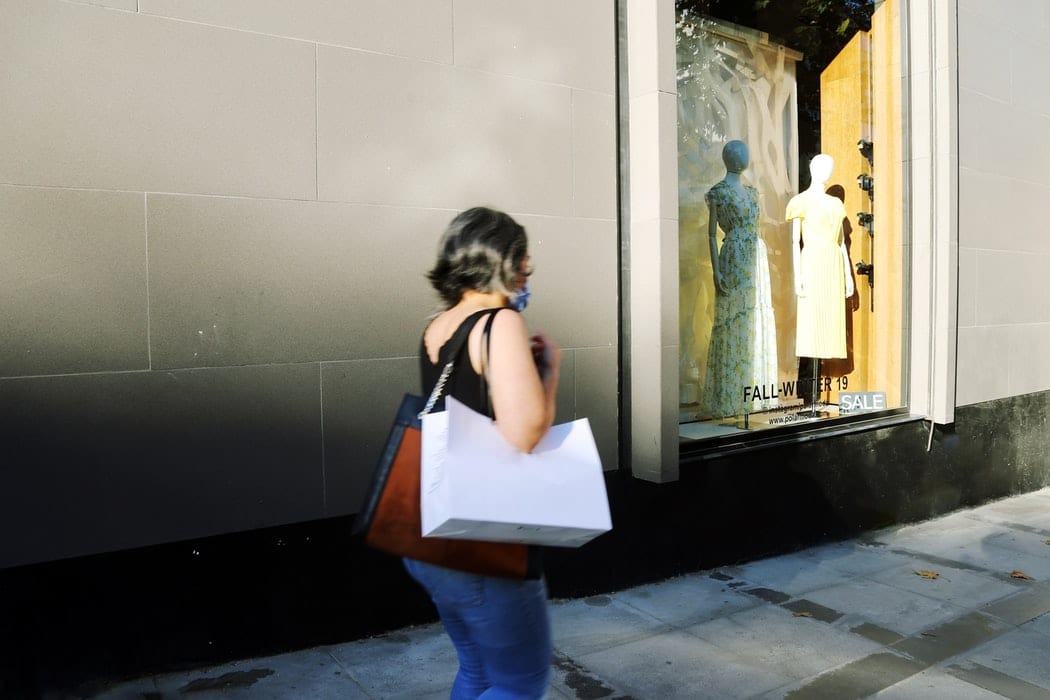 According to researchers Dr.David Loudon and Dr.Albert Jay Bitta,
"consumer behavior is the decision process and physical activity, which individuals engage in when evaluating, acquiring, using or disposing of goods and services."
Consumer behavior is the series of behaviors or patterns that consumers follow before purchasing. It starts when the consumer becomes aware of a need or desire for a product then concludes with a purchase.
In the broad sense, consumer behavior is a psychological study of how people make purchasing decisions and what motivates them to do so. Consumer behavior can be divided into several categories, including:
What consumers think about specific brands, products, or services.
What factors influence a consumer's decision to choose one product over another, and why.
What elements in a consumer's daily environment influence purchasing decisions or buying behavior.
How consumers make these decisions when they are alone versus in a group.
As you can see, there are a lot of factors and perspectives that pinpoint consumer behavior, meaning it can be analyzed from several different perspectives.
Now that you have a fundamental awareness of consumer behavior, let's discuss what motivates it, what the customer journey looks like, and how it sees itself through the lens of behavioral psychology.
Consumer Behavior Through the Lens of Behavioral Psychology
As we already know, humans are complex creatures, operating differently, yet very much the same. How is that possible? We are influenced by a series of internal and external factors that shape our behavior and mentality; therefore, we respond based on those premises. 
Behavioral psychology focuses primarily on this aspect. Behavioral psychology is often referred to as behaviorism. Researchers and scientists who study behavioral psychology are interested in discovering patterns in our thoughts and reactions to understand better why we respond the way we do. 
The origins of behavioral psychology can be traced back to John B. Watson in 1913 when he formulated that psychologists should focus on individuals' observable behavior rather than the invisible intricacies of their minds. This theory initially stemmed from Sigmund Freud. 
Later, John B. Watson proposed that our environment shapes all of our behavior and can be made to act in specific ways based on the previous consequences of our actions. According to this premise, behaviorists believe that all behaviors are the product of experience. Given the proper conditioning, any person, regardless of background, can be instructed to act in a specific way.
Daniel Kahneman, an Israeli psychologist and Nobel prize winner economist, in his book Thinking Fast and Slow, explains how two systems in our brain are perpetually battling for control of our behavior and actions, and how this leads to confusion in memory, judgment, and decisions, as well as our reactions on it. 
These two systems are the conscious way of thinking and the automatic one.
The first one is impulsive and automatic.
In a more practical example, this system makes you eat a whole bag of chips in front of the TV when all you want is a small snack. System 1 is a relic from our past that is essential for survival. Isn't it convenient not to think before jumping away from a car that honks at you? Quite remarkable, we'd say. 
The second one, on the other hand, is conscientious, and mindful.
It assists you in exercising self-control and deliberately focusing your attention. For example, this system comes into play when you're trying to find a friend in a large crowd, as it helps you remember how they look and filters out all the other individuals. It is what enables us to succeed in today's world, where our priorities have shifted from food and shelter to earning money, supporting a family, and making numerous complex decisions.
According to John B. Watson, the primary objective of behavior psychology is to anticipate, given a stimulus, what reaction will occur, or, given a response, to discover the situation or stimulus that caused the specific answer.
Given these facts and statements, it is easy to conclude that our daily habits and routines can be easily overthrown in times of hardship and crisis, hence the COVID-19 pandemic.
How Does Consumer Behavior Change in Times of Uncertainty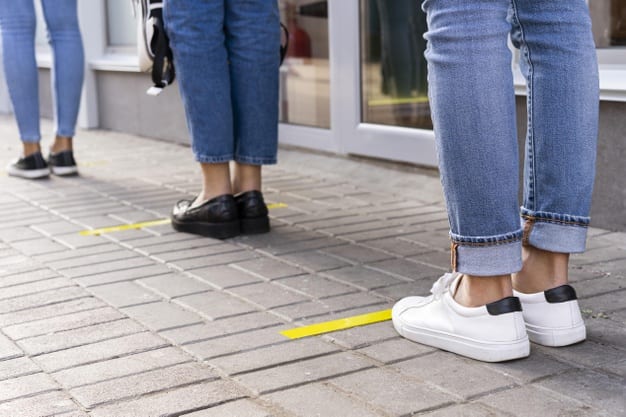 While the uncertainty caused by COVID-19 persists worldwide, its impact on buyers' behavior varies by country. As a result, there is a wide range in how consumers react to the crisis and adjust to the new normal. 
Unfortunately, there is no one-size-fits-all solution because this scenario is as complex as it gets. Almost every sector of the global economy has experienced some degree of suffering, pressuring both large and small businesses to make adjustments to succeed. Consumer attitudes, behaviors, and spending patterns are areas where we can see a significant transformation. 
On the other hand, Moments of crisis frequently lay the groundwork for social solidarity. The pandemic has provided an opportunity for societies to come together and work collaboratively. For example, researchers and scientists worldwide have put their knowledge and expertise into finding a cure for the virus and share their hard work. 
The power of collective action can alter how people interact, resulting in a stronger sense of belonging. This cultural shift from "I" to "we" may have long-term consequences for consumer behavior.
But for now, let's see what the numbers can tell us and explore some statistics on shopping frequency and compare the before and after results for a better understanding. 
Buyer Behavior Statistics – Crunching the Numbers
As per estimates in a UNCTAD report published on May 3, the dramatic rise in eCommerce exacerbated by COVID-19 expanded online retail sales' share of total retail sales from 16% to 19% in 2020. The statement was published based on a two-day meeting on measuring e-commerce and the digital economy hosted by UNCTAD.

And in the meantime, among the most recent estimates, worldwide e-commerce sales increased by 4% in 2019 to $26.7 trillion. This comprises both business-to-business (B2B) and business-to-consumer (B2C) sales and is roughly comparable to 30% of global GDP that same year.
According to Statista's research, in terms of how frequently consumers bought goods online before and after the pandemic, 35% of respondents in the Asia Pacific region said they bought goods online up to three times a month before the pandemic. In comparison, 17 percent of respondents in the same survey stated that they purchased goods online two to three times per week following the outbreak.
Here's a chart showing the exact stats.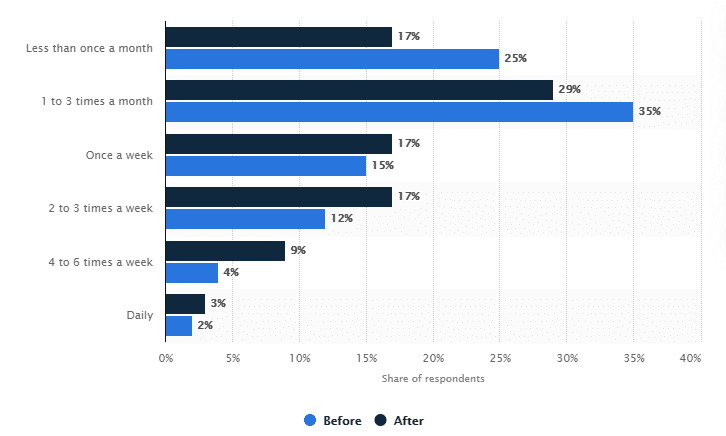 COMPARED TO NEIGHBORING COUNTRIES, the UK also saw significant growth, increasing from an overall 15.8% online share of retail sales to 23.3%, ranking it third in seven crucial economies, including the US, Australia, Canada, and Singapore. 
But what exactly do these numbers mean? What exactly are people buying and not buying? So let's take it a step further and analyze the percentages by departments and sectors. 
The outbreak of COVID-19 had a severe impact on the company's net sales and operating results. Top-line solid results were driven by high demand for items across various categories in the United States. Food, consumables, health & wellness, and other general retail types drove Walmart's 10.0% growth in sales. In addition, with success for grocery pickup and delivery services, the company's eCommerce revenues increased by 74%. 
Without going into too much detail, we can clearly state that online grocery shopping has decreased significantly during the lift of lockdowns. Online grocery sales slowed down up to 25% in April 2021, down from 92% the previous month, as retail restrictions were lifted, encouraging more consumers to shop in-store. According to BBC News, the number of visits to brick-and-mortar grocery stores increased by 3% during the month.
Product categories affected by the pandemic are now witnessing some of the most outstanding results, indicating a progressive shift in consumer habits as the lockdown weakens. Fresh fruit and veg increased by 28%, followed by cosmetics and personal care products (27%) and baked goods (15%). 
Grocery store retailers with no online presence, such as Lidl and Aldi, gained the most benefits in the 12 weeks to April 24, with sales increasing by 18.2% and 10.4%, while those with a solid online presence were on the less fortunate side of the game. 
Although online grocers continue to see much higher growth than before the pandemic, the trend is expected to continue down the slope as many consumers return to old spending patterns.
Amazon's first-quarter 2021 statistics, released a year after the coronavirus pandemic began, indicate exactly how much online commerce and streaming services have grown in that timeframe.
Revenue increased 44% year over year, from $75 billion to more than $108 billion, exceeding analysts' estimates. Furthermore, other income, including advertising sales, increased by a stunning 77%. 
In Q2 2021, Amazon predicts a further 24-30% year-over-year revenue increase. In addition, Prime Day has been rescheduled for June this year after being postponed in 2020, indicating that the event will likely enhance second-quarter performance. 
Alibaba stated in a media release presenting results for the entire fiscal year 2021 that its eCommerce platform now has a total of 1 billion active users, including 240 million consumers outside of its home market of China.
China's active users increased by 85 million years over year, or 32 million quarter over quarter. In particular, mobile Monthly Active Users exceeded 925 million in March 2020, up 79 million from the previous quarter. In addition, Alibaba released its financial results for the fourth quarter of 2020 in early February, revealing a 37%increase in revenue to RMB221.1 billion, which is US$33.9 billion.
The company's overall economic activity increased by 38% during this time, with the Tmall marketplace performing notably well – it saw a 19% increase in physical goods and a 60% increase in the number of international brands and vendors on its Tmall Global platform. As a result, Tmall Global saw triple-digit growth in purchases of products shipped and warehoused in other countries.
Apart from its retail successes, Alibaba's cloud computing business increased by 50% year on year in Q4 2020, making these services financially viable for the first time.
Ebay's sales increased by 25% to $2.61 billion in the third quarter of 2020, exceeding analyst expectations of $2.48 billion. The marketplace also revealed that the number of annual active purchasers climbed by 5% to 183 million in the quarter ended September 30.
Furthermore, eBay aims to earn up to $2.71 billion in the fourth quarter of 2020, driven by holiday shopping, and has lifted its full-year sales forecast to the range of $10.04 to $10.11 billion. This translates to a 19-20% increase in overall sales in 2020, compared to the 14-16% growth forecasted previously.
Online Marketplaces and Tech Giants at the top of SEO visibility
Since the pandemic started, the eCommerce firms that have gained the most visibility on Google (US) organic results are massive online marketplaces and IT corporations, who dominate the top ten ranking list gathered and assessed by Searchmetrics.
When it comes to year-over-year visibility growth, Audible, which Amazon owns, came out on top, with a 567% rise in total visibility in 2019. Following an exponential interest in its Switch system and the release of its new Animal Crossing games, Verizon and Nintendo both performed well in terms of growth, with visibility up 102% and 85%. 
Meanwhile, although having more nominal growth than others in the top ten, Apple, Amazon, and eBay controlled the top three spots for total visibility rise from Google in the United States.
Surprisingly, no fashion eCommerce websites topped the grade in 2020 because of the industry's decreased sales performance during the pandemic's peak. For example, Macy's lost more than 20% of its search exposure during the pandemic. However, this theory doesn't apply to all fashion brands, as ASOS, Lyst, and H&M saw a 176%, 100%, and 79% growth in revenue. 
There was a significant uptick in the number of leisure and entertainment sites. Streamlining streaming and gaming services such as HBO Go, HBO Now, Minecraft, and Disney Go increased by more than 50%. In addition, consumers had more time to listen to online radio stations like KTAR and CPR since they had more time to listen to them from their homes.
The Shift from Offline to Online and the Spike-Up of Digitalization
Without a doubt, there are enormous opportunities when your business is online, from reaching large global audiences to automating processes and being accessible to clients 24 hours a day, seven days a week.
The fear of COVID-19 has made people reluctant to go out, and many customers have shifted to online shopping. As a result, this is an excellent opportunity for brick-and-mortar retailers to engage in expanding their online presence and orchestrating an omnichannel experience. Businesses that capitalize on this opportunity are more likely to boost customer loyalty and close the gap between physical and digital experiences.
It's safe to say that businesses and retailers that wanted to survive during this pandemic had to adjust to the new normal, which came hand in hand with the digitalization of companies and the ditching of traditional brick-and-mortar stores. There are quite a few markets that boomed in 2020 with skyrocketing numbers in revenue and profit. 
For example, Glovo, a Spanish startup with 10 million customers that focuses on delivering restaurant take-out, grocery shopping, and other items in collaboration with brick-and-mortar companies, has raised $528 million worth of revenue.
With this in mind, Glovo aims to become the leading company in the 20 European markets where it currently operates, in part by broadening its "q-commerce" service, which provides products to urban consumers in 30 minutes or less.
At the pandemic's start, the food and beverage industry saw the most significant increase in demand. Customers went online to find brands that could meet their needs as they frantically stocked up on pasta, gin, and other necessities. 
People are ordering meal kits to their homes instead of going out to eat. Wine tastings have gone virtual, and big meals out have been substituted by Zoom family cook, which leads me to our next subject of discussion: Zoom. 
Zoom's revenue in 2020 was $2.6 billion, a 317 percent increase year on year. Furthermore, Zoom was one of the pandemic's fastest-growing apps, with meeting participants increasing by 2900%. In March, it also reported a 200 million increase in daily users, up from 10 million in December.
You can see the massive increase in downloads in 2020 and 2021 compared to previous years.
Zoom appears to have survived the turmoil and remains one of the most popular business communications systems.
Thriving Industries During Lockdown
Some have benefited from the pandemic on the other side of the spectrum. So, yes, that's a thing. 
In today's world, our homes are frequently brought up in conversation. A remark on a wall print in the background of a Zoom call, a discussion about houseplants, a photo of freshly made carrot cake on Instagram – all of these insignificant incidences lead to brand suggestions and new customers. 
As consumers in self-isolation use the time to complete home improvement projects, hardware stores are experiencing unexpected demand for tools and hardware materials. In addition, to protect themselves, many people are staying at home, which has increased consumer interest in DIY and gardening as they look for new ways to improve their living space and keep themselves entertained while alone.
Social Platforms and Remote Work
After implementing social distancing measures, multiple social media websites reported a significant increase in usage. Because many people are unable to connect with their friends and family in person, social media has become the primary mode of communication for the time being to maintain these valuable connections.
Online meetings from the comfort of one's own home, as well as social interaction via video, have quickly become the new norm. This is reflected in the massive growth of platforms like Zoom, whose downloads reached 2.13 million per day on March 23, 2020. 
There has been an increase in demand for food delivery services due to more people being stranded at home owing to the COVID-19 epidemic. In addition, consumers are turning to delivery to treat themselves during the days of social distancing because dine-in is no longer an option.
Many delivery services, like Deliveroo, Glovo, JustEat, Postmates, and UberEats, have responded to the situation by offering contactless delivery alternatives, which eliminate the chance of the virus spreading between the consumer and the driver.
Although clothing sales dropped in 2020, our fashion brand clients' online sales and referrals have steadily increased year over year.
Consumer demand for loungewear and Zoom-appropriate attire (think an elegant top and pajama bottoms) surged just a few months into the first lockdown. By May, online sales for fashion brands had increased by 95% year over year. 
It's safe to say that for the next two years, at the very least, customers will get the majority of their new clothes and accessories from digital fashion shopping. For the time being, rummaging through the shelves with two hands is no longer an option. Yet, as the next greatest thing, the future of digital shopping is already here.
The industry has reacted well to the crisis, with companies switching production to hand sanitizers and cleaning chemicals and providing free beauty services to first responders. Even though the COVID-19 pandemic will have a considerably higher economic impact on brands and stores than any recession, there are indicators that the beauty industry may once again prove decisive. 
The COVID-19 crisis is likely to accelerate trends that were already influencing the market, such as the rise of the global middle class, including the use of e-commerce. Consumers worldwide are demonstrating that the simple joys of a "self-care Sunday" or a touch of lipstick before a Zoom conference still bring them comfort.
Key Takeaways to Remember
Even though it appears that we will forever alter our way of life, things are never that straightforward. On the other hand, humans are notoriously bad at sticking to new habits. So now that you have an idea of what these numbers mean, we can draw a few key conclusions based on this research. 
Retail has gained a whole new face
People previously hesitant to shop online now create online accounts and embark on an entirely new customer journey. And once they get a taste for online convenience, they might never go back. 
eCommerce has been chomping at the heels of traditional retail for a long time. However, the global lockdown has accelerated a long-term trend that has been brewing for decades. In 2019, global eCommerce sales totaled $3.5 trillion, an 18% increase over the previous year.
On the other hand, traditional retail has been experiencing closures, employment losses, and single-digit yearly growth rates even before the pandemic. Brands are progressively shifting to a direct-to-consumer business strategy as physical stores close, which means selling directly to customers via mobile and internet channels.
At the same time, physical retail is unlikely to go away completely. Brick and mortar retailers will become more prominent in various ways. Consumers will appreciate the opportunity to touch, feel, and discover things once more as internet purchasing becomes more widespread.
New buyer personas emerged
Individually, the pandemic is likely to result in two conflicting social behaviors. COVID-19 provides an excellent opportunity for a large segment of the population to re-evaluate their present lifestyle decisions, adjust accordingly, and reboot their lives.
Take a look at the number of people who have used their extra time to exercise, learn a new skill, or change careers. For example, Peloton bike sales have increased nearly 66%, and LinkedIn has reported a threefold increase in time spent learning.
Mindful consumption
The International Monetary Fund (IMF) predicts that the global economy will contract by 3% this year. The IMF presented the global decline as one of the worst since the 1930s Great Depression. Over 26 million Americans have applied for unemployment benefits. Up to 59 million jobs in Europe are at risk. Considering these facts and weighing the risks, we can't afford the luxury to consume mindlessly. 
Young people had little disposable income even before the pandemic. However, the current economic climate may usher in a new era of frugal living. After a pandemic, society may become less materialistic, with young people focusing on improving meaningful experiences over material goods.
To some extent, consumers will become shareholders, which may signal the end of obtrusive consumption. As a result, young people will expect a return on investment on their purchases in the future. The return could be social, monetary, educational, or simply happiness.
The 2021 consumer needs convenience
The year 2020 puts a new spin on the conventional wisdom, "You don't know what you've got until it's gone." Instead, in 2021, customers were seeking to reclaim what they had lost, requesting the conveniences of everyday life they previously took for granted, but with a newly found gratitude.
As a result, a streamlined, smooth customer experience should be prioritized. As buyers rely heavily on digital platforms for services that cannot (or do not yet feel comfortable performing) in person, a memorable outcome across all streams will become increasingly important in buying decisions and brand loyalty.
Take-Home Message
Consumer behavior has changed dramatically since the COVID-19 outbreak, whether it's buying online to stock the pantry, taking up a new hobby, broadcasting media content, or learning new recipes to cook at home. 
One thing is sure: numbers do not lie, and it appears that online shopping is here to stay. Why? Because why would you get out of the comfort of your home, get stuck in traffic, lose time and energy grocery shopping, or any other kind of shopping when you can do it right from your phone? It's a no-brainer. 
What you can do as a retailer is take notes and face the fact that several of these transformations are likely to persist and could permanently alter the face of our consumer-based economy. 
We hope this article gave you insight into buyer behavior and how the pandemic influenced the retail industry. Feel free to share your thoughts!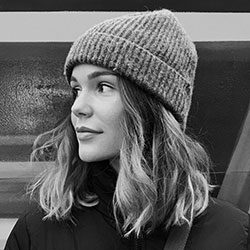 Gabriella is a Digital Content Writer and Marketer with a zeal for all things WordPress. When she's not researching and drafting the upcoming articles, you can find her in the open air exploring the outdoors with her dog.