Some may say that since COVID-19 hit the scene, customers have become increasingly comfortable in their bubbles, shopping online from the comfort of their own homes and having their purchases delivered to their doorstep, without having to rely on a shipping method.
However, that's not always the case.
WooCommerce local pickup is a shipping method that allows customers to pick up their online orders at their retail location. Local pickup enables merchants to offer fulfillment options such as click-and-collect, BOPIS (Buy-Online-Pick Up In-Store), and curbside pickup while managing orders across multiple store locations from a single system.
WooCommerce local pickup also gives store owners complete control over in-store pickup availability and workflows. For example, they can specify which stores offer in-store pickup, set pickup times, and create pickup instructions after placing an online order.
What's more is that it allows retail employees to examine and prepare orders in the POS system quickly, send alerts to customers when their demands are available for pickup, and record orders as fulfilled once the consumer has picked up their item.
As a result, using WooCommerce local pickup for your business is something you should not be hesitant to try. And why wouldn't you, since it's simple to set up, increases revenue, and only takes a few minutes to configure?
This article will walk you through how to add a local pickup to your WooCommerce store by using the default WooCommerce local pickup shipping method and show you some local pickup plugins that do all of the work for you and will save you time and frustration.
Before we begin, there are a few questions you should ask yourself:
Do you want to provide free local pickup to your customers?
Is the fixed-price local pickup better suited to your needs?
How about charging your customers a fee based on the specifics of their order?
Don't worry; all of these scenarios are easily configurable in your shop, and we'll walk you through the process step by step.
How Does WooCommerce Local Pickup Work?
Local Pickup is a WooCommerce shipping method that allows you to set up the option for customers to pick up their online orders at your retail store, curbside, or any other location you specify.
Your customers can select a pickup location and an appointment if enabled. Then, when a new local pickup order is received and ready for Pickup, you can change the order status to Ready for Pickup and send an email to notify the customer that the order is ready for Pickup.
The location's pickup instructions will appear on order received confirmation page and be included in the Ready for Pickup email notification.
When a customer arrives to pick up their order, you can change their order status from Ready for Pickup to Picked up. This informs you and your staff that the order has been picked up and that no further action is required. You can also send an email notification to your customers if you wish.
Because it is one of the default and built-in WooCommerce shipping methods, you do not need to install any additional plugins to use its basic functionalities. It works very similarly to the Flat Rate, but it is dedicated to personally collecting the products, limiting its options slightly.
How to Configure WooCommerce Local Pickup
To configure WooCommerce Local Pickup, navigate to WooCommerce → Settings → Shipping: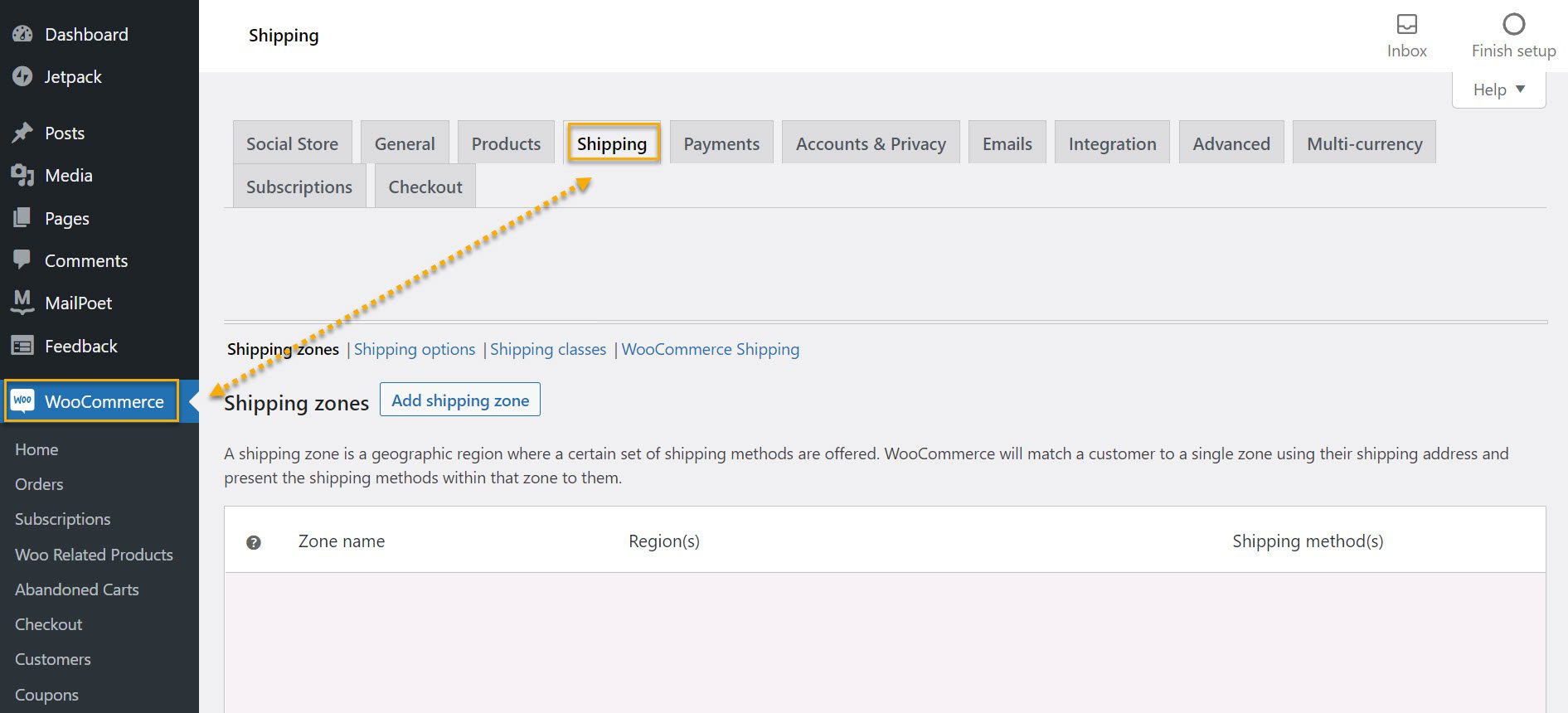 Then, click the name of the shipping zone where you want to offer local pickup to your customers. To add a new shipping zone, click 'Add Shipping Zone,' and you can set it up on the next page.
If you have a few storage facilities or pickup points where customers can pick up their ordered products and want to offer local pickup in more than one shipping zone, repeat the same steps below for each shipping zone where local pickup should be accessible.
Once you have set up the shipping zone, you can choose what shipping method you want.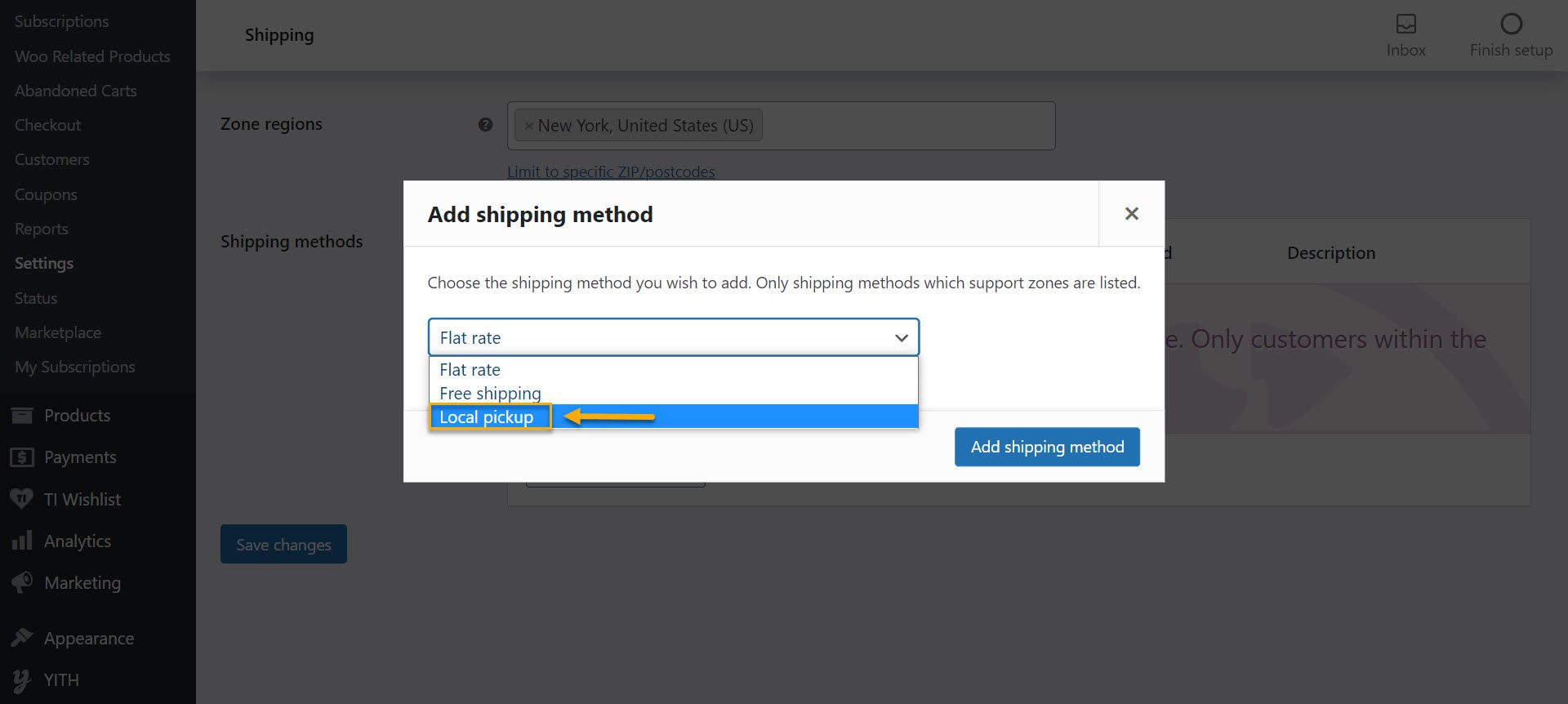 As you can see, you have three options: Flat rate, free shipping, and local pickup. Then, from the dropdown list, choose Local Pickup and confirm your selection with the Add shipping method button.
Once the new method has been added, the popup will appear on the settings page, as shown in the screenshot below: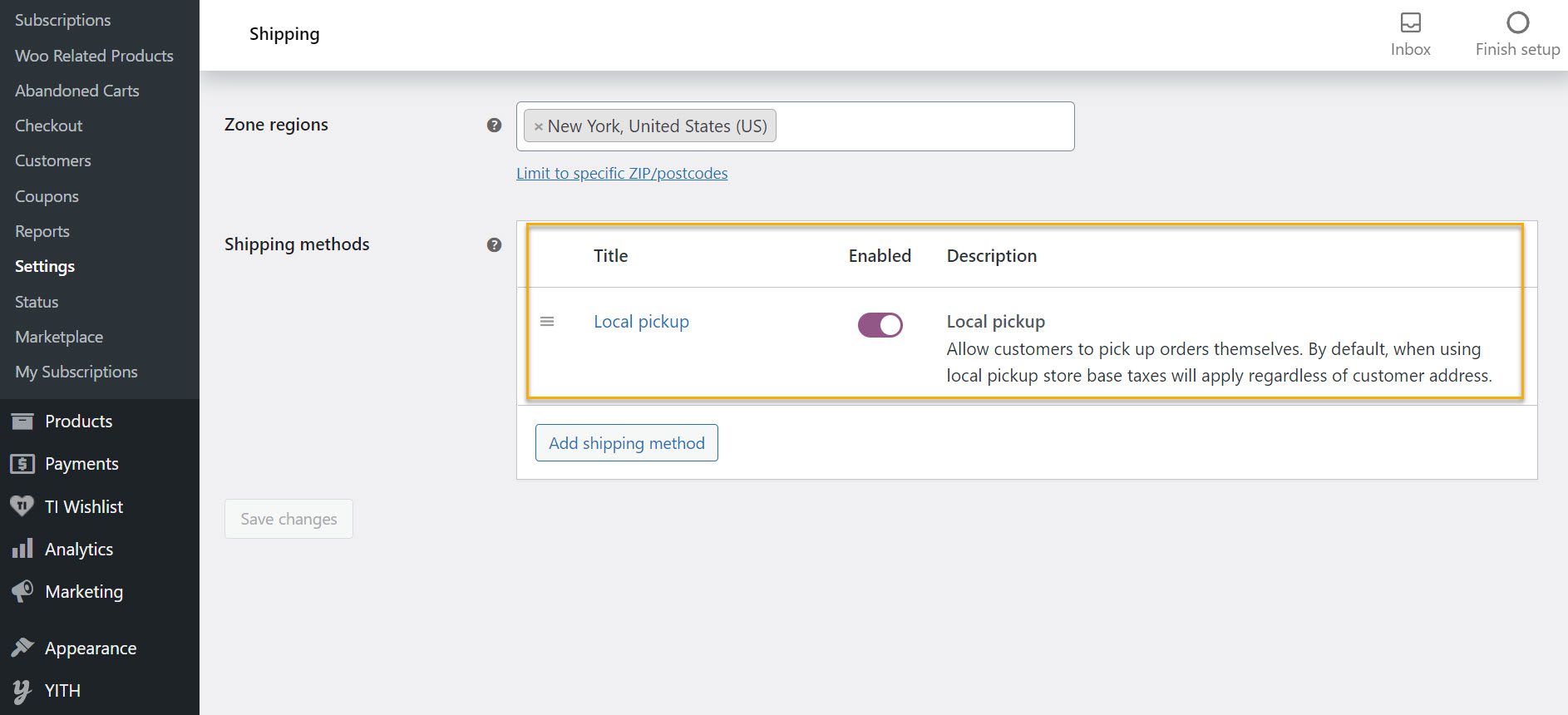 You can change the Title in the cart and during checkout in the popup. It's good to include the pickup location's address here (e.g., 'Pick up at 567 Marry St, New York, US) to let your customers know where they can pick up their orders. With the Tax status, you can also specify whether it should be taxed and how much it should cost.
Click on 'Edit' under the 'Local Pickup' button and go ahead and set up your tax status.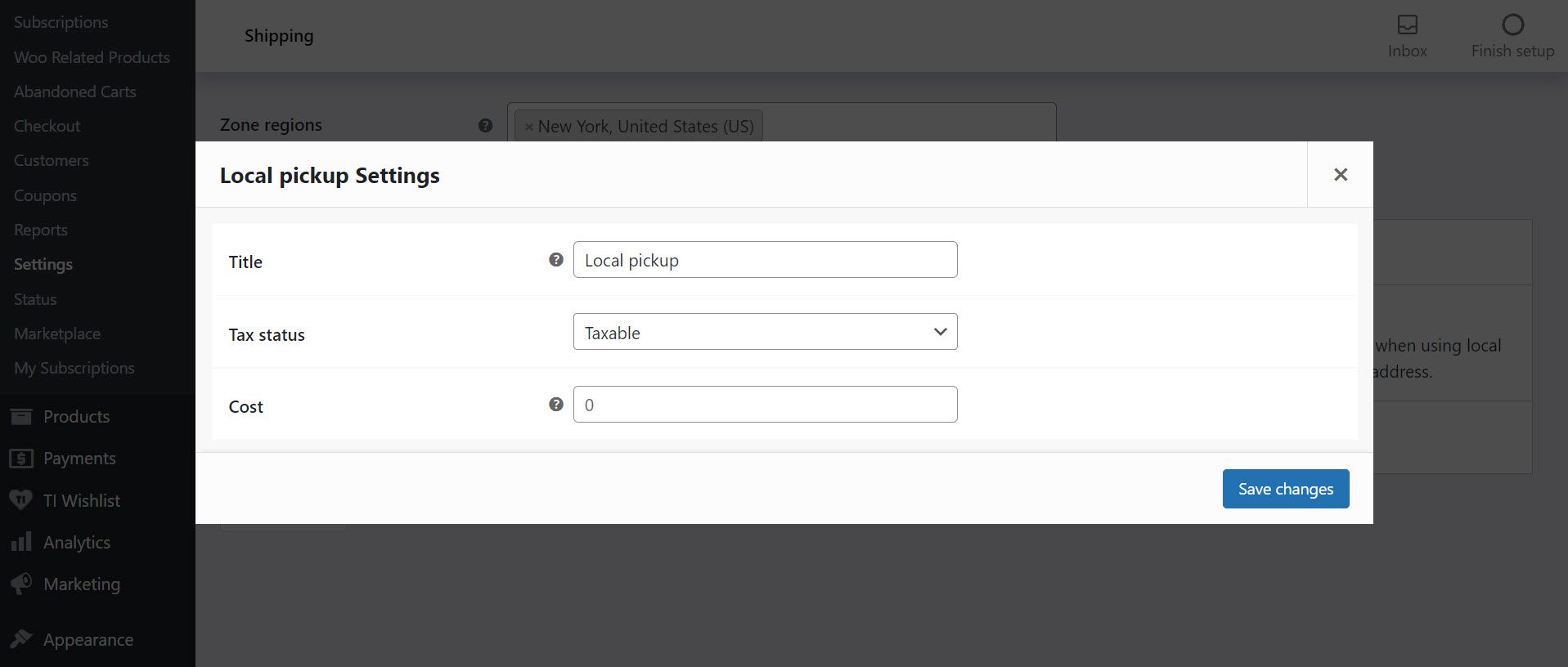 If your situation requires charging customers even when picking up the ordered products in person, fill in the Cost field with the appropriate value to set the fixed price.
Configure it to meet your requirements, or leave it as is to keep it free. Save the changes by clicking the button below, and you're done.
While WooCommerce has some built-in functionality for local deliveries and pickup, many stores have limited options. In the following chapter, you'll find robust plugins that add local delivery and pickup functionality to your store.
You can add multiple pickup locations, define local delivery areas based on the customer's distance or a custom map, and even send email notifications to your staff about upcoming pickups.
Five-Star WooCommerce Local Pickup and Delivery Plugins
Here are some of the best WooCommerce local pickup plugins: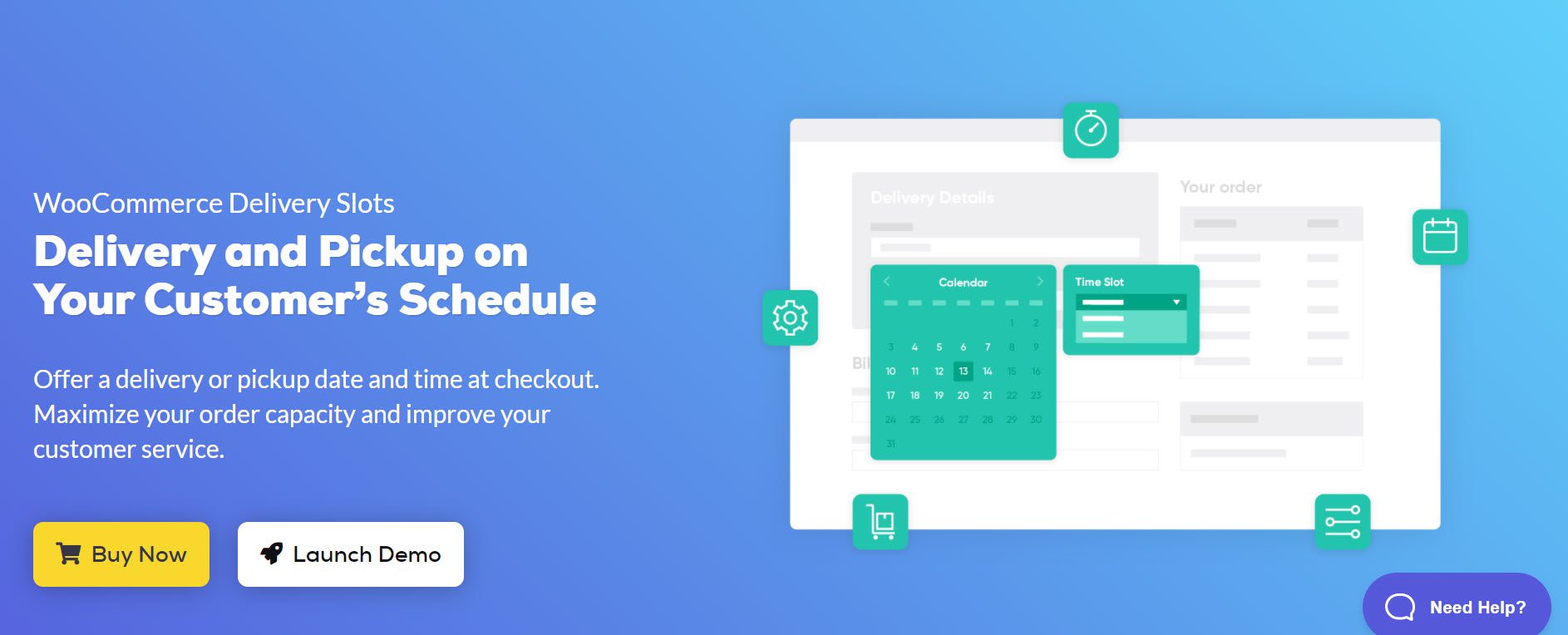 The WooCommerce Delivery Slots plugin allows you to schedule when your delivery drivers arrive with a shipment. Customers can select the exact date and time of delivery when they check out. This is especially useful when shipping large items, such as furniture, and you need the customer to be present when the item arrives.
Features of the plugin:
Select which days are available for delivery and the hours of operation for those days;
Have the option of charging extra for same-day and next-day deliveries;
Limit the maximum number of deliveries per time slot and how long a customer must wait after placing an order before shipping is available;
Give customers the option of selecting a time slot before they checkout if necessary for the purchase;
Review all the upcoming deliveries, including the time slot and a link to the entire order with the products ordered and the customer address.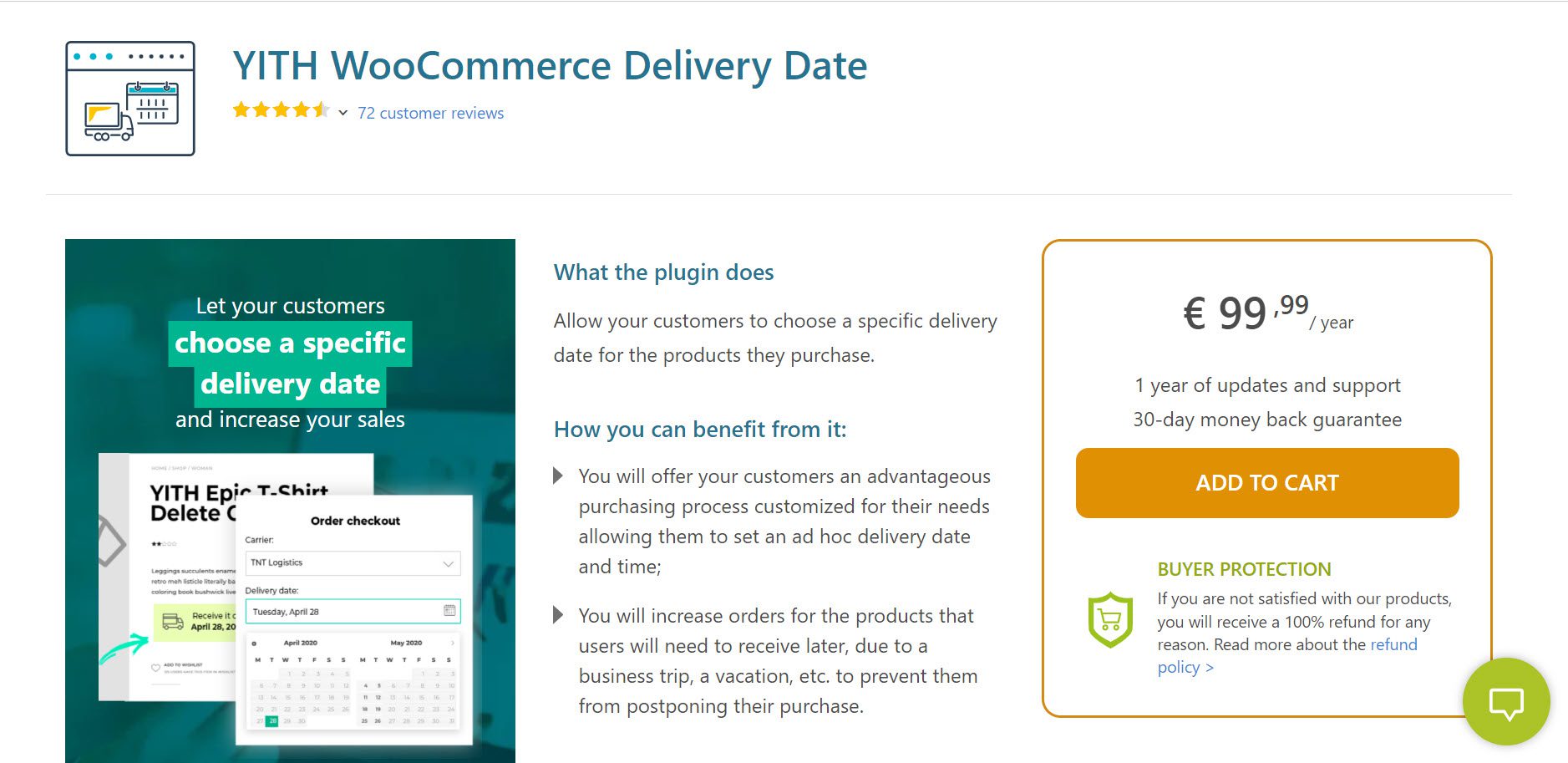 You can use YITH WooCommerce Delivery Date for all local and international deliveries, including a plethora of options for customizing how your deliveries are handled.
Using this plugin, you can add all of your carriers and specify when they are available to ship, how long shipments take, and the maximum number of days a load can be scheduled ahead of time. This way, your customers can tell when they can expect their shipment. Then, you can allow customers to select their delivery date on the checkout page.
Features of the plugin:
Schedule delivery times and allow customers to select the time slot they want to receive the package;
Ability to add dynamic notices to the product page, similar to those seen on Amazon;
Allow stylish notices to appear beneath the pricing and inform customers when they can expect to receive their order within the next X hours and minutes.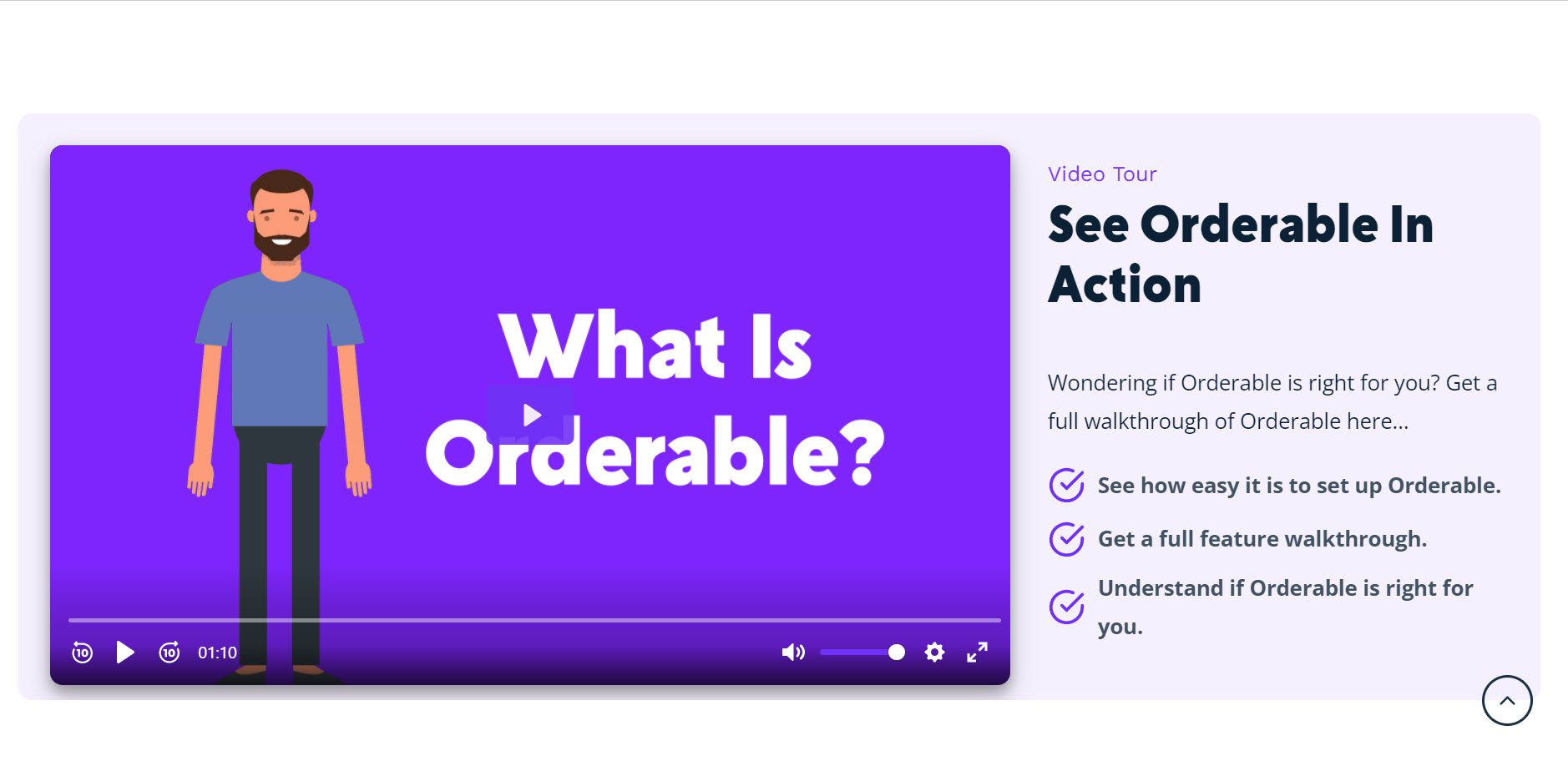 Orderable allows you complete control over your local pickup and delivery schedule. In addition, Orderable provides a collection of comprehensive scheduling capabilities that you're sure to find handy and a gorgeous app-like appearance.
Features of the plugin:
Define your business hours for each day of the week and limit the number of orders you accept each day using Orderable;
Setting up an endless number of service hours or time slots;
Use these slots to establish time intervals for delivery or collection, time cut-offs, maximum orders, frequency, and other options;
Set lead product times, pre-order days, and holidays, among other things.
Plus, everything comes packaged in a user-friendly food ordering plugin with Orderable, from its mobile-friendly design to its streamlined checkout experience.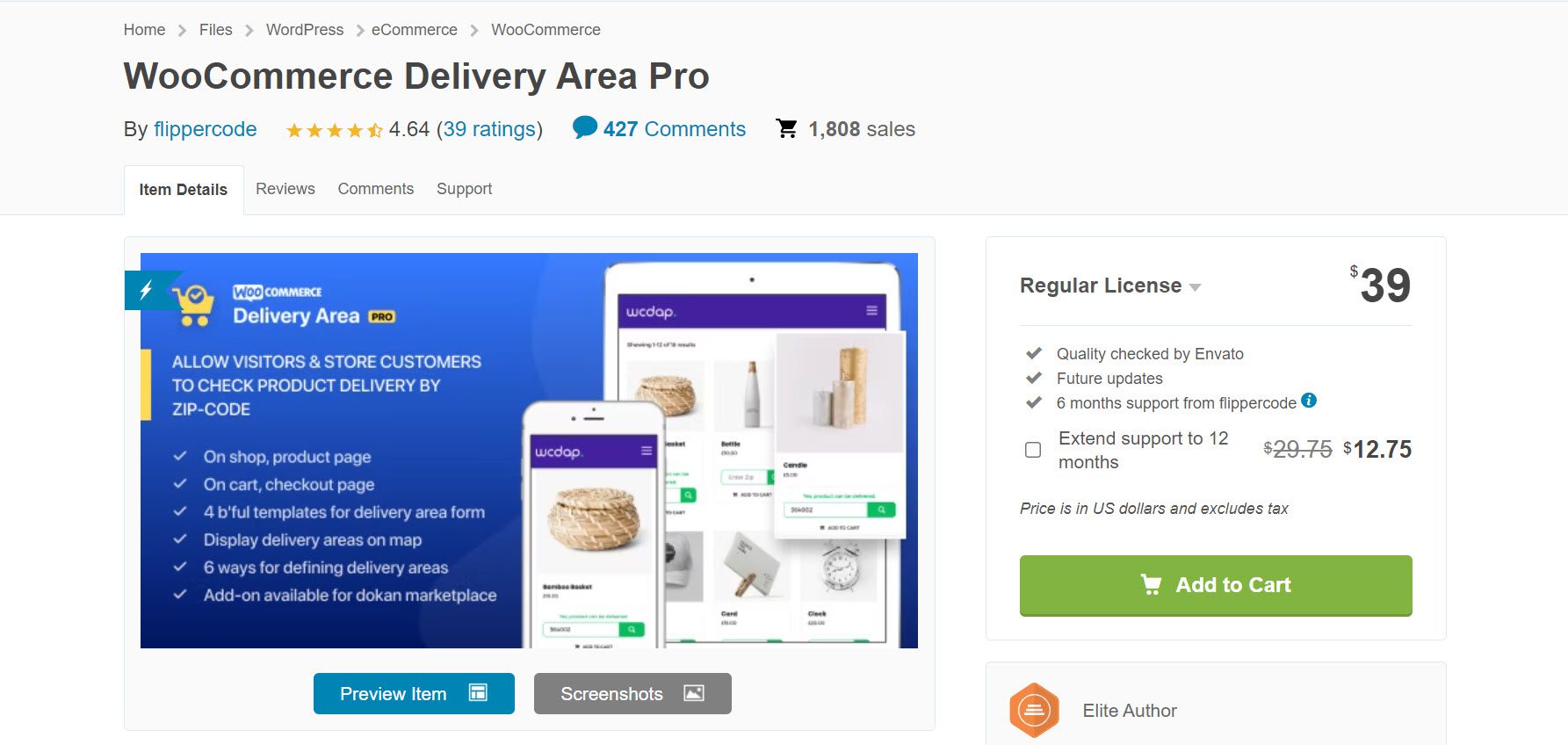 WooCommerce Delivery Area Pro is incredibly flexible, allowing you to choose where local delivery is accessible for each product, making it an ideal WooCommerce delivery location plugin.
This WooCommerce plugin will add a zip code search bar to every product, allowing visitors to quickly see if delivery is possible in their area. The zip code search bar is attractively designed and has several different themes. Overall, it's a fantastic plugin for restricting goods deliveries to specified locations.
Features of the plugin:
Designate a delivery location for your products, products in a group or category, or individual products. The delivery zone can be narrowed down by continent, subcontinent, country, zip code, or distance from the store;
Draw a shape on a Google Map embed to specify where you want to ship to;
Complete control over your delivery methods;
Option to restrict available WooCommerce products by delivery area, rather than blocking all purchases based on the customer's location.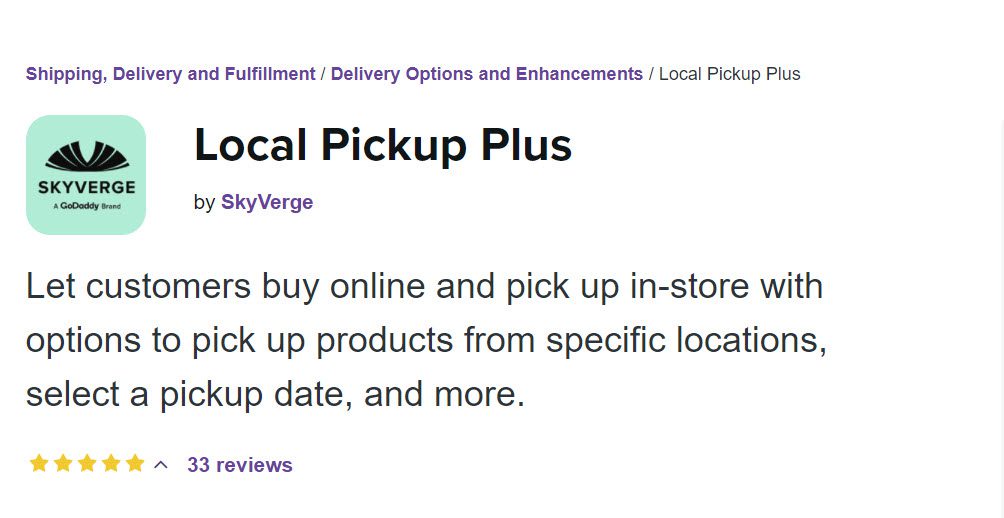 Local Pickup Plus adds a new tab to add and change a list of in-store pickup locations. If you already have a prepared file with the addresses, you may import them using CSV. Local Pickup Plus gives you complete control over the available products at each curbside pickup location.
You might want to offer clients the option of picking up their goods at a location in addition to local delivery. The issue with WooCommerce's default pickup options is that only one location is available. This is acceptable if you only have one physical place, but you can't let customers choose many areas or other pickup options. This is where WooCommerce's Local Pickup Plus plugin comes in.
Features of the plugin:
Add a new tab to the WooCommerce settings page for editing a list of in-store pickup locations;
If you already have a formatted file of the addresses, you can quickly import them via CSV;
Complete control over which products are available at each curbside pickup location;
Specify which products will be available for shipping to a pickup spot;
Set up email alerts so that when a purchased item is marked for pickup, your warehouse or store employees are notified and prepare it for the customer.
Why is WooCommerce Local Pickup a Good Idea, Business-Wise?
In-store pickup, also known as BOPS, allows customers to purchase or reserve items for pickup in physical stores. It has proven to be extremely popular for various reasons, which we will discuss below. And, for any online retailer with a physical presence, it's a valuable strategy that can advantage them over their web-based competitors.
Here are just a few reasons how local pickup can benefit your business:
There's no need to charge shipping fees or look for the best delivery service. As a result, you won't have to raise your prices, which your customers will appreciate, ultimately leading to them returning to your store.
It's a busy world, and customers will appreciate it if you can save them some time and thus make their lives easier. With local pickup, customers can pick up their orders whenever convenient. Or at times that are convenient for you! It's also ideal for heavier items like furniture that must be picked up by a car.
It opens up the possibility of in-store cross-selling;
When customers come into your store to pick up an item they reserved online, they have the opportunity to make additional sales on top of the original reservation. Assume they've arrived to pick up a mobile device. They may notice a cover they like while picking up their order or decide they need valuable add-ons such as keyboards and headphones.
Right now, we're all missing out on the human connection. While you can't change the scenario, you can make a stronger connection with your customers by having them visit your store rather than rely on a delivery van. Your personality is what distinguishes your small business. So allow it to be seen!
Over to You
As you are probably aware, the idea behind WooCommerce Local Pickup is that you select your preferred shipping methods for each geographical zone, and the customer, once they fill in their address, only sees the shipping methods available for their address.
While WooCommerce's numerous options and settings may appear complicated, it is pretty simple to get the hang of them. However, the default WooCommerce Local Pickup method has some limitations, but there's nothing you can't change or spice up with one of the plugins mentioned above.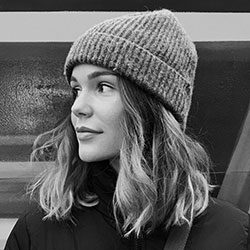 Gabriella is a Digital Content Writer and Marketer with a zeal for all things WordPress. When she's not researching and drafting the upcoming articles, you can find her in the open air exploring the outdoors with her dog.