If you're selling products online, you've probably wondered how to get your goodies listed on the Google Shopping Ads feature at least once. Right? – especially if you happen to be a WordPress and WooCommerce user. Well, the answer to that is to set up WooCommerce Google Shopping. Don't worry; we'll get to it.
All you need is a plugin, and you're ready to roll!
Today's article will examine how and why you should use a WooCommerce Google Shopping plugin to add your store's products to the Google Shopping Ads feature. 
Why Would You List Your Products on Google Shopping?
So, first and foremost, what exactly is Google Shopping?
Google Shopping is a Google service that allows users to search, compare, and buy physical products from retailers who have paid to advertise their products. This is also referred to as a Comparison Shopping Engine (CSE). Google Shopping results are displayed as thumbnail images that include the retailer and price of each product.
Like this: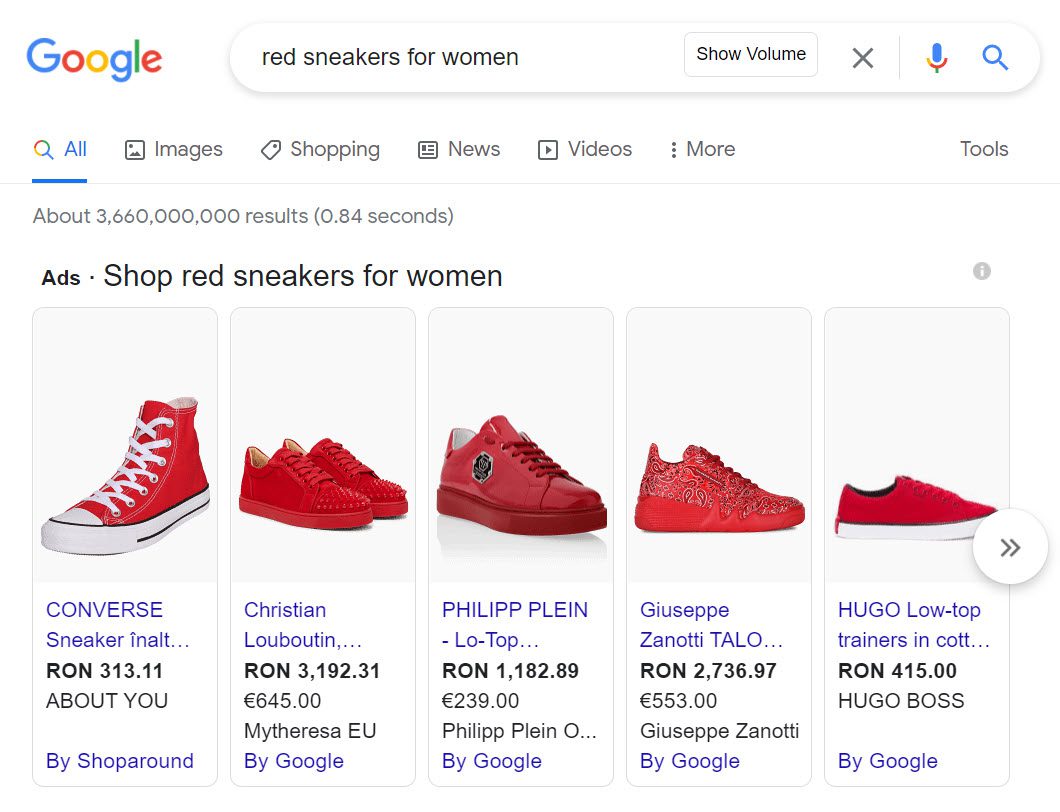 Fun Fact: Did you know that when Google Shopping first debuted in 2002 under the name of Froogle? Simply put, the service indexed product data based on specific search terms. In 2012, the service transitioned to a paid advertising model, in which retailers had to pay to appear in Google Shopping search results.
Why Would You Rely On Google Shopping?
Here's up: Back in 2018, Google Shopping ads accounted for 65% of all online retail clicks.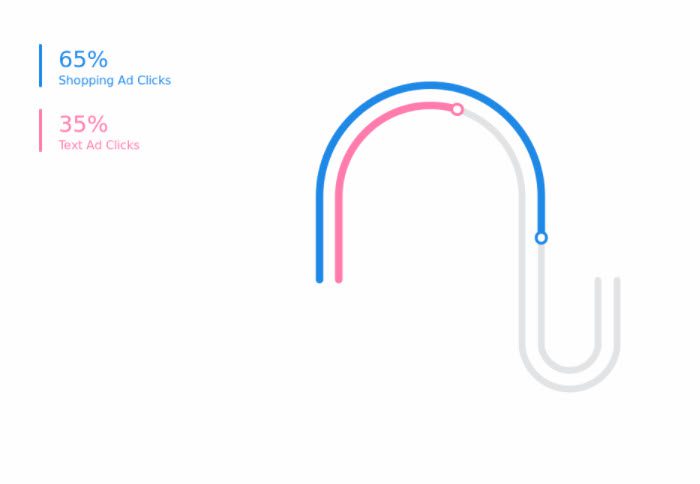 According to Smart Insights, Google Shopping Ads accounts for 76.4% of retail search ad spend. They also receive 85.3% of all clicks. This means that Google Shopping Ads (and product listings) are highly likely to convert your products.
As a retailer, this is a fantastic opportunity to reach out to customers looking for what you have to offer. After all, why would you click on a product ad if you weren't looking for that particular product?
Essentially, Google Shopping allows you to reach bottom-funnel customers who already know what they want – and gives them an easy way to find your products right in the search results.
Before purchasing in a store, 70% of smartphone users looked up information online first.
Almost two-thirds of smartphone users are more likely to purchase from a company whose mobile website or app tailors information to their location.
Google Shopping Ads now account for 76.4% of retail search ad spend in the United States and 85.3% of all clicks.
Google Shopping is now available in over 40 countries. It is not the only comparison shopping engine available but is by far the most common.
According to Merkle's research, ad spending on Google Shopping has increased by 38% compared to last year, while it has decreased by 12% for Search Ads.
So if you happen to be immersed in the eCommerce world in 2022, using the Google Shopping feature may help you out.
How Does WooCommerce Google Shopping Work?
Google Shopping Ads are a type of ad that you can manage inside a Google Ads account. However, there are specific policies that you should comply with when you decide to run this type of ad.
Shopping Ads are automated based on data sent to the Google search. The information that will show up in the results relies on the information the advertiser will provide in a shopping feed, such as product ID, product title, image, price, product description, and more.
The feed will be submitted to Google Merchant Center. You will need a Google Merchant center account for free and then send your feeds to Google Ads. Now, you can quickly start running those Google Shopping Ads. Here's a guide on how to set up this type of campaign.
Now, back to our question: how do you integrate Google Shopping into your WooCommerce store?
How to Set Up WooCommerce Google Shopping?
As I mentioned before, feeds lie at the core of a Google Shopping campaign. But, such feeds can also be used across other platforms, from Bing to Facebook and Amazon.
So, to properly manage these feeds, you will need the help of a plugin.
Below we'll present a few free WooCommerce Google Shopping plugins that allow you to add an unlimited number of products, but most have restrictions.
We will choose the CTX WooCommerce Feed Plugin for this tutorial and show you everything.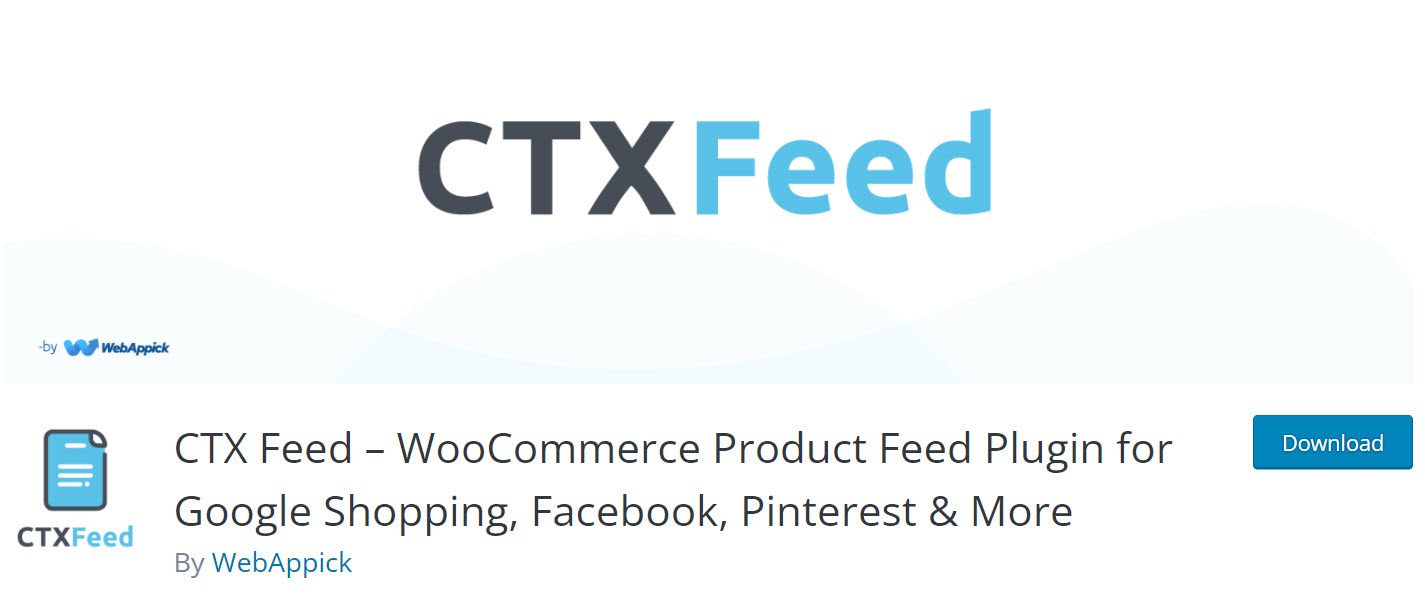 This plugin allows you to add a Woocommerce product feed to Google, Facebook, eBay, and other major media platforms. It also ensures that the process is simple enough for anyone to create a feed. As a result, it's ideal for beginners.
Here's what you need to do:
Step 1: Install the CTX Feed
From your WordPress Dashboard, head over to Plugins, → Add New, and type in the CTX Feed plugin's name in the search bar. Once you find it, go ahead and install and activate it.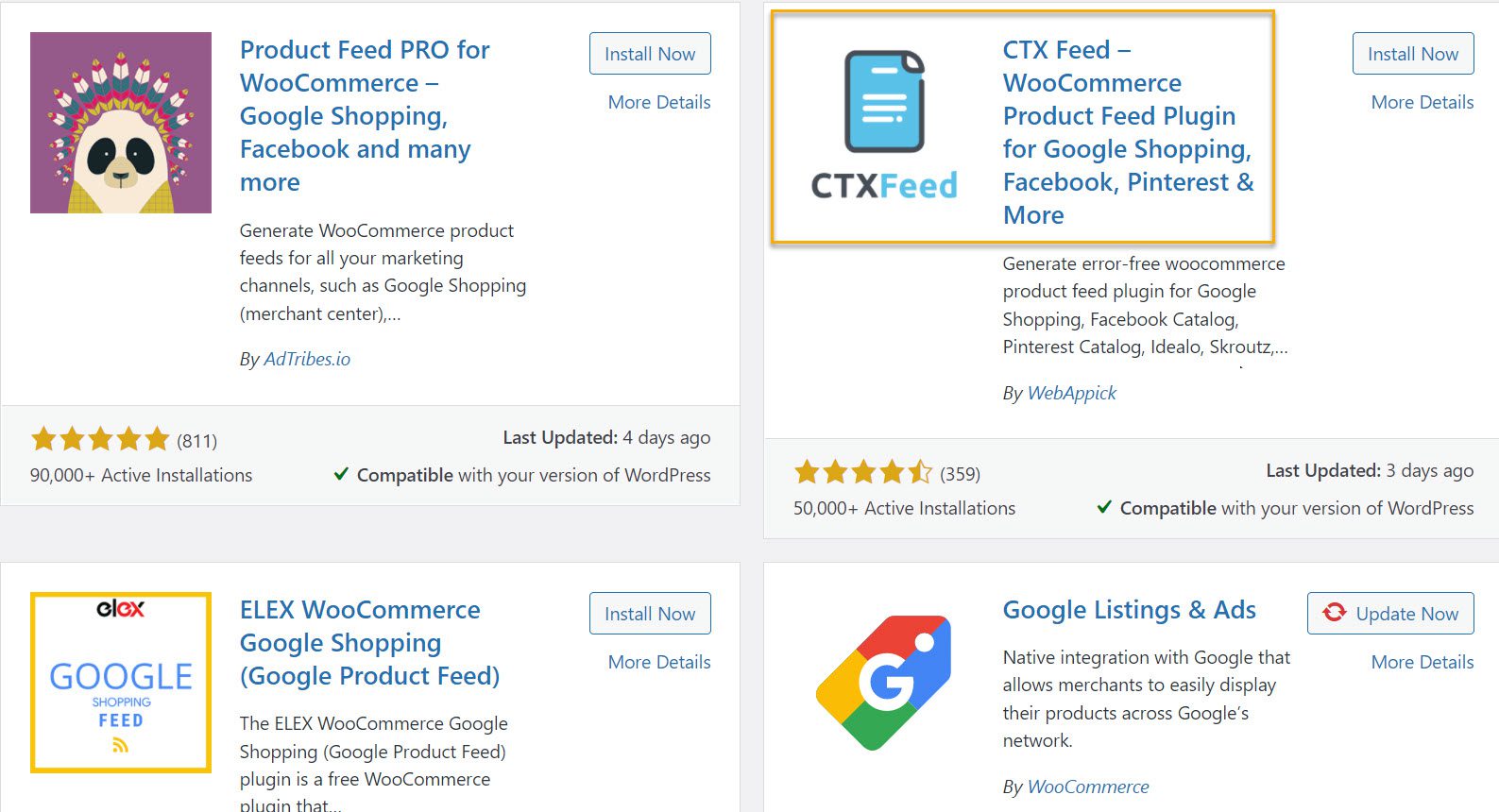 Step 2: Create a CTX Feed
After installing the plugin, it's time to create a feed. The process is straightforward, but it is important to note that each merchant has its configuration templates.
First, you must click on the CTX Feed in the left-hand admin panel and select the Make Feed option.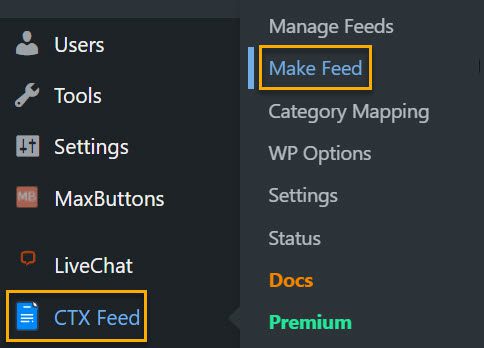 At this point, you must first choose your country. Because of merchants, it's critical to list the correct one. Then select the template you want to use.
I recommend using one of their templates, so choose one. We're going to use Google Shopping as an example.

Now enter a filename and choose a file type. In most cases, the most popular file types to select are XML and CSV. However, choose the one that best meets your requirements.
CSV is valid when you only have a series of information-related values and know you will constantly store values for each field. On the other hand, XML has the advantage of self-describing data (tags) and hierarchy, which gives you more flexibility in storing the data.

Step 3: Feed Configuration
You should have noticed that more options appeared when you selected the template. This is the Feed Config, where you can specify which attributes your products will require.
You can remove or add as many as you want at this point, but the default options are an excellent place to start. If you wish to remove or add something later, you can always change it.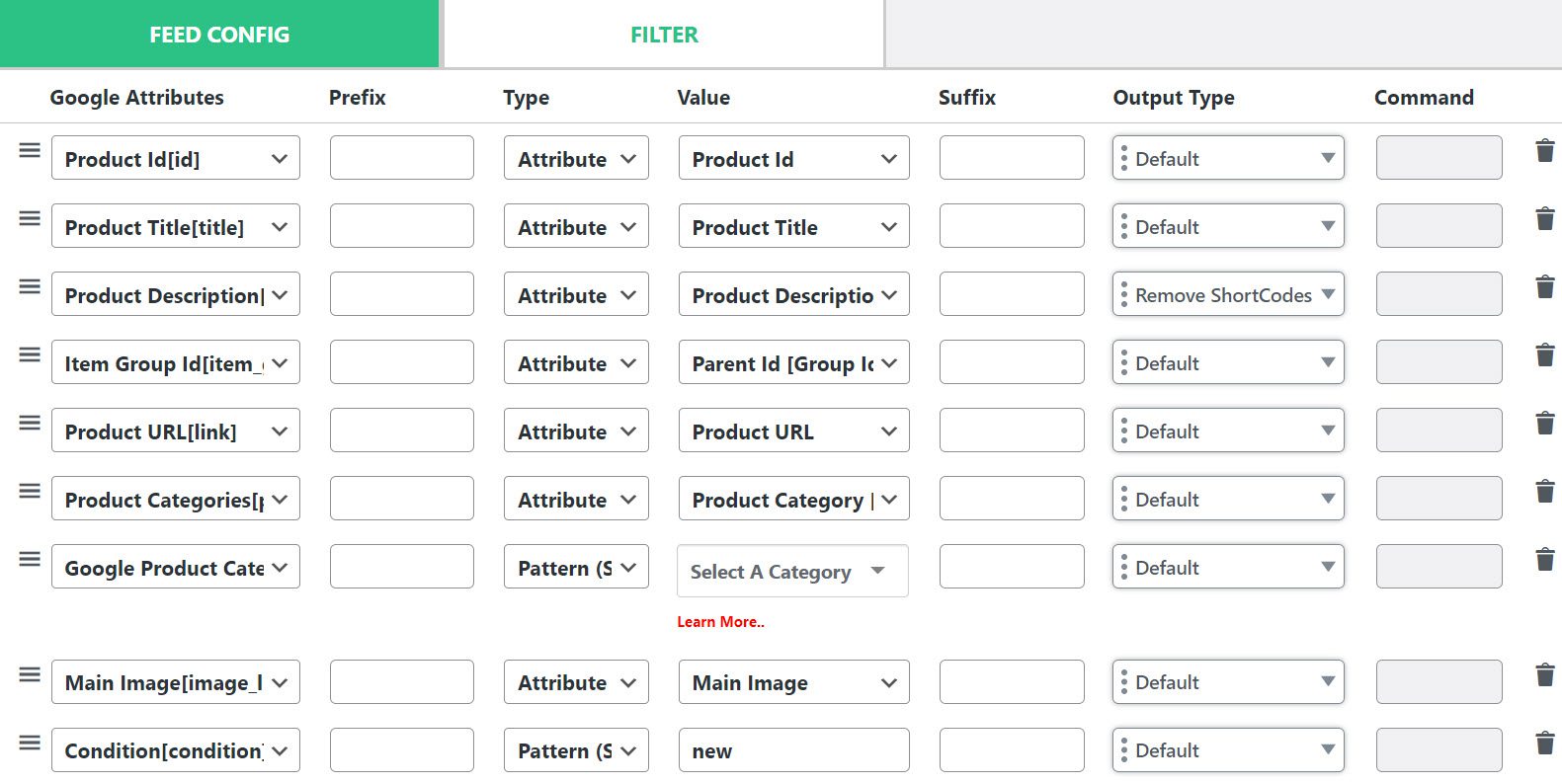 Remember how, in the previous step, you chose a country? The second step consists of a currency that corresponds to the country. For example, the United Kingdom is the default country, which means GBP is the default currency. As a result, if you choose the United States as your country, you must convert all GBP to USD.
In addition, you must choose a product category. This is the only attribute that is not automatically selected or filled in for you. Simply browse the list and choose what you want to use.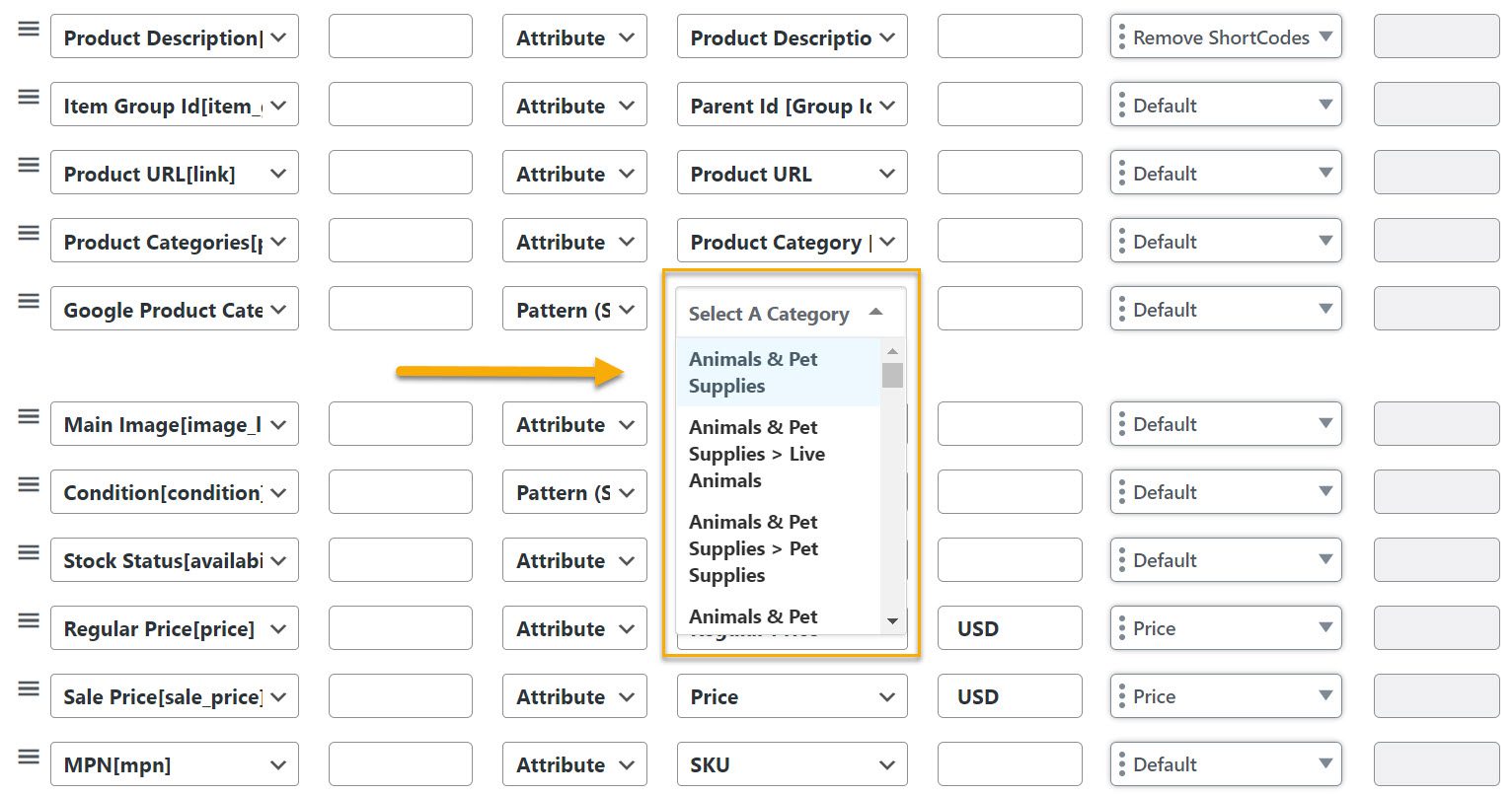 Step 4: Update and Generate Feed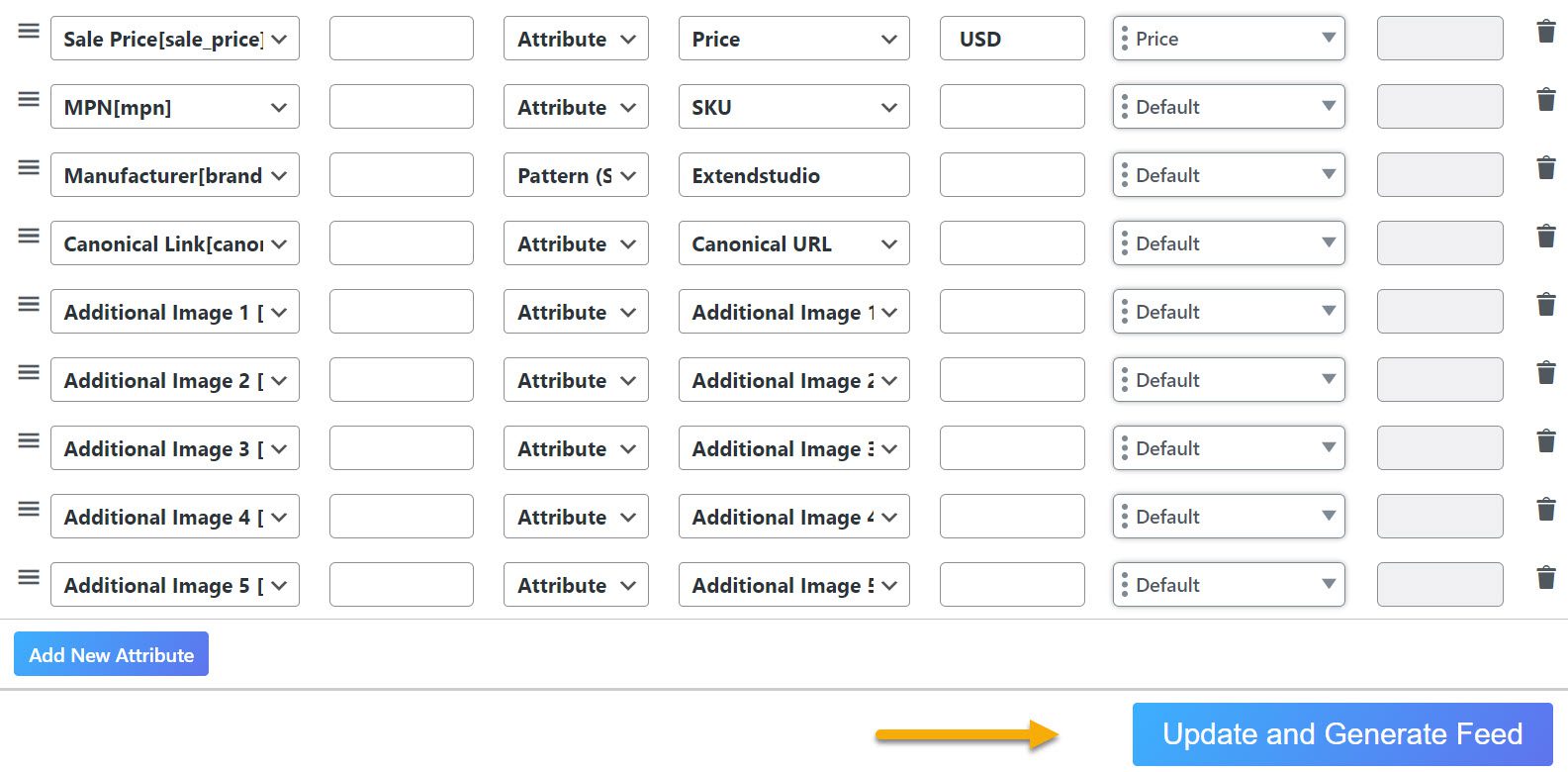 The final step is to visit Google Merchant Center, which is required for setting up Product Ads. Again, this step is entirely dependent on the platform you're using.
For example, if you want to set up Facebook product ads, you'll need to go to Facebook Business Suite and upload the file you just created in your WordPress-WooCommerce-powered store. However, if you want to make Google Shopping Ads, you must first visit Google Merchant Center. Here's a handy guide on setting up a Google Merchant account, explained by HubSpot.
Then, simply follow the instructions in Google Merchant Center to upload the CTX file. Other platforms follow a similar procedure, but there are some differences. If you run into a problem on the platform, simply contact the platform's support, and they should be able to help you or provide the necessary information.
That's it! After completing this, your WooCommerce feed will be available on Google Shopping! 
While you can manually add your products to Google Shopping, it is a time-consuming and tedious process. Furthermore, you'll have to keep them all up to date individually, which can be a real pain if you have a large inventory in your shop.
Using a WooCommerce Google Shopping plugin, you can manage your Google Shopping listings on your WordPress site and automatically keep them up to date with new product details.
Here's a list of other significant Google Shopping plugins you can use if you do not wish to go with the one we've previously mentioned.
WooCommerce Google Shopping Plugins To Choose From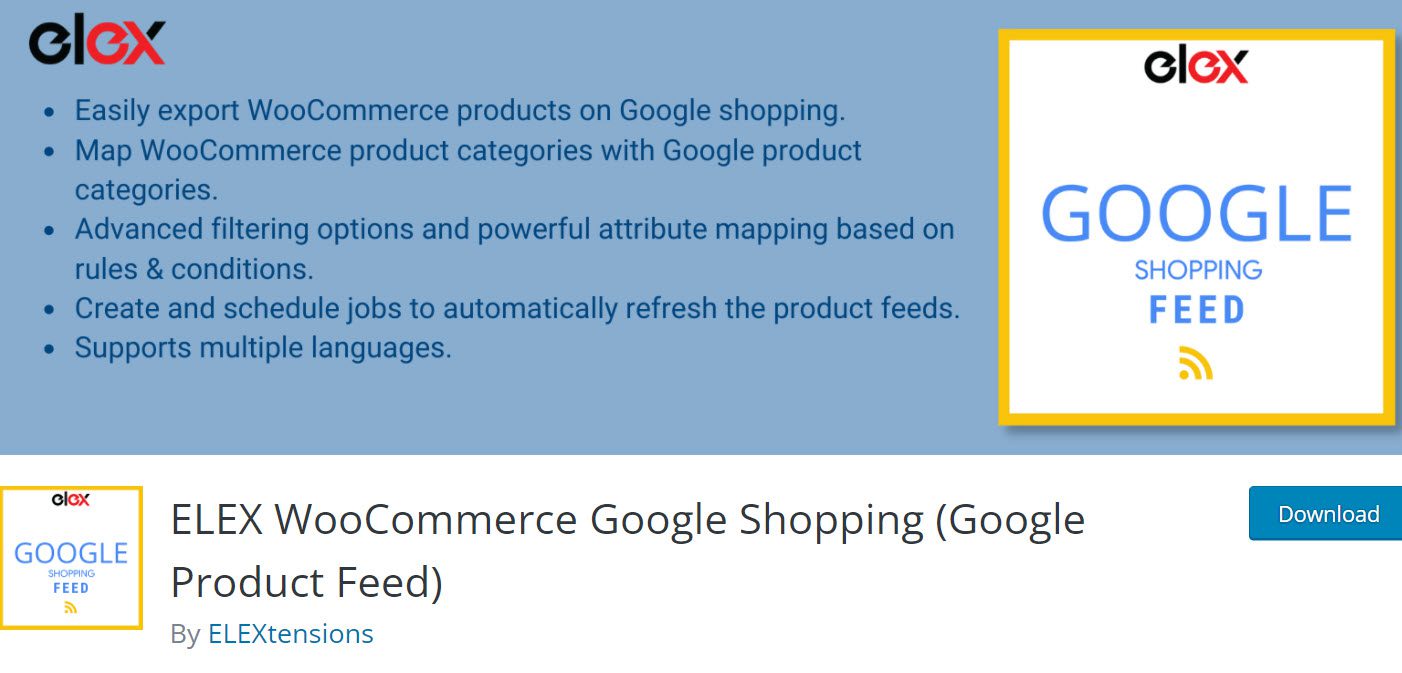 Elex is a free plugin that allows you to add your WooCommerce products to Google Shopping directly from your website. The product title, image, price, availability, color, and other attributes will be displayed in the preview. In addition, you can use the plugin to create a Google Shopping Feed file in various formats (XML, CSV, and TSV), which you can then connect to your WooCommerce site.
Features of the plugin:
Display WooCommerce products in Google Shopping Ads and results;
Product features such as name, size, color, and more should be displayed;
Create filters that only show certain product types using tags;
There are no limits to the number of feeds, feed templates, or filters you can use;
WPML, numerous countries, and languages are all supported. Currently, English, Russian, Spanish, German, and French are supported;
Multiple feed file types (XML, CSV, and TSV) are supported.
Automatically update the product feed;
Map WooCommerce product categories and properties to Google categories quickly and easily.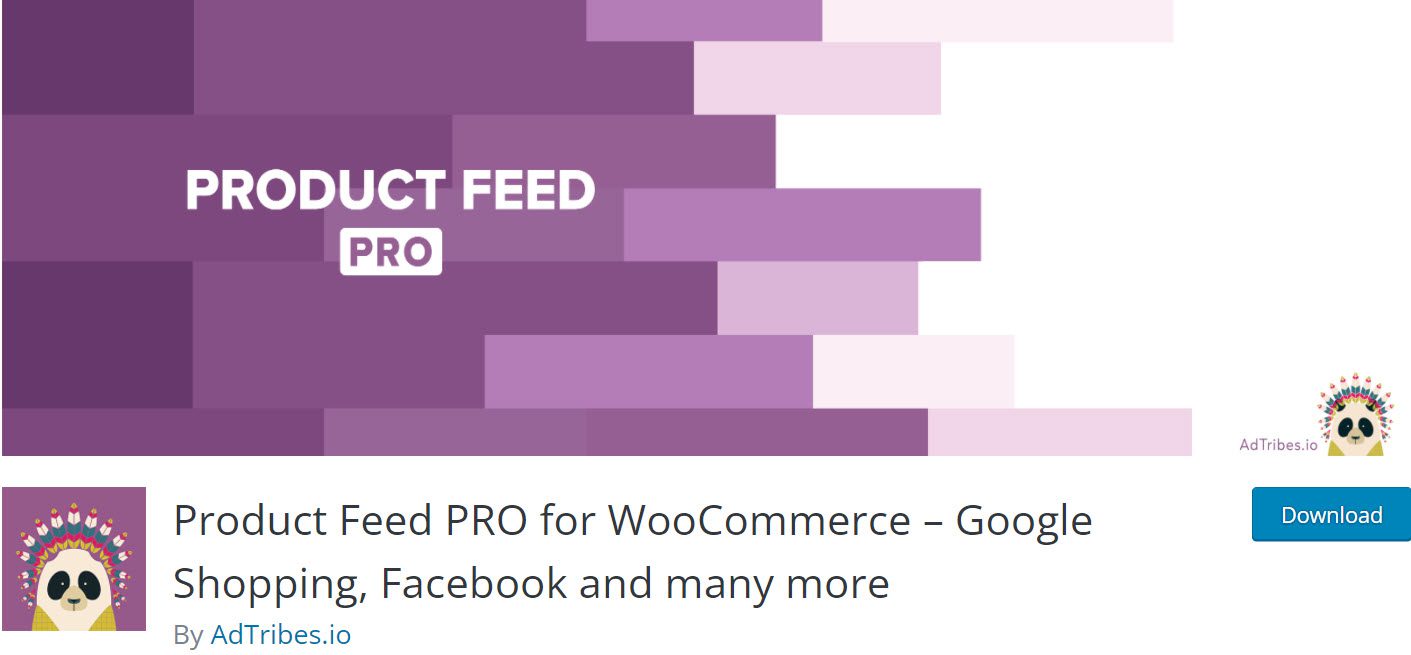 Product Feed PRO has a lot of functions. Still, the most important one is that it shows your products on many different marketplaces, like Google Shopping (Merchant Center), Facebook Remarketing, Bing Ads, Billiger.de, Pricerunner, and Vergelijk.nl.
Features of the plugin:
Marketplace mapping by category and field;
Advanced filtering options for selecting which products to display;
Change your WooCommerce characteristics to work with Google Shopping automatically;
Support for Google Analytics;
Set the shipment zone and the cost of shipping;
Support for product variables;
WPML support;
Custom Attributes, Dynamic Attributes, and Product Attributes are all included.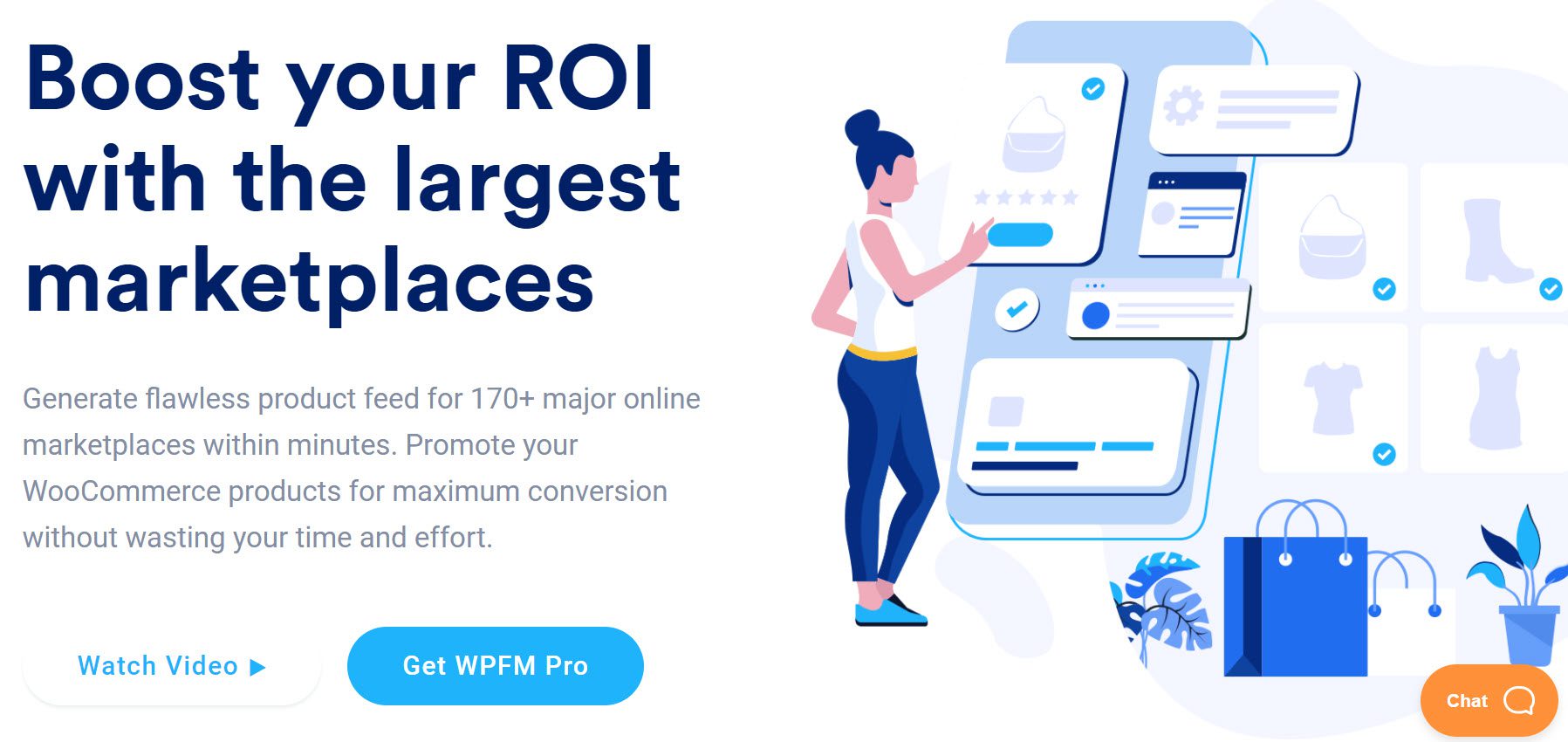 There is a free plugin; however, it is limited to 50 goods and lacks functionality. The commercial edition provides unlimited goods and features such as extended product attributes and additional pre-built themes. While the plugin's free edition is limited to 50 products, it still has many valuable features.
Features of the plugin:
Showcase your products on more than 168 merchant sites, including Google Shopping, Amazon, and Zalando;
Google Shopping auto-syncs;
To link your WooCommerce products to Google Shopping, use category mapping;
Filter by categories, tags, or attributes to create custom filters;
Set a schedule for how often the product feed will be updated automatically;
Google Analytics is supported;
Custom fields with advanced functionality;
The Facebook Pixel can be used to track products;
Create an XML, CSV, or Text file as a feed.
Over to You
One thing is sure: increased visibility equals increased revenue and traffic. And who wouldn't want that?
While WooCommerce Google Shopping isn't exactly an online marketplace, it allows shoppers to peruse various products based on their search query. And that ultimately satisfies both the consumer and the retailer.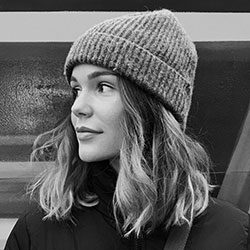 Gabriella is a Digital Content Writer and Marketer with a zeal for all things WordPress. When she's not researching and drafting the upcoming articles, you can find her in the open air exploring the outdoors with her dog.