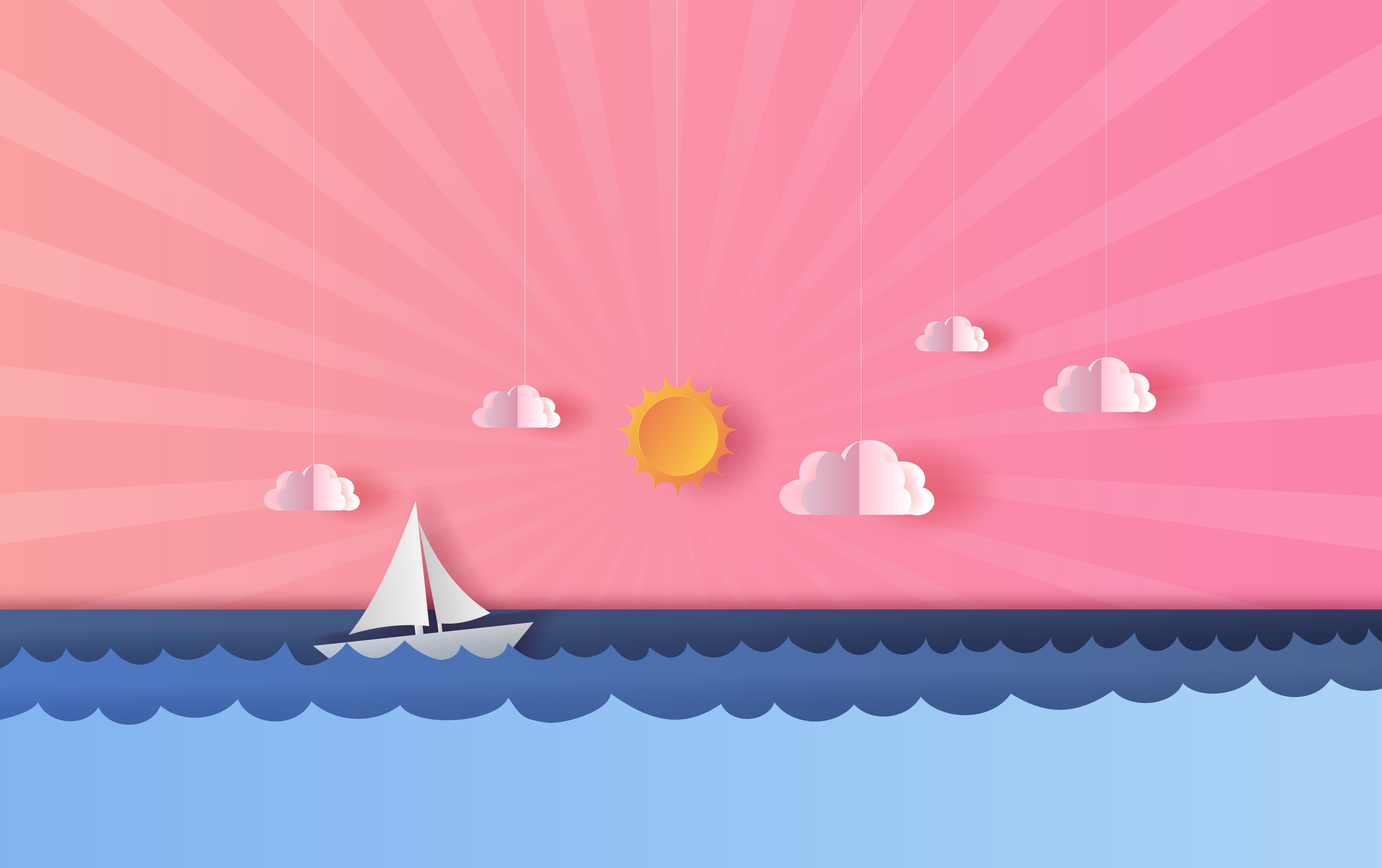 With the increase in competition and easy travel options in the market, it can be pretty difficult to keep up with the ever-changing travel industry and stay on top of your game. Actually, to say it's difficult would be an understatement. But don't worry; we're here to cheer you up with these incredible seven effective marketing strategies for the travel industry.
To develop a travel agency marketing strategy that appeals to customers and increases your ROI, a travel agency must first understand its niche and target market and then plan accordingly. This is where we come in.
Today's article will refer to several tips and tricks for developing an effective marketing strategy for your travel agency.
So let's get rolling!
Did you know?
According to Insider Intelligence's extensive research, the travel industry spent 22.5% more on digital advertising in 2022 than it did in 2021. Compared to other verticals such as retail and consumer packaged goods, digital ad spending in the travel sector is considered proportionately lower. However, it is gradually increasing again, with a forecast of $4.54 billion in 2023 in the United States.
Even though the travel industry has not yet fully recovered from the pandemic, Outbrain's research found nearly as many clicks on content from travel campaigns in the first half of 2022 as in 2020. Consumers are most interested in once-in-a-lifetime destinations such as the Maldives, Spain, Greece, Thailand, Japan, and Australia.
On the other hand, travel advertising agencies made a strong comeback, purchasing some of the year's most coveted advertising spots. For example, check out Booking.com's massively popular 2022 Super Bowl ad starring Idris Elba.
44% of internet users' interactions with travel content begin with no destination in mind. That means that nearly half of all online travelers have no idea where they intend to spend their vacation! This is a fantastic opportunity for travel marketers to capture consumer attention when looking for discoveries and experiences.
So, assume you own a travel agency and want to improve your marketing and reach a larger audience. Here's what you should do.
Seven best marketing tips and tricks for kickstarting your travel agency
Understand your audience.
Understanding your audience is critical for developing new strategies and modifying existing ones. When you know your customers' travel desires, you allow them to feel special. Your customers are the ones who will assist you in fulfilling your goal. Therefore, it is critical to understand who these customers are.
To understand your niche clearly, you must create a buyer persona. What exactly is a buyer persona?
A buyer persona is a fictional character who represents your clients. It would be beneficial to base your buyer persona on your target travel audience research. The more specific it becomes, the easier it is to work around. For example, you may have different target audience groups with different characteristics and interests. You can segment them and create separate buyer personas for each customer segment.
Ask yourself the following questions:
Who are your travelers? Understand who you target and how users interact with similar products based on gender, age, ethnicity, income, qualification, and marital status.
Where do they go? Understanding traveler demographics will assist you in narrowing down the number of strategic destinations and service providers operating there.
How do they find tours and tickets, and how do they book them? First, find out how they go about getting a ticket or a time. These may include various search engines. If you're not new to the industry, you've probably heard that, on average, people use 2-3 travel websites before they decide to book a destination.
How frequently do they travel? Investigating this question may yield some painful results. While the average American travels twice a year, your target group may travel so infrequently that you may discover this segment is not viable.
We've written an article about buyer behavior and personas and, more importantly, how to start figuring them out, so make sure you give that a go before moving on to the next step.
Leverage content marketing and compelling copywriting.
We can not stress this enough. Welcome 101, since you've probably heard this 100 times before. To attract and retain your target audience, you must create and distribute valuable and consistent content, resulting in long-term growth in visitors, leads, and customers. To succeed, this marketing strategy necessitates several elements, including high-quality content optimized for SEO and readers.
If your website lacks excellent content, it will not generate the traffic required to make your travel agency successful. To be great, content must not only be interesting, original, creative, informative, personal, and engaging, but it must also be well-written.
By writing good, competitive, and compelling copy, you are not only making your service visible to search robots. The added value here is that you are attracting customers with an educational and engaging read. It encourages them to make informed decisions and increases their likelihood of accepting your offer.
TripMyDream, a small Ukrainian online travel agency, is a great example. They started a blog that grew to become the country's largest travel media outlet. The content includes articles about their best deals, popular destinations, local attractions, and recent travel industry news.
Don't disregard the power of email marketing.
Even though email marketing is one of the oldest tricks in marketing, it is still highly effective, especially in the travel industry. This is because the primary goal of email marketing is not only to attract new customers but also to retain existing ones.
Most first-time visitors to your travel agency will not make an immediate purchase. However, you can get the person to subscribe to your email list so that you can demonstrate your authority and credibility by sending them valuable content via email and encouraging them to purchase your travel products.
The weekly and daily time-sensitive updates on your product information inspire previous guests to become regular customers. For example, you could notify them when you offer an appealing deal.
Examples of typical travel agency emails to clients include:
Welcome emails;
Newsletters;
Thank you emails;
Special offers;
Confirmation emails;
Notifications and updates;
Happy birthday emails.
The first step is to acquire a customer relationship management (CRM) system. This is a database where you keep your clients' information, from first and last names to email addresses, phone numbers, and social media handles. An example of such a tool would be HubSpot. The CRM platform from HubSpot also includes enterprise software for marketing, sales, customer service, content management, and operations.
Now it's time you build a list. Use a trustworthy email marketing service like MailChimp or AWeber. These and other similar services, also known as autoresponders, offer a variety of tools for automating your marketing, including scheduling, subscription forms, automated responses, newsletter templates, and more.
Put subscription forms in prominent locations on your website and social media pages. You can test various placements and tactics, such as exit popups on your website. Your Facebook page is another excellent location for your form.
Let's move on to newsletters now. It's critical to contact your subscribers regularly if you want to get the most out of them. Creating a newsletter allows you to position yourself as an expert while teaching people to anticipate your emails. Of course, you can also send out messages regularly. But on the other hand, a newsletter has a higher perceived value and allows you to build your brand.
Give your newsletter a straightforward name that helps you brand yourself (for example," Tom's Travel Tips for Overseas Traveling ") and include your logo. In addition, you gain access to many professional-looking templates when you use an automated email service.
Oh, and one other thing. Remember to make your newsletters mobile-friendly as well. Travelers use smartphones and tablets not only for research and booking but also at every stage of their journey. So check that your emails are easy to read on mobile devices. Keep email copy brief and to the point. Similarly, keep subject lines short, so they don't get cut off.
Make sure your website is optimized for SEO.
A website designed to attract travelers should have a cool vibe to it. The written content should be of high quality and should address the travelers' fundamental concerns. Search engines like Google change their algorithms regularly to place relevant travel websites on their results pages.
As a result, it is critical that, in addition to the search engines, you keep updating relevant content on your website regularly rather than filling content solely for keyword purposes.
Identify and target a specific keyword phrase for each authoritative content page on your website. Then, consider how your reader might find your particular page. Aside from the page URL, title, and headings, content has the most influence on search engine rankings. Repeat your keyword phrase several times throughout the page, once or twice in the opening and closing paragraphs, and two to four times more throughout the rest of the content.
Furthermore, user experience and SEO are inextricably linked. It is essential to understand that search engines rank websites according to how well they satisfy users. You should therefore create an innovative website that captures users' attention to get noticed by search engines.
Engage in video blogging and social media.
Let's tell it how it is: Social media is the most effective platform for increasing brand awareness. In addition, it is the cheapest and most effective medium for increasing sales, engaging customers, and establishing a presence among your target audience.
Advertising your products and services on various social media platforms can broaden your sales reach. For example, you can promote your exciting travel packages on Facebook or dedicate an Instagram page to show the various destination options for travel enthusiasts. You could also launch a hashtag campaign to highlight your travel company and bring it to the attention of thousands of people worldwide.
What about videos?
One advantage of using videos on your travel agency's website is that they are easier for search engines to index. This results in higher click-through rates when people use search engines like Google and Bing to find information about vacation destinations and travel agencies.
Also, when creating video content, remember to include a variety of media. For example, experiment with destination photos or add music or sound effects in the background instead of just text on the screen. This will help keep viewers interested in the travel video because it will not be boring.
However, keep your travel videos brief. When creating an explainer video for your travel company, keep it short and sweet. People will lose interest in travel videos that are too long and will move on to something else. Therefore, these videos should be no more than 2 minutes long.
If you want to learn more about video marketing and how big brands are reaping the benefits of it, feel free to look at a previous article we covered, discussing how retailers put together their video marketing strategy. There might be a few tips you can glean from there as well.
Create compelling content with the help of AI.
Just like MakeMyTrip has done it before. MakeMyTrip was an early adopter of in-app content. It has many firsts to its credit, including curated destination videos, a chatbot that provides information on flight cancellations, and more.
However, given its low monthly active user (MAU) frequency (typical for travel apps), the brand decided to use AI to connect user data and create compelling creative for cross-selling and up-sell campaigns.
What does this consist of?
Customers can receive rail/flight booking suggestions, alerts, baggage details, and even car booking suggestions via its AI-powered chatbots. It also means that customers can book tickets on MakeMyTrip using their voice. Well, isn't that awesome?
Invest in Google Ads.
Paid advertising allows you to show your ad only to those people who are most interested in your offer – your target group. The most significant advantage of AdWords is that your offer is displayed simultaneously as the tourist actively searches for it.
Assume someone searches Google for "accommodation in Lisbon." If they know how to take advantage of the situation, hoteliers and property owners will post their ads at the top of the search results like the other organic (non-paid) search results.
This is what it will look like: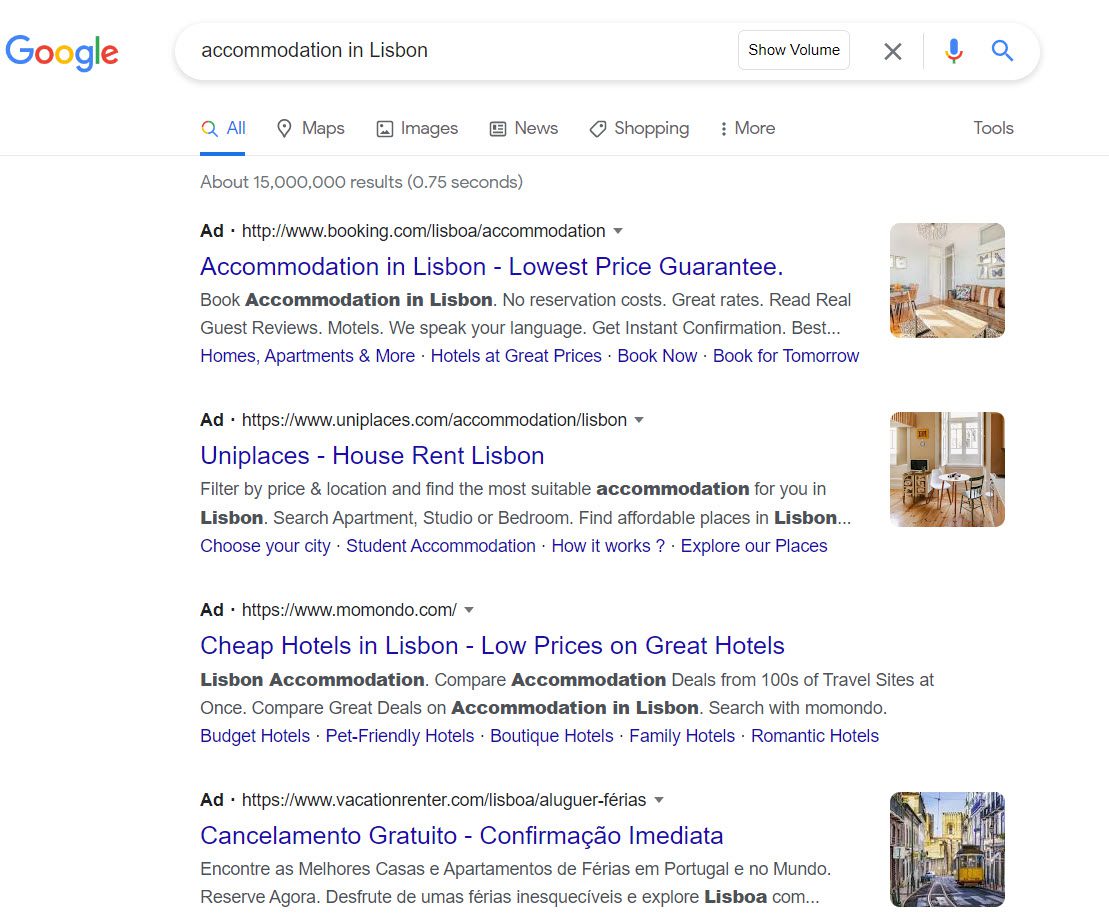 If you look closely at the image above, you'll notice that even the first four search results are paid ads and that only the fifth search result is the usual organic first search, which would be the first search if no one was advertising for this search phrase. You can see whether these people clicked on your ad, how many of them saw it, and who made the reservation if you are more skilled.
Google Ads allows you to take advantage of all the benefits of online marketing by showing your ad to the right people, at the right place, and at the right time, known as targeting.
Targeting is selecting your target group based on their specific interests and characteristics and who are potentially the most interested in your offer, requiring you to show them an advertisement. Therefore, the primary prerequisite for successful targeting is that you are familiar with your target group and have profiles of your ideal guests.
It's also worth noting that travelers like to comparison shop and visit multiple online travel agency websites. Visibility is essential for increasing bookings and improving business results, so your ads must be visible via desktop, mobile, and apps.
Your ad placements will appear across all channels, providing travelers with a unified experience. According to Expedia, travelers who subscribe to their newsletters and use their mobile apps are more loyal, with higher intent and engagement.
*Bonus tip*
Wait! We're not finished yet. Here are some additional bonus marketing ideas for your travel business that you can consider implementing.
Always conduct a market and target audience analysis. First, determine the most desirable market for your business model. For this to happen, you can use tools such as Google Search, Google Keyword Planner, Google Trends, Facebook Search, and Twitter Search.
Don't be afraid to experiment with new ideas. Be inventive and self-assured.
Your message and timing should be consistent. Your audience should be able to put their trust in you.
Now Over to You
And that's a wrap! I suppose we can conclude that marketing activities are not a single campaign and that no one-size-fits-all solution exists. Instead, it is a continuous and dynamic process.
To thrive, you must constantly monitor your performance and keep an eye on the market, as running a travel agency in a constantly changing industry is a never-ending process. We hope this article has given you some ideas for marketing your travel agency and that you can get to work!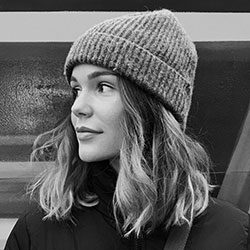 Gabriella is a Digital Content Writer and Marketer with a zeal for all things WordPress. When she's not researching and drafting the upcoming articles, you can find her in the open air exploring the outdoors with her dog.