Are you searching for some ideas for your online shop's product display? Do you have a lot of products to showcase but don't know how to present them in the best light possible? Or maybe you have some fantastic client testimonials that you'd like to share creatively? If so, say hi to WooCommerce Product Sliders!
WooCommerce Sliders is a design feature that allows you to show images and videos on your website. It functions similarly to a slideshow, displaying one photo or video at a time after a few seconds, or when the visitor clicks to view the next one, the content changes.
For example, you could use a slider on a homepage to showcase your latest offers without occupying too much space while avoiding user scrolling. Here's one slider from the Barnes and Noble online store.

Now, there's a thing with homepage sliders. Before using them, make sure you test them out. Some case studies have proven that they might be affected by banner blindness.
On the other hand, you could use them to show various images and videos of a product on the product page.
So, a WooCommerce slider is an excellent opportunity to display your WooCommerce store products, feature website banners, and have client testimonials on a slideshow.
What kind of WooCommerce Sliders can you use for your online store?
Product Sliders
What exactly is a product slider?
A product slider can display items from different categories in a slider format, display images of an item on the product page, and highlight random or related items on a product page.
Here are some examples of product sliders: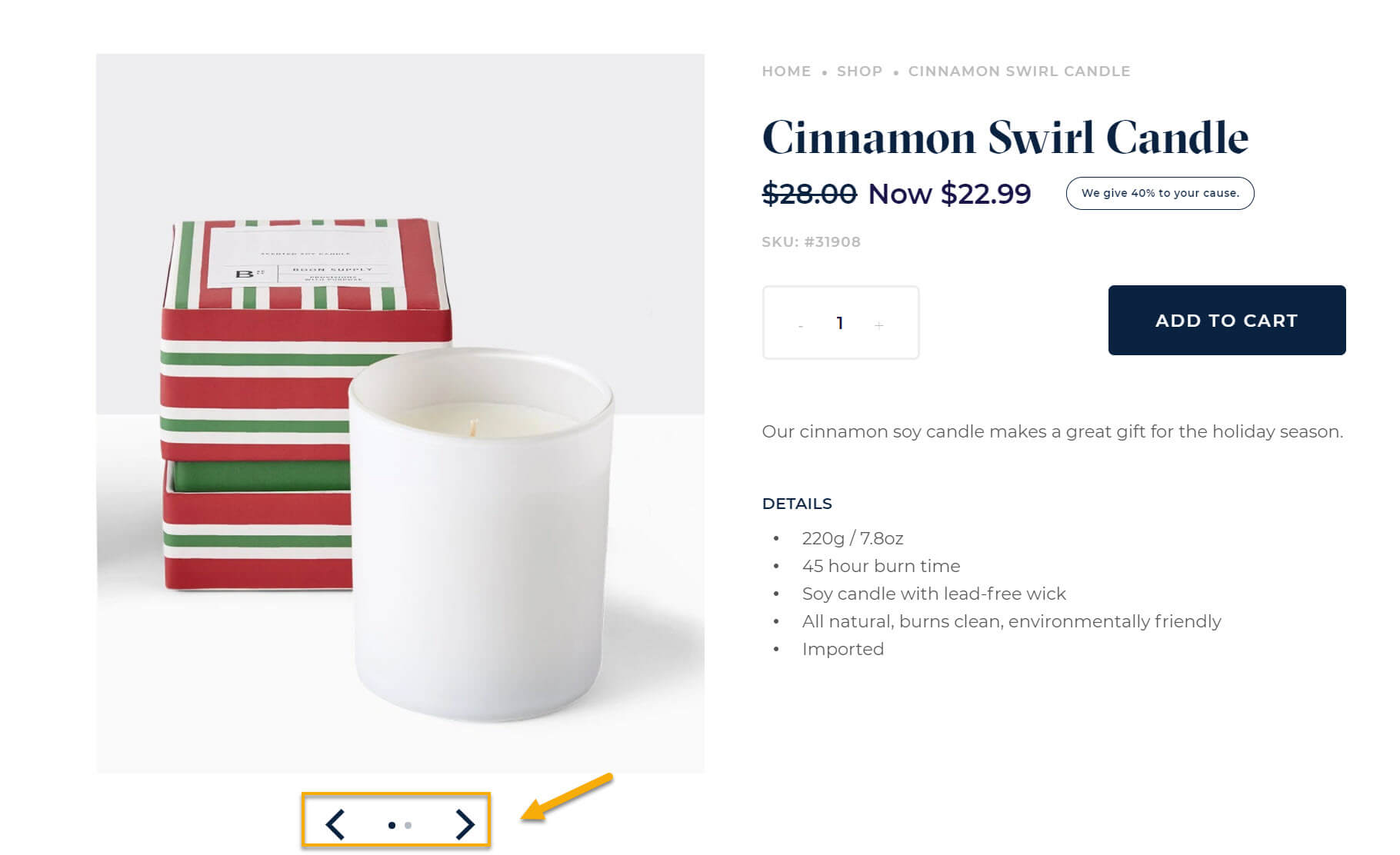 By clicking on these two arrows, more and more product images will appear, thus giving you a more detailed outlook of the product.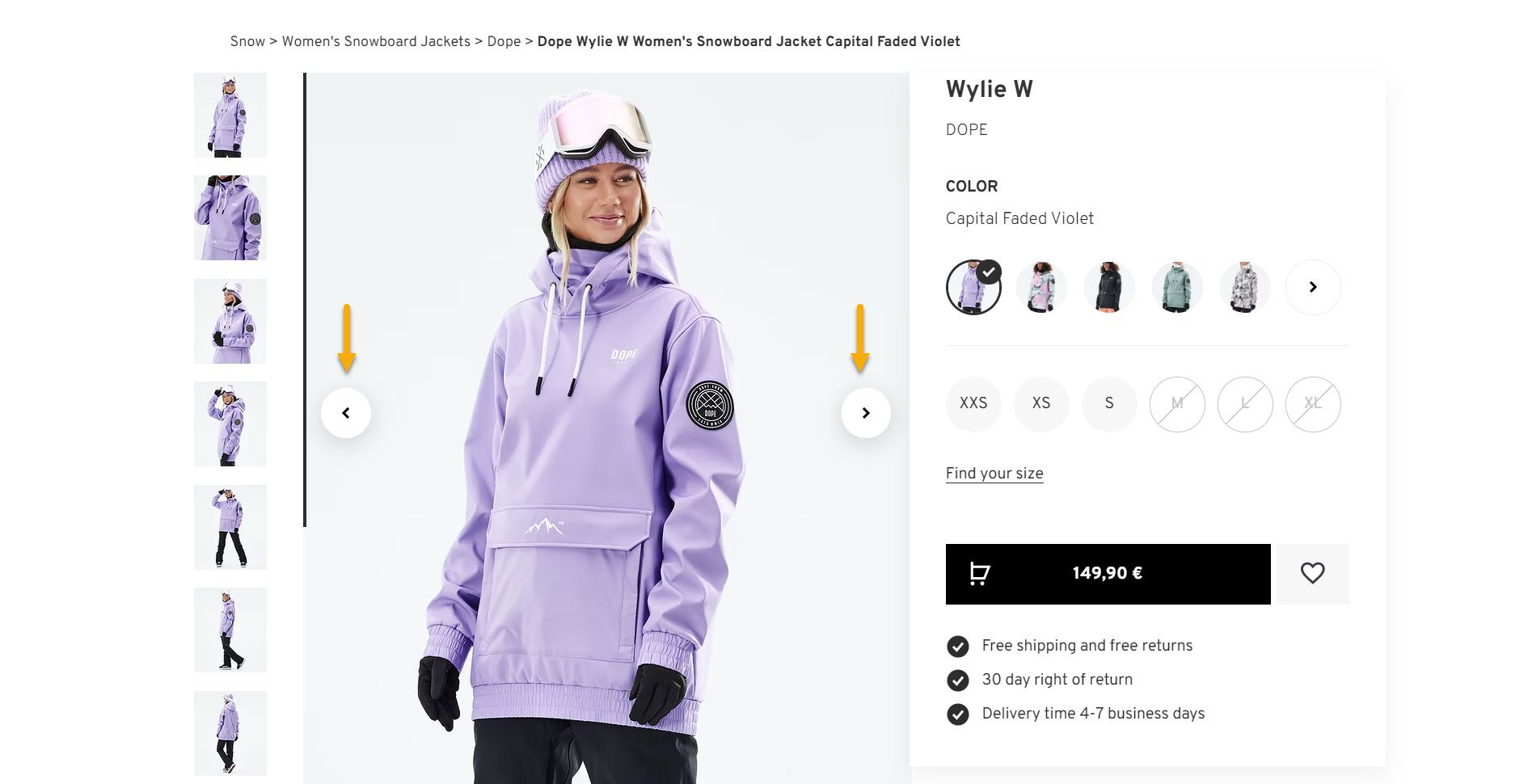 As in the previous example, the two arrows will display different product images from the ones shown in the small icons on the left sidebar.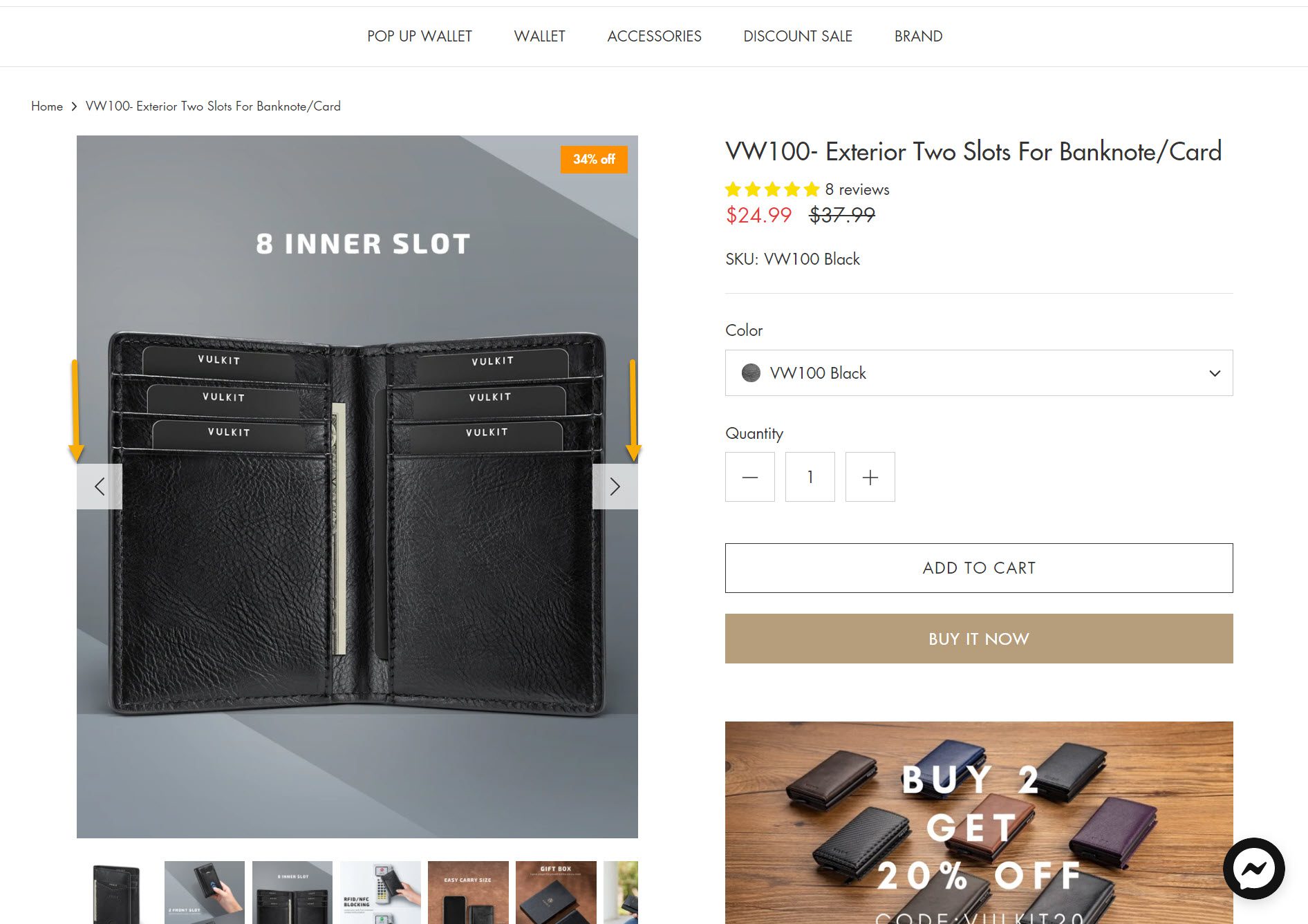 The same is true for this example as well. In addition, swiping through product images with a product slider feature allows for a better understanding and visualization of the product itself.
Product Slider Benefits
Here's the harsh truth: customers will abandon your site if it does not provide what they require immediately. A product slider highlights the shop's best products, clean and modern.
Using sliders to create an interactive page is a good idea, primarily because the movement of the slideshow might engage site visitors. People are generally visual when attracting their attention, especially when displaying slider images instead of words.
Sliders help you coherently group various product visuals instead of showing product images below each other. Users must scroll back and forth; a slider can eliminate this friction.
Client Reviews and Testimonial Sliders
We are social creatures. We care about what others think and how others behave. Peer reviews are crucial when we make decisions because, in our brains, we assume that the actions of others are a reflection of correct behavior. And because we all belong to certain tribes, we will behave similarly inside our tribe. Therefore, testimonials from both happy and unhappy customers can make or break the decision to buy a product. This means you need product reviews in your marketing and social proof toolbelt.
You could choose sliders to display such reviews. Try to mix text, images, and user-generated content (UGC) for better relevancy.
Hero Banner Sliders
A banner slider is a graphical display that can encourage immediate engagement with website visitors. They have become a staple of e-commerce stores and are primarily used to promote sales and purchasing opportunities, which would otherwise have to be sought out or discovered by chance.
Here's an example: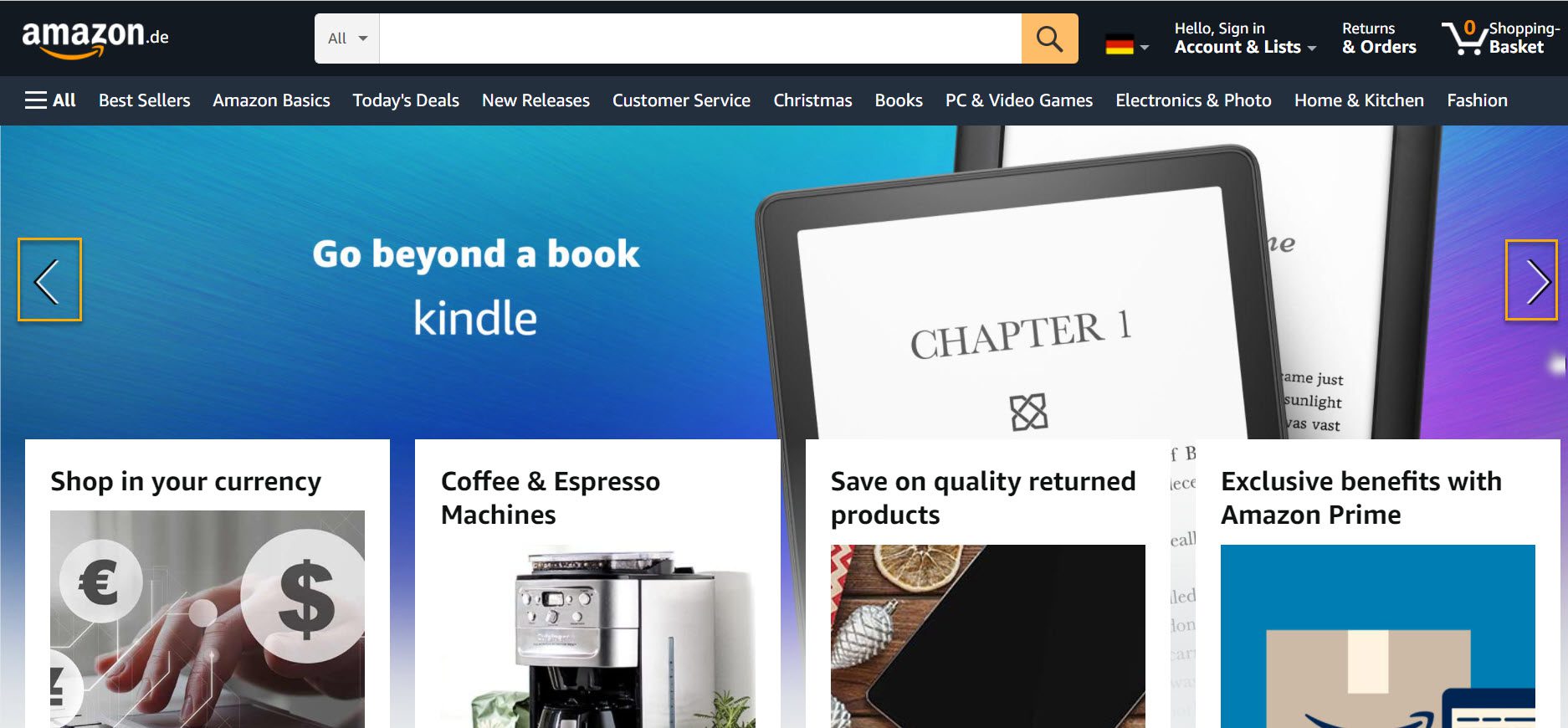 Banner sliders like those shown here can be used as a hero header on your website. It takes up the entire width and height of the browser, and you can navigate to the following slides by scrolling. The layer animations add to the excitement of this homepage slider; the main image loads first, followed by the content.
As mentioned earlier, case studies prove that sliders can hurt conversion rates and click-through rates. But if Amazon uses sliders, I'm sure they know that this is best for them. But what works for Amazon might or might not work for you, So make sure always to do an A/B test.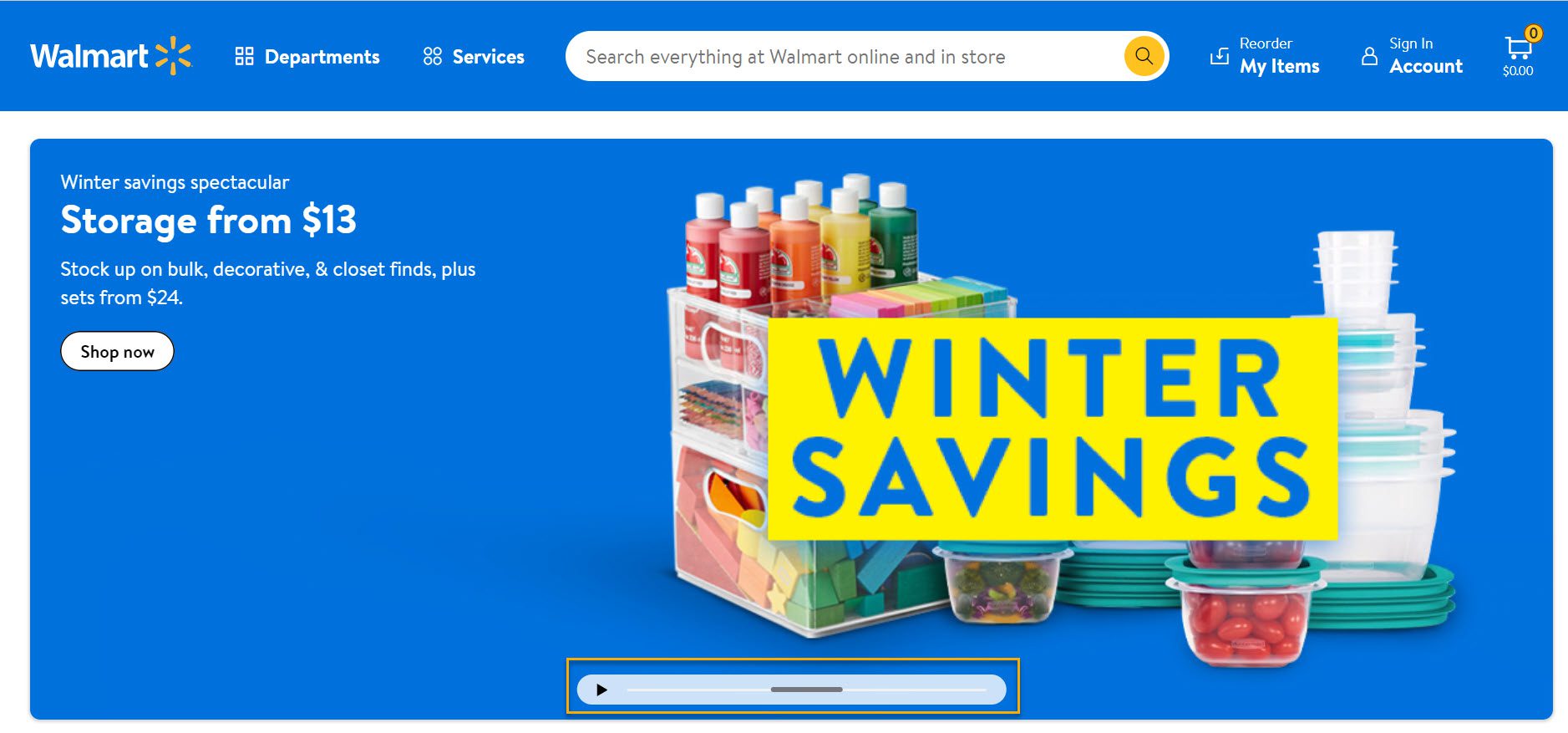 Like in the case of Walmart, a website banner slider serves as a promotional field in which you can display some promotional messages and a mix of texts, images, or even videos in an auto-rotating loop. If you head over to Walmart's website, you will see this banner and the centered slider automatically featuring different deals and promotions.
Now that you've learned about each of these sliders let's look at how they work with WooCommerce and what plugins you can use to make them work.
WooCommerce Slider Plugins
In both WordPress and WooCommerce, sliders are not a native feature. This means that you need to use a plugin to create sliders and carousels.
So without further ado, let's see what plugins you can use for these three different WooCommerce sliders.
Product Slider Plugin – WooCommerce Product Slider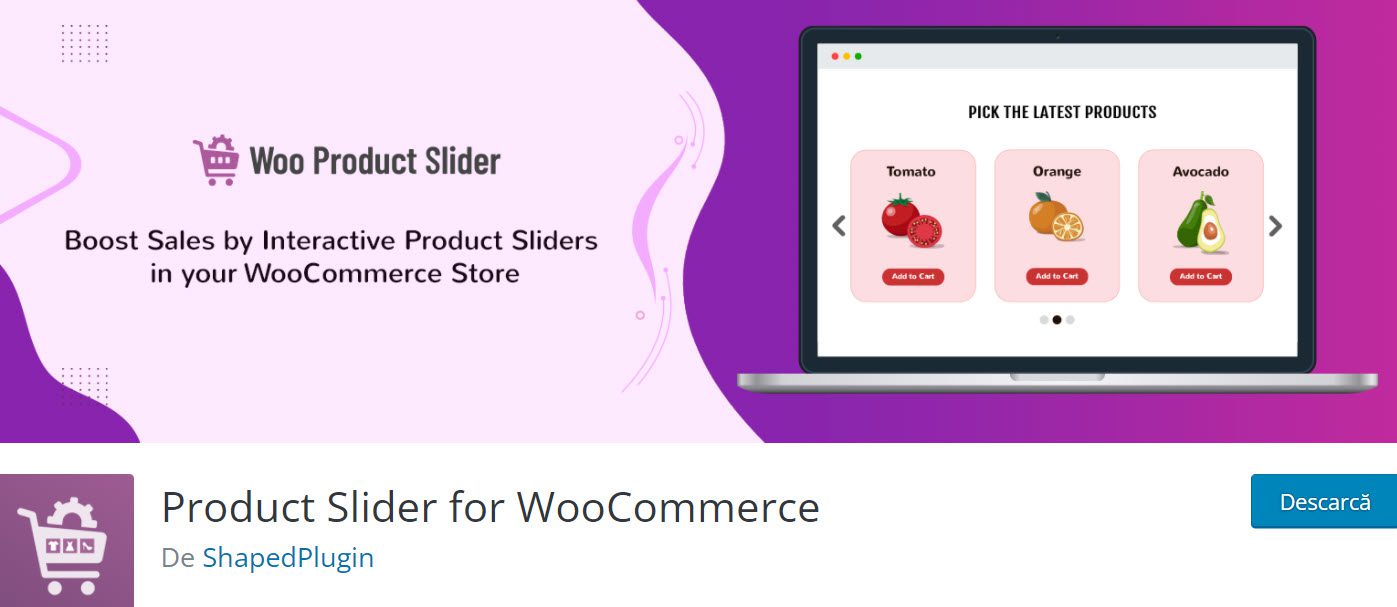 Product Slider for WooCommerce allows you to slide your WooCommerce products neatly and professionally. In addition, it enables you to easily create an appealing product slider or carousel for your website or shop, increasing conversions and sales.
The plugin allows you to display your product sliders in pages, posts, custom templates, and widgets. In addition, it includes an intuitive Shortcode Generator that will enable you to easily control the look and function of the product slider.
What's more, it has a highly user-friendly interface that can assist you in creating a modern and versatile product slider carousel that is essential in any professional site or shop.
Key features of the plugin:
Responsive and mobile-friendly design;
Beautiful, light, and powerful;
Generator of Shortcodes
Three ready-made themes;
On/Off AutoPlay;
Control the speed of AutoPlay;
Slider to stop on hover;
The slider has an infinite loop;
Control the number of product columns in various devices.
Product order & order by; Use the TinyMCE button to insert the generated shortcode;
Support for touch-swipe (on/off);
On/off mouse draggable;
Simple to personalize and style;
Straightforward and intuitive admin UI to personalize;
Each slider has its own set of options.
Translation ready;
Any theme and WooCommerce plugins are supported.
Other product slider plugins to choose from:
Client Testimonials Plugin – WP Testimonials With Rotator Widget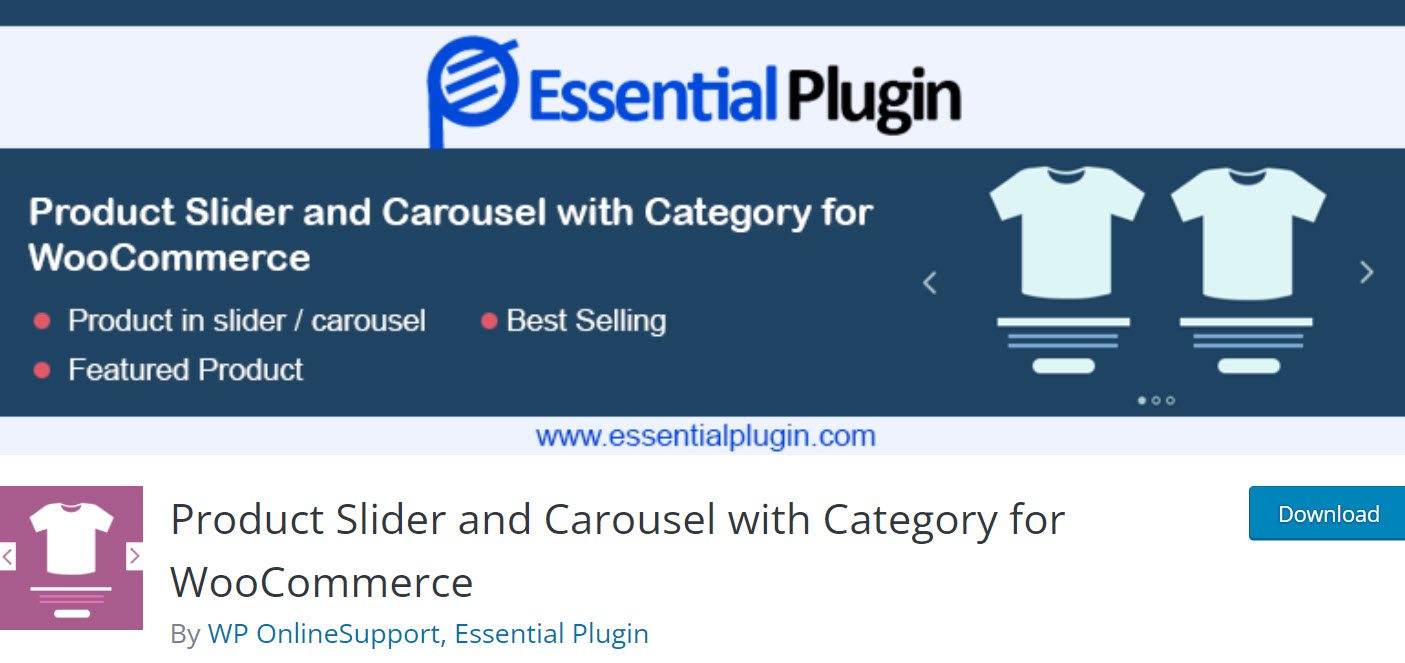 The WP Testimonials plugin has a simple interface that makes it simple to create eye-catching testimonial presentations. This free WordPress testimonial slider plugin works by providing unique post kinds with easy-to-customize WordPress admin fields. Using specialized shortcodes and widgets, enable intuitive sliders across your entire website.
Similarly, the rotator can be entirely modified with call-to-action buttons, alignment and size attributes, star ratings, and other features. You can customize the quotations slider in a variety of ways. This covers things like transition effects and randomizations. You may also determine which roles access the rotator menu for better website management.
Key features of the plugin:
Customizable buttons and alignment management;
Fully controllable slider settings;
Fields for star ratings and author information;
Shortcodes are enabled, and the widget is ready to use.
More sliders can be added using role-based features.
Other customer reviews slider plugins to choose from:
Hero Banner Sliders Plugin – Hero Banner Ultimate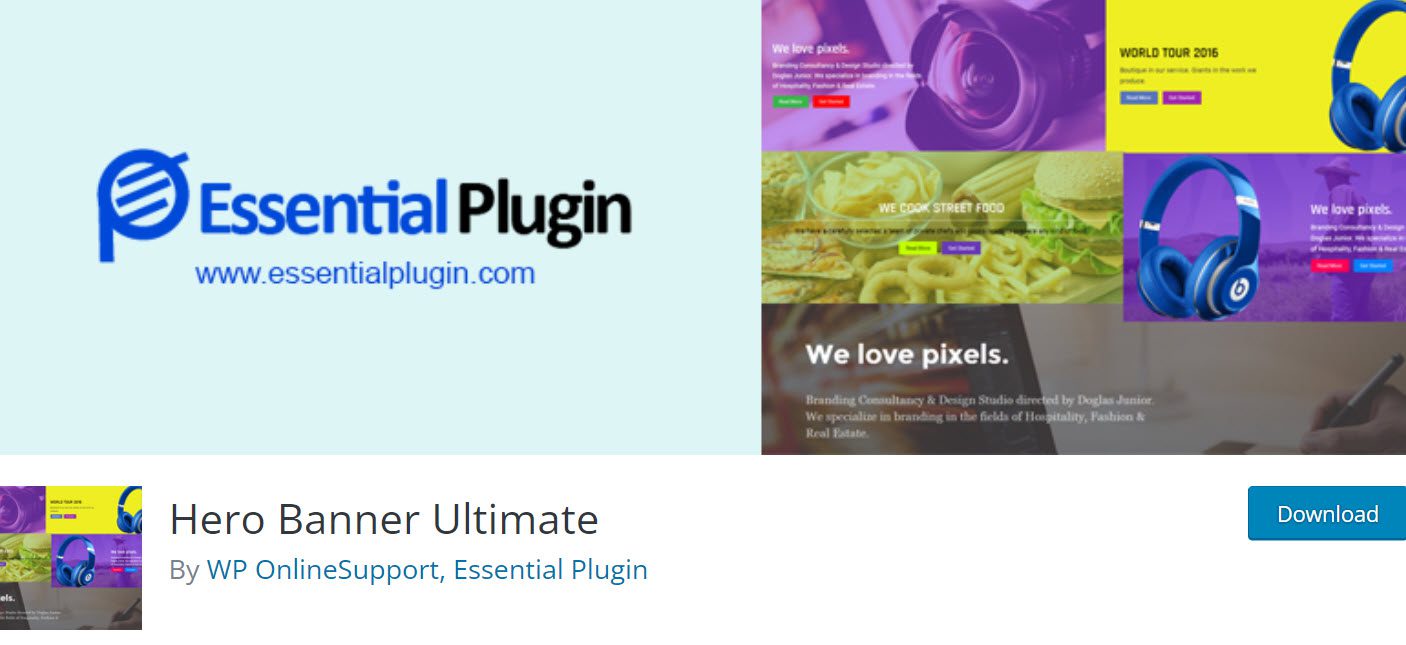 Hero Banner Ultimate is a popular hero banner plugin with five different layouts and ten designs. Adding a hero picture utilizing a backdrop image, video, or background color is simple with this fantastic plugin.
The free version is highly configurable and takes the design of your hero image website to the next level. One of the standout characteristics of this WordPress Plugin is that you may add a video or an image without needing much technical knowledge.
It's also entirely compatible with any WordPress theme.
Key features of the plugin:
Choose from 10 different designs;
Set the background picture, color, or video; responsive and SEO-friendly;
Banners' general settings;
Set the colors of the banner to your liking.
Set the URL, text, and class of the button.
Additional options for mobile phones;
The Hero Banner Ultimate premium license costs $119 per year (unlimited websites) or $149 for a lifetime license (one-time payment for unlimited websites).
Other hero banner slider plugins you can choose from:
Over to You
WooCommerce sliders can pack a lot of helpful functionality. For example, you can customize your sliders with transition effects, set them to browse specific product categories, use any design you want, and much more.
Such sliders are widely used across product pages because they do not take up much space and can give potential customers a clear picture of the product they are analyzing. 
If you want to use sliders that showcase various product categories or offers, make sure always to do an AB test to verify if such a slider is appealing or not to your website visitors.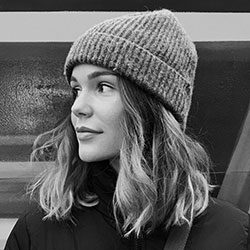 Gabriella is a Digital Content Writer and Marketer with a zeal for all things WordPress. When she's not researching and drafting the upcoming articles, you can find her in the open air exploring the outdoors with her dog.