It is critical to have ongoing communication with your clients, whether you manage a large or small online store. Having a transparent and efficient mailing program for your WooCommerce business is the quickest and most straightforward road to success. Let's not forget it is also probably the cheapest.
The buyer gets confirmation mail whenever an order is placed for a product in an online store. In addition, some other emails can follow concerning the ruling: info on shipping, on stock, etc. These types of emails are called transactional emails. Your order fulfillment procedure relies heavily on transactional emails. They keep your consumers informed about the status of their orders, provide helpful information regarding policies and refunds, and provide opportunities to encourage repeat purchases.
Thousands of store owners desire to change the content or look of the default emails, but they can't without getting their hands dirty. Did you know that this is one of the most popular WooCommerce searches on Google? And for a good reason.
Don't worry. There is a slew of options for sprucing up your WooCommerce email templates and getting started sending emails that will thrill both you and your customers.
Now when it comes to customizing WooCommerce email templates, you have two options:
Customizing them manually, with the in-built WooCommerce features;
Customizing with the help of a plugin.
Let's start with the general email templates that come hand in hand with WooCommerce and see what they offer.
Introducing the default WooCommerce Email Templates
WooCommerce has several email templates that you may adapt to fit your business's needs. You can find these templates under WooCommerce → Settings → Emails. In addition, WooCommerce comes with the following email templates by default:
New order → Notifies the store administrator of a new order placed on the website.
Canceled order → Notifies the store administrator that an order has been canceled.
Failed order → A failed order is reported to the store administrator.
Order on-hold → Sends an order confirmation email to the customer. When the order status is changed to "On-Hold," this event is triggered.
Processing order → Sends an order confirmation email to the customer. When the order status is changed to "Order Processing," this event is triggered.
Completed order → Sends an order confirmation email to the customer. When the order status is changed to "Order Complete," this event is triggered.
Refunded order → When an order is refunded, this message is sent to the customer.
Customer invoice / Order details → Send an email to the customer with order information and payment links.
Customer note → Sends an email to a customer. This event is triggered when a store owner adds a note to order.
Reset password → When a customer requests a new password through the store, this message is sent to them.
New account → When a customer creates a new account, they get this message.
WooCommerce provides several options for customizing your emails. For example, you can change each transactional email's email content, subject, and heading separately. You can also customize your email templates by modifying the header images, footer text, base color, background color, and other elements.
Here's an example of a transactional email from Chewy, a pet supply store.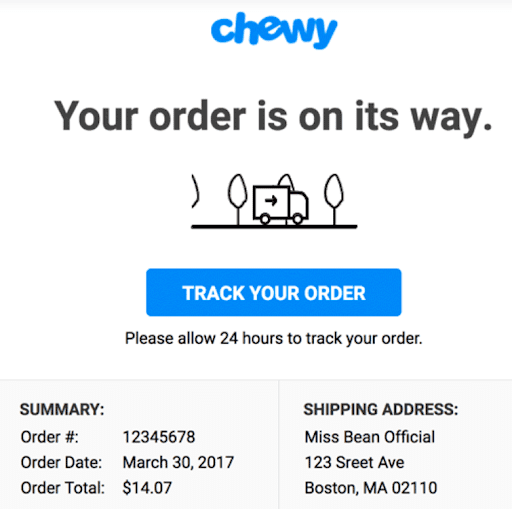 As you can see, it contains information about the products ordered, the date you ordered, the total amount due to be paid, and the shipping address. It also has a tracking number and button for a better customer experience.
Now let's see how you can edit a template. To edit the templates discussed above, you have to do the following: Head over to your Dashboard → WooCommerce → Settings → Emails. Here's a screenshot for reference: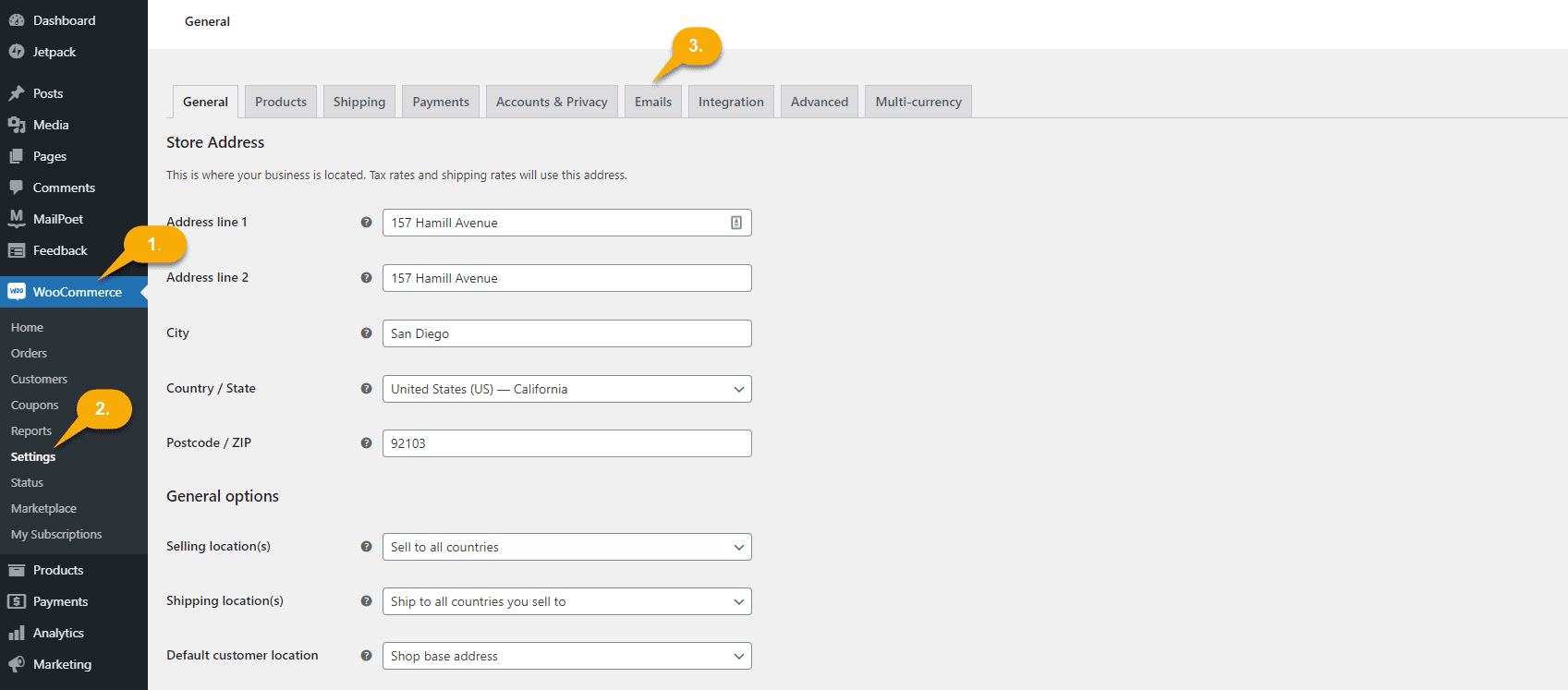 You can change the Email sender options, such as the From name and address, and customize the email template for your emails from this page. This includes adding a header image, footer text, and background and text colors.
Once you are happy with all the changes you've made, click here to preview your template, and then lastly, Save changes from the bottom of the page.
For example, your email will look with the settings applied above.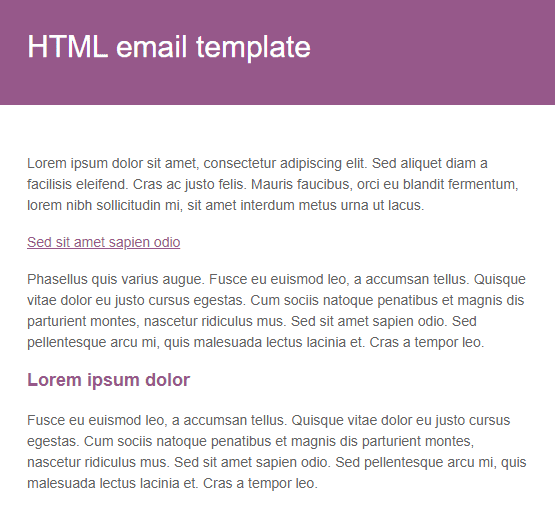 Now let's see how you can customize an email template from the list above. Let's take 'New Order' for example.
To customize your email templates, click the Manage button next to the transactional email you want to modify. You can then change the Subject, Email heading, Additional content, and Email type.

Hovering over the '?' icon next to the fields displays the placeholder strings for the area. This allows you to customize how the field appears in your transactional emails, like the example below. You can see that you can customize the site title, address, URL, order date, and order number.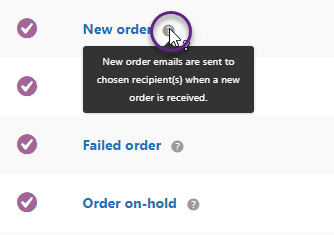 This is what your customizer will look like when you choose a generic email template: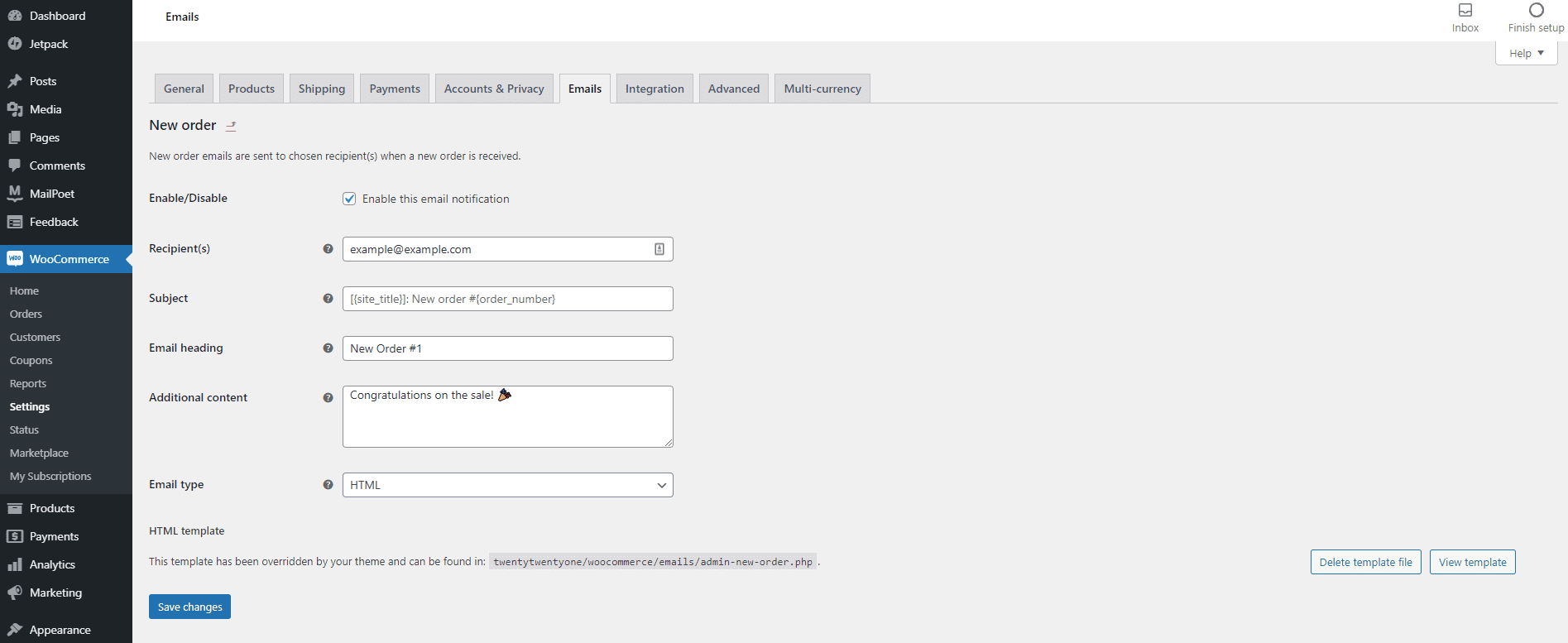 You'll be able to set the recipients, subject of the email, email heading, any additional content, and email type (HTML, plain text, multipart). Don't forget to hit Save changes before you exit the page.
Next on the list, we have WooCommerce Plugins.
How to Customize Your Email Template With WooCommerce Plugins
Using special plugins to change WooCommerce email templates is another excellent option. Did I mention that it's code-free? Yup. You may be functional in under an hour rather than spending hours delving into code. In addition, various solutions are available that make designing email templates easier and add more capabilities to help you promote your items more effectively. 
The following are the most significant advantages of using a WooCommerce email customizer plugin:
Ease of use: A plugin to alter your WooCommerce email templates is frequently the most straightforward option. Installing and getting started is a breeze. There is no need for advanced coding or programming skills. It's as simple as that.
Freemium! They're a low-cost way to personalize your WooCommerce email templates. In addition, many plugins are available in a freemium model, which allows you to try them out for free before upgrading to the premium version.
Compatibility: A reputable plugin developer will update their plugin regularly to ensure that it is compatible with the most recent WooCommerce version. Because WooCommerce is a fast-paced ecosystem, custom code can quickly become obsolete.
Let's look at a few more popular ones and how you might put them to use in your shop.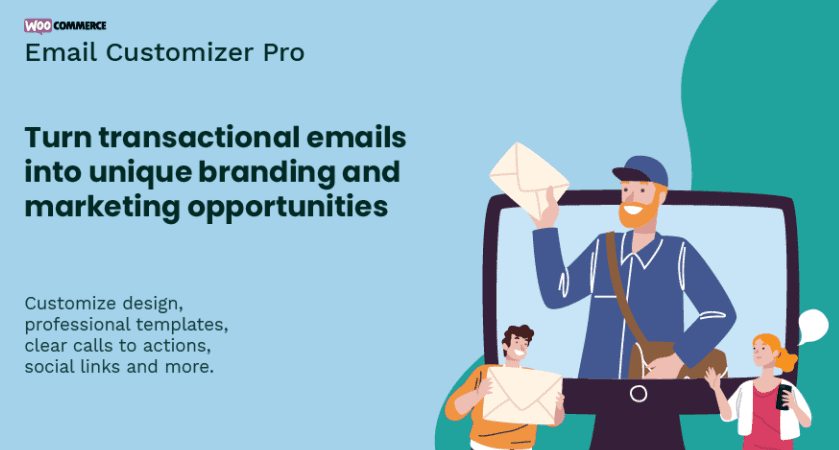 For customizing your WooCommerce email templates, the Email Customizer Pro plugin is an ideal buy. It allows you to change the text, colors, header, footer, and other elements.
You can select from several pre-designed templates when using this plugin. The templates help you get a head start on your design by handling many layout difficulties. Once you've decided on a template, you can work on customizing the styles.
You can change the background, header, and footer, but also the body text of WooCommerce emails. Aside from the style elements, your copy/content should be good enough to establish your distinct brand identity.
You can customize the text in any way, including the order message, headings and subheadings, and closing notes. Display company information, solicit feedback and reviews, include links to product pages and meaningful blog posts, and have a coupon code, images, and videos. Make it the most catchy email possible.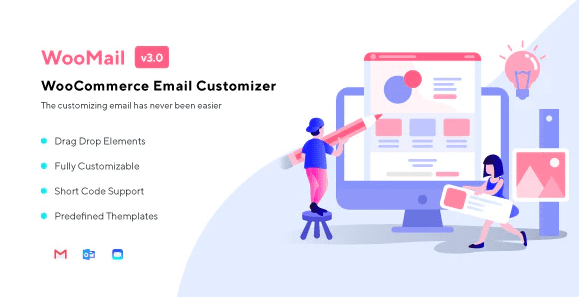 WooMail is highly adaptable, allowing you to create custom email templates from scratch. You can add text, buttons, images, videos, and other elements to any email template using the drag-and-drop builder.
The WooMail plugin is also compatible with every type of email that WooCommerce sends. This includes all order updates as well as password reset emails.
Instead, use a plugin like Email Customizer Pro to use a pre-designed template, make a few changes, and be done. However, if you'd rather spend time designing unique emails, WooMail is the best plugin for your WooCommerce website.

YayMail is a WooCommerce email customizer to help your transactional emails stand out in your customers' inboxes.
It includes a drag-and-drop email builder that is very simple to use. There is no need to reload the page to navigate through the element panel, style options, shortcode list, and live preview in a single window. There are no programming skills required. There's even a free version to get you started.
Its features include drag and drop elements, an all-in-one upper toolbar, a live preview editor, a clone of any blocks or full templates, and the ability to export/import templates.
On top of that, YayMail supports all of the standard WooCommerce notifications and templates for YITH WooCommerce Subscription, WooCommerce Shipment Tracking, and WooCommerce Custom Email Templates.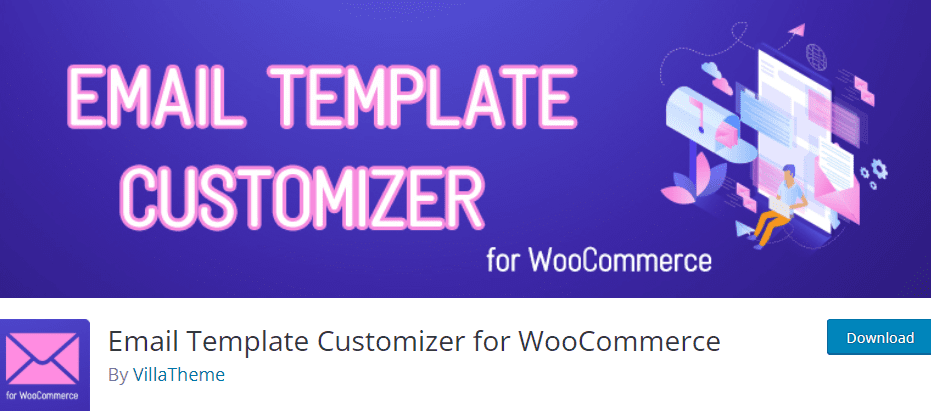 WooCommerce Email Customizer is a well-designed plugin with a high user rating. It's yet another excellent choice for a store owner who wants complete control over the emails they send.
This WooCommerce extension, like some of the other plugins on this page, employs a drag-and-drop builder with a live template preview. There's also a right sidebar with many additional options for each element.
One feature that I like about this plugin is that the emails always have a narrow design that looks great on all devices. This eliminates editing or redesigning your emails for different screen sizes.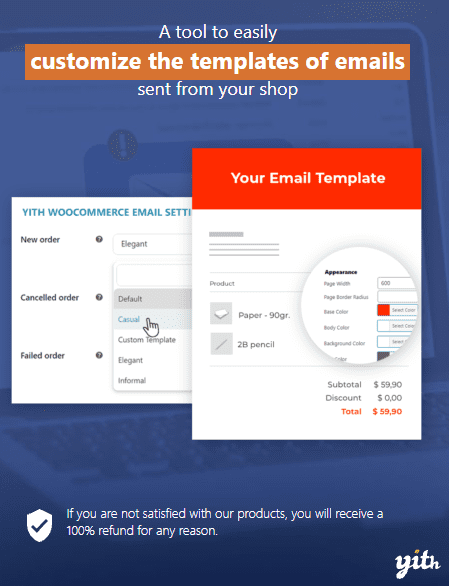 By providing three pre-made templates, YITH WooCommerce Email Templates saves you time. The templates control the email's overall layout and aesthetic. After you've decided on a template, you can change everything about the style.
The width of the email template, the color of each element, and some advanced typography controls for font sizes are all available. In addition, you can include your logo and even a custom menu in each email.
Once you've created a template that you like, you can assign it to various emails, such as the New Order email or the Customer Invoice email. This allows you to work on multiple templates simultaneously and only give them to live emails when they're finished.
Choose YITH WooCommerce Email Templates for your website if you want a lot of style controls but don't want the complexity of a drag-and-drop builder.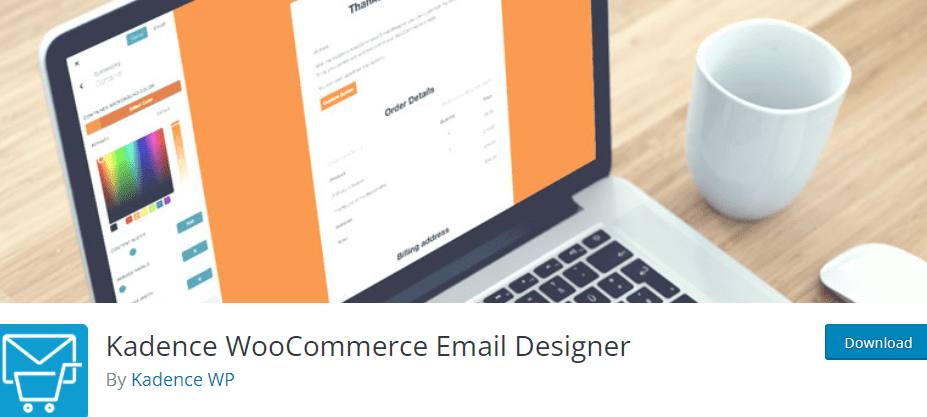 With Kadence Email Designer, you can change WooCommerce default emails without knowing any coding. In addition, Kadence has a variety of additional styling options. This plugin includes pre-built templates that you can import into WooCommerce. After importing the template, you can make other changes to the layout as needed.
The customizer selects the email to be edited and then makes changes from there. Some of its characteristics are as follows:
Real-time editing;
Importing pre-made templates;
Font, text, color, and other aspects can all be changed;
Easily importable and exportable customization settings.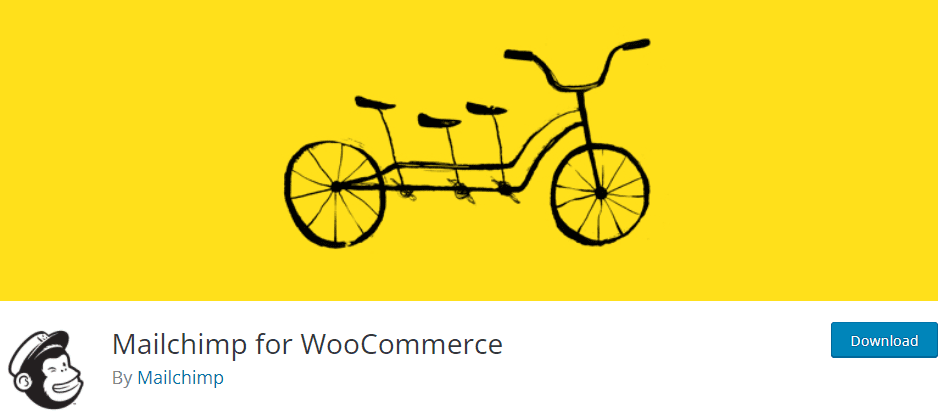 Your customers and their purchase data are automatically synced with your Mailchimp account when you use the official Mailchimp for WooCommerce integration. This ultimately makes it simple to send targeted campaigns, automatically follow up with customers post-purchase, recommend products, recover abandoned carts, and measure the ROI of your marketing efforts. All this is free of charge.
Some notable features of the plugin include:
Display product recommendations;
Track and segment customers based on their purchase history and frequency of purchases;
View detailed data on your marketing performance from your Mailchimp Dashboard;
Syncing purchase data to your Mailchimp Audience;
Adding new subscribers directly to your Audience upon registration;
Creating marketing automation to remind customers about items they left in their cart or viewed on your website.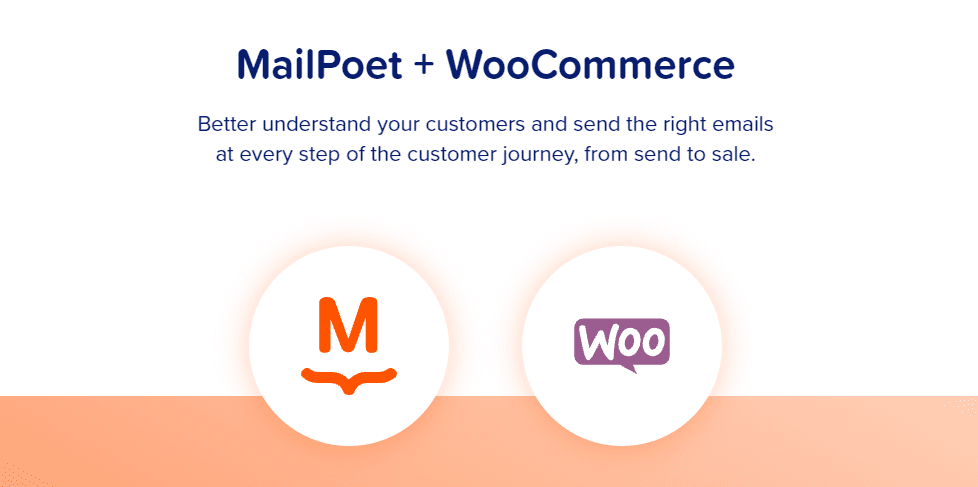 MailPoet is a full-service email marketing platform for WordPress and WooCommerce. You can use the plugin to send regular newsletters, last post notifications, WooCommerce follow-up emails, and their WooCommerce email customizer. The plugin is free if you have fewer than 1,000 subscribers or connect it to your email-sending service.
MailPoet's built-in WooCommerce email customizer allows you to quickly and easily add logos, columns, buttons, text areas, social icons, and images to your transactional emails. You can also modify the font and color styles used in your WooCommerce templates.
The following are some of the plugin's notable features:
Easy to use drag-and-drop editor;
Visualization of the changes as you proceed;
Allows you to add and manage additional content areas;
Sending transactional emails;
Other email marketing services include abandoned cart emails, follow-up campaigns, etc.
To better understand how to work with a plugin, we've chosen one, and we'll walk you through the process of customizing an email template.
Email Template Customizer: How to Customize Email Templates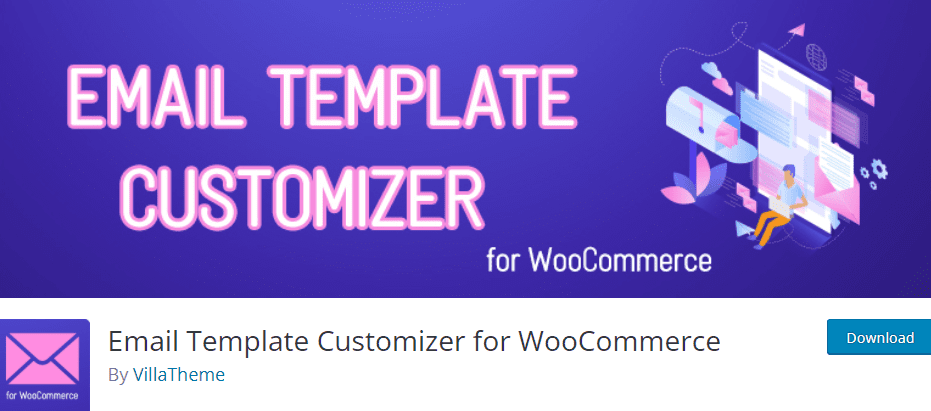 The first step is to download and install the plugin. Then, on your WP Admin Dashboard, go to Plugins → Add New. Then, in the top right search field, type in Email Template Customizer for WooCommerce. After that, click Install, then Activate. See the screenshots below.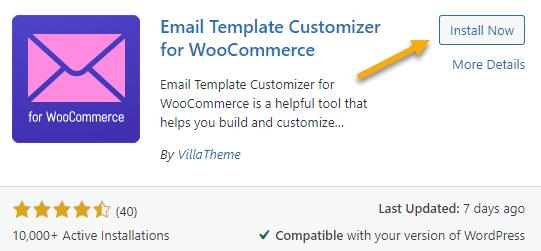 After you've activated the plugin, go to the Dashboard sidebar's Email Templates option and select the email template you wish to alter. You can use a default template, a transactional email template, or even create a new template type.

Once there, you'll see all your email templates: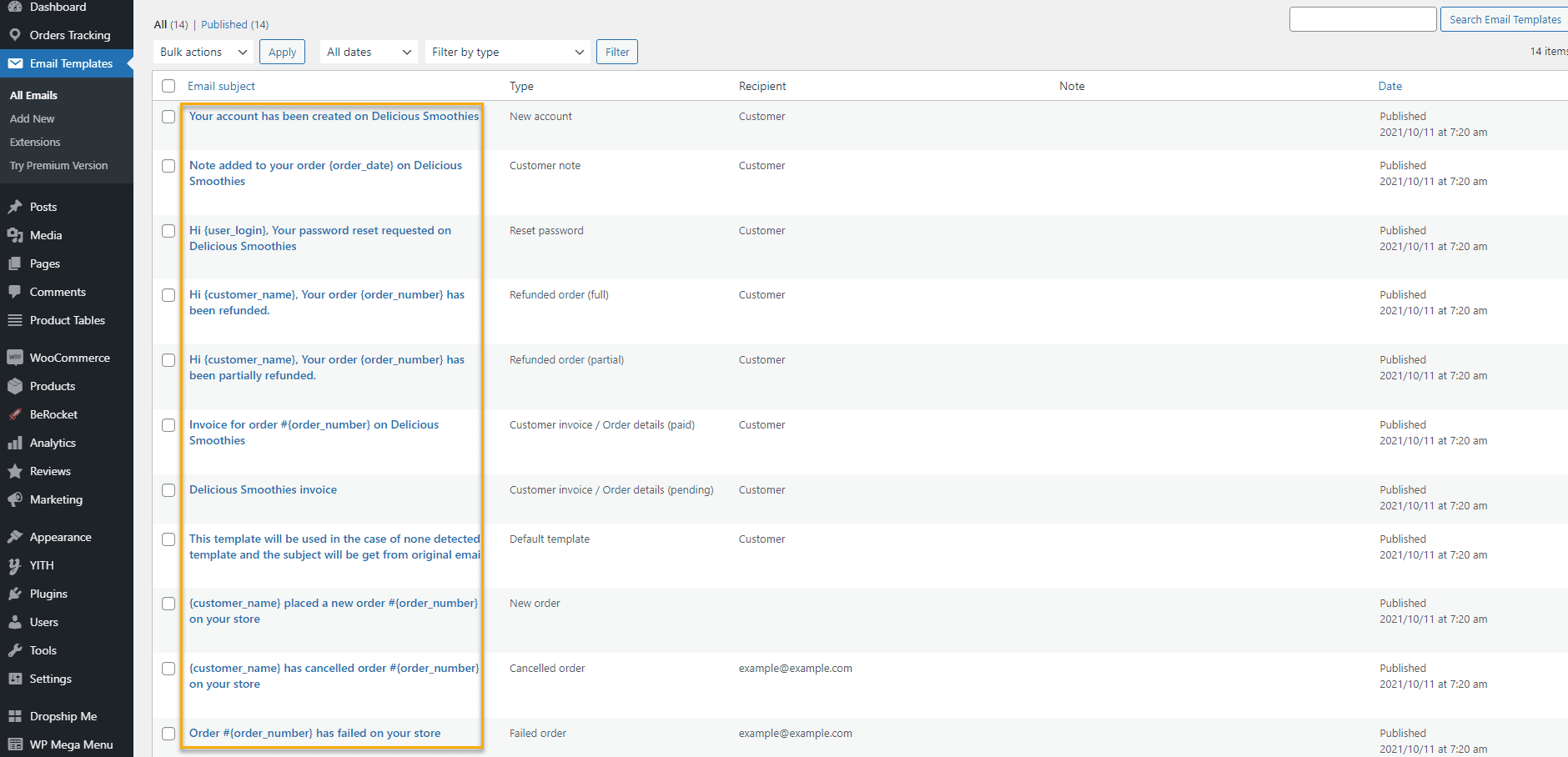 Let's look at how you can change the New Account email template. To do so, go to the Email Customizer tool by clicking Edit beneath the New Account. You can change any elements or the email's layout in the middle. In addition, you can easily add new items to the email or alter the existing text using the left sidebar.

To begin, create a 1 column layout and add a header image to the email template. Then, drag the structure to the middle editor and choose where to position it.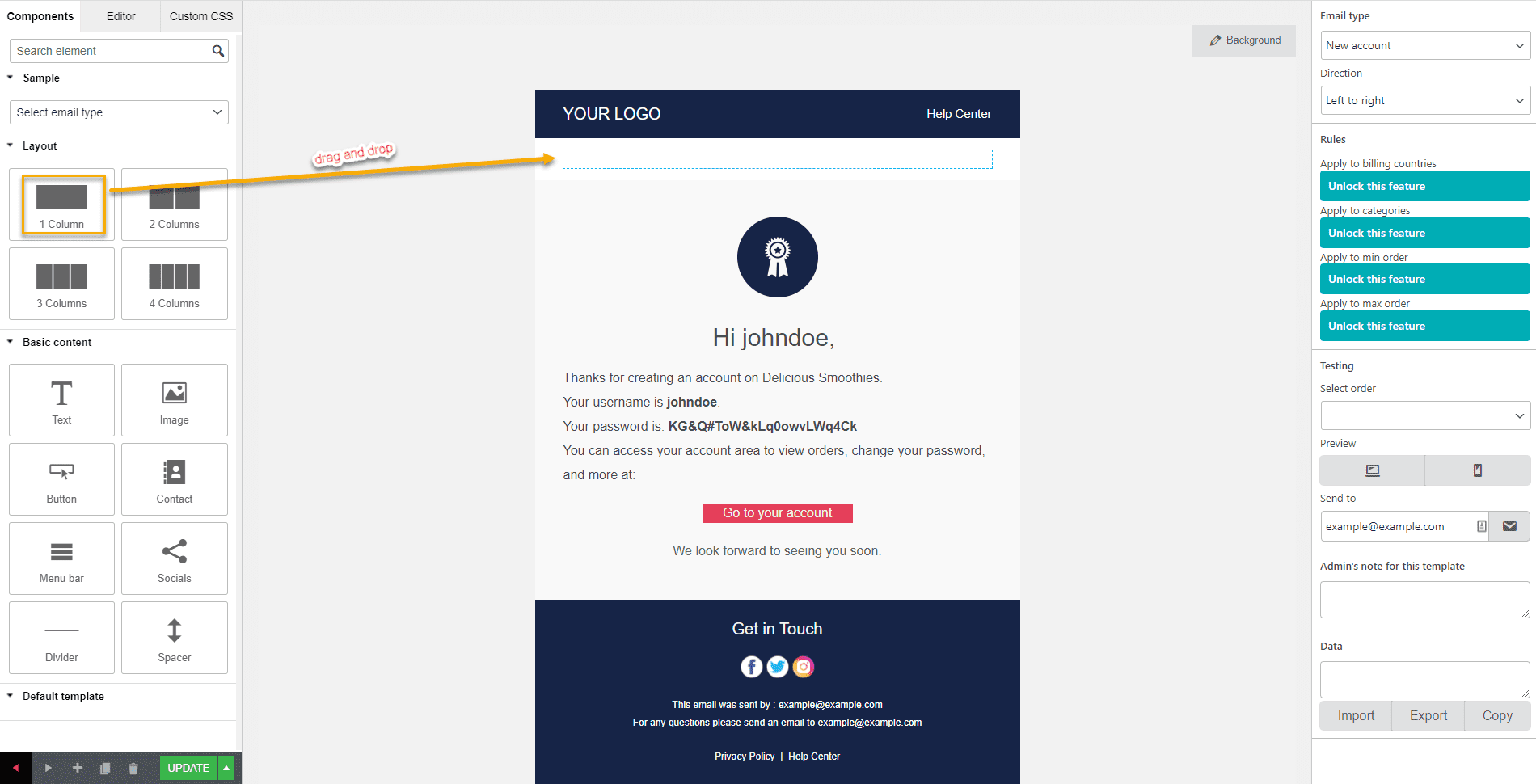 Next, we'll use the Image component to add an image. Drag the image component to the column from the left sidebar's Components. To the same drag and drop as you did previously.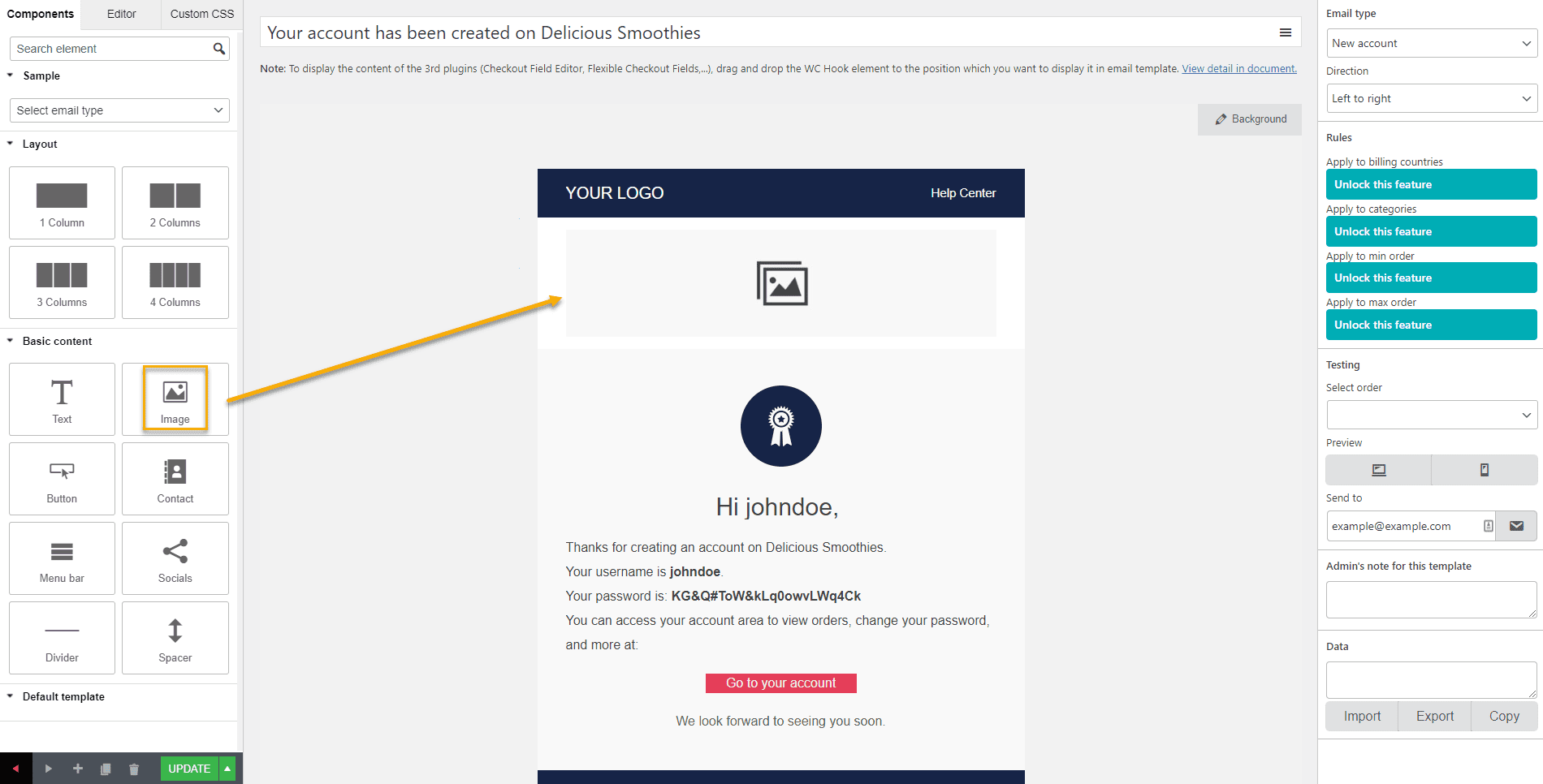 After that, select the image you wish to use as your header image, and your email templates will have a new header image.
That's not all, though. You may also edit how your email content is displayed and its typography and include social media icons, logos, and buttons.
The following is the customization dashboard for every email template that you choose to edit:

And this is what your email templates will look like upon customization: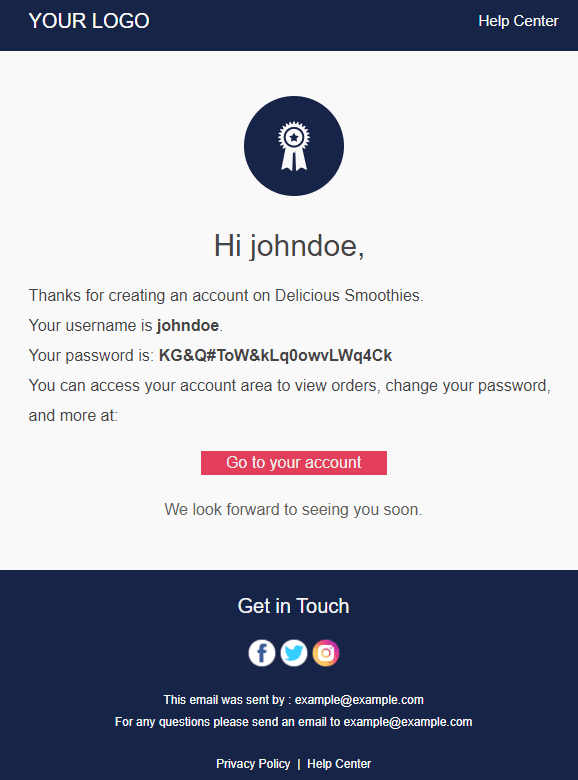 Once you're happy with the editing process, hit Update at the bottom of the page, and you're done.

Email Template Customizer comes with a plethora of tools to assist you in creating the ideal email template for your business. This extensive guide will teach you all you need to know about the plugin and how to set it up.
Take Your WooCommerce Email Marketing to a Whole New Level
Now that you've learned how to alter WooCommerce email templates, it's time to take your game to the next level.
By delivering emails with helpful information at the right moments, good eCommerce email marketing helps you create relationships with your customers. That involves sending relevant content to your subscribers based on their journey in the buyer's journey.
WooCommerce comes with powerful email capabilities pre-installed. For example, you may combine your store with popular email providers like MailPoet or Mailchimp and add email marketing extensions to send a broader range of messages.
If you only rely on transactional emails, you lose tons of opportunities. Instead, your purpose should be to retain your customers, get them to refer you to other potential customers, and increase your customers' lifetime value.
This means that you'll need to dive deeper into email marketing strategies. You can start by diversifying the emails you send, then move into email personalization and automation.
Types of emails that you can include in your strategy
Our recommendation is to think outside the box regarding email templates and acquire some creative ideas – here are some of our favorite messages from across the email lifecycle.
Newsletter emails
Promotional emails;
Cart abandonment emails;
Milestone emails;
Welcome and Thank You emails.
While there are several ways to improve your email templates, the following are a few suggestions:
Including photographs from the media, infographics, a newsletter, and recommendations.
Adding custom checkout fields and custom upload files to your order emails from your checkout form
Creating customized layouts and styles for each type of transactional email.
Let me inspire you a bit:
Here's a sneak peek of a newsletter email example on Really Good Emails.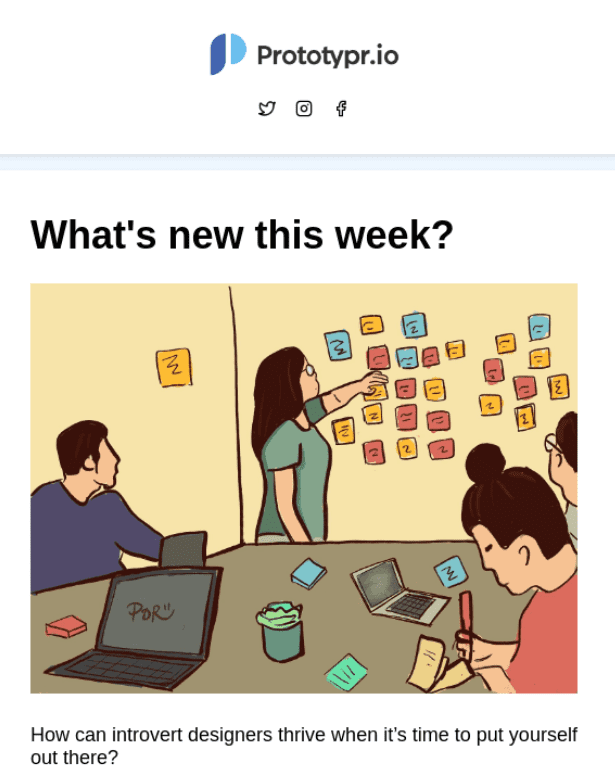 Your newsletter subscribers are almost certainly some of your most ardent brand supporters. Reward them with early access or unique material. Email newsletters are an excellent method to remain in touch with and engage your readers when done correctly.
Another good email to send out is promotional. Here's an example from Designmodo.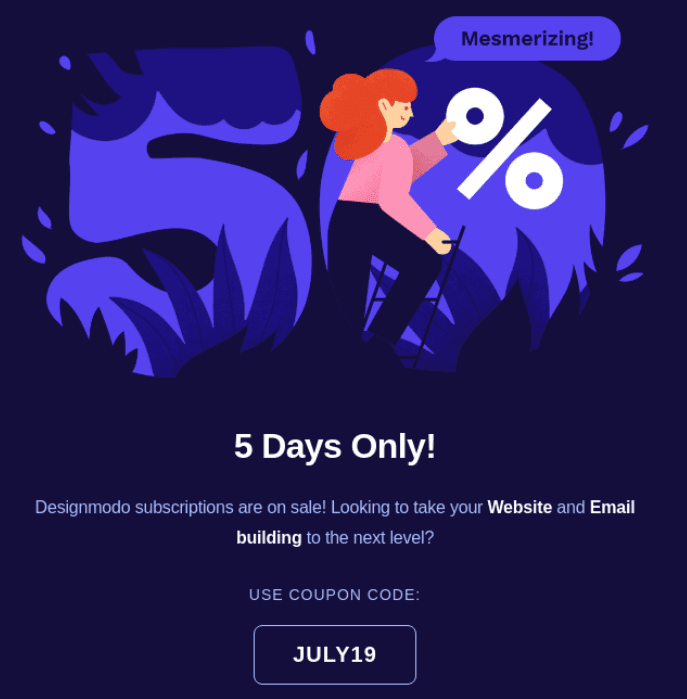 Exclusive promotions, limited-time discounts, free delivery, new products and features, contests, and sales emails are the most regularly utilized promotional emails. Companies send these emails to increase brand awareness by putting their products or services in front of potential customers.
And when it comes to saving those slippery sales, there is no better email than the cart abandonment email.
Here's a little example from Food52: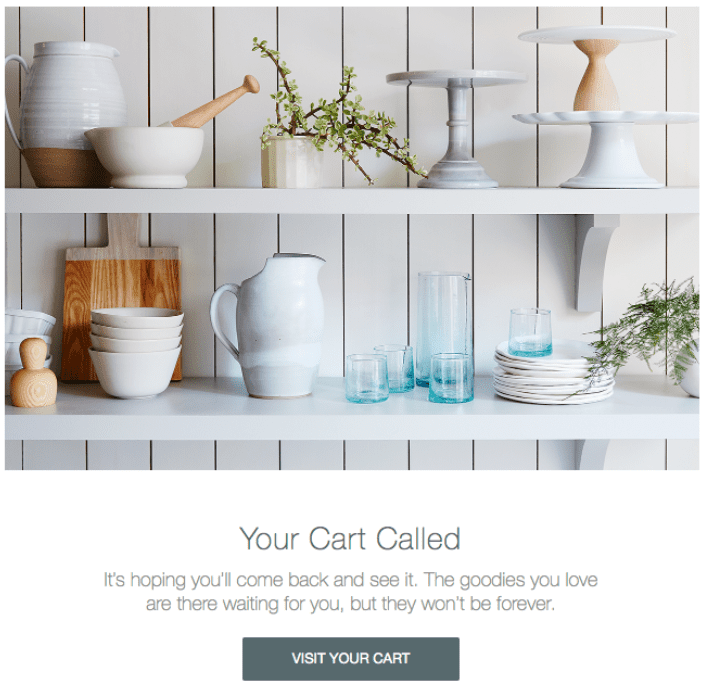 A cart abandonment sequence is initiated when a customer adds an item to their basket, proceeds to the checkout page, and then abandons the process after providing their email address.
Cart abandonment can occur for various reasons, including a technical issue with the purchase, user distraction, card failure, etc. However, it's always a good idea to call out and inquire about the subject.
To summarize, WooCommerce follow-up emails are an excellent approach to engaging your consumers and collecting your online business feedback. They will, however, only be effective if done correctly, as with anything else.
How to use personalization in email marketing
First off, what is email personalization?
Have you ever read an advertisement or an email so good that it felt like it was speaking directly to you? Like it reads your mind? Well, that, my friend, is well-crafted email personalization.
Email personalization is when marketers employ subscriber data within their email content to tailor it for the individual. Because it enables advertisers to provide subscribers with more relevant, personalized emails have increased open rates and revenues for brands.
For example, did you know that personalized emails outperform typical "email blasts," raising open rates by 26% and earning 760% more revenue? Yup, it's true.
But let's see how you can make use of it.
Personalize by Segmentation
Take Rocksbox, for example.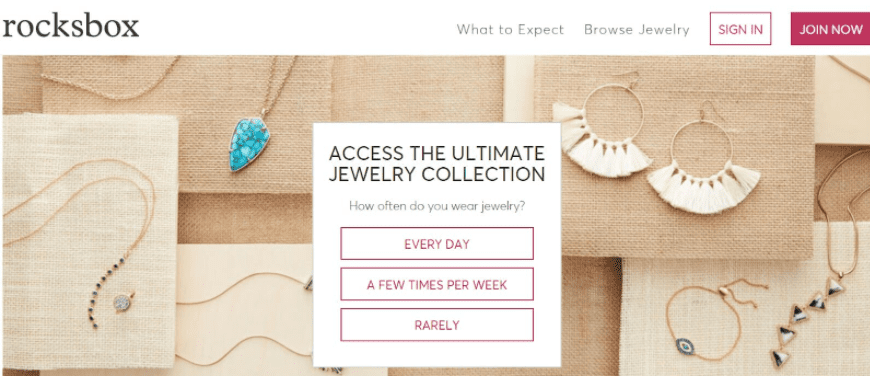 The company assists you in finding and purchasing jewelry online. Customers pay a monthly fee in exchange for the ability to rent fashion jewelry from their favorite designers and companies.
However, how do they use segmentation to give customized solutions? First, they send out a survey to their customers, including questions about their tastes and preferences. Rocksbox gets a decent idea of what styles its consumers desire based on the results of this survey. Pretty clever, huh?
They send their consumers emails with customized product recommendations based on these categories. Customers feel unique when they see such personalized recommendations, which helps them establish loyalty. It saves them time while looking for the perfect piece of jewelry, and, in many cases, it results in sales.
Personalize by Dynamic Content
Dynamic content is a web material that varies based on the user's behavior, preferences, and interests" is what dynamic content is. It is generated when a user requests a page and applies to both websites and email content.
If you use dynamic content, you won't have to spend hours refining each email to make it relevant to your clients. Instead, you only need to write one email, but you can alter parts depending on the client group you're sending it to.
If you were a fashion retailer, you wouldn't recommend your latest toddler collection to Millennials. Right?
For example, Adidas employs dynamic content in their emails to display women's clothes recommendations to female subscribers and men's apparel recommendations to male subscribers, using the same idea.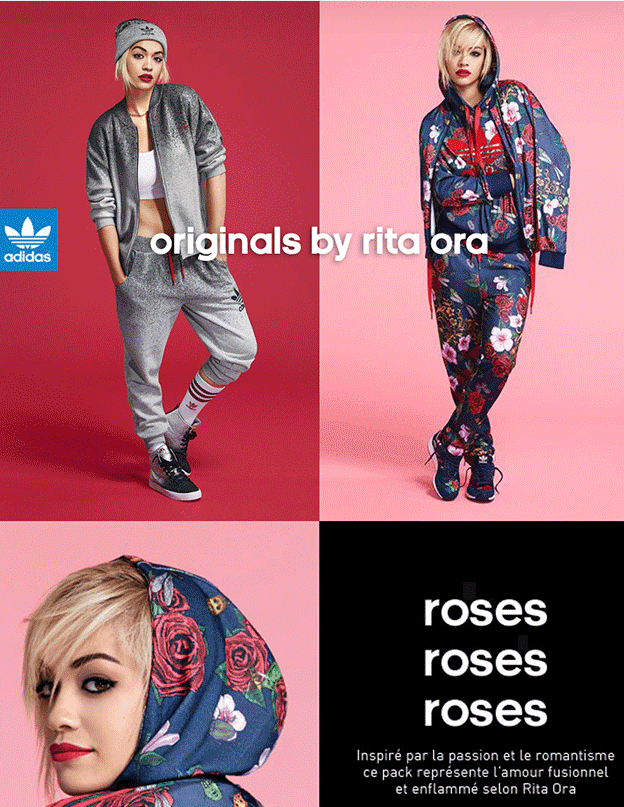 Personalize with Special Offers
Rather than giving out the same general discounts and offers to everyone, why not tailor them to the customer's segment? You'll likely see a rise in click-through rates and conversions when consumers see more relevant offers.
Take, for example, Uber.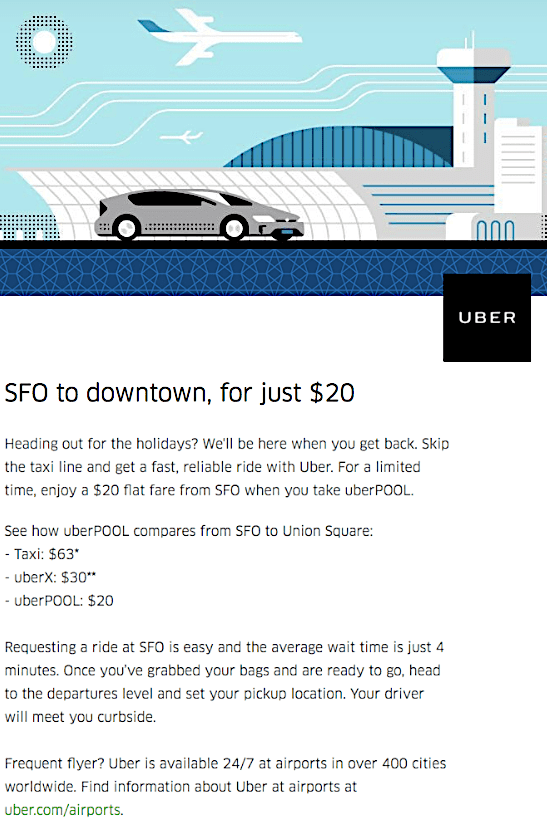 Uber's personalization strategy relies on its clients' current location or frequent travel destinations. They segment their consumers based on this information and provide targeted offers and discounts.
Personalize with Product Recommendations
Customized recommendations on what to buy next based on previous purchases are a terrific approach to show your clients that you understand their wants. One method is sending your customer's information or offers on similar or complementary products.
Amazon, for example.
Amazon is a company that has mastered the art of personalization. The eCommerce giant keeps track of the things you've bought or explored on their site and then sends you customized shopping recommendations based on that information.
Personalize by User Behaviour
Sending emails based on your Audience's activity is another excellent approach to keep them engaged.
Did they go to a specific web page several times? Send content based on their web page visit. You can also increase engagement by providing information based on their actions, such as clicking on a link in an email.
Here's an example from Really Good Emails. So yeah, cart abandonment emails are part of the personalization tactic.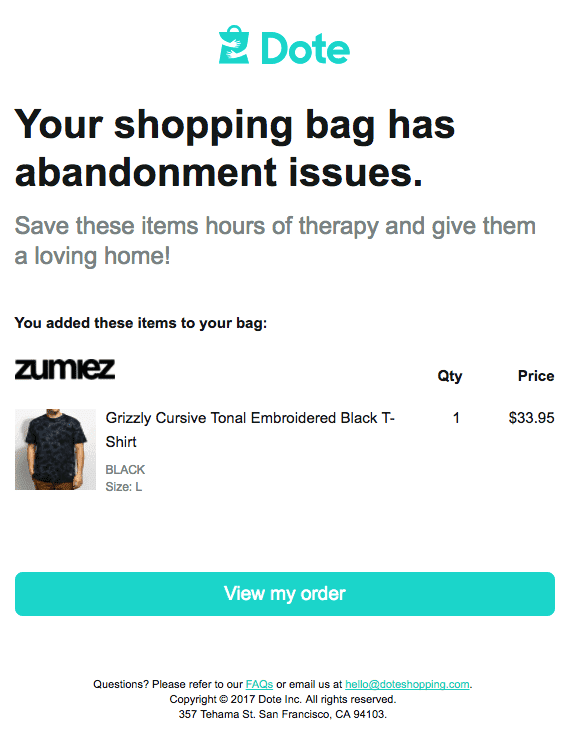 Another perfect illustration of a behavioral email marketing campaign is when a customer wants to buy something, but that item is no longer in stock. In this case, you can send an email whenever the product is back in stock, informing them that you now have bonus points if you include a discount voucher to reward them for their patience.
And the perfect example here goes to Amazon, once again.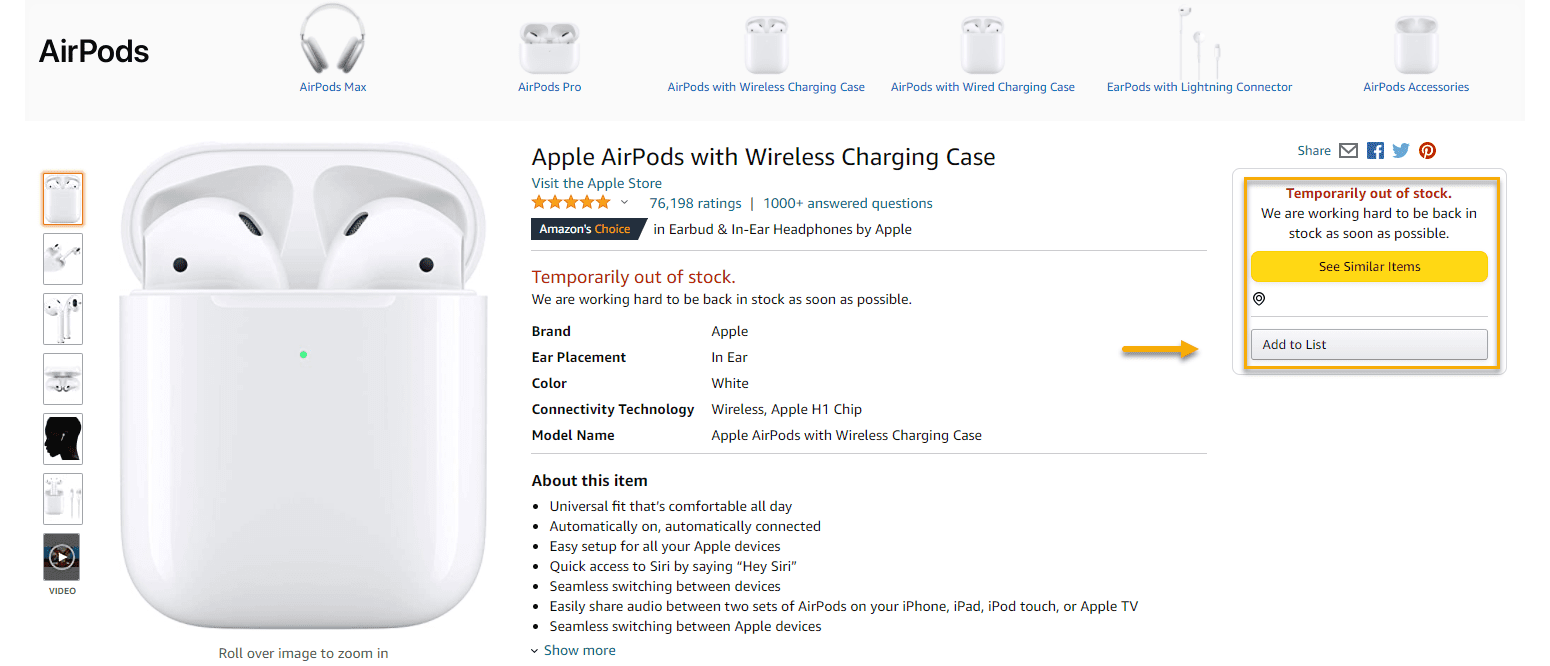 Giving extra options like such instills customer retention and significantly improves your brand and image. Customers will most likely make a purchase when they receive an in-stock alert of the item. 
Over to You
And this brings us to the end of our tutorial on updating WooCommerce email templates. You can include actual content, distinguish it from your competition, and improve your customer's experience by customizing your emails.
As you might expect, there are numerous ways to personalize your emails. We invite you to take some of the ideas from this post and experiment with the various tools to see what works best for you.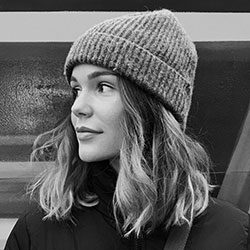 Gabriella is a Digital Content Writer and Marketer with a zeal for all things WordPress. When she's not researching and drafting the upcoming articles, you can find her in the open air exploring the outdoors with her dog.