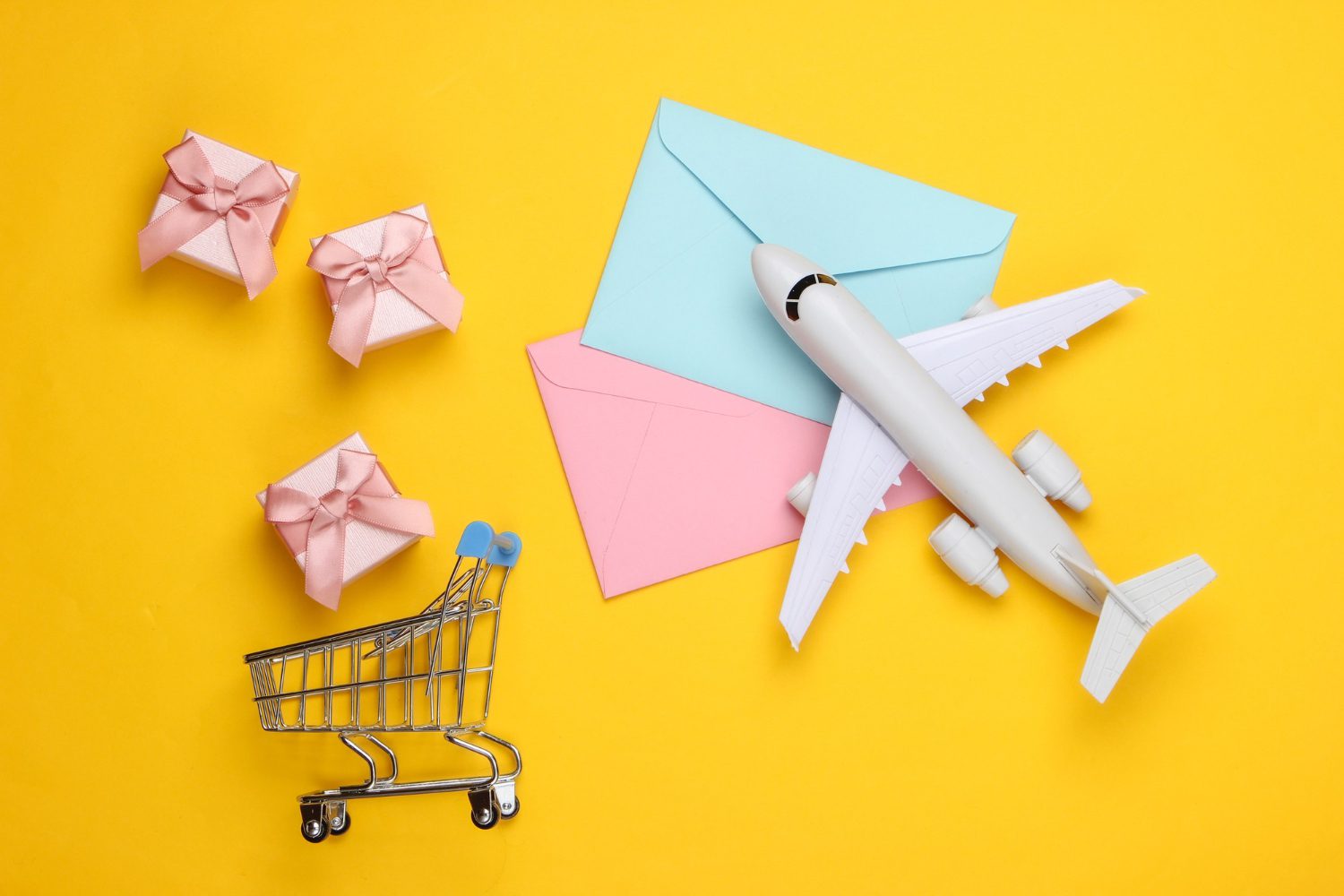 Have you heard of the SaaS business model? It has grown exponentially since it first appeared on the scene in 2005. Whether you're thinking about starting a SaaS business or already have one, it's essential to understand:
Your potential customer's motivators;
The customer journey of your customers;
How to optimize your website to boost conversion rates.
We'll tackle all of these subjects below.
What is a SaaS business model?
A SaaS (Software as a Service) business model is when clients pay a monthly fee to receive a license for centrally hosted, cloud-based Software. A SaaS-based organization leases its Software through a central system.
The database, data, servers, and all other Software that allows access to the company's products or services are all under the company's control. Subscription plans offered by different organizations may differ. Some SaaS companies have a business model that incorporates services like multiple apps coupled with their product and different subscription tiers.
The good thing about this business model is that companies or organizations do not need to buy hardware; instead, they opt for the Software as a Service business model by selecting an appropriate subscription plan. The approach entails a monthly or annual subscription with repeating payments at predetermined intervals. Then, the company provides the service based on the customer's subscription fee.
Take a software development company, for example. Let's assume the company has two sales representatives and a marketer in the team. Their focus is to generate leads for the business, and ultimately, to convert them into customers. For this, they might start using some marketing and sales tools like:
Now, all these tools qualify as SaaS, and you've probably heard about some of them.
Customer Journey Mapping in SaaS Business Models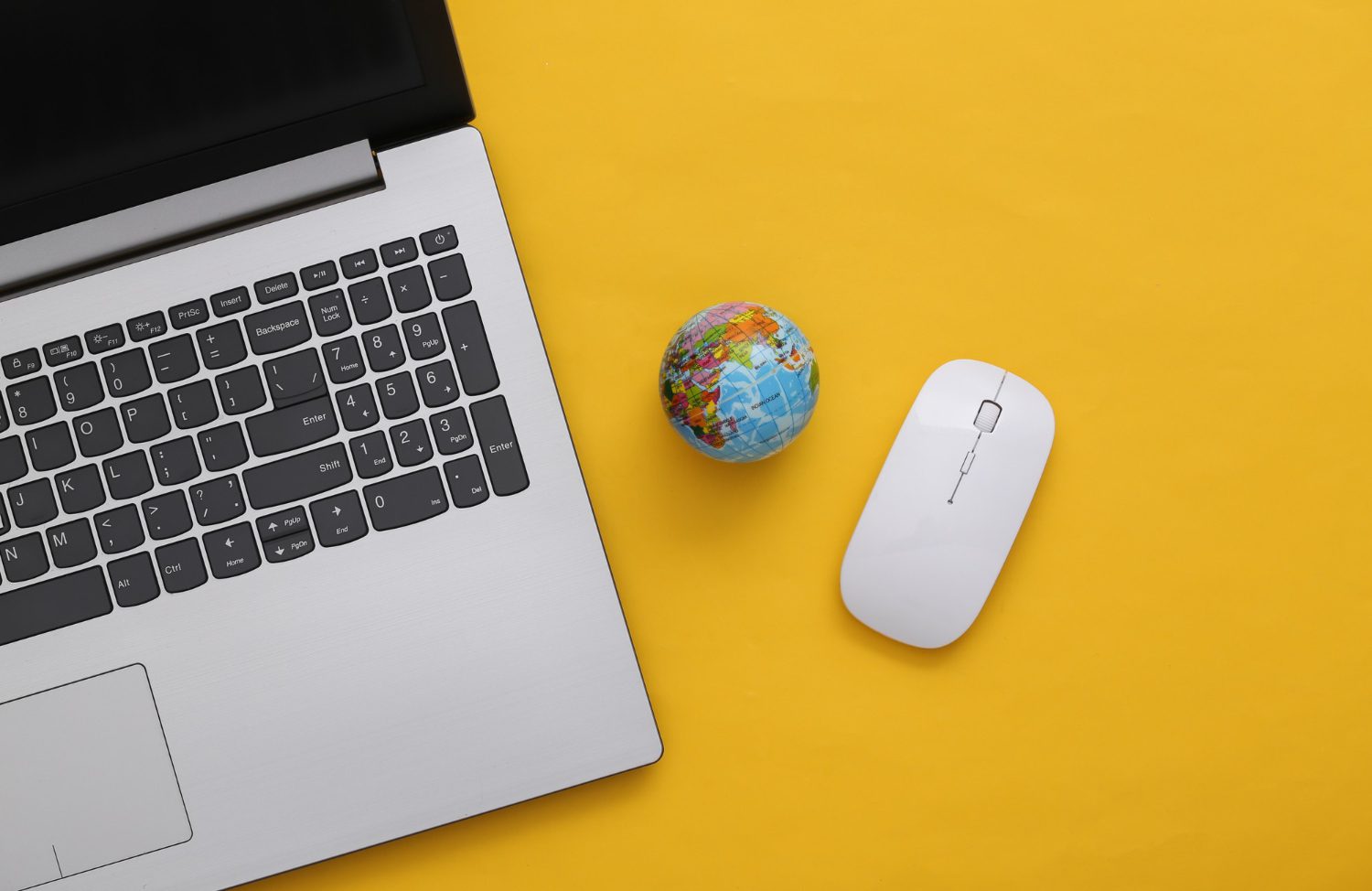 To understand more about the fundamentals of the customer journey, we've written an article highlighting all the important stuff you need to know about.
In short, the most basic customer journey model looks like this: Awareness, Consideration, Decision.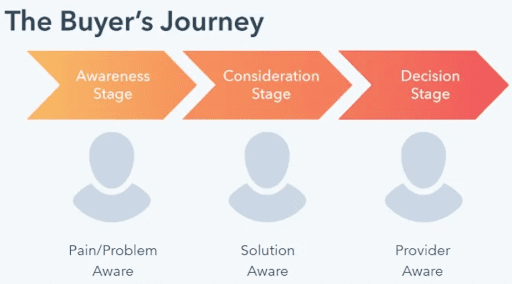 Let's take them step by step.
Awareness: at this stage, the user is aware that a problem needs to be addressed. Let's assume a company has some contacts in its database from various sources (Facebook ads, some offline events, sales activities) and wants to get in touch with them and move them closer to a purchase. The marketing responsible starts googling for solutions to this problem and realizes he needs an email marketing tool.
Consideration: next, the user outlines their issue and analyzes possible solutions. Our guy is doing some research, reads some blog articles, goes through case studies, product comparisons, and makes a shortlist with: Mailchimp, Sendinblue, and Omnisend.
Decision: and finally, the user assesses and selects the best vendor to implement the solution. Our marketing guy now needs to choose a vendor. He contacts a sales representative, asks for an offer, or goes through a live demo. Then he selects a winner.
As you could notice, users might learn about your SaaS product from a blog article they found when Googling their problem. They could then return to your site later for more information, read a case study, go through reviews and testimonials, maybe even subscribe to a newsletter.
But, they can do this with your competitors as well. Playing hard to get a bit…
So the real question is, what type of content should you do to optimize your consumer journey funnel and attract potential customers?
Let's start with the Awareness stage first and go from there.
Strategies to use on each stage of the customer journey
Because your goal is to position your product for customers who are exclusively interested in learning about their problem, it should:
Answer your target audience's queries about the problem that your product solves.
Assist them in figuring out how to deal with it in various ways.
Recommend further educational resources to them.
Think blog articles, tutorials, how-to videos, infographics, etc. It's essential to give your user an answer to their problem.
At this point, content aimed at potential customers should first and foremost pitch your product as a solution to their problems and emphasize the advantages of buying.
And you can do so by creating testimonials and case studies, product comparisons. You can also run remarketing campaigns across various platforms (Google, Twitter, Linked In).
Finally, all the strategies above should help potential users decide whether or not to buy your product. They should reaffirm all critical selling points, give service getting started with the product, and reassure them that you will be there for them if they need anything.
A valuable asset here is the demo of your subscription services: many customers may want to see your product in action before committing to utilizing it, depending on its complexity and price range. Also, free trials are being used here to help users get a taste of your product.
Some more advanced tools that might require bigger budgets might need you to develop presentations or advanced pitch decks.
You could also host a demo event. So, yeah, folks, online didn't kill offline touchpoints.
Now, all of these content types and touchpoints can be mapped across the customer's journey.
And here's an example of such mapping from Venngage. They have elaborated a bit on their journey and went beyond the basic model.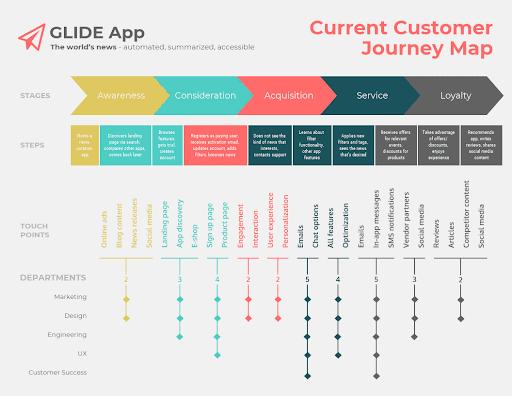 Furthermore, because the carousel never stops turning, not even in a business, as you might say, we have several tips and tricks you can use to optimize your customer journey and make the best out of it.
Know Your Audience and How it Communicates
Before you can begin mapping the customer journey, you must first understand who your customer is and what motivates them. You accomplish this by developing buyer personas for each target group.
A buyer persona is a description of a specific type of customer. Buyer personas are critical in the customer journey because they are the ones who travel. So make sure you understand who these buyer personas are: What are their requirements, and how do they get to your website? What are their passions? You can create buyer personas through interviews, focus groups, and your own experiences.
But why do I need to understand my audience, you may ask. Good question. Here's why.
An in-depth analysis of your customer journey allows users to access your consumers' emotional responses and determine which brand elements elicited those emotions. It gives a clear picture of a customer's journey and solidifies this picture into something you and your team can comprehend more clearly.
Knowing your audience allows you to determine what content and messages are essential to them. In addition, knowing your audience will help you choose the appropriate tone and voice for your message once you've decided what to say.
Make Use of Social Proof
Prospects will always look to others' decisions to guide their choices, no matter how impressed they are with your product (or service). Therefore, they will seek confirmation (from friends, family, industry experts, and even strangers).
So, the more you show prospects sharing how your product (or service) solved their problem, the more likely they are to take a risk and choose you over your competitors.
Social proof is like blood in the veins of your product. Without it, your company is dormant. It demonstrates to prospects that real people have used your product (or service) and found it satisfactory and worth recommending.
Think of it as storytelling. There is no better way to prove a point than storytelling, just like the folks at Salesforce do. They use customer success stories to sell their services better.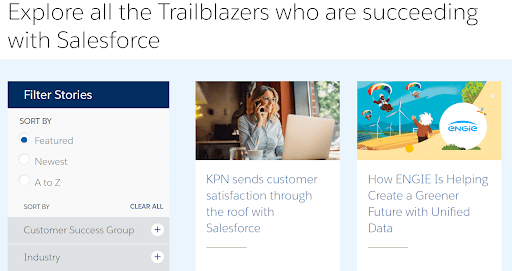 This earns you a prospect's "initial" trust. After that, they may decide to take that leap of faith and try out your product based on user reviews and customer success stories (or service). Take, for example, Lemon Squeezy.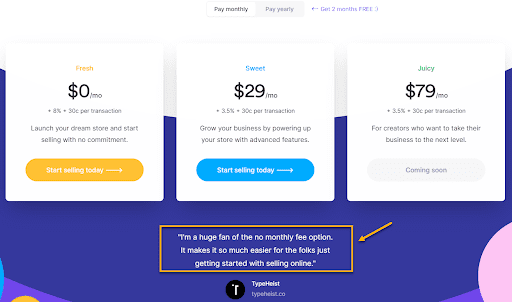 As you can see, they've included testimonials on their pricing page along with clear calls to action (aka CTA's) to make an even more meaningful impact. 
When you truly understand your target audience, you will know what to say in your marketing. Testimonials are one of the most effective conversion tools. According to research, potential customers who view testimonials are more likely to convert into a lead. So why wouldn't you include testimonials on your pricing page? A single testimonial line somewhere on the page can convert a "maybe" user into a paying customer.
Nurture Contacts Into Customers With Newsletters
Newsletters are an excellent way to stay in touch with your target audience, promote valuable content, and nurture your lead base to increase customer loyalty and move prospects closer to a sale. When done correctly, a corporate e-newsletter can be one of the most effective strategic management marketing activities a company can engage in.
Not even that, but a newsletter is a low-cost way to build relationships and stay in touch with clients, customers, and business partners. They contain important news and updates, as well as other pertinent information. They are, in fact, critical for taking brand marketing to the next level.
For example, Zoho's newsletters.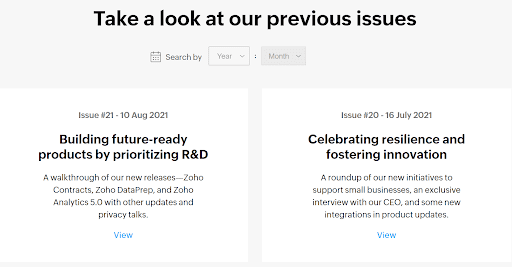 If you happen to miss one of their monthly newsletters, you can always go back to their website and check it out. This way, your customers will acknowledge that they are equally crucial to your business and that you're ready to provide them with the necessary information at all times.
Engage With Customers Via Chatbots
In today's fast-paced world, messaging is the most efficient and favored mode of communication. Businesses understand that using instant messaging for business can help them communicate with customers and increase revenue. As a result, enterprise chatbots, once considered a fun addition to a website, are now getting a well-deserved boost. Organizations that wish to stay competitive have evolved into an important customer service position.
Unlike humans, chatbots are trained to follow specific rules. As a result, Chatbots will treat consumers respectfully even if they are unpleasant and use harsh language. This ensures that your website visitors have a high level of customer satisfaction. Chatbots are also available 24 hours a day, seven days a week, and can answer consumer requests swiftly at any time. A prompt customer response promotes customer service by making your products and services more accessible.
Take, for example, Planable.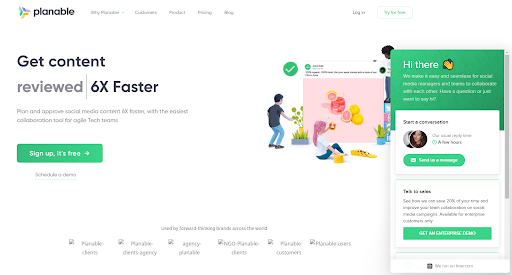 Besides an enhanced user experience and lead generation, chatbots also offer a customized experience for each customer. They're made to put clients in a conversational mood, similar to how they'd feel if they were talking to a friend.
Include Contextual CTA's
A call-to-action (CTA) is the link that connects a stranger with a potential customer.
It's usually a link or button on your website or landing page with a copy encouraging visitors to take a particular action, such as downloading a whitepaper, filling out a contact form, downloading an ebook, or scheduling a free consultation.
The CTA is the link that connects the front door to the higher-value product or content. So, what causes it to fail – or succeed? It all comes down to five things.
Value
Location
Clarity
Urgency
Testing
When someone clicks on your CTA, they begin the conversion process. If they don't, however, nothing will happen. They will eventually leave your page, possibly never to return. As a result, your call-to-action button is one of the essential elements of your landing page—perhaps the most critical component.
First and foremost, we must define the term "gated." What does it mean exactly? Gated content refers to content that requires the completion of a form to view it. You can find these forms usually on landing pages that you must visit before accessing a gated content offer.
For lead generation, gated content is critical. Visitors provide information that qualifies them as a lead when they fill out a form to view any content. That information might be as basic as an email address or as detailed as a complete profile of the interested person in your material.
But what about gated videos and demos?
A gate in front of your video informs viewers that premium content is accessible in exchange for their data. An offer hidden behind a gate has a sense of quality to it. When your audience realizes you provide high-quality material, you establish yourself as an industry thought leader.
Let's take SalesForce, for example.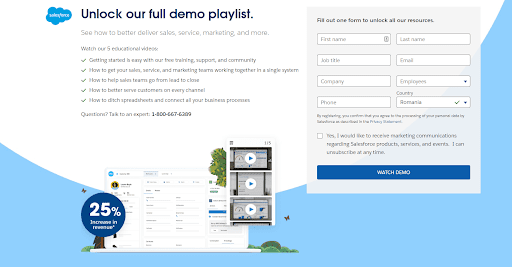 As you open their demo page, you'll instantly see a form that you need to complete to access their full demo.
Landing pages host the forms that are used to collect information from visitors. These pages are SEO-friendly for your website. Any long-form movie that includes a plethora of helpful information, such as demos and webinars, should be gated and have a form that correlates to the offer's value.
Another example from this category is Zoom.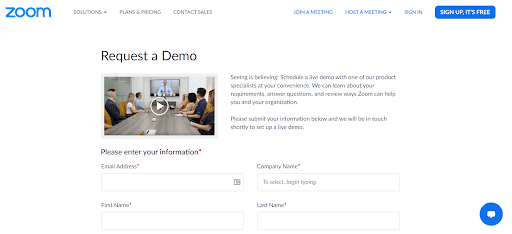 Zoom began as a software-as-a-service video-conferencing application that could accommodate up to 25 people. Since then, it has swiftly expanded to include Zoom chat, virtual events, cloud-based telephony, webinars, HD meetings, and conference room solutions, among other features. And if you're still not convinced, all you have to do is fill out a form and request a demo, and one of their representatives will call you to answer all of your questions.
Create Free Tools to Help You Entice Potential Customers
Free tools are the ultimate CAC hack because they solve problems for your customers right away, asserting the value of your paid product. In the SaaS industry, you should always be on the lookout for free tool possibilities. Free tools allow you to enter an organization and build your brand by assisting others.
Consumers are still looking for good deals and good value. So why not offer introductory discounts or specials? These kinds of deals can bring in new customers who were thinking about doing business with you but needed a little push to change their shopping habits.
By providing basic tooling for free, you can increase distribution and get your brand in front of a larger audience.
A good example is Adobe. Its flagship products are Photoshop, Lightroom, Illustrator, Premiere, and After Effects. They're used by designers and photographers worldwide.

These are paid SaaS products, but Adobe uses free trials and tools such as Adobe Photoshop Camera for Android and iOS and Adobe color wheel to hook potential customers.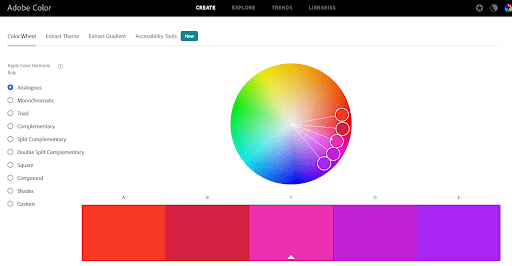 Improve User Experience
Did you know that the second 's' in SaaS stands for service, and providing excellent customer service is critical for customer retention? Unfortunately, unless you're lucky, your Software will most likely be very similar to other companies in your industry. So it would help if you found a way to differentiate yourself to maximize customer lifetime value.
To begin, you can demonstrate to customers how your Software will improve their lives or businesses. Second, you must ensure that it does so by providing excellent customer service. Finally, ensure that you improve the user experience every time a customer interacts with your company.
Make Use of Content Marketing
Content marketing is a tried-and-true method of generating traffic and leads for any SaaS website. At its most basic, increasing traffic to your website entails publishing high-quality content on your site. In addition, the topics you choose to write about should be relevant to your target audience's interests.
For example, if you had a SaaS tool that allows you to create designs for Facebook and other social media platforms, appropriate content topics could include:
Top-notch Facebook marketing strategies
Small business Facebook marketing tactics
The value of Facebook marketing
Image specs for Twitter ads
Now, let's say you managed to acquire some traffic to these blog articles? What now?
It would help if you turned some of those visits into leads. So, it's time to create some long-form content, such as "Your Guide for Social Media Visuals," and gate it.
The moment people download this guide, and you'll have access to their email address, you can design an email marketing campaign to get them closer to a purchase. For example, you can invite the leads to join your free trial or see a product demo.
See where I'm getting at?
Also, email marketing and organic social media marketing are part of your overall content strategy.
Make SEO Your Top Priority
SEO stands for search engine optimization. What does this exactly mean?
Well, you have your content. Next, you need to make it rank. This means that your content must satisfy your users' needs and the search engine's needs (mostly Google's search engine).
In short, the idea is to utilize the best keywords, optimize metadata, improve page load time, improve overall website performance, and acquire backlinks.
What's the thing with keywords? Well, if you know your potential customer, you'll know what kind of queries they will type in the search engine while looking for a product/service or a solution to a problem. Ideally, you'd need to have your content show up in the first organic results. This means that for every keyword, you'll need to develop some appropriate original content. But guess what? Your competition is trying to do precisely the same thing.
So, how can you win?
For your content to rank, you must generate backlinks to it in addition to creating great content. To determine how many backlinks you require, conduct a backlink analysis of ranking content. You could use tools such as Ahrefs or Ubersuggest for this. Once your content begins to gain traction, your company will gain a reputation as an authority in your niche.
Over to You
The ball is in your court now. Are you ready to hit it off?
Now that you have ten concrete strategies to assist you in achieving your SaaS marketing objectives, as well as a wealth of supplementary information, your next move is entirely up to you.
Use all of these suggestions or only the ones that stand out to you, and they will undoubtedly reflect your brand and business.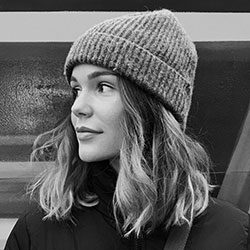 Gabriella is a Digital Content Writer and Marketer with a zeal for all things WordPress. When she's not researching and drafting the upcoming articles, you can find her in the open air exploring the outdoors with her dog.