Wondering what the best way to sell digital products s with WooCommerce is? If so, you're lucky because we're about to tell you everything.
Digital products such as audio files, eBooks, stock photos, and even software can definitely generate revenue. In addition, you can scale digital product sales more quickly than physical product sales because there is no need for inventory or shipping.
Selling digital products on WooCommerce may appear less complicated in this scenario. However, some technical challenges come with digital downloads as well. This article explains how to sell digital downloads with WooCommerce and looks at some of the best WooCommerce plugins to help you with this.
So let's dig in!
What exactly is a digital product?
A digital product is a piece of media or another asset purchased and used on a computer or smartphone. Digital products can be educational, entertaining, or a combination of the two.
Here are some examples of digital products that you can sell:
Apps or plugins;
Music files;
Graphics (like stock photography or illustrations);
eBooks;
PDFs;
Online courses;
Memberships;
Content subscriptions.
What are the advantages and disadvantages of digital products?
Pros
No inventory: Traditionally, digital commerce is low risk. You save money on storage and don't have to worry about ordering enough units to meet demand because you don't have to invest in inventory.
Infinite scale: Unlike physical products, digital products can be scaled much more quickly and without investing in additional storage space (or staff) to accommodate growth.
Simplicity: Forget about time-consuming stock management and shipping calculations. All you have to do with digital products is click send.
Instant 'free' delivery: One of the most significant advantages of selling digital products online is that delivery is virtually free and instant. Say goodbye to long lines at the post office and long delivery times.
Cons
Shipping and handling charges: Physical products require physical delivery. That includes the cost of packaging, postage, and handling.
More overhead: Physical products necessitate more storage, staff to manage and track them, and a more significant initial investment.
Harder to scale: Scaling a physical product is much more complex than scaling a digital product.
Time-consuming: With a few clicks, digital products and services can be managed and delivered. Not so with tangible goods. Managing inventory, staff, and orders take a significant amount of time.
So since you're reading this, we're assuming you're already familiar with WooCommerce and want to sell digital products instead of physical ones, so let's get right into the specifics, shall we?
How to get started selling digital products with WooCommerce
First, let's double-check that we have all of the necessary "ingredients." You will need the following to sell digital products with WooCommerce:
A hosted WordPress website and domain name from a hosting provider;
The WooCommerce plugin, which is available for free download from your WordPress dashboard;
Your product's digital file;
Your digital product's title, description, featured image, any additional product images, and price;
A PayPal or Stripe account is a payment gateway (you can choose more than one).
Now here's what you need to do:
Step 1: Install and activate WooCommerce.
The first step is to install WooCommerce. From your WordPress dashboard, go to Plugins → Add New, and in the search bar, type in WooCommerce.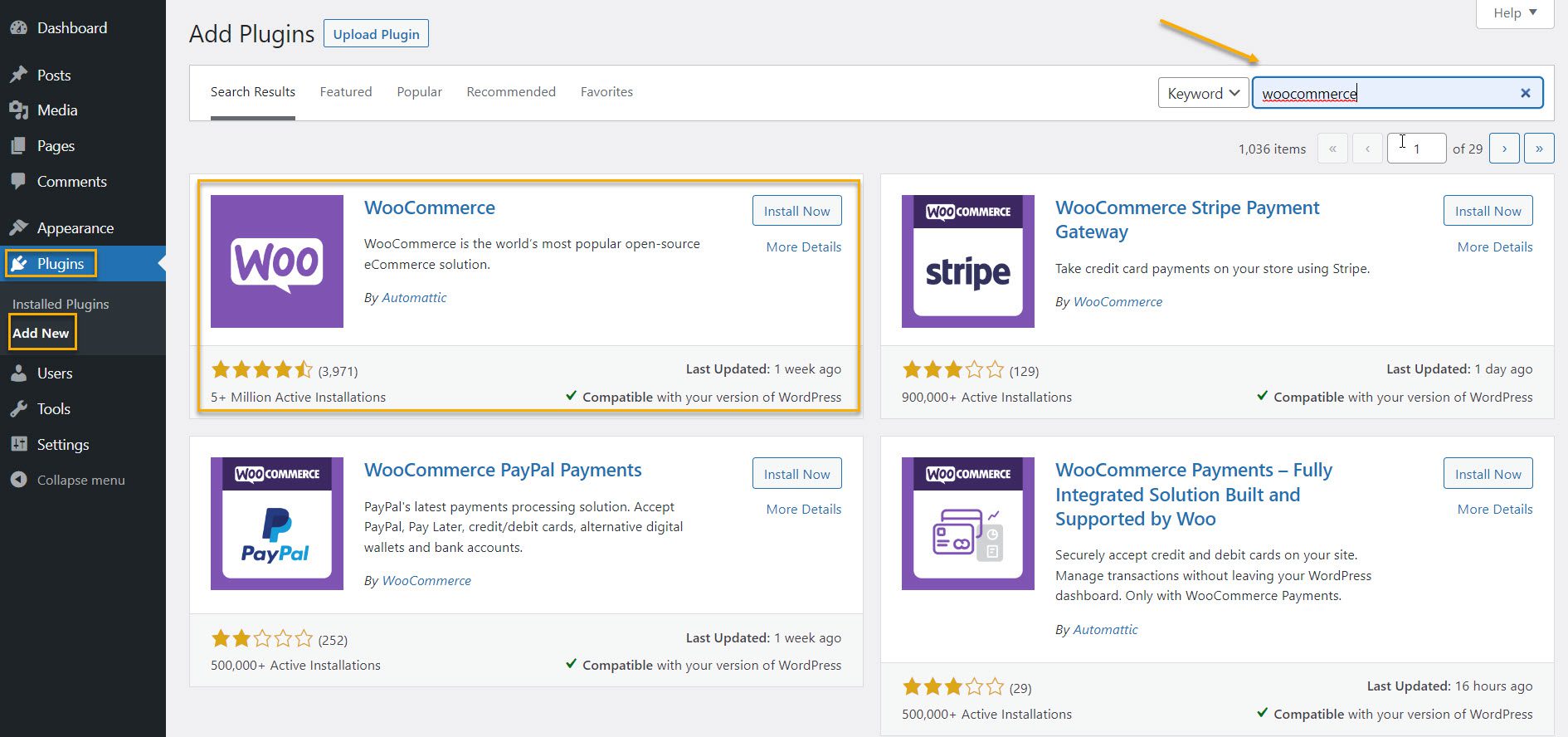 Locate WooCommerce in the results and click the Install button. When the installation is finished, the button text will be changed to Activate. To finish installing the plugin, click Activate.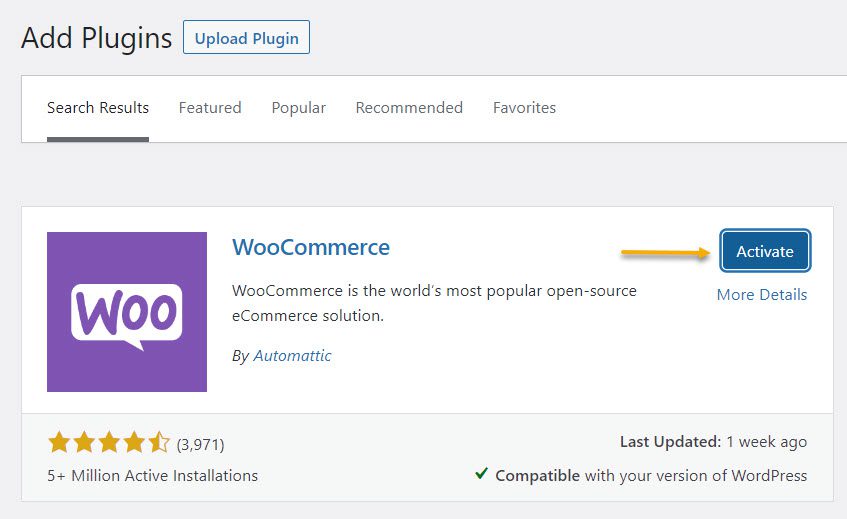 The setup wizard will appear. For the time being, you can skip this section because many questions only apply to physical products. It's okay; we'll guide you through every step.
After installing WooCommerce, some new pages will be generated automatically. If you accidentally delete any of these, your online store will not function properly.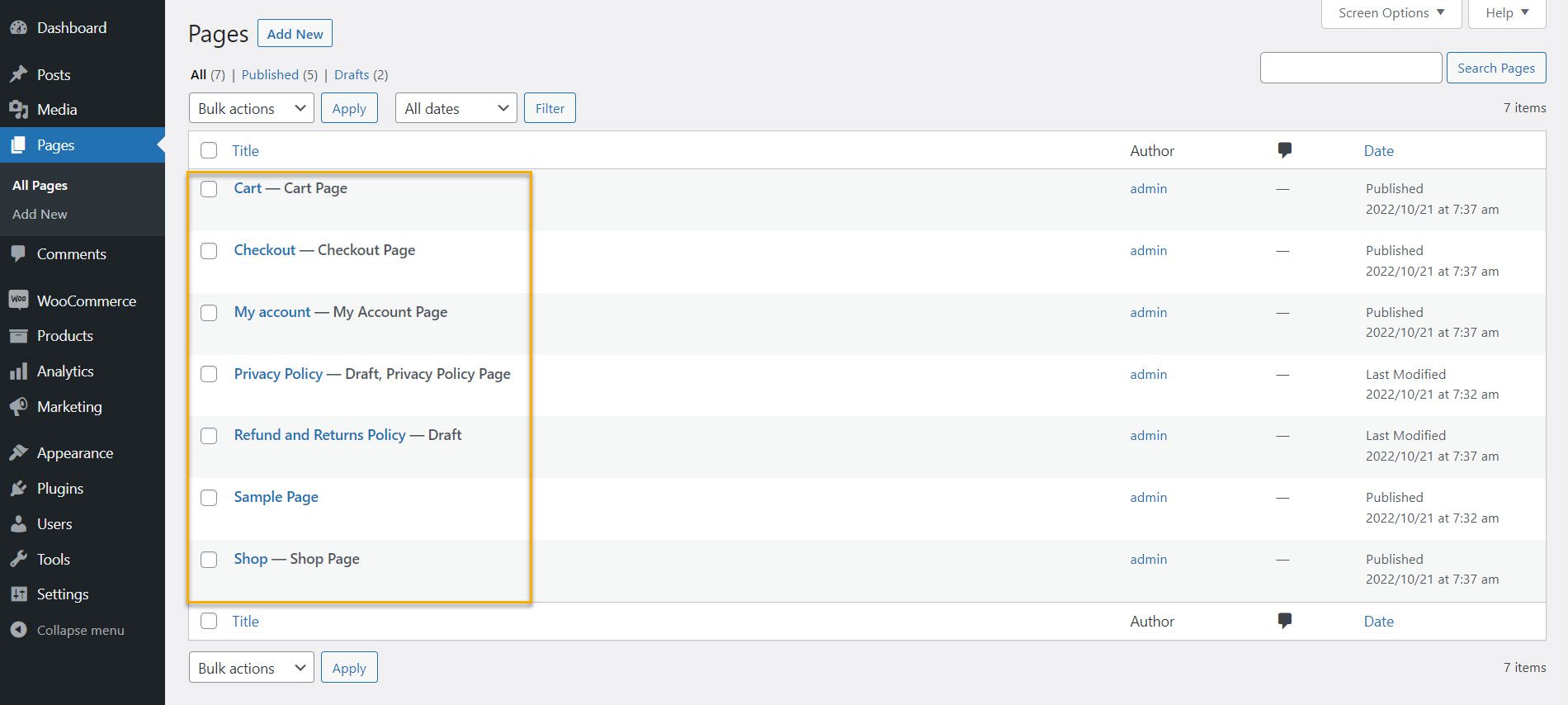 Step 2: Set up payments.
Let's make sure you get paid now. Navigate to WooCommerce → Settings and select the Payments tab.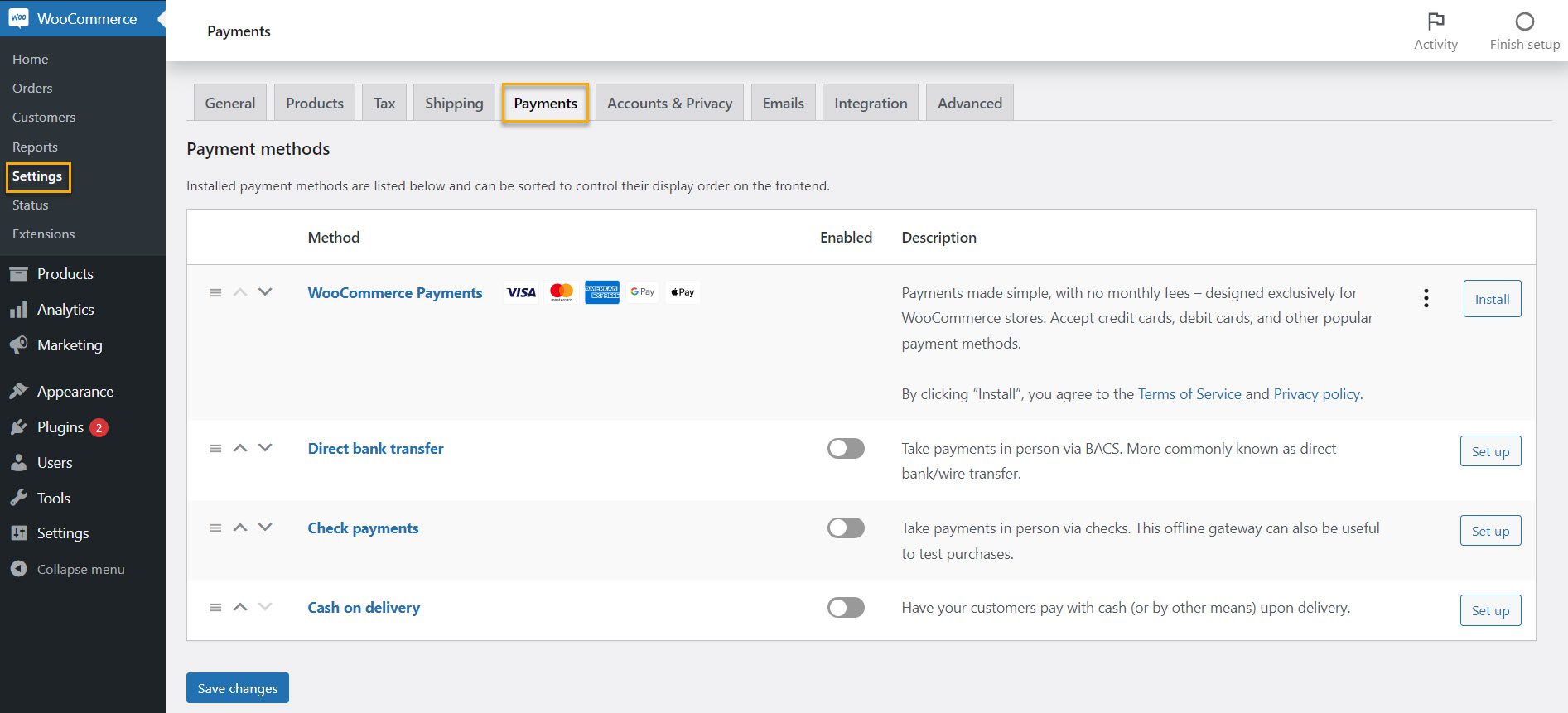 Now, toggle the payment processors you want to use on and off. Set up your payment method by following the instructions that appear. If you don't see the payment method you want, you can add it. Click the button to see other payment options and follow the instructions.
You can also install Stripe or PayPal to act as a payment processor.

Step 3: Configure WooCommerce for digital products.
Next, let's configure WooCommerce to properly deliver your digital products. Return to WooCommerce → Settings and select the Products tab. From there, click on Downloadable products.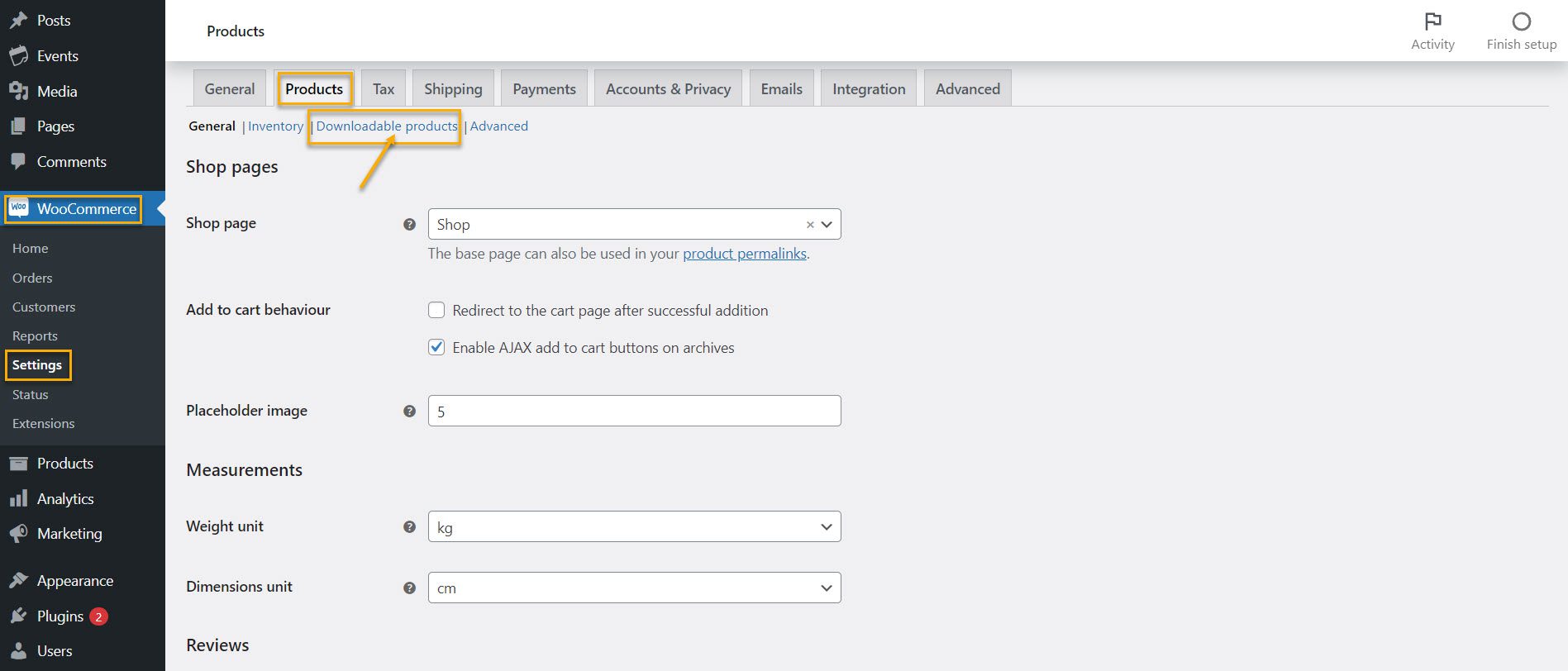 From the dropdown menu, choose a File Download method. To prevent unauthorized sharing of your file link, we recommend using Force downloads or X-Accel-Redirect/X-Sendfile. Force Download employs PHP to force the file to download without requiring the browser to load the file URL.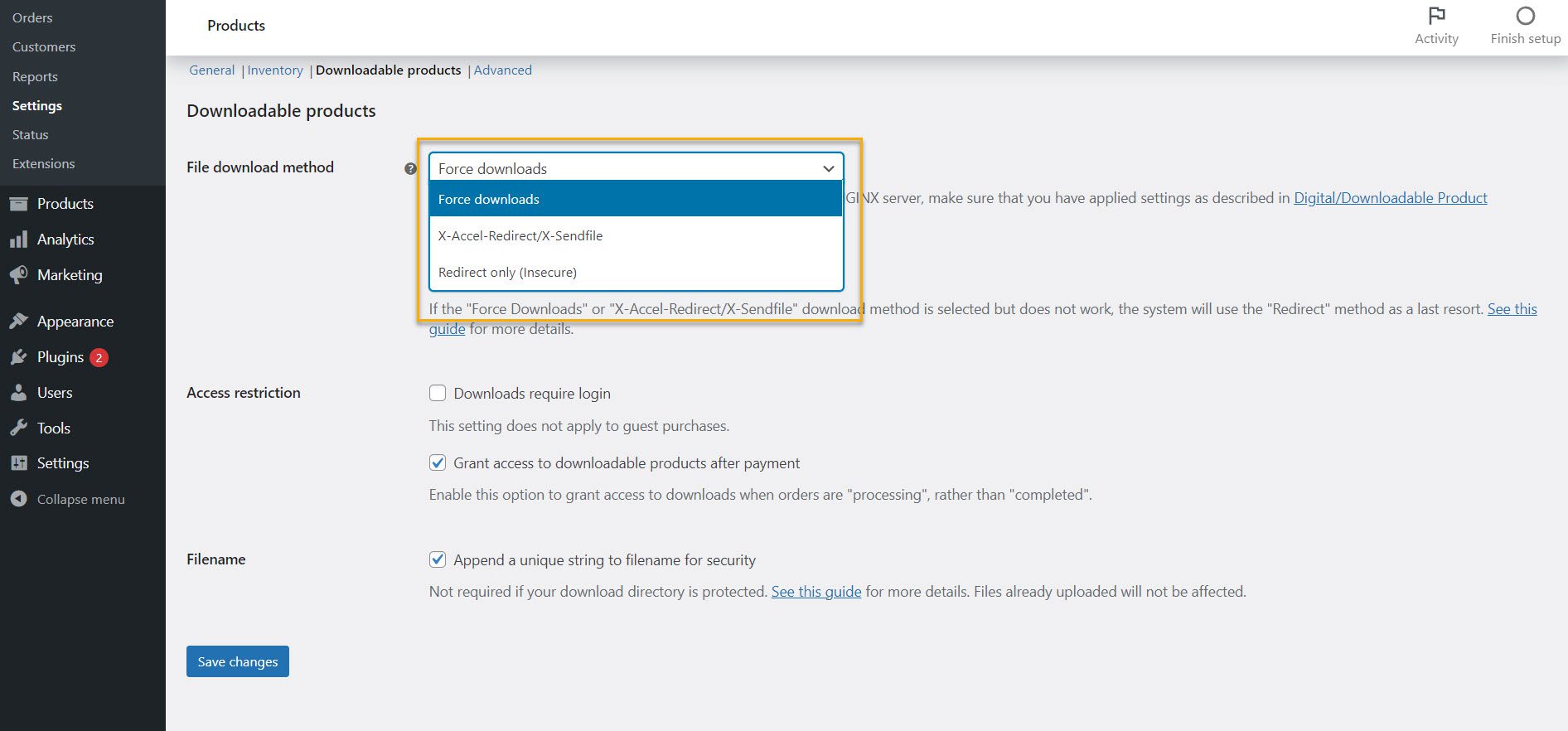 Now select an Access restriction level.

To ensure the quickest delivery, we recommend not requiring login and granting access after payment. If you don't need a login, make sure to enable guest checkout. If you're selling memberships or subscriptions, you may require different settings.
If you only sell digital products, you can also disable stock management to remove unnecessary options from your dashboard. Navigate to WooCommerce → Settings → Products and select Inventory.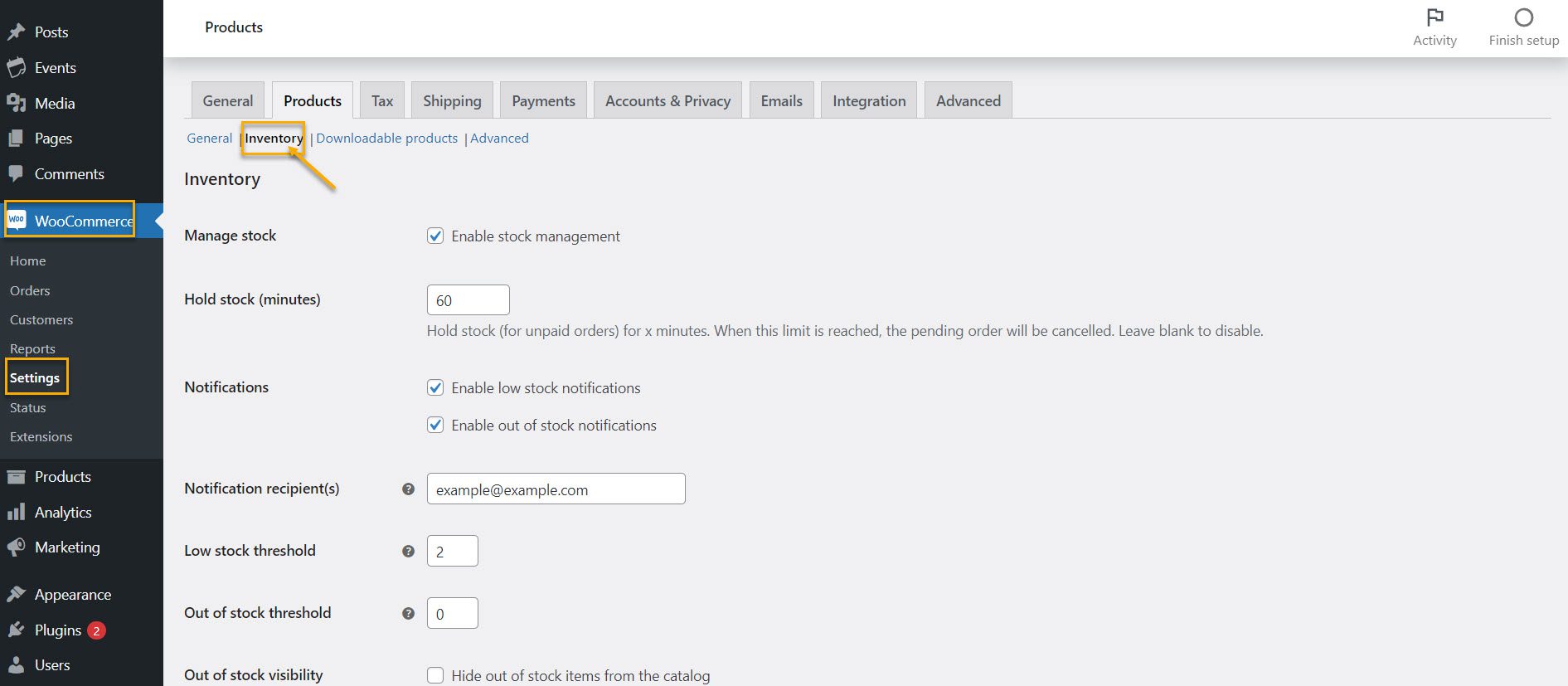 Uncheck the box by clicking it. After you've enabled stock management, you're ready to start creating your digital product listing!
How to add a new digital product to your Woo store
Now let's see how you can add more products and set up all their information.
Locate Products in the WordPress dashboard and click Add New. Select Create Product.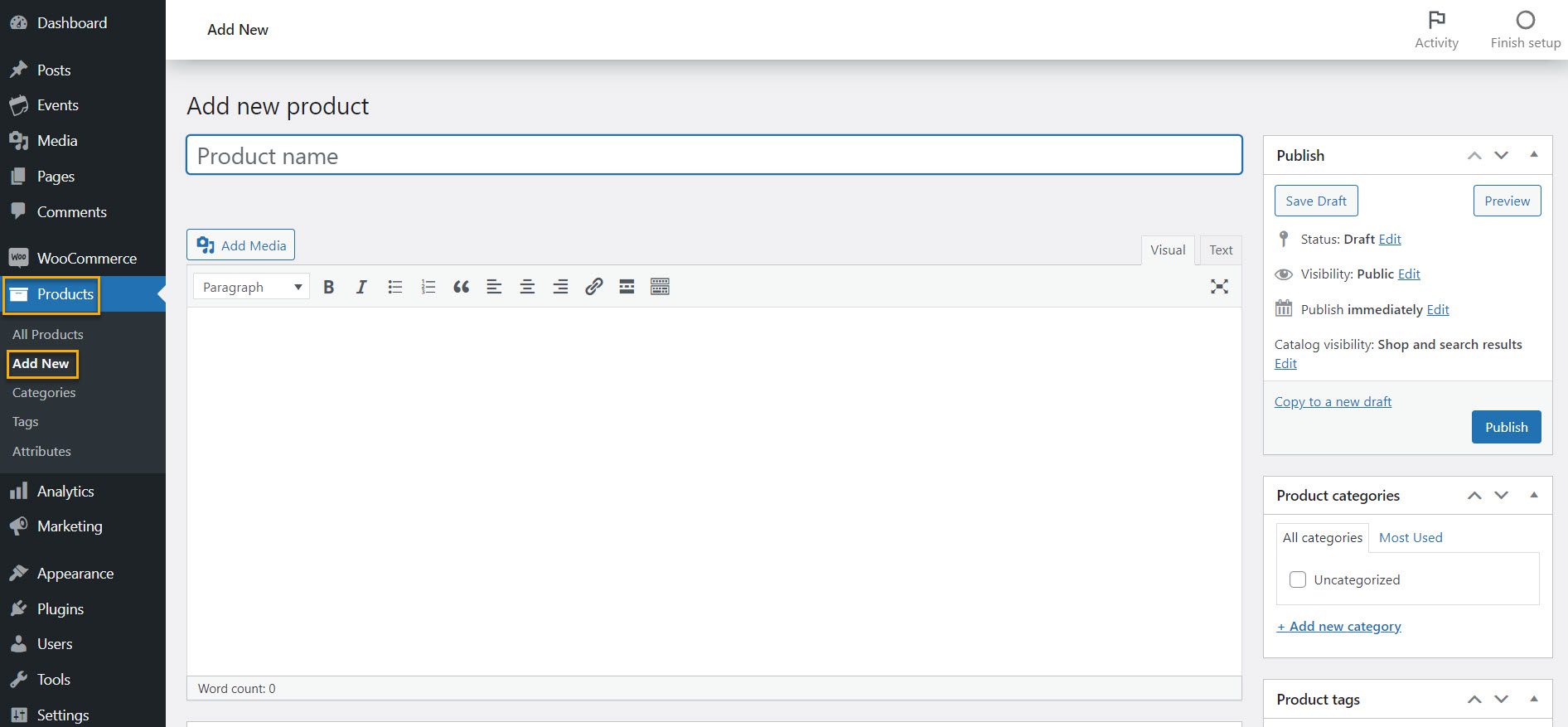 Start by adding your product name. Next, add the product description. Include a detailed description of the product and how it will benefit the customer. Additionally, you should specify what files they will receive and how they will receive them, such as an instant download or an email. Lastly, summarize the benefits in a catchy call to action.
After that, we'll configure this product to be a digital product. Check the Virtual and Downloadable checkboxes in the Product data section. This will remove the shipping options you do not require and add opportunities for downloadable digital files. For the time being, we'll stick to making a Simple Product.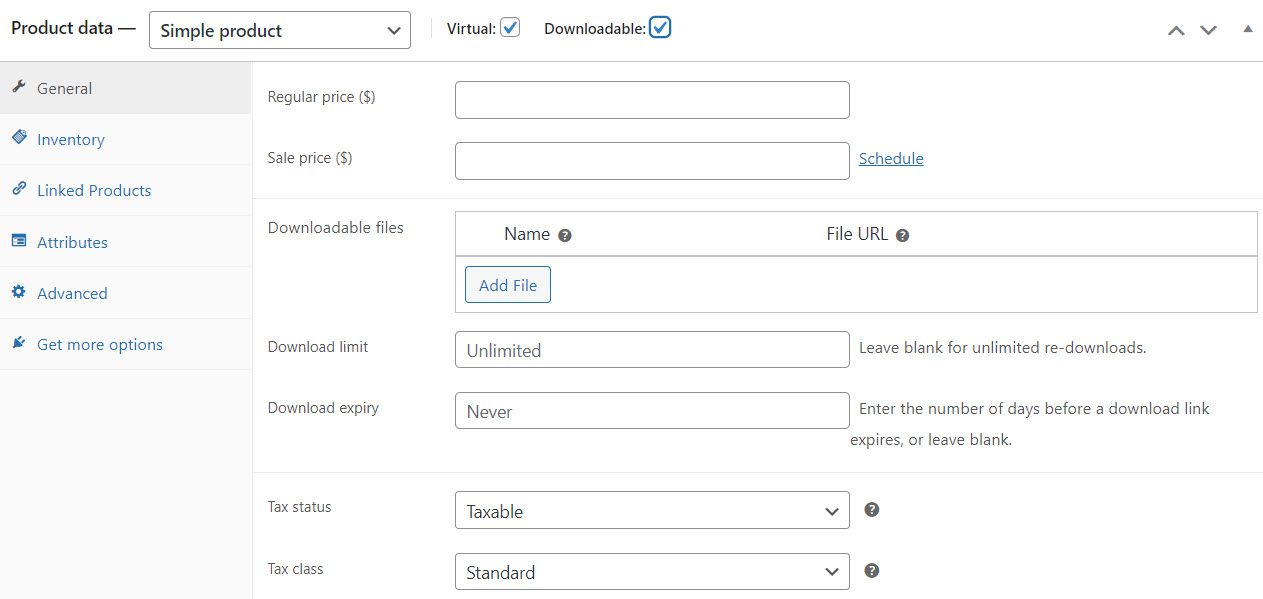 To begin, enter the price of your digital product. You can also program sale prices to stop and start at specific times. Then go ahead and name your file. Customers will see this, so make it informative and easy to read. The product name, as well as your company name, should be included.
Suppose your file is hosted elsewhere, such as Dropbox or Google Drive, including the file URL. Click the Choose File button if you need to upload a file to WordPress. It's now time to upload your digital product file. Select the Add File option.

When the WordPress media library appears, click the Upload Files tab, drag a file into the window, or select one from your computer by selecting Select Files. After it has been uploaded, click Insert file URL.
Set the Download limit if you want. This is the number of times a customer can re-download the file after purchasing it.

If you want, you can also specify a download expiry date. The number of days until a download link expires. Setting an expiration date for the link encourages customers to download and begin using their file as soon as possible while they are still excited about their purchase.
The next step is to add a short description.

Depending on your WordPress theme and other design settings, this will appear at the top of the product page and may also appear on product tables and archive pages.
Let's now add some product images. These are critical for digital products because they give customers an idea of their purchasing. The featured image on a WordPress blog post is similar to the product image. Choose wisely because this is the primary image that represents the product. To upload a product image, click the Set product image.

You can also add additional images to the product gallery. This is an excellent place to include a contents table and sample pages for eBooks, watermarked versions of stock photos or illustrations, or a teaser of what a plugin or app will look like once installed.
As with a blog post, you can add product tags or categories to your digital product. If you need assistance, here's a tutorial on how to add categories and tags in WordPress.
And that's all there is to it! You've added a digital product ready to be sold on WooCommerce!
Next Steps: Choose some great WooCommerce plugins to help you boost sales!
WooCommerce has a plethora of extensions that you can strategically use to boost sales and functionality. When it comes to selling digital downloads, WooCommerce recommends several useful plugins.
Let's take a look at some of them.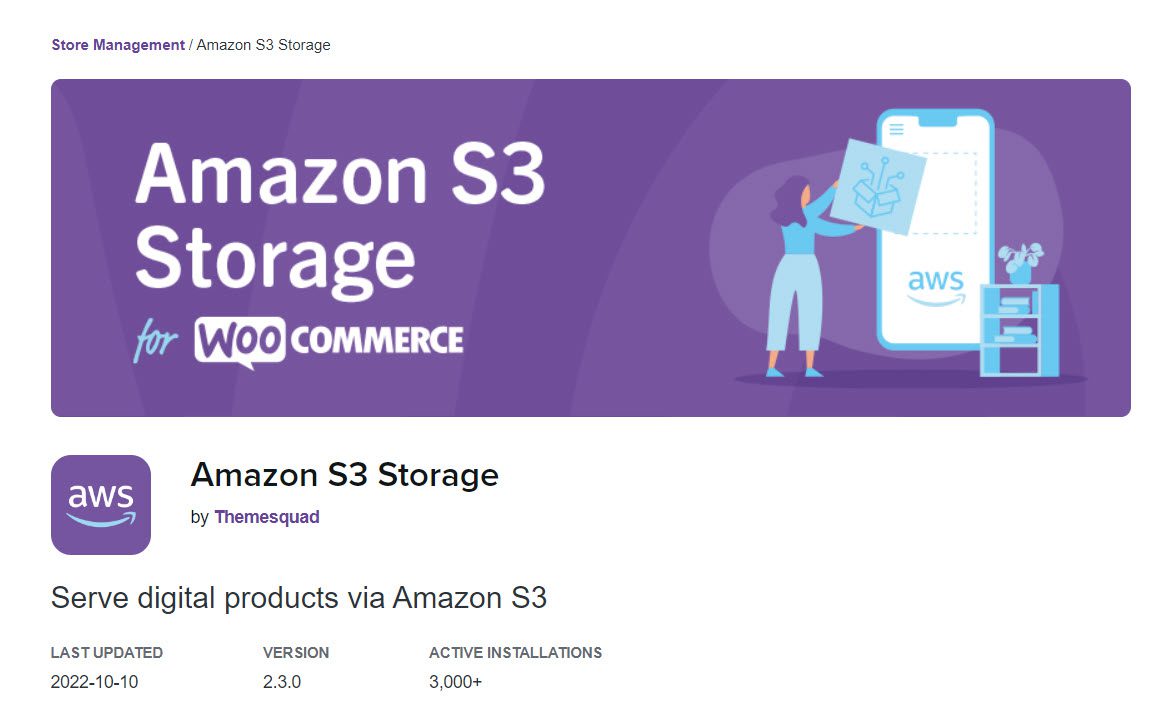 Amazon S3 is an excellent option for storing and retrieving large amounts of data. eCommerce stores that sell digital products frequently use it. This WooCommerce extension makes it possible to connect your products to Amazon S3. After installing this extension, you can offer your customers downloadable products via the S3 URL.
You can specify the download location and file path using shortcodes. This is a dependable method for providing downloadable products to your customers. It works flawlessly with large files and has a fast download speed.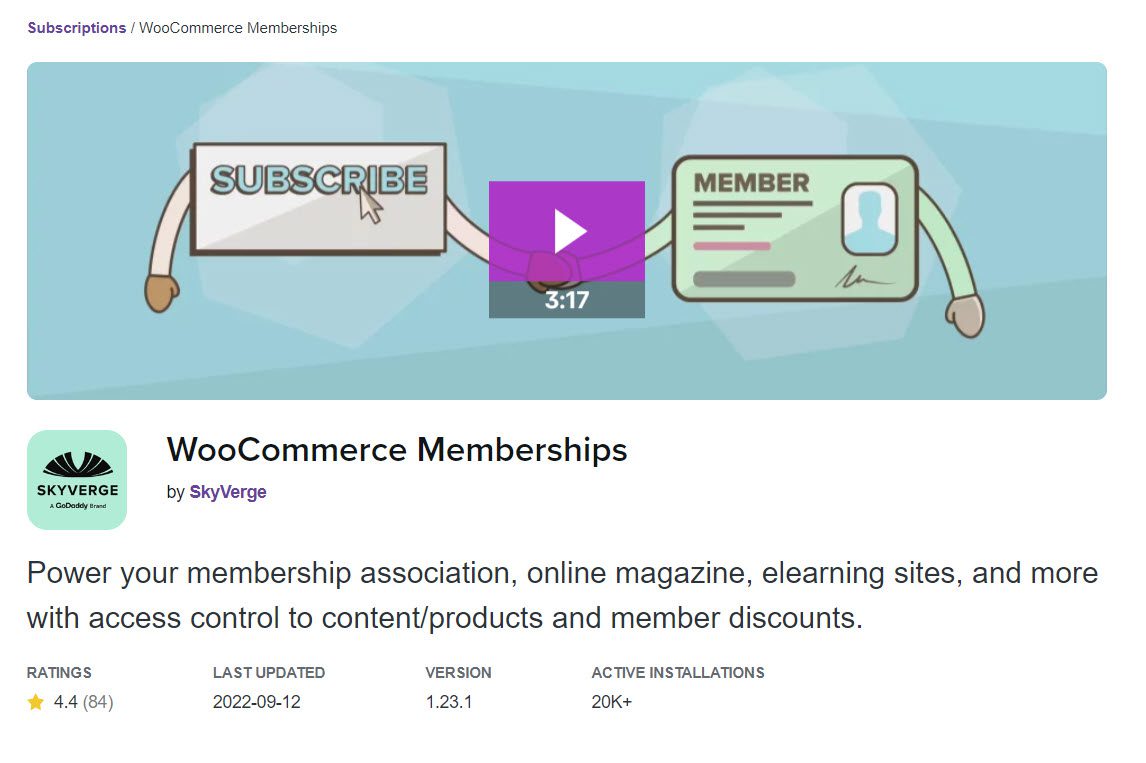 The Memberships extension only allows you to offer specific content or products to members. It is an excellent way to manage recurring income in your store. And, if you're selling exclusive items, your customers will be eager to opt-in.
Even offering small discounts to members will work in your favor. It has excellent features and a simple interface that will assist you in creating exciting membership options based on your business strategies. In addition, many store owners who sell digital products use a system that combines subscriptions and memberships.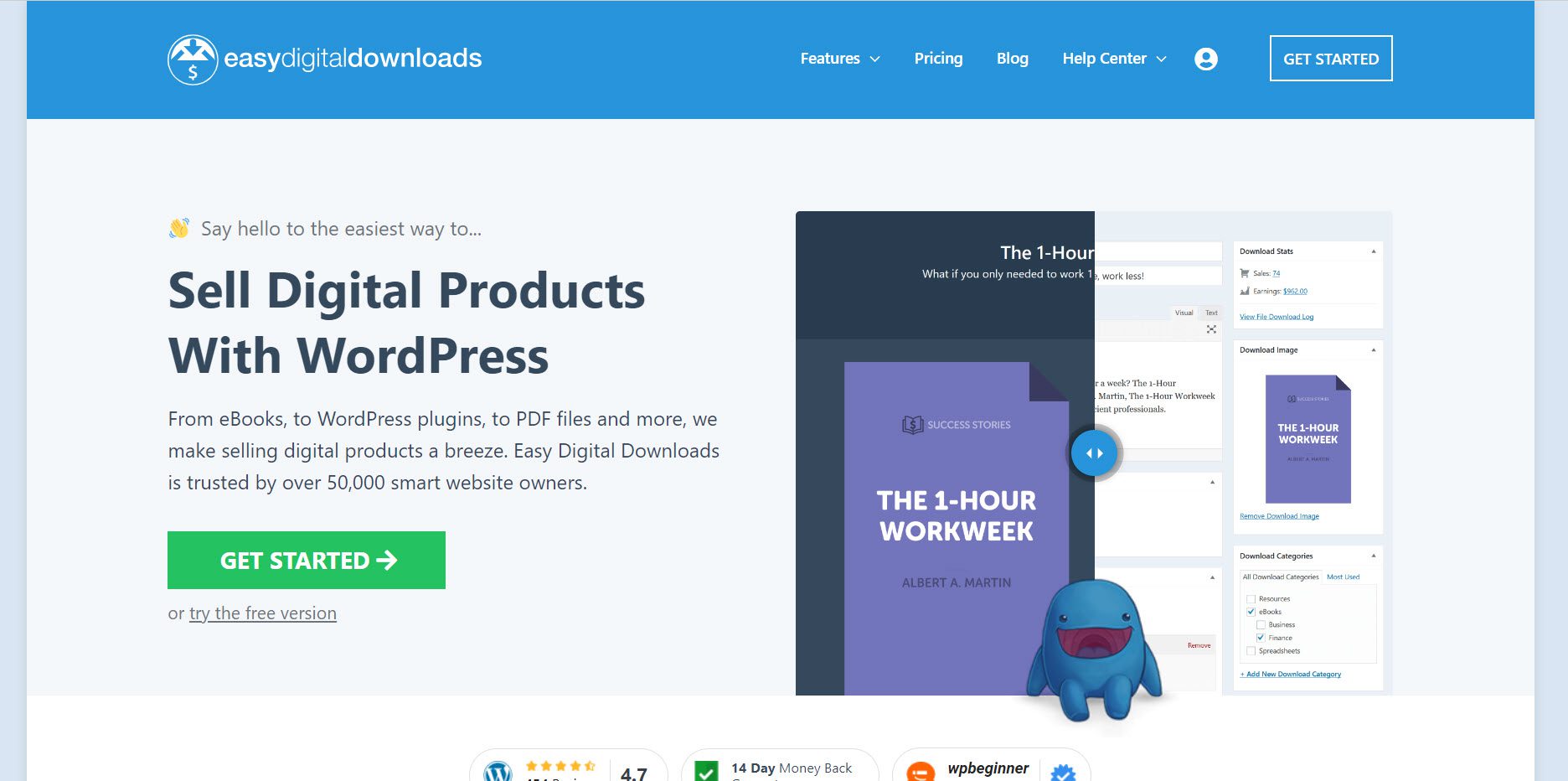 If you are looking for an alternative to WooCommerce for digital downloads, you may find Easy Digital Downloads useful. This is yet another simple way to sell digital products with WordPress. In addition, it has a full shopping cart allowing users to buy multiple downloads simultaneously.
You can allow unlimited downloads or limit the number of downloads. You can also track your customers' activity regarding how they download your files. Furthermore, it includes comprehensive reporting tools to assist you in creating custom reports and statistics.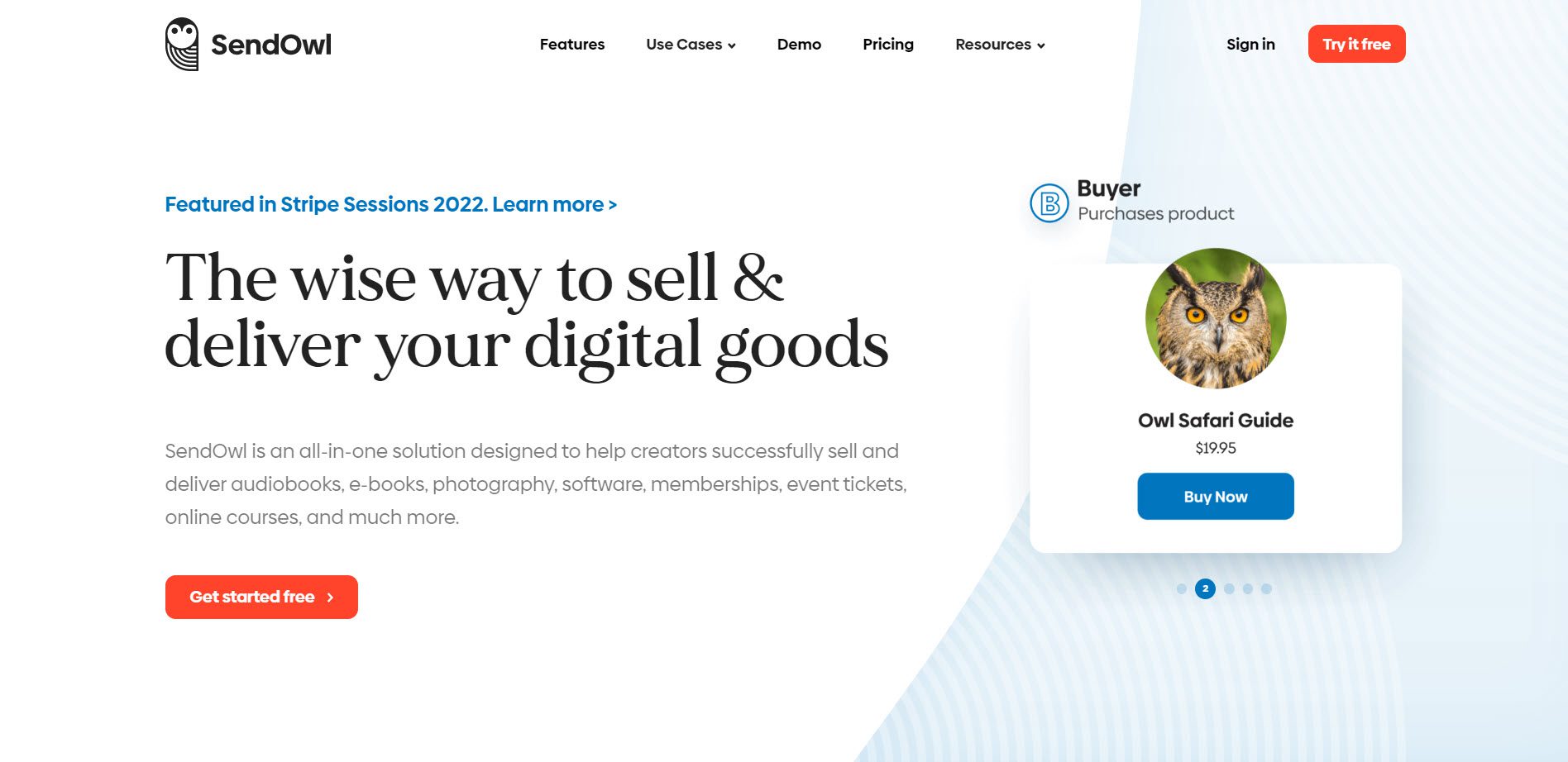 SendOwl is another popular WordPress platform for selling digital downloads. It is simple to use and guarantees high conversion rates for your website. You can create products here, and customers can easily download them using SendOwl. Once your products are made, they will integrate with payment gateways and generate an optimized checkout.
It will also automatically send download instructions to your customers. They have several options, including SaaS, self-hosting, and standard. There is also a 30-day free trial option to try it out without risk.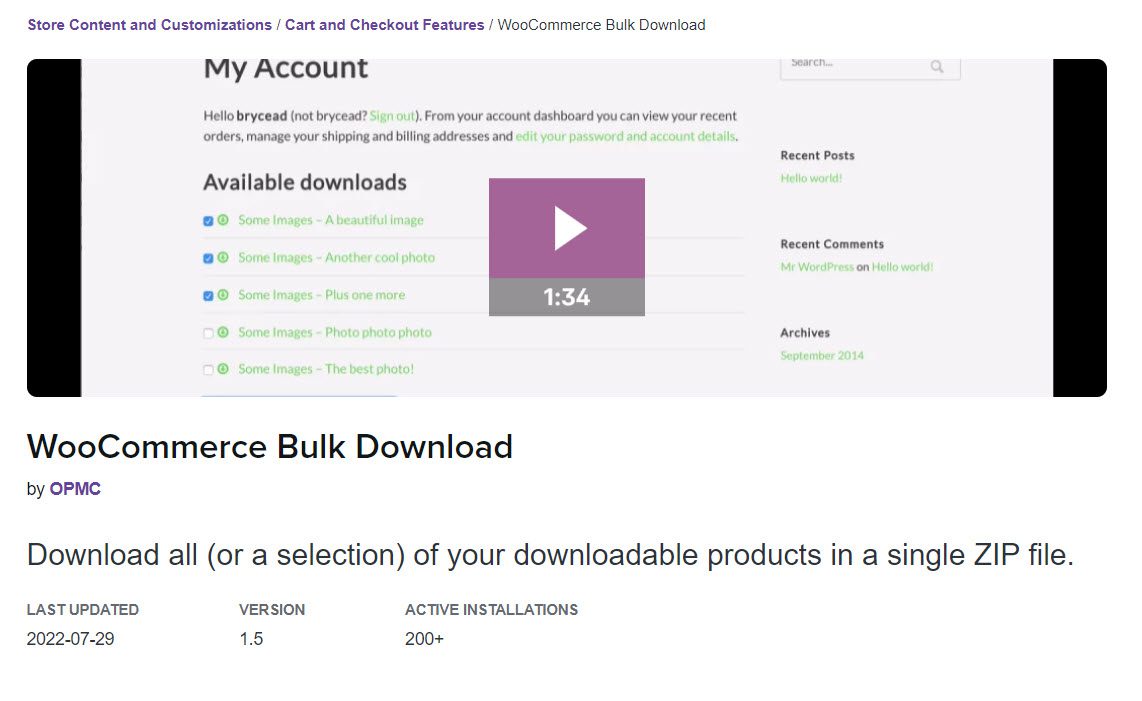 When your customers buy multiple products in one order, having the option to download them all at once would be fantastic. The WooCommerce Bulk Download extension allows you to provide this option to your customers.
Customers can select which files they want to download and have the opportunity to 'Select All.' There is also the option to download multiple files in a single ZIP file.
Now Over to You
If you want to start an eCommerce store, selling digital downloads is a great place to start. It relieves you of shipping, inventory management, and so on. However, selling digital products has its own set of complications. We hope this article sheds some light on these aspects of selling digital downloads through WooCommerce.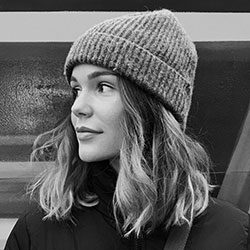 Gabriella is a Digital Content Writer and Marketer with a zeal for all things WordPress. When she's not researching and drafting the upcoming articles, you can find her in the open air exploring the outdoors with her dog.