With WordPress and WooCommerce, you can launch a flexible, user-friendly online store faster than you can imagine. But it's all in vain if you don't use several SEO techniques to draw customers to your store, hence why SEO is integral to marketing and reaching your target market in the online business world.
The thing is, if your marketing strategy isn't aligned with your goals and customers and your store isn't optimized, chances are it will get lost in the myriad of stores on the Internet, and I'm guessing you don't want that.
Today's article will help you achieve an optimized WooCommerce store. First, we'll walk you through each crucial element of WooCommerce SEO. After that, we'll share a few top-notch SEO plugins compatible with WooCommerce stores.
So let's get rolling!
What exactly is Search Engine Optimization?
Search engine optimization refers to making specific changes and optimizing your website to appear more prominently on search engines like Google and Bing. The more visible your pages are in search results, the more likely you'll get noticed and draw new and returning customers to your company.
Search engines like Google and Bing use bots to crawl web pages by moving between websites, gathering data about them, and indexing them. Imagine the index as a vast library where a librarian can bring up a specific book (or web page) to help you find it.
To be more precise, SEO, in contrast to paid media, is an organic, non-paid method of optimizing your website's web pages to move those web pages to the top of the SERPs, or Search Engine Result Pages.
Here is a screenshot showing how Google Ads results and SEO results differ: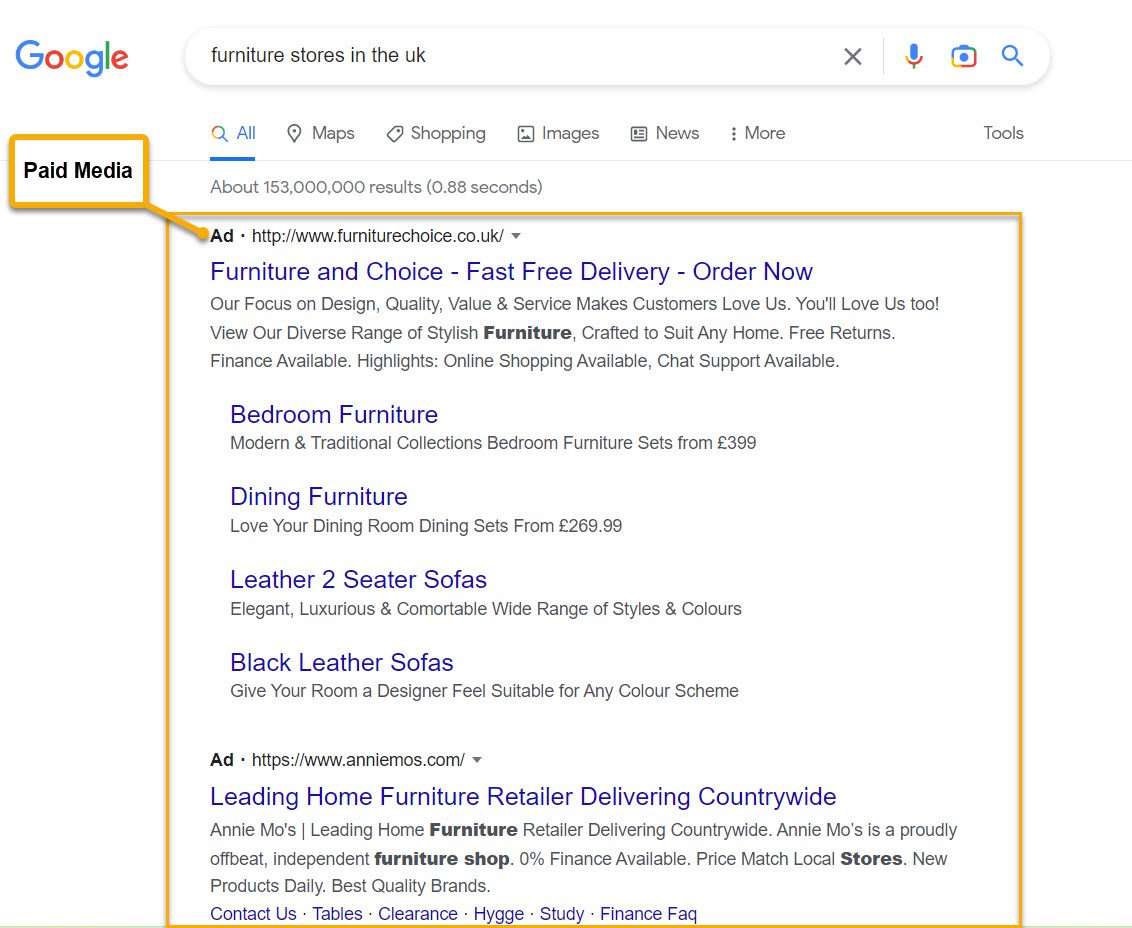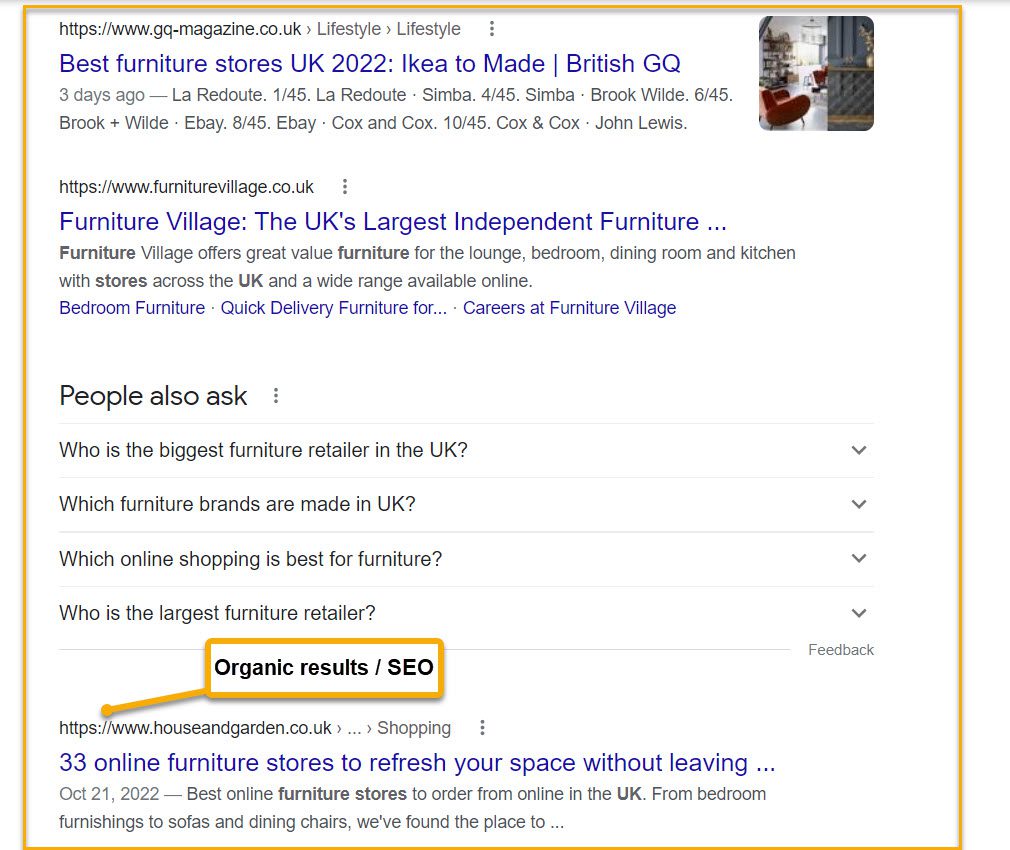 In the first screenshot, the first results are ads, while organic SEO results are well-optimized in the second screenshot.
And now, the obvious question:
Is WooCommerce SEO-friendly?
The short and simple answer is "yes." WooCommerce, like WordPress, is SEO-friendly. However, you'll need the assistance of an SEO plugin to enable that functionality.
With the right plugin, you can perform all the search engine optimizations required to rank your store in Google. You can add SEO titles/descriptions to individual product and category pages, breadcrumbs, and structured data.
Here's what you will get as SEO boosters in WooCommerce:
WordPress settings for SEO-friendly permalinks;
It guides you through inserting tags and categories, which are critical for on-page SEO when writing a page, posting, or creating products;
You can optimize images by adding appropriate alt tags, descriptions, and other features;
WordPress.org offers SEO-optimized WooCommerce themes;
WordPress.org has a plethora of SEO plugins for your WordPress website;
Cache plugins to reduce page load time;
Out-of-the-box mobile responsiveness.
And now, let's see what practical steps you can take to optimize your WooCommerce store for SEO!
How to optimize your Woo store for SEO
In this first section, we'll go over the various aspects of eCommerce SEO for WooCommerce stores.
We'll use the Yoast SEO plugin in the examples below because it's the most popular SEO plugin that works with WooCommerce.
Ready, steady? Let's get started!
Perform keyword research
Before you can optimize your store, you must first determine what you are optimizing for. Therefore, keyword research is essential in SEO.
Assume you are selling living room furniture. You'd like to know whether people are looking for "living room furniture," "living room furniture sets," or "sofas," so you can optimize for the most valuable phrase.
Therefore, you can ensure the best return on investment for these tips by selecting the best phrase to rank for.
Here are some premium keyword research tools that you can use to perform advanced keyword research:
You can also find helpful free tools that are less flexible and may have limitations. Moz's Keyword Explorer tool, for example, allows you to run ten free queries per month.
Another valuable option for eCommerce stores is to go to Amazon and see what types of queries Amazon suggests. Amazon is just as famous for eCommerce searches as Google, so that you can gain helpful insights here.
Implement the WordPress SEO setup 
Because WooCommerce is a WordPress plugin, you must improve your overall WordPress SEO setup before moving on to WooCommerce-specific SEO tweaks. Before optimizing WooCommerce SEO, you must perfect your WordPress SEO settings.
That entails installing an SEO plugin, such as Yoast SEO, and filling out the plugin's basic information. This will also enable you to implement basic SEO best practices, such as an XML sitemap. In the last chapter of this article, we'll go over several SEO WordPress plugins you can use to optimize your store. 
Optimize SEO product descriptions and titles
You must optimize your WooCommerce products for SEO in the same way that you optimize your blog posts. Therefore, writing SEO-friendly product titles is a critical component of WooCommerce product SEO.
You will need content to rank your product pages in Google. Most of the content on a single product page will come from your product descriptions.
We call them "descriptions" because WooCommerce allows you to add two kinds of descriptions:
Short description – this appears immediately below the product title and beside the product images in most WooCommerce themes.
Long description – this is typically displayed beneath the product images/short description.
These product titles, for example, appear in your browser's title bar and are used by search engines as the title of a search result.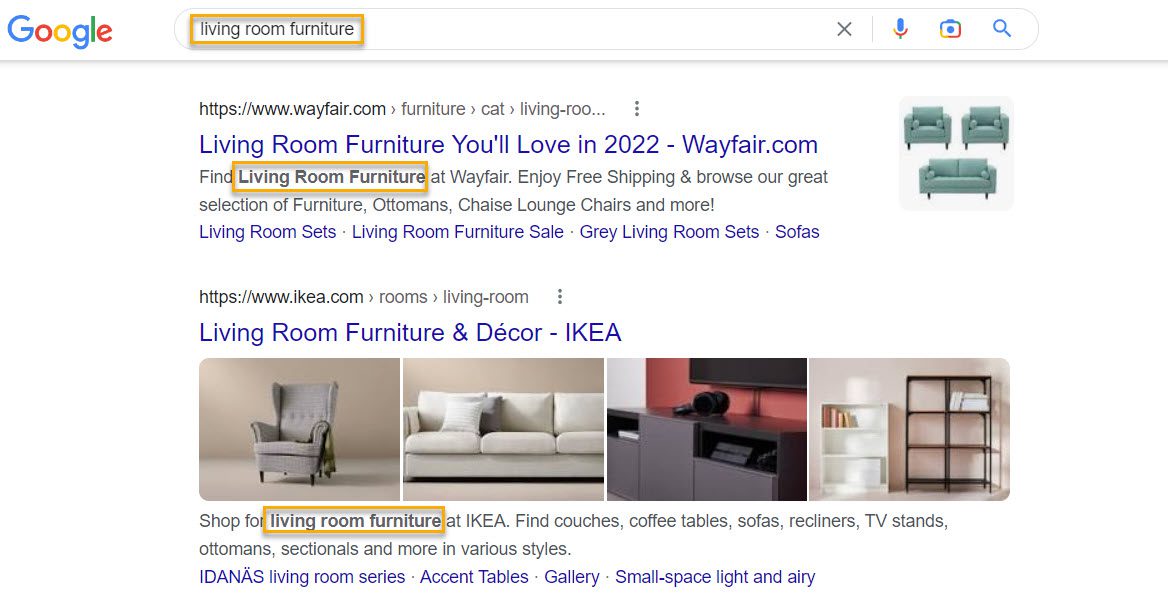 While the primary goal of these descriptions is to provide relevant information to shoppers and persuade them to buy, you should include your target and some related keywords in your descriptions. You should use it at least once in your short and long descriptions.
Tweak your SEO titles and meta descriptions
Page Title: Make sure to include your main keyword in the page title. If you can work in related descriptive keywords naturally, that's even better. This should be primarily informative and not necessarily be the same as the product's title displayed in your store.
Meta Description: If possible, try to include your main keyword once in the description and related keywords. This is also an excellent place to highlight discounts or free shipping. This can persuade people to click on your result (increasing click-through rates).
You can add the SEO-optimized meta description and product title from your WordPress dashboard to WooCommerce -> Products -> Edit Product.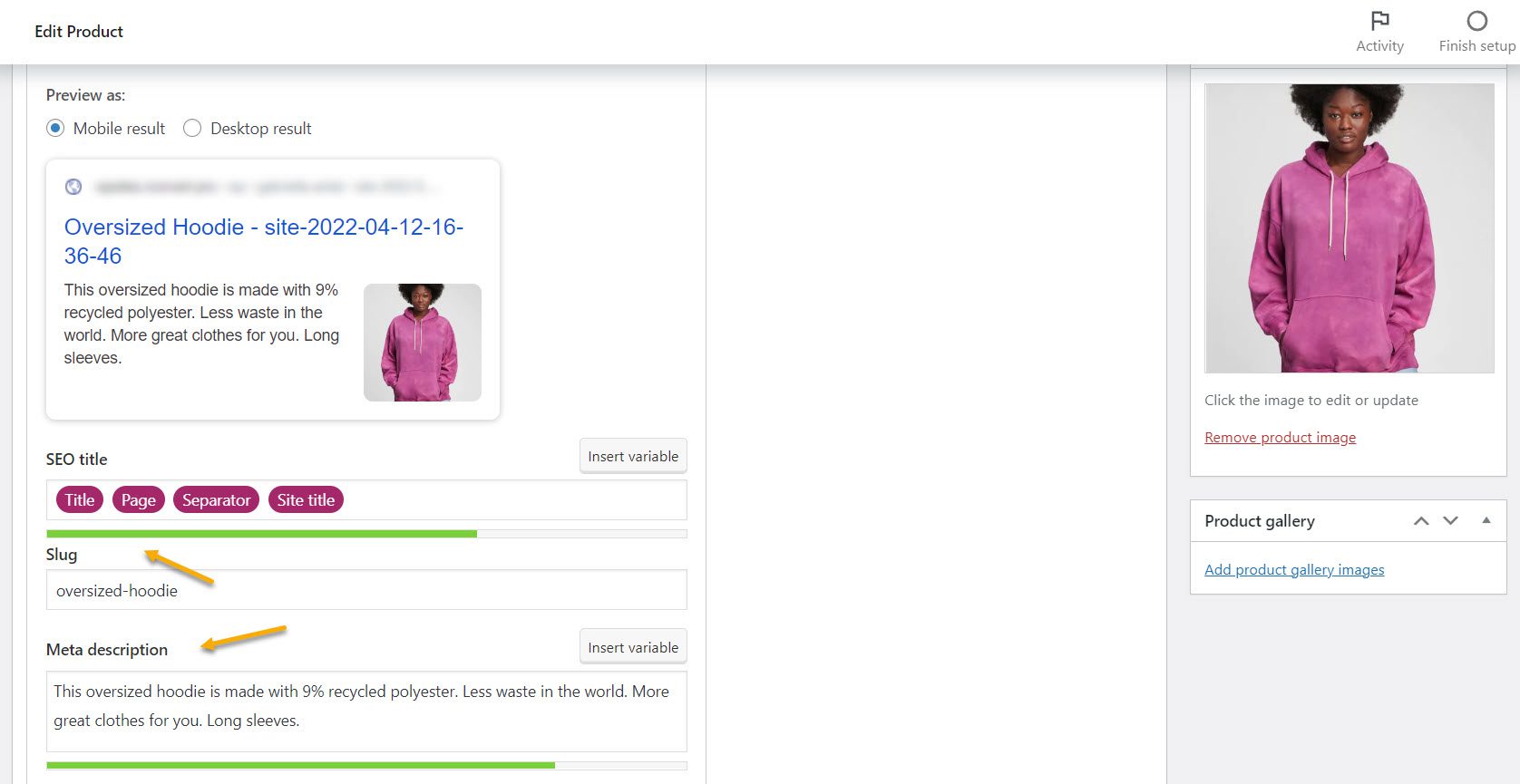 Remember to include the keywords you used in the product's SEO title. This increases your chances of ranking for those specific keywords.
Optimize product images (Alt text and Filenames) 
Remember your product images in all of this talk about product descriptions and SEO titles. Image optimization consists of two steps:
Alternate text;
Filenames.
Image alt text assists you in two ways:
It provides context for your images to Google, which helps optimize your page and allows you to rank individual product images in Google Image Search.
It makes your website more accessible to customers who use screen readers (which is a worthy reason all by itself).
You can set your image alt text by editing the image and using the Alt Text box just like in the screenshot below: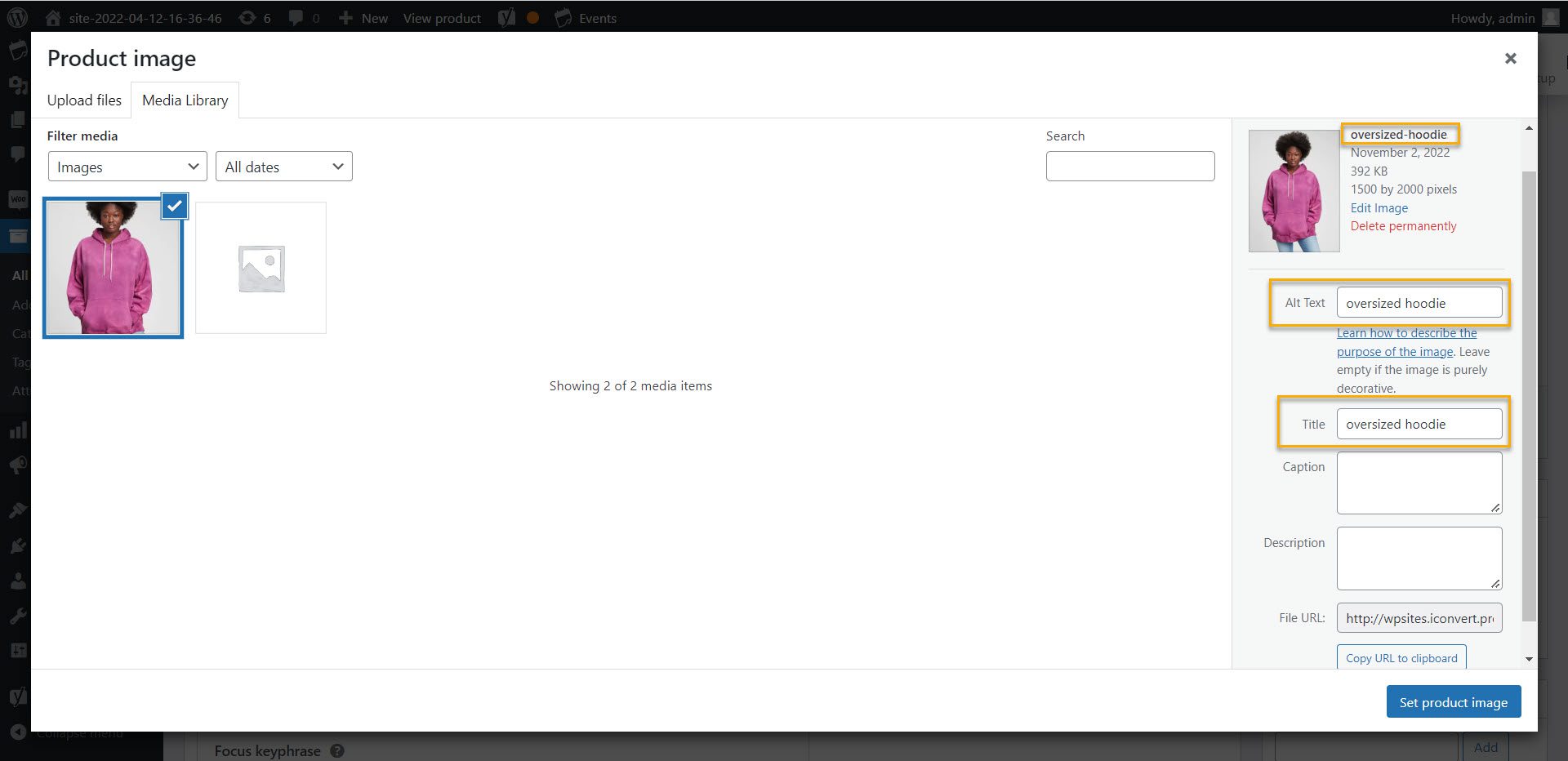 Use Product Categories and Tags wisely 
Categories and tags are two tools that can assist you in organizing your WooCommerce products.
They help customers discover products that interest them, but they're also helpful in ranking your category and tag archive pages in Google. These pages list all products that fall under a specific category or tag.
For example, suppose you sell five different styles of men's hoodies. You'll only compete against yourself and cannibalize your rankings if you try to rank each product for the keyword "men's hoodies."
Instead, you could create a single category for "men's hoodies" and rank the category page in Google.
This is something you'll see all the time on Google. For example, all top-ranking "Men's Hoodies" pages are product category pages rather than individual product pages.
So, what exactly is the distinction between product categories and tags?
Tags are used to describe the content of a particular post. Unlike categories, which group various types of content, tags describe the content of your post. In a nutshell, categories define a collection of posts.
Optimize your product URL Slug
Another important aspect of feeding Google contextual information is the URL slug of your product. A URL comprises two parts: the protocol and the domain. Other elements are added depending on the page and its location within the structure of your site.
As with many other tips, you should include your primary focus keyword in the URL slug:

Maintain as much simplicity as possible. A shorter URL also can be easier to remember if a website visitor wishes to return to the content without bookmarking it.
Enable Breadcrumbs 
Breadcrumbs are another feature that can help your online store rank higher in Google while improving the user experience.
They make it easier for Google to crawl and understand your store in terms of SEO. Google will also display breadcrumbs in search results, which will assist you in improving the visibility of your store in Google.
The good thing about WooCommerce is that it includes its breadcrumbs feature, which many WooCommerce themes use. However, you'll need to look elsewhere if you want more control over your breadcrumbs.
Some WooCommerce SEO plugins also provide you with additional control. Yoast SEO, for example, allows you to customize what content is included in the breadcrumb, and it also includes JSON-LD structured data to help your site appear in Google search results with breadcrumbs.
You can configure breadcrumbs by going to SEO –> Search Appearance –> Breadcrumbs: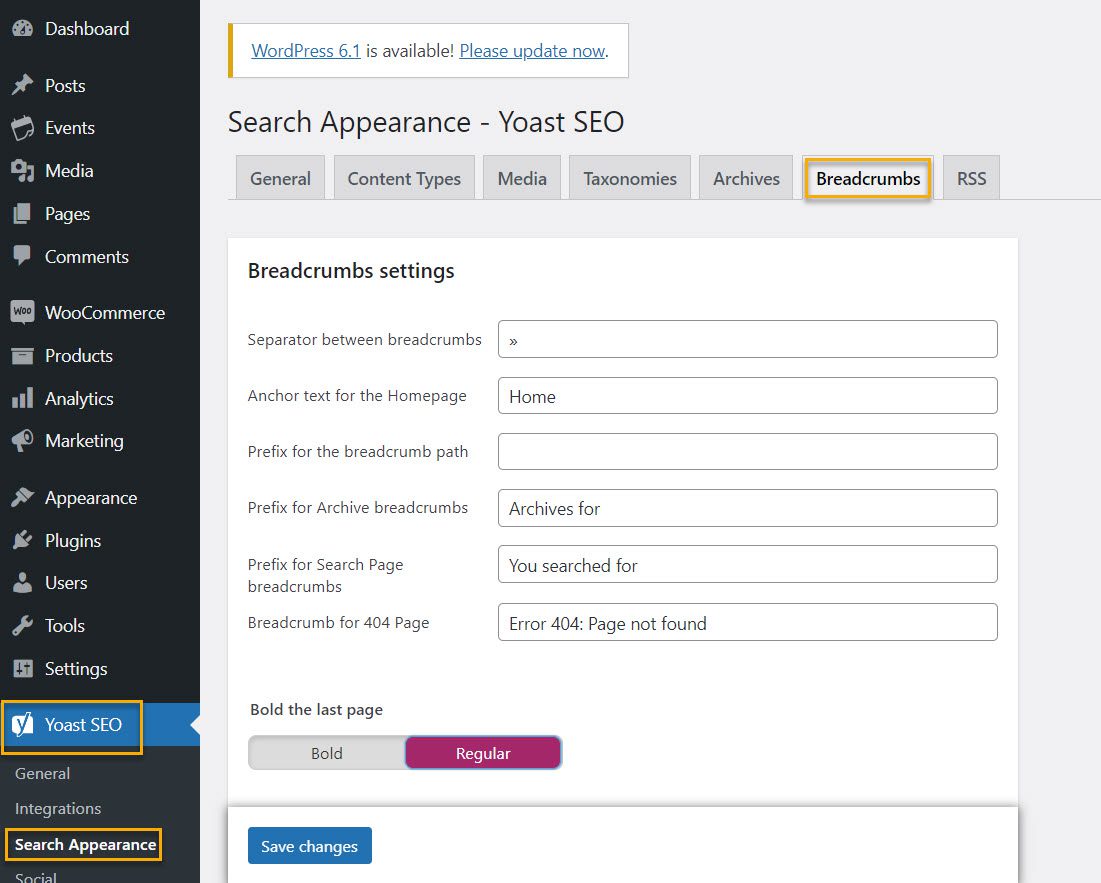 Implement structured data for Rich Snippets 
Rich snippets are those with a higher click-through rate. People prefer to click on the results that provide additional information. If a snippet's click-through rate increases, you'll get more traffic from that search result.
Structured data, also known as schema markup, is data you can add to your website to help Google and other search engines understand your content. Structured data can also assist you in obtaining rich snippets in Google search results. More information can be found in our WordPress-rich snippets guide.
These rich snippets can help you add extra details to the search results page for a WooCommerce store, such as:
Ratings;
Number of reviews;
Price information;
Stock status.
Here's an example:

Structured data and rich snippets are not directly related to SEO ranking. However, they make your eCommerce site more visible in Google's SERPs, which can increase your organic CTR. As a result, structured data remains an essential component of a WooCommerce SEO strategy.
Optimize website speed and performance
Finally, Google uses page speed as a ranking factor in desktop and mobile search results, which is another reason your WooCommerce store must load quickly.
Slow websites are also detrimental to your business because they degrade the user experience and cost you money. The most common cause of a slow WooCommerce store is poor web hosting. If this is the case, you should consider using one of the optimized WooCommerce hosting providers, such as SiteGround or Bluehost.
You can also increase your page speed by following the step-by-step instructions in our WordPress performance guide.
Top-notch WooCommerce SEO Plugins 
Finally, let's look at some of the best SEO plugins for your store.
Most popular WordPress SEO plugins are compatible with WooCommerce, so you don't have to think outside the box here.
Yoast SEO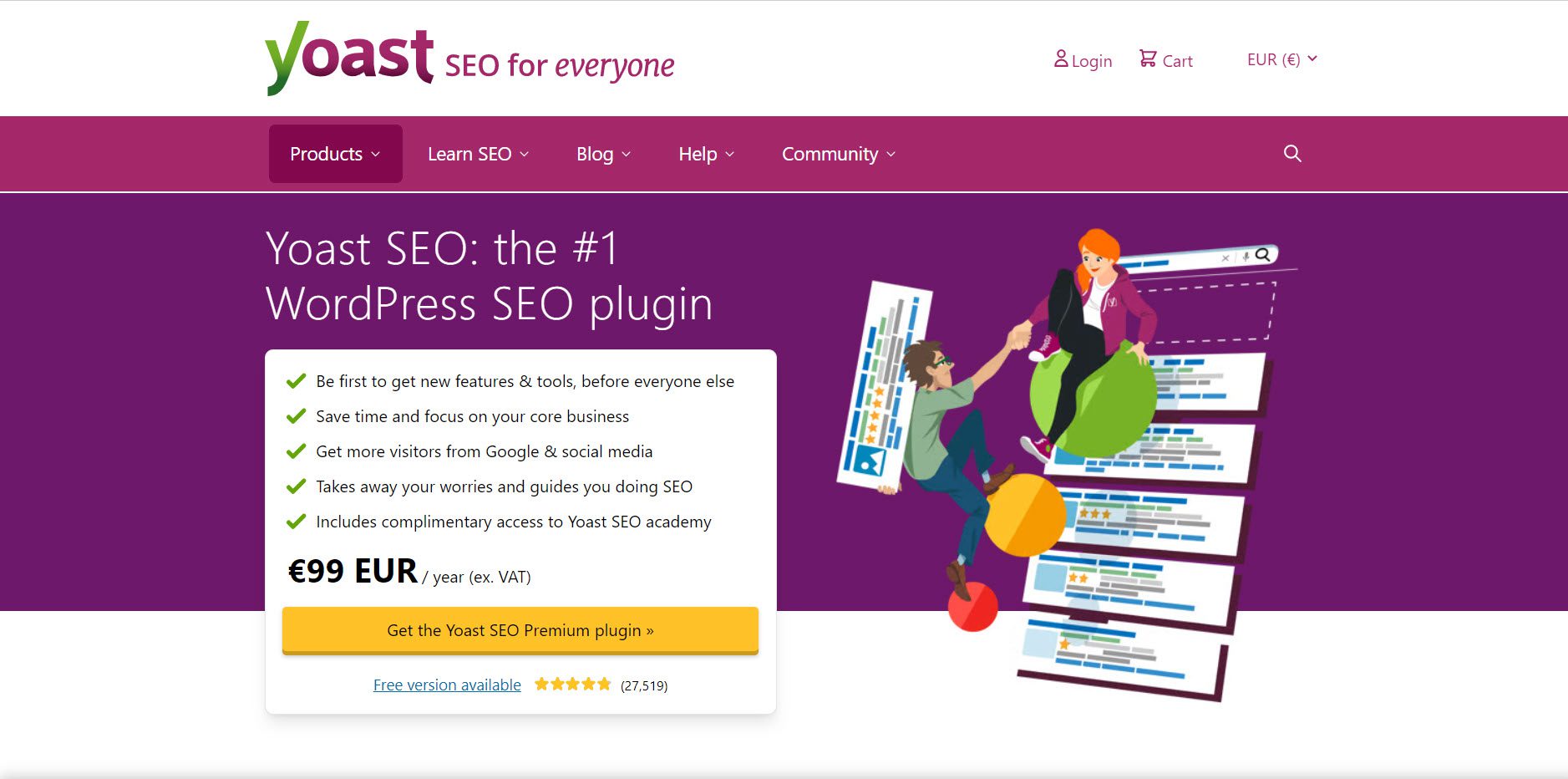 The most popular WordPress SEO plugin is Yoast SEO.
While it is most commonly used for regular WordPress sites, it is also an excellent choice for WooCommerce stores, and the developer provides a dedicated Yoast WooCommerce SEO extension plugin.
Furthermore, the plugin lets you see how your products appear on search engine result pages. It even optimizes your product information on social media platforms like Pinterest to highlight specific aspects of your products.
Here's what we like about Yoast SEO:
It also includes SEO features that help your products stand out in search engine results.
It includes personalized SEO insights for individual product pages.
Improved breadcrumb navigation and an XTML sitemap. 
Has eCommerce SEO training and dependable support. 
Price: €99 EUR / year (ex. VAT)
All-in-One SEO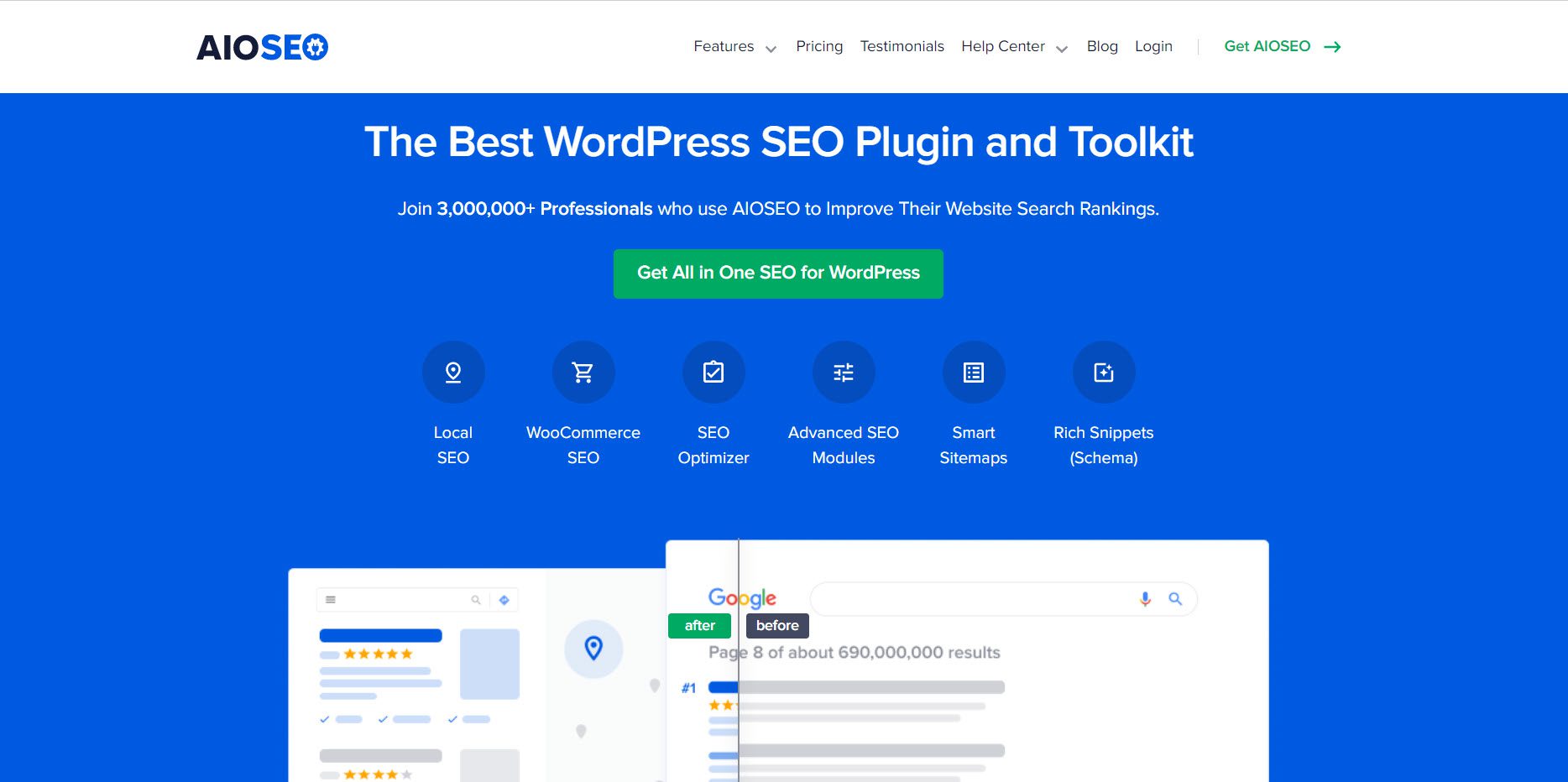 All-in-One SEO will ensure that your product and category pages are search engine optimized. You can configure the plugin in minutes using the 'Smart Setup Wizard' without the assistance of SEO experts.
The plugin provides in-depth SEO analysis to ensure the best possible results. Aside from product titles and descriptions, the plugin also aids in the optimization of product images through the use of smart tags.
Here's what we like about All-in-One-SEO:
Aids in the optimization of WooCommerce product and category pages.
Reach out to more potential customers by using organic search results pages.
Product title and description optimization using dynamic content tags.
You can easily improve product images with alt attributes and smart tags.
Price: starts at $49.60/year. 
Rank Math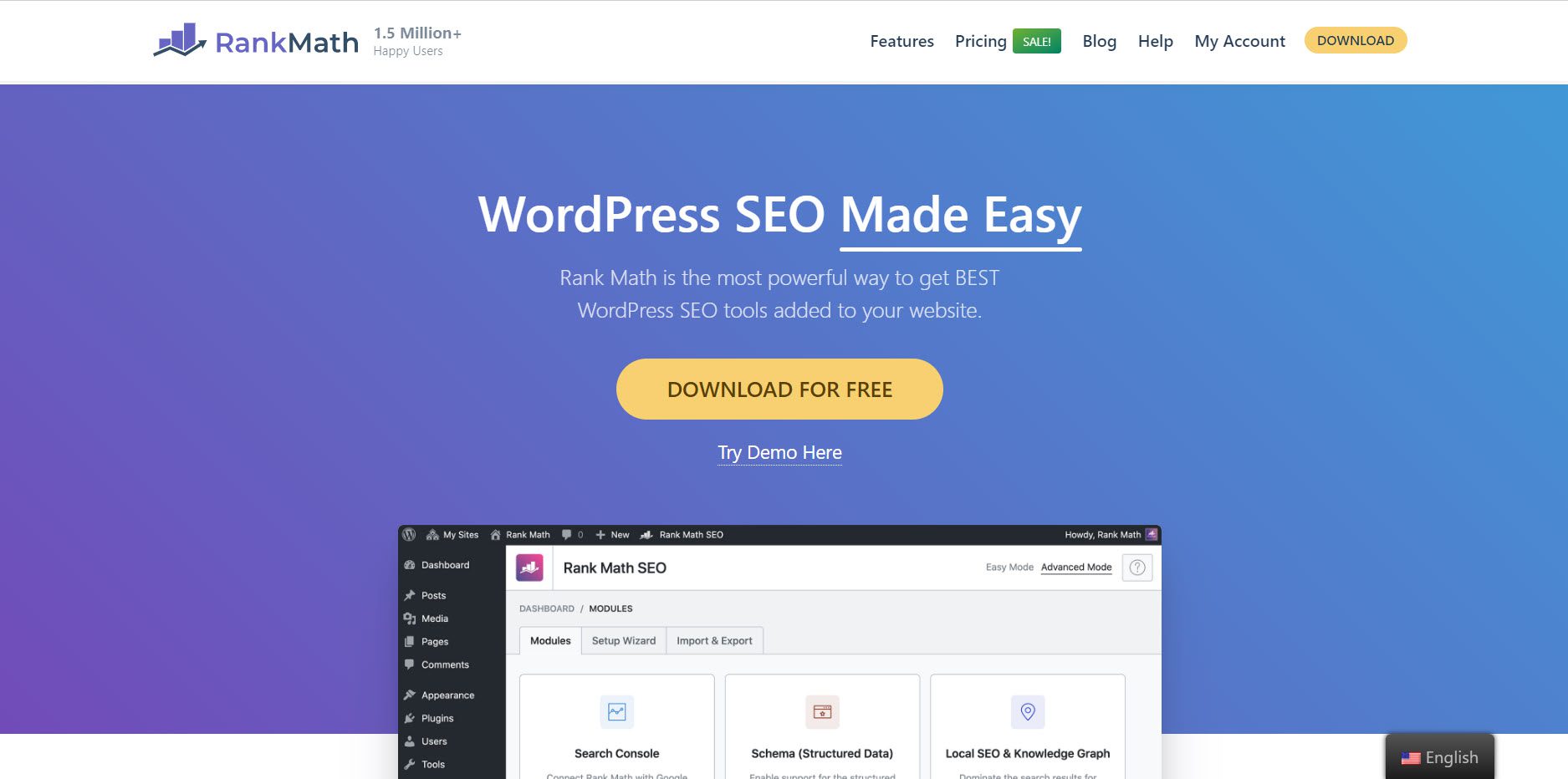 Rank Math will assist you in adhering to all of the best practices for effective search engine optimization. It enables you to conduct a thorough SEO analysis and determine whether there are any critical factors influencing your search rankings. 
The plugin is simple to set up and has several configuration options to meet your store's specific needs.
Here's what we like about Rank Math:
Simple search engine optimization for your website.
Rich snippets are supported.
Import from other SEO plugins with a single click.
Reliable customer support.
Price: Get the Pro version at $59/year.
Wrapping Up
So here's the thing: If you want to expand your eCommerce store, you must master WooCommerce SEO. However, you should be well on your way to a higher-ranking store if you follow the advice in this post.
Finally, keep in mind that SEO is a never-ending process. Therefore, split testing may sometimes be required to determine which SEO activity works best for your WooCommerce website.
For more WooCommerce and WordPress knowledge, follow us on Facebook, where we regularly post tutorials, know-how articles, tools, and expert recommendations!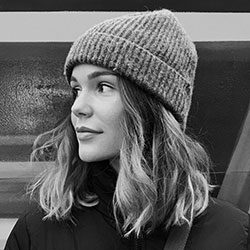 Gabriella is a Digital Content Writer and Marketer with a zeal for all things WordPress. When she's not researching and drafting the upcoming articles, you can find her in the open air exploring the outdoors with her dog.