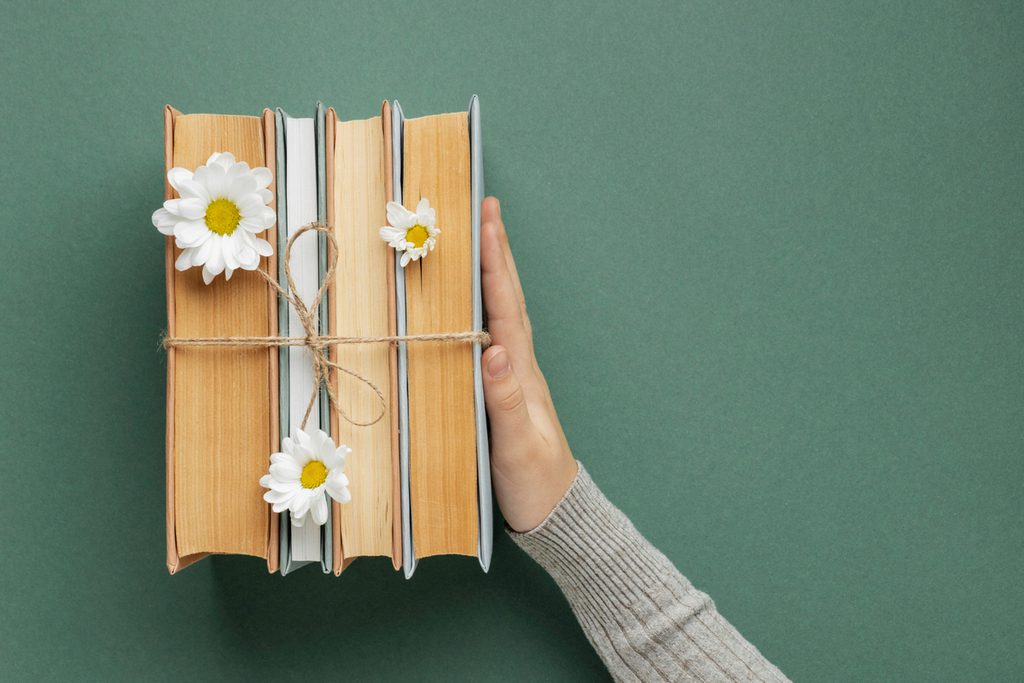 There is no doubt that you must stay ahead of the curve as eCommerce continues to influence consumer behavior and small businesses, including online bookstores. So, whether you own a major online fashion store or a small bookstore, there is one thing you must know. Optimization leads to sales in the online realm. Simple as that.
As an online bookstore owner, this article will inspire you to consider implementing a few simple optimization techniques to increase your website traffic. The goal of this guide is quick and easy: improve the shopping experience and increase conversion rates.
Shall we get started?
Why is Website Optimization Important?
We expect online sales to increase to 5.4 trillion US dollars by 2022. If that figure isn't startling enough, consider that it was only $1.3 trillion in 2014, implying that online sales have more than tripled in the last six years. And the figures are expected to rise further.
Website optimization is essential because it assists your online shoppers to have a better experience when they visit your site. Every visitor comes to your website hoping to find an answer to a question, a solution to a problem. When you optimize your website, you make it easier for visitors to complete those tasks.
For instance, if you run an eCommerce website that sells shoes, you can optimize it to expand the number of items purchased by visitors. Conversion rate optimization, which focuses on ruthlessly a/b testing different parts of your website to boost this conversion rate, can help you achieve this. The same goes for books too.
When you optimize your website, it becomes more resourceful to your business. An effective website can increase revenue for your company by generating new leads while also lowering costs, either by improving conversion rates on existing marketing spend or by reducing customer support needs by providing better information and clarity to visitors. In a nutshell, it answers questions and comes with solutions. And that's all you will need.
Now that you understand why optimization is vital for any online store let's look at how some of the most famous bookstores optimize their website.
What Techniques do Powell, Daedalus Books, Booktopia, Barnes and Noble, and AbeBooks Use to Optimize Their Website
They ask their readers to provide them with book reviews
Encourage customers to write book reviews and blogs for your website to increase customer engagement. It would help strengthen your relationship with customers and provide you with compelling website content that will bring you more traffic. Exciting blog posts and book reviews would pique the interest of many.
Just like the folks from Powell do it: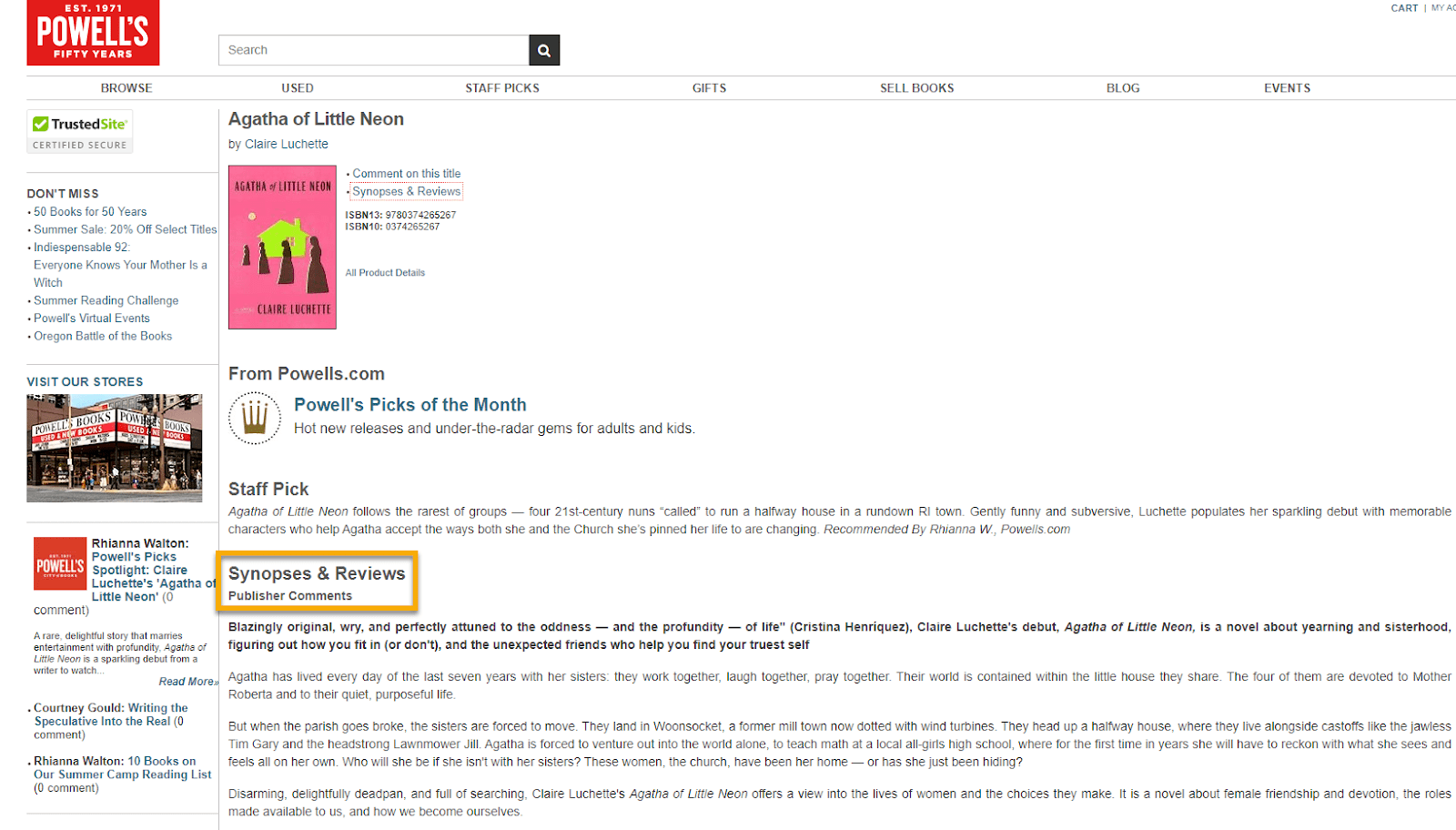 Book reviews increase the visibility of a book and increase its chances of being discovered by more readers. Stores with more book reviews are more likely to be shown to prospective readers and buyers on some websites than books with few or no book reviews.
Also, feel free to invite your customers to rate books and create their reader community on your website. Making your customers feel important is a critical component of providing an exceptional customer experience!
They give their customers deals and discounts
Bookworms adore book discounts, and the best way to gain their loyalty is to provide them with frequent discounts and deals. For example, you can celebrate "Author of the Month" on your website by offering a 20% discount on their books.
Take a look at Barnes and Nobles' primary discount offering: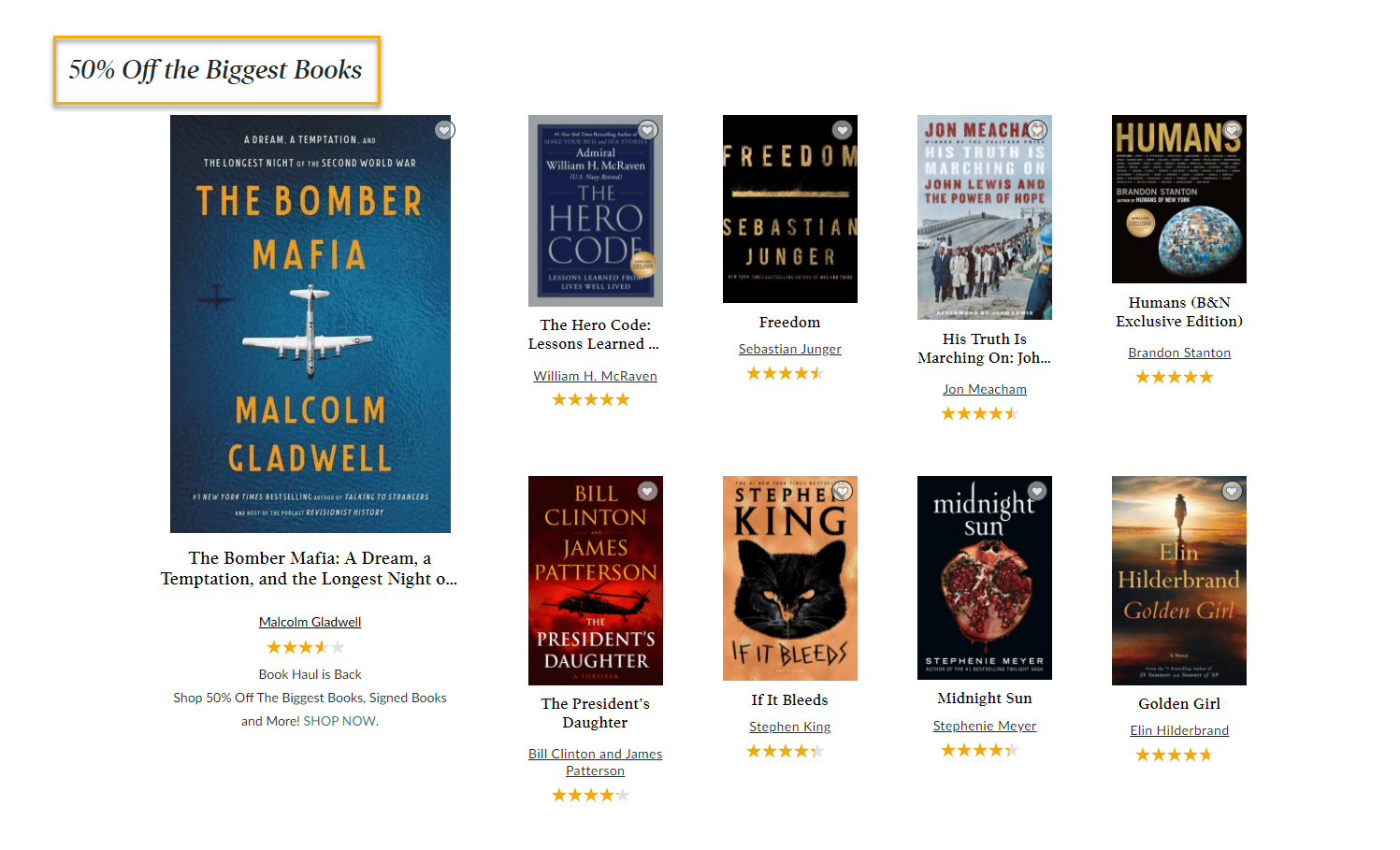 You can also group 3-4 books on literature, history, and politics by different authors and sell them at a discount. Give special deals to your most devoted customers. Customers will return to your store to shop more if you have competitive pricing and a biweekly or monthly sale.
Offering discounts on purchases is a great way to get people into your store quickly. Discounts benefit not only your customers but also your business. Discounts may be the one ingredient that can bring business success, from increased sales to improved reputation.
They make sure to use a clear CTA
How does a customer purchase an item from your product page? First, they must click a button that will allow them to check out. However, if that button is hidden somewhere on the page, you will not get as many conversions.
Take a look at Booktopia's product CTA.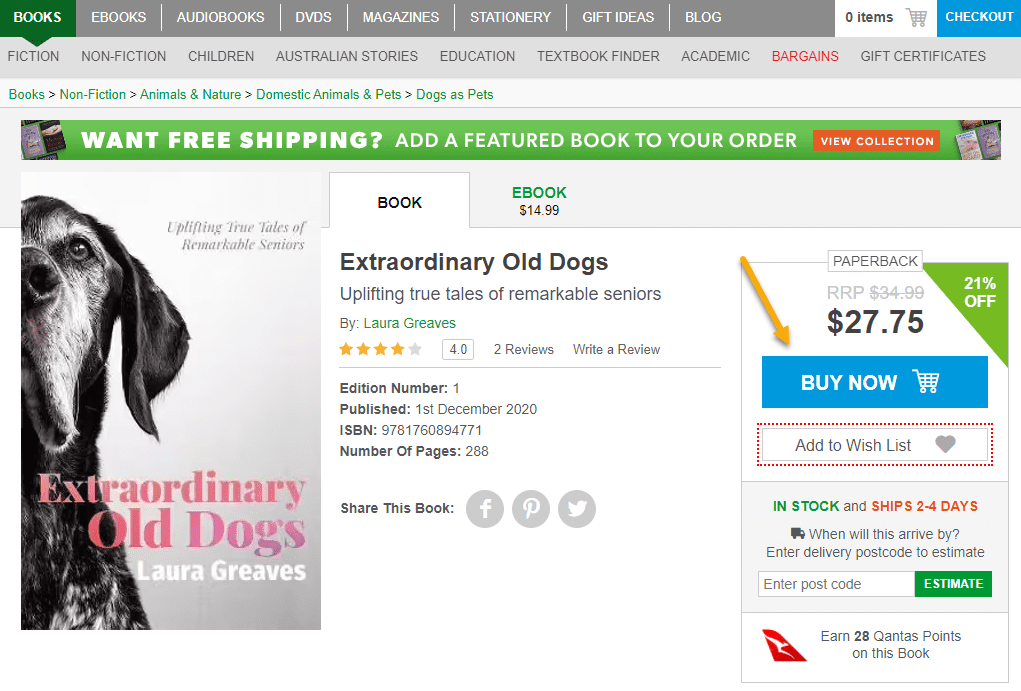 A good CTA can alleviate decision fatigue and give your content meaning. But, even if it is only a two-word phrase, users require guidance to know what to do next.
Conversions will increase by CTAs that create a sense of urgency. Your call to action has done its job if it encourages potential customers to stay on your site.
They keep their payment and shipping processes as simple as possible
According to research, the average cart abandonment rate is around 70%. In other words, most people who add an item to their shopping cart do not purchase it. And that is money you cannot afford to lose.
The number of steps required to make an online payment and whether or not products are delivered on time are the two most important factors impacting the customer experience. So, to keep your online book buyers happy and satisfied, maintain your payment and shipping processes as simple as possible.
Here's an example from AbeBooks, which emphasizes the importance of a simple checkout process and includes some cool features such as allowing you to buy a used book and pay less than buying a brand new one.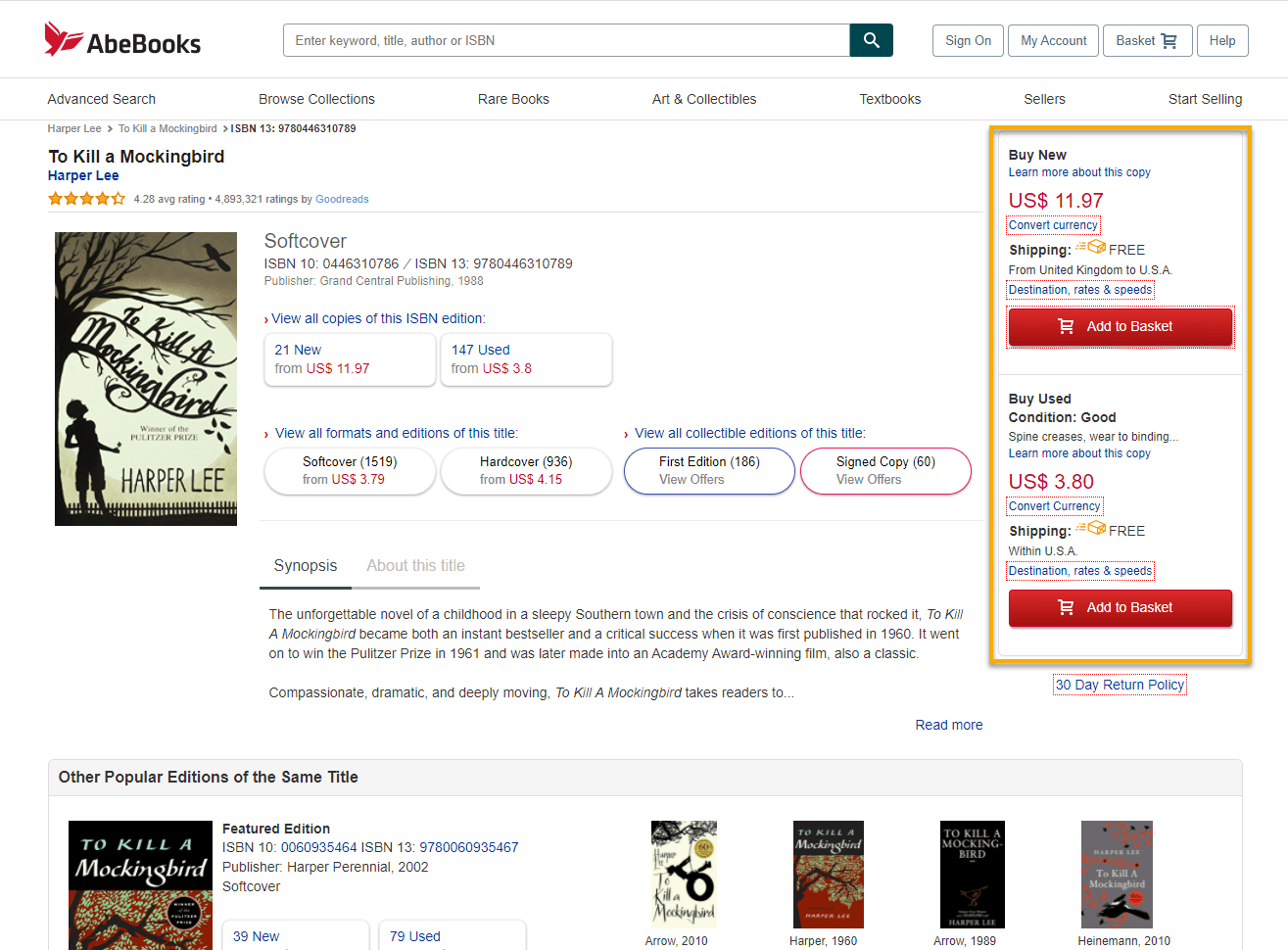 They provide round-the-clock customer service
A customer looking to buy a used book or get recommendations on what to read would prefer to speak with someone right away. So instead of providing a "fill out the form, and we will contact you" option, provide proactive and round-the-clock customer support.
The most effective way to respect your customers' time is to provide live chat support. It doesn't necessitate your customers to leave their shopping experiences to get answers, and they don't have to call or wait for someone to pay attention to an email. Live chat also saves your company time.
Here's an example from Daedalus Books and their customer support page: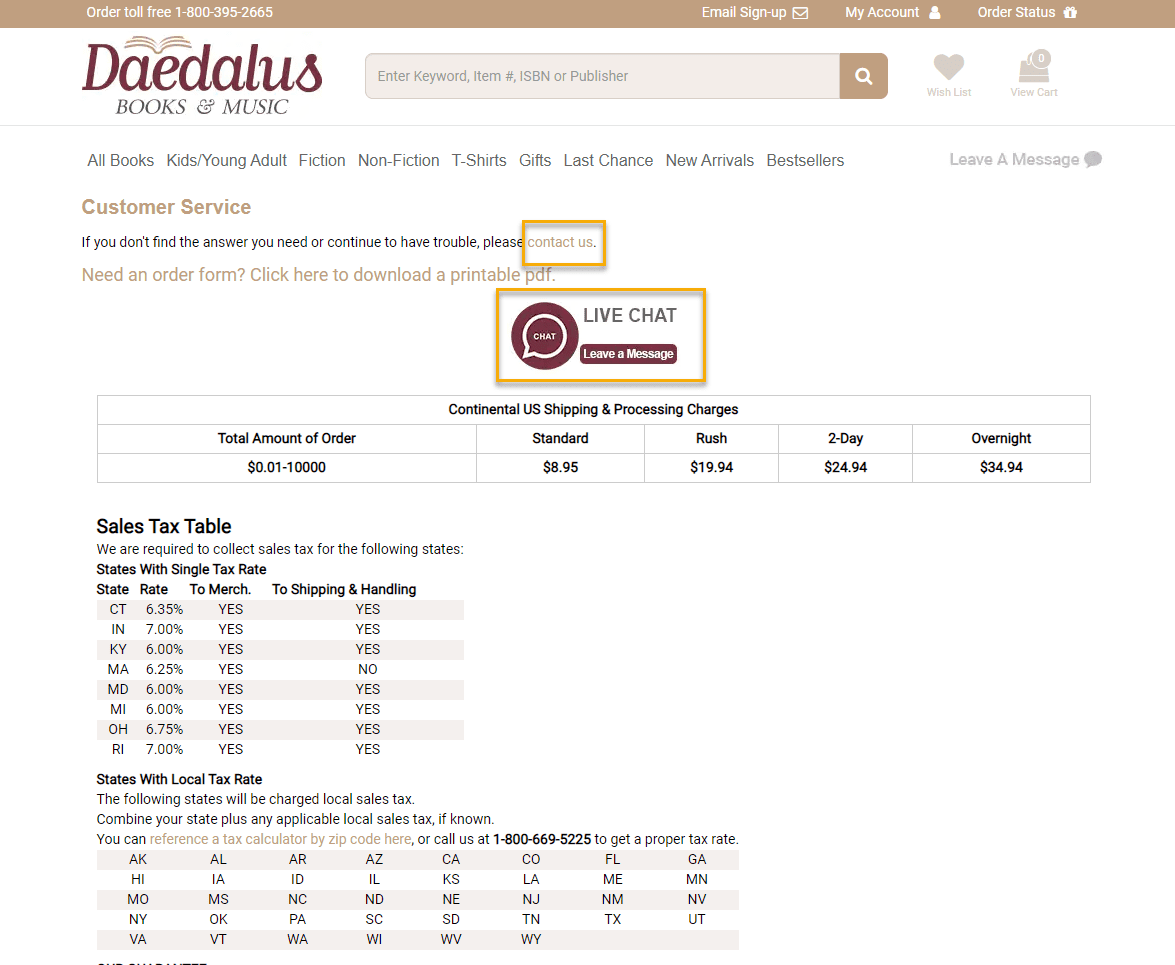 As you can see, live chat is a communication channel that allows you to actively interact with online customers in real-time, provide them with the necessary information, and handle complaints and issues. In addition, you can quickly improve customer satisfaction levels through live chat by offering suggestions, and you can also get instant feedback from them.
And now that we've shown you some essential techniques for optimizing your bookstore website, our job isn't done. So we'll give you some more helpful optimization tools to use for your online store down below.
First-class Free Website Optimization Tools to Use
Consider it like taking your site to the next level: you've already put in the effort to create a website; now it's time to optimize what you've just created, maintaining you ahead of the competition and accomplishing incremental growth.
Start optimizing your website right away with these five popular free tools:
Google Search Console is a free search optimization tool provided by Google. You can use this tool to measure SEO performance, view keyword impressions and clicks, see your backlinks, and check for crawling and speed issues.
How do you put it to use? Sign in with your Google account, confirm site ownership, and then wait for data to be collected.
Google Optimize is a free website experimentation platform that works in conjunction with Google Analytics. A/B testing split testing and multivariate testing (MVT) can be used to test and measure the performance of different web pages.
How do you put it to use? Sign up for Google Optimize using your Google account, add the tag to your website, install the Chrome extension, and start a new test.
Hotjar is a software application that measures website visitor interactions and feedback. With Hotjar, you can find and fix bugs, optimize page design for conversion rate, and improve user experience.
How do you put it to use? Sign up, insert the Hotjar code into your website, and create a heatmap, session recording, or on-site survey. Hotjar is free for the first 2000 page hits per day.
PageSpeed Insights, developed by Google, is a simple, free website speed tester. You can use this tool to optimize your website's page speed, desktop website performance, and mobile page speed.
How do you put it to use? Enter any URL and press the "Analyze" button. PageSpeed Insights will provide you with a page speed score out of 100, along with recommendations on making your site load faster.
GTMetrix is a tool for measuring the speed of web pages. This tool can help you improve the rate at which your pages load.
How do you put it to use? For a basic speed test, enter any URL and click "Test your site." To learn how to make your page load faster, click the drop-down menu next to each recommendation.
Other Tips and Tricks to Sell More
I don't think we're finished yet. Then, we'll go over a few selling strategies that will help you double your sales in no time.
Sell a lot of instinct buys and similar items.
Such as board games, notebooks, bookmarks, maps, etc. Just because you own a bookstore does not imply that you must only sell books. Add-on products or other impulse purchases are excellent tools for increasing sales and middling client expenditure. Those items may entice new customers to visit your store as well.
With the rise of eCommerce, book sales in brick-and-mortar stores have been hit harder than in many other industries. However, many have remained prosperous and profitable. Seasonal planning is a crucial part of this success. Therefore, seasonal sales are essential for bookstores.
Organize live talks or book events
Hosting authors for talks and book signings is an excellent way to draw a large crowd and sell many books. These are excellent for increasing word-of-mouth marketing and creating a sense of community around your store. Book signings are a fun and easy way to get your name out there.
You could also host open mic nights and book readings for nearby authors. Allow your loyal customers/authors to share their work and expand their audience. It's another way to promote community involvement in the area around your shop.
Make bundled deals, gift sets, and other promotional items.
Pairing a popular item with a slower-moving book is a great way to do this. Provide sets for various genres and age groups. Use seasonal events and holidays to direct your promotions and attract more attention. Bundled deals are an excellent way to clear out inventory and sell extra items that your customers may not have considered purchasing otherwise.
Just make sure to keep track of all your bundled set inventory. Keep track of the individual items in your bookstore inventory management system. Setting special promotional costs and maintaining an accurate stock count using your bookstore POS system should be simple.
Take-Home Message
The most challenging aspect of running an efficient operation for many retailers is maintaining effective website optimization to track customers, increase purchases, and boost traffic. Unfortunately, bookstores are not an exception.
Incorporating some or all of these strategies will help enhance your visibility and, as a result, assist consumers in finding your content. Optimization is an opportunity to improve your overall brand. You should be able to handle it!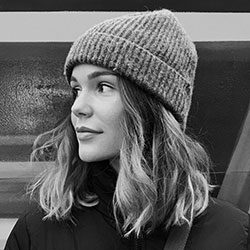 Gabriella is a Digital Content Writer and Marketer with a zeal for all things WordPress. When she's not researching and drafting the upcoming articles, you can find her in the open air exploring the outdoors with her dog.